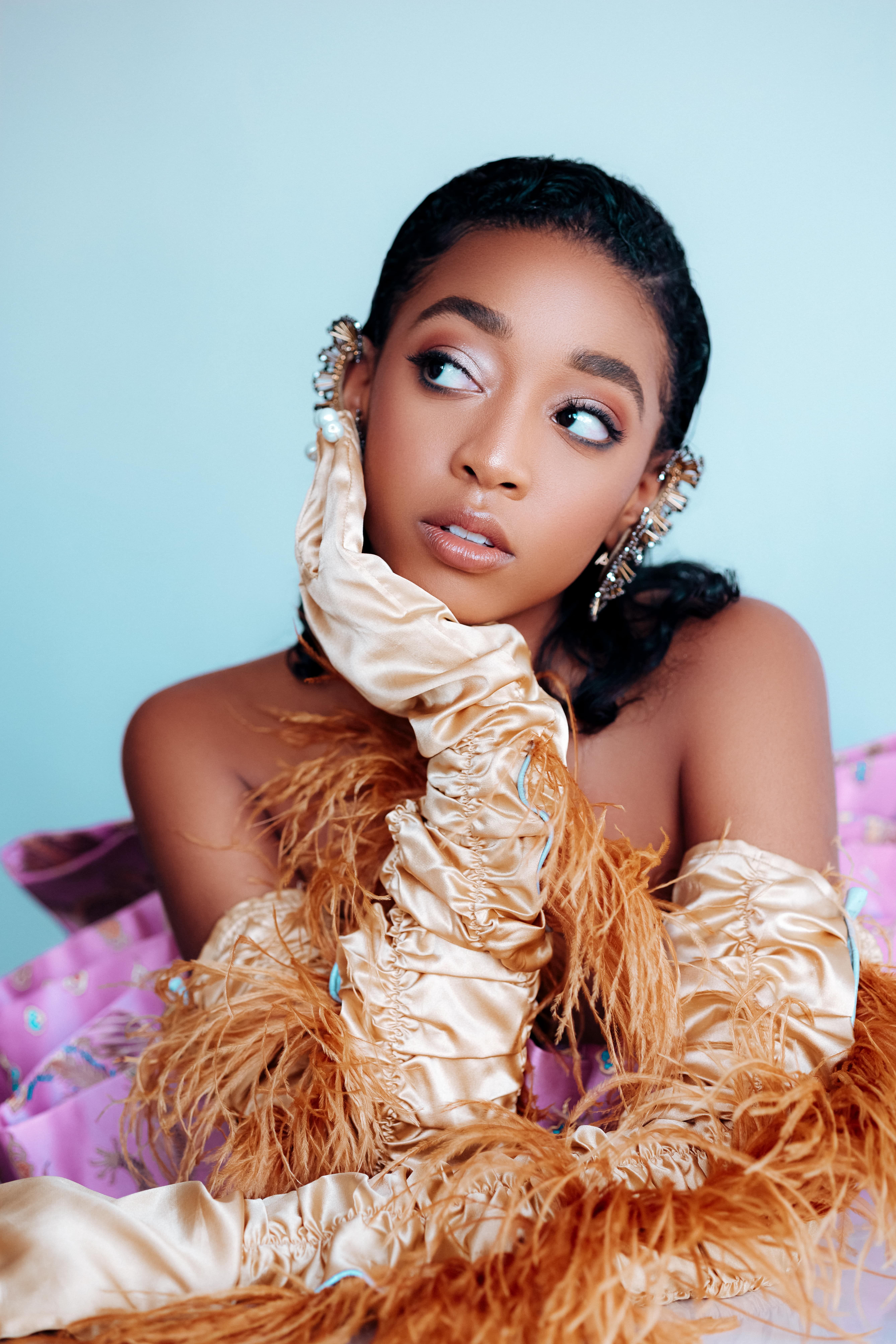 Eris Baker
Nobody can contain This Is Us actress Eris Baker's dreams.
Looking to the stars at just five years old and picturing her life as an actress, Eris Baker's career trajectory is a testimony to how far dedication to your craft can take you when you believe in a purpose. Receiving her big break in 2012 on the inaugural season of This Is Us, Eris Baker tugged on the world's heartstrings as she portrayed the now fan-favourite character, Tess Pearson, one of three daughters to Beth and Randall Pearson. 
Eris Baker has grown in real life throughout the six-year run of the award-winning series as her character did on the small screen. The coming of age narrative allowed Eris to tap into her own emotions and experiences with loved ones to adapt them for the tv show. But, while this strategy may have worked for the similarities shared with Tess, Eris had to submerge herself deeper within the mindset of Tess as she began tackling the aspects of the character that differed from her own. And, as someone passionate about bringing authentic experiences to life with every performance, Eris Baker made sure to go all-in on to ensure Tess' story would be no different. 
"The writers and showrunners are very understanding in that they ask us what we're okay with doing. So, when they asked if I was okay with Tess being gay, I was all for it because the representation of all kinds matters," said Eris Baker in a conversation with 1883 Magazine. "But with that came some experiences and challenges that I wasn't familiar with, so I began doing everything I could to make sure I could be able to tell her story as authentically as possible." Baker's attention to detail in her role as Tess doesn't exist within a vacuum. With a knack for bringing validity to human experiences on-screen, her passion is a testament to her empathy as both human and actor.
For 1883 Magazine, Eris Baker speaks about the preparation she took to play Tess, her love for all things acting, her undying passion for fashion, and what to expect as we draw closer to the series finale of This Is Us.
On This Is Us, you portray the confident Black Queer character Tess. You've become a fan favourite for the way you've brought this character to life with such honesty, authenticity, and a kind of gentleness that shows audiences you care about the communities you're portraying. I mean, your portrayal of the character garnered attention from the NAACP Image Awards, where you were nominated for Outstanding Performance By A Youth! Talk to me a bit about your process as you prepared for Tess' monumental moment as she came out to her loved ones.
I was very worried! So, I did a lot of research. Nothing is perfect but the closest thing to it. The director at the time told me to get a notebook and write as Tess Pearson; write the emotions that she will be going through and what she might be going through in her head. And once I started reading so many stories that seemed similar to Tess' story, it began to make sense as to what she was feeling for me. That want to be accepted but also dealing with those questions in your head like "I know they love me, but will they accept me for who I am?" And I think reading those stories I just slowly but surely became prepared for that scene.
I remember talking To Sterling [K. Brown] because that was the first time I had to ever cry on camera so I may as well talk to a person who does it every day. He told me that I needed to think of a moment, a time, a song, anything that gets me emotional but I couldn't think of anything and that made me worry more. The one thing that ended up working was all the stories that I read that related to Tes; the fear that these people have in a society that can be very unsupportive sometimes. It sucks that we're telling people how to live their lives and won't accept them because they don't live life the way we do. That's terrible. So I thought about their stories and how they related to Tess and I related that to me and that helped me prepare for that scene. 
You mentioned one of your castmates from This Is Us, the incomparable Sterling K. Brown. And I wanted to share this quote with you that he once said, "At the highest level of your craft, you don't have to play games or make people feel small; you can just embrace." With your skill level in your craft having grown so much, what do you hope to do next in and outside of your craft to embrace others around you?
I'm in that moment where I'm starting to get more confident in my craft but I'm not comfortable; and comfortable is something that I never want to be. But I do think one way that I'm using my craft to embrace others around me is by trying new things. I always want to try new things and learn new things. I learned from a lot of the writers on the show as well; they've always told me that you don't have to do acting because I told them that I want to do other things in this industry. They told me that the more I want to write, act, produce and the more classes that I take in film, the more confident I will be in those areas that you're already strong at. So when I started learning more about my abilities in other areas of film, I got more confident in acting and embracing the uncomfortable things that Eris wouldn't do but this character would. I have to make it a challenge for myself so that way I can get out of myself and want to do it. So that made me embrace being an actor more and embrace direction from others as well. 
You were also listed on INSIDER's 40 Young Stars Who Will One Day Rule Hollywood but in knowing that you expressed your love for acting and created your characters at the age of five…it's no surprise that you would end up on such a promising list! With so much time in front of the camera acting your heart out and your passion for your craft of storytelling, do you see a future for yourself where you are behind the camera creating, writing, producing and or directing?
E: Absolutely! I have so many mentors and people that I love that have helped me in that lane. My dream is to produce and I know that I have stories that only I can tell and develop. Every story is told differently and there are probably thirty million of them that sound the same but there are only a few that can be told from my perspective so I'm excited to put out my work. And I'm working on it so we should see something shortly—I'm very excited! 
Let us not forget about your non-acting endeavours! You have an affinity for fashion and expressing yourself through the art of style. The drip is so immaculate that you've been listed on best-dressed lists for Allure, Vogue, and Elle. You've recently graced the cover of Grazia with the tagline "Dressing How She Wants To." Where did you get your sense of fashion from? 
My mom is stylish! The one thing my parents are going to spend money on are clothes and shoes, they have always helped me in that way. Even when I was younger I would have the freshest Jordans on, I would go to school with the cleanest shoes. My dad had this shoe cleansing kit and he was always like "we don't wear dirty shoes to school, we can't mess these up." Shoutout to my dad. But also my amazing stylist—I was super lost when I came into this industry so I have always been with her from the jump and she has helped me discover my style on the carpet but also my street style. I like to be comfortable. I don't necessarily have a specific style that I like to wear, but I have to be comfortable in everything that I'm doing. The outfit would look good on me but if I'm not comfortable then I won't wear it. So, comfort is key when it comes to my style. 
That's interesting but a good basis to base your style on. What would you say helped in elevating your confidence and aided you in the beauty of your individuality? A lot of people fall victim to only riding trends and it's refreshing that you have a style that speaks specifically to you. What made you brave enough to take that chance on your individuality? 
I honestly think when I got more comfortable in my body I started dressing how I wanted to dress. So instead of listening to trends—where I would be buying the trendiest thing that wouldn't necessarily look good on my body—I began dressing for myself and at that point, I was able to embrace what I like. Only wearing trends made me feel like I was wearing clothes to only impress others and not feel comfortable in my style and expression. 
As This is Us comes to an end this May, what can we expect from the remaining episodes for your character/family? And what can we expect to see from Eris Baker?
A lot is going on around Tess right now when it comes to her parents, Deja, Malik, and Rebecca, especially. It's truly impacting her right now and you'll see her fears unfold as the episodes progress. What I love about season six is that Tess has come into her own; she knows what she wants, she dresses how she wants, she has a girlfriend, she's accepted by her family and her dreams have come true. But now within the Pearson family alone, there are some cracks here and there in the foundation that will begin to get to her. When it comes to Eris, though, I'm excited to put out my work—that is the next step. I want to branch out to film because TV has taught me so much. I'm looking forward to doing film, very excited about that. 
Usually, I would end it right there, but it is a Monday so I want to try something different to make Monday feel fun! So, three questions: One, what is one thing in your life that you can not live without? Two, what is a dream role for you? And three, what is a place on earth that feels like heaven for you?
One thing that I can't live without is paper and pen. Anytime that I have anxiety in public, all I have to do is pull out my notes and I'll feel calmer because I usually don't have a pen and paper on me but if I don't have anyone to talk to that'll do it for me—just to let all my emotions out. Second question, dream role—I want to play someone who has a mental illness. Maybe a psychological illness where I'm going through a [varying]—I want to play that. Three, Italy! I have never been to Italy and hopefully, fingers crossed, I'm going this year. I always ask my parents. I feel like I would be so calm there and I love Italian culture, obviously the food, I feel like I would be home in Italy. And I'm from LA, but Italy would make me feel at home—I have a good feeling. 
So, what if we got a psychological thriller directed and written by Eris Baker set in Italy? 
Honestly, let me get my pen and paper to write that down, that sounds amazing! We might be onto something!
Catch the final season of This Is Us on NBC. Follow Eris Baker at @erisbaker.
Interview by Marc Griffin
Photography by Brett Erickson