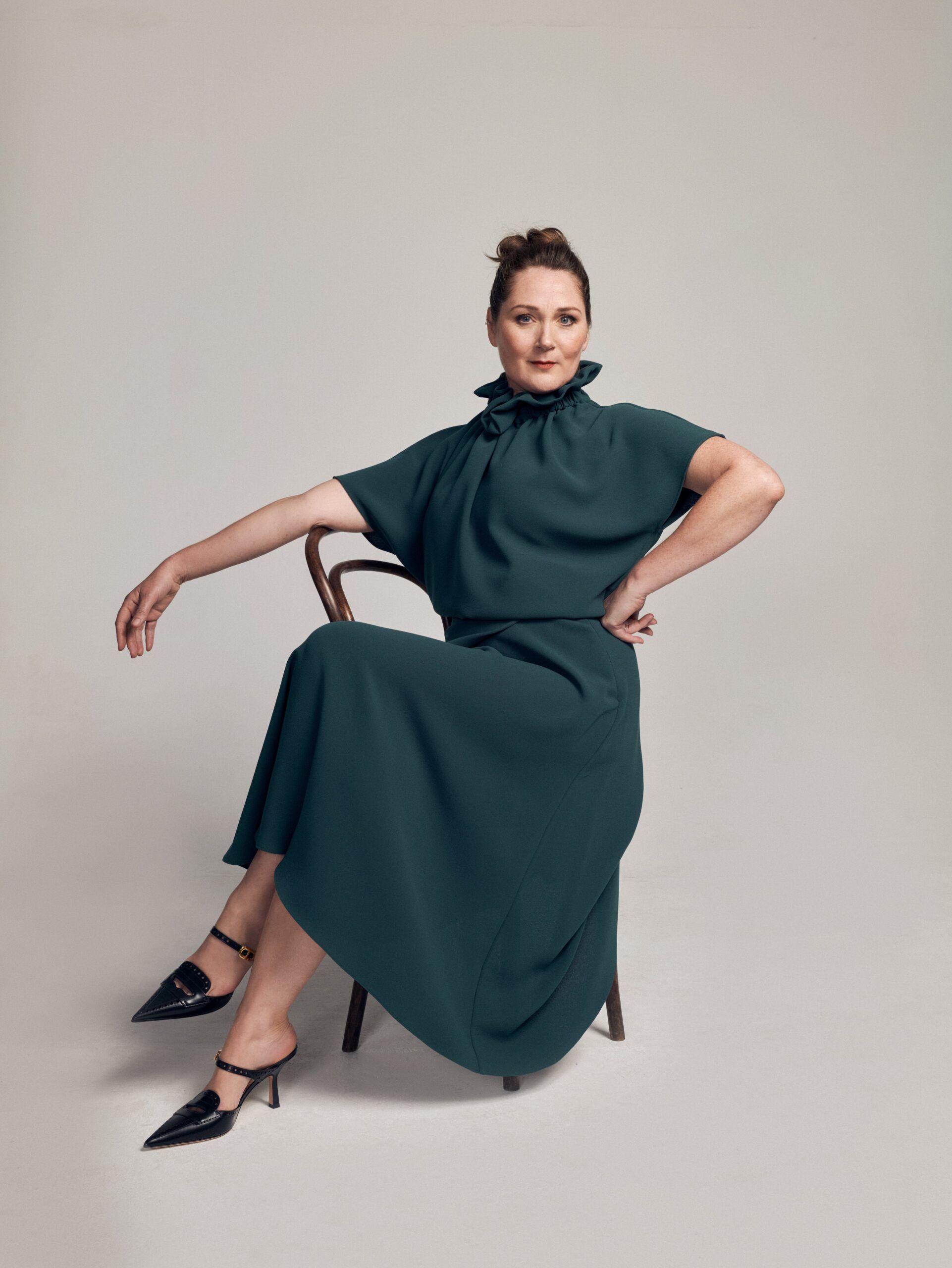 Ruth Gemmell
Season 2 of Netflix's Bridgerton may find the Viscountess with her hands full, but actress Ruth Gemmell makes playing the family matriarch look easy.  
Ruth Gemmell has graced many a television screen in her career. The British-born actress has appeared on Showtime's Penny Dreadful, Netflix's Utopia, BBC's Silent Witness, and long-running soap opera EastEnders, among other titles. Today, she is most likely to be found scheming in the halls of a wisteria-covered home in Grosvenor square as the loving yet firm matriarch in Netflix's smash hit, Bridgerton. While she is stunning to watch in any role, there is something about her performance as Violet Bridgerton that continually draws the viewer's eye and heart, almost as if she were not only the glue for her onscreen family but also the show as a whole.    
The seemingly overnight phenomenon from the streaming giant became Netflix's biggest release to date, drawing 82 million accounts in the first month. The steamy historical romance follows the Bridgerton family as they navigate love, societal expectation, and scandal in 17th century London. So far each season in the series has focused on one of the eight siblings' journeys through courtship, with the other characters providing interesting B-plots and humorous anecdotes. Season 1 required little from Violet Bridgerton than what Gemmell perfectly portrays: as a loving and concerned mother (who even gives the ever-dreaded but well-intentioned sex talk). With the release of the second season, viewers will find the Vicountess' story expected upon and Ruth's talent drawn upon with grace, poise, wisdom worthy of her character.     
1883's Sydney Bolen talked to Ruth Gemmell about what is next for the beloved Bridgerton matriarch, her love for her onscreen children, all-encompassing grief, and more.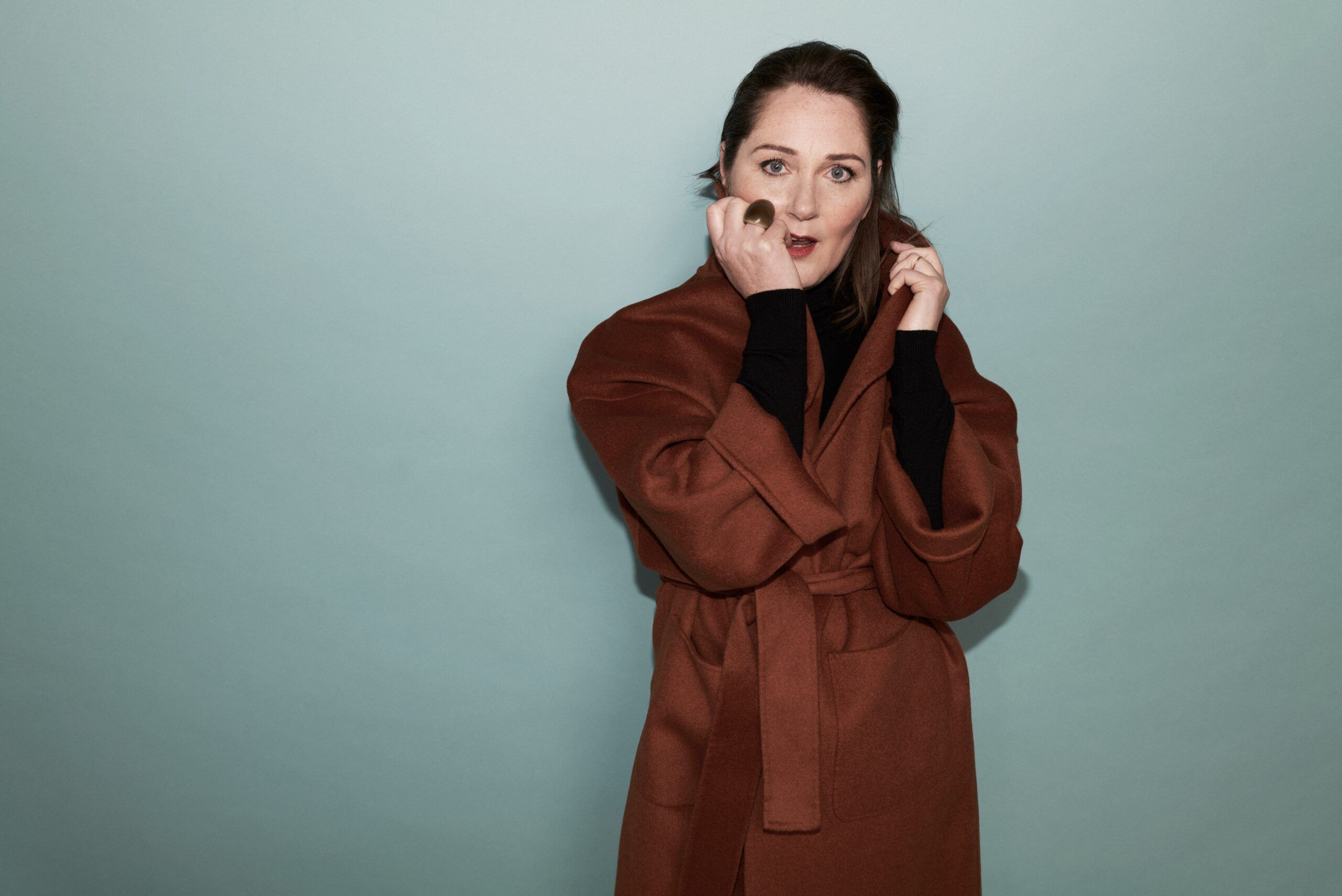 Black wool polo neck Peacocks Camel wool coat MANGO
For starters, congratulations on season two. I absolutely loved it. The second book is my favourite out of the novels and I think it more than does it justice. Plus, Violet is a more prominent character this season. She plays a massive role in Anthony's journey and view of love and marriage. What excited you most about this season?
Well, if you've read all the books, you know that after the eighth book, once the eighth child is married off, there's another book where Julia Quinn goes back and revisits all the couples and also gives readers a bit of Violet's story. It's almost a snapshot of her life. From her childhood to adolescence to courtship to being a young wife and then a young mother to the loss of a husband and her grief to her finally being a contented older woman and a grandmother. This series interweaves all the books as we go along so that there's much more of a gradual journey. It's been fantastic for me to be able to delve a little bit into that history because you get to see some of why the Bridgerton's are the way they are and, in terms of Anthony, why his journey in this particular story is so difficult for him and why he's made the choices he's made. I really relish that. I've also loved working with Jonathan Bailey. Johnny is just the most generous of actors. He's just lovely to work with.
I love hearing that. I love him. My friends and I all love him, so that's great to hear. 
Me too!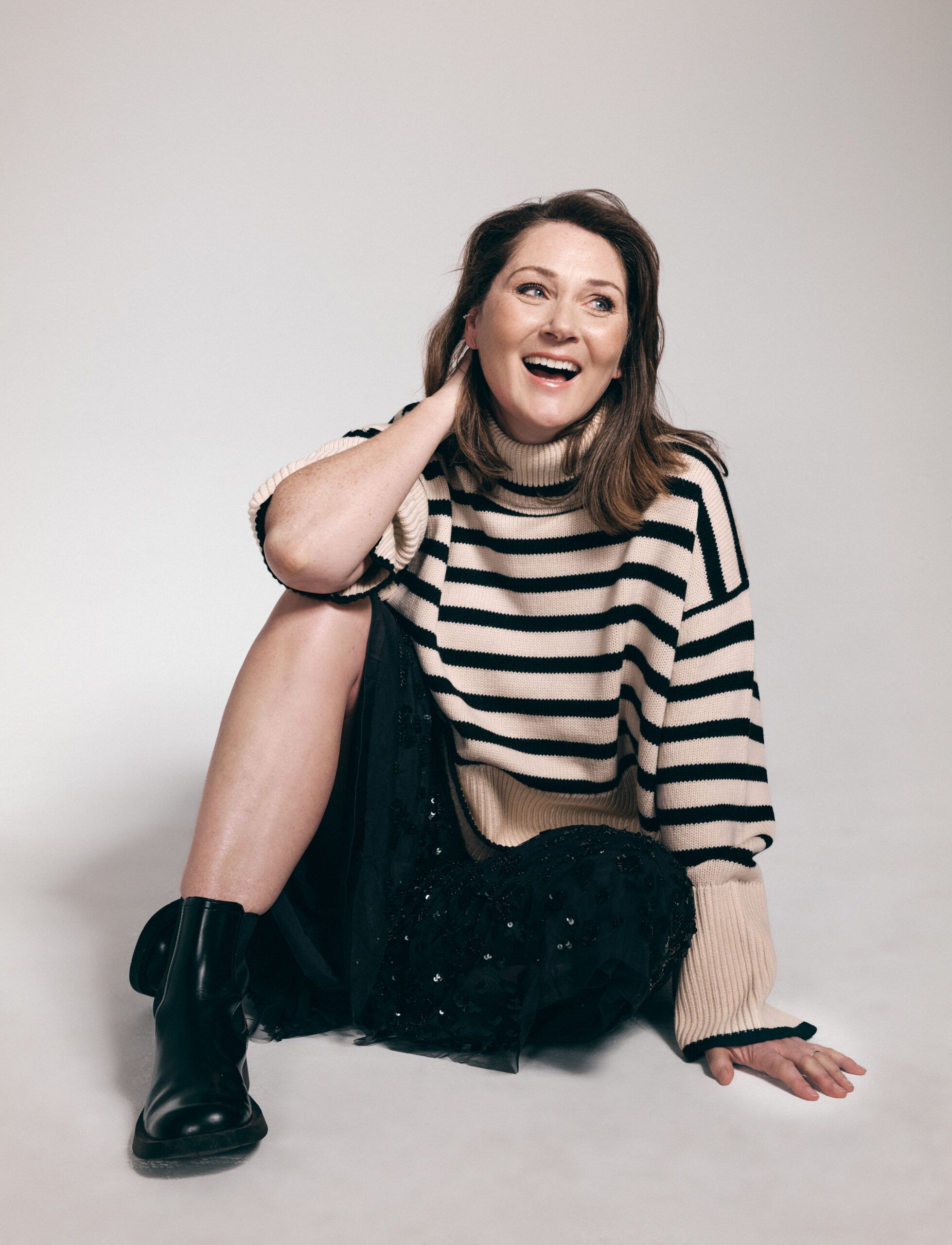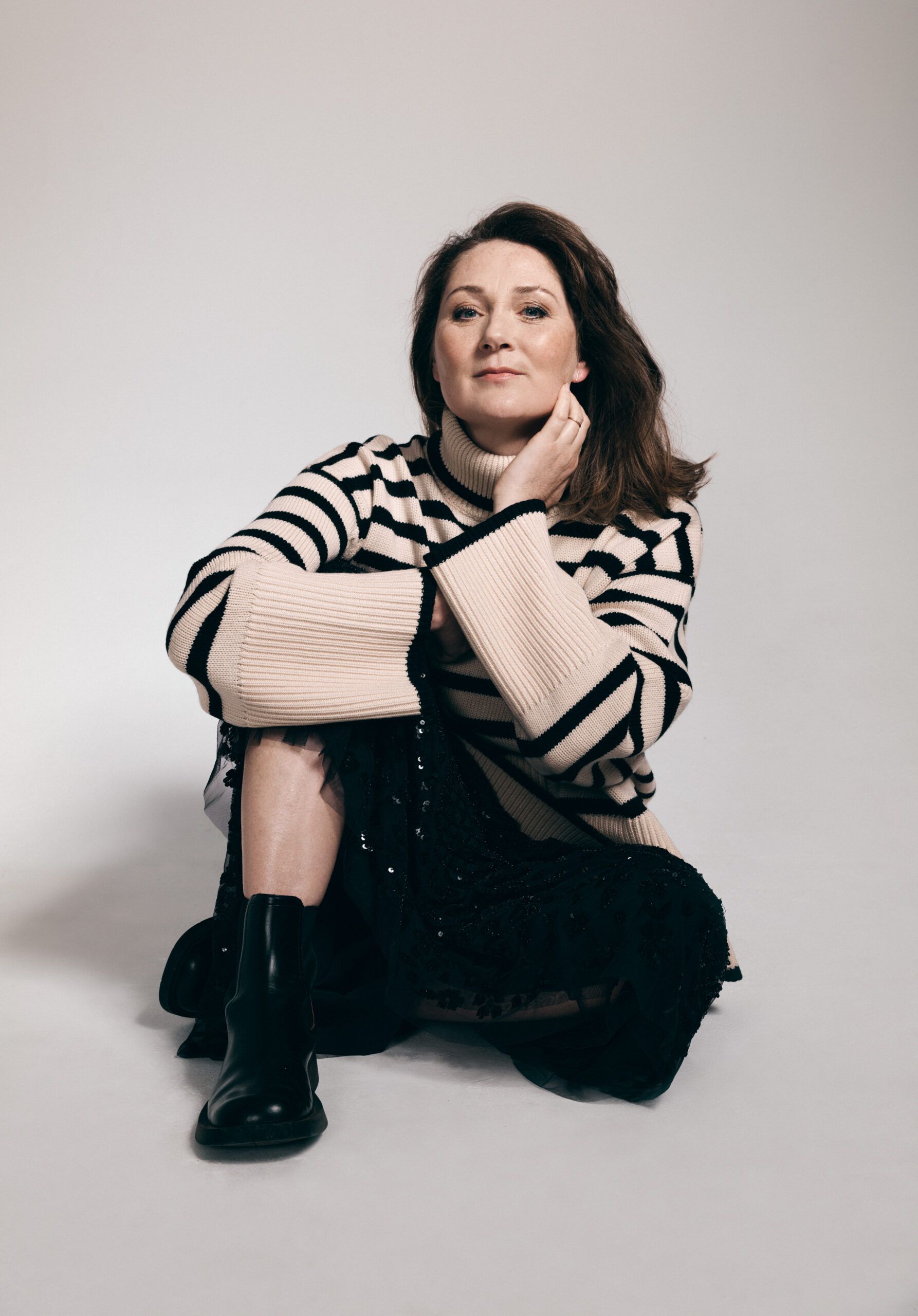 Striped wool blend Roll neck Toteme @matchesfashion Seren ballerina skirt Needle and Thread
One of my favourite things about Violet is that you can tell how much she truly cares about and knows each of her children. Did you find it easy to slip into the role?
I love those kids like they are my own. I just adore them. In the scenes where it's the family altogether, they descend into pure and utter chaos. [both laugh] We laugh a lot. I've nearly wet myself. That's not to say they aren't professional. If it's very wordy, and it can be very wordy, then everyone is absolutely supportive, on-the-button, respectful, and all of that kind of thing. They are the loveliest bunch of kids. I call them kids. I can. They let me in just that little bit. It's like I'm their actual mother, so I'm privy to some things, but not to others, just as a mother would be.
The family scenes are always my favourite. The Bridgerton's are very quippy and witty with each other. They're always fun to watch. Violet is a much fuller character in the show than she is in the books because they've interwoven the books, as you said. Have you learned anything from her?
I wish I could. If only I could be as eloquent and as wise as Violet. I'm certainly not. It's quite nice to have somebody else's lines. I'm no good at holding court myself. It's quite nice to have somebody write for me because it makes me able to own that a little through Violet.
The season really zeros in on her relationship with Anthony. There is a bond between them that I think is different from her other children because of the age he was and the responsibilities he inherited when Edmond passed away. Did you and Jonathan Bailey discuss that prior to filming?
We must have discussed it. I'm not a method actor. To each his own. I would never say that somebody should work in a certain way ever. But for me, that's not how I work, so we must have discussed it. I'm also never one for backstories. I always like to work with what the script has and what the books have. For me, there is already a backstory and I would never embellish it. I can make up things in my head that tell a completely different story to what you make up in your head, so I don't go down that route. Johnny and I were more instinctive with the scenes that we had with each other. Rather than a discussion, we tended to play with it. 
Oh, okay. That makes sense.
For me, to feel able to really inhabit a character, I need to feel safe on set. The atmosphere is everything. A happy set makes me feel comfortable to be a lovely mum, to be ripped apart by grief, to kill somebody, to all of those things because it makes me feel safe enough to make mistakes and not worry. I felt safe with Johnny.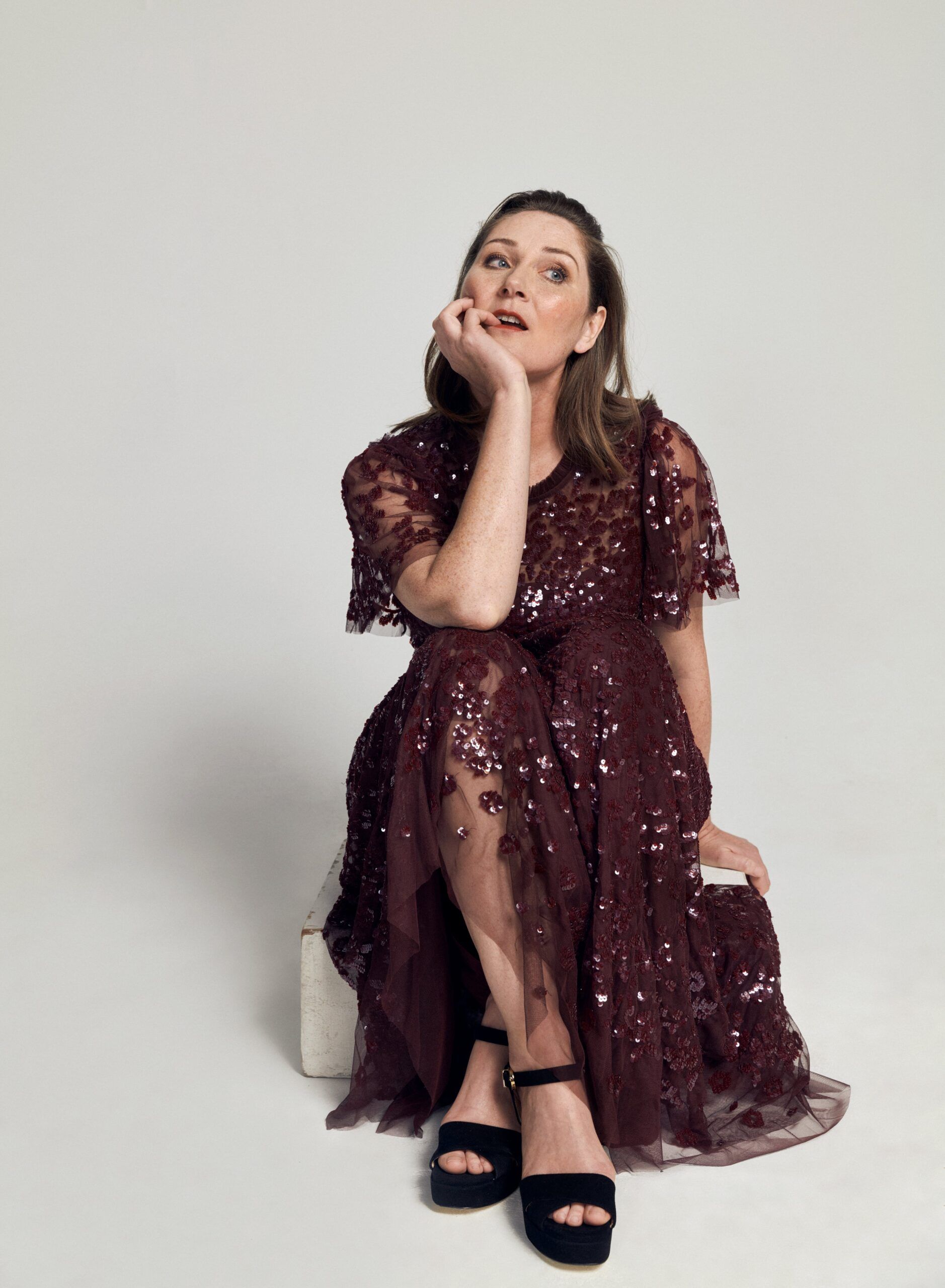 Amalie sequin gown Needle and Thread
That's good because some of your scenes together are intense. They're made even more so by how different her relationship with Eloise is. She clearly wants what is best with all her children, but I think she is more open with her sons, more comfortable with letting them grow into their own people. Do you agree and why do you think this is?
That's interesting because it's was never necessarily a conscious decision. Again, I work to whatever parameters the script gives me. As it's Anthony's story, the lion's share is for me to have those conversations with him. I'm sure when it comes to Eloise's story, I will be like that with her. I think there is also the period that the show is set in to deal with. It is very much a patriarchal society. That's probably why she is, apart from the fact that she had a very loving marriage, absolutely hell-bent on trying to have her children marry for love. If you marry for love, then there is respect. If her daughters are to have any freedom in such a society, then a respectful, loving relationship in their marriage will help with that. That's how I view how adamant she is in steering her children on those paths. Yes, Eloise is headstrong. In the books Violet finds Eloise challenging and yet she would never change her daughter. It's almost like it's the one irritant but also the one thing she absolutely admires and loves in her daughter. Her time will come.
Out of the 6 episodes I was able to watch, episode three is my favourite. The flashback scenes are exactly how I pictured them. One thing the show focused on more than the book that I quite liked was how much Anthony was affected by how Violet acted after Edmund's death. The scene between the two of them when he is trying to get her to come down to dinner took my breath away. It sets in stone his trauma around love. What was filming the scene like?
It's a lot about the set. It was a very quiet day. I would take myself off to the side, which I normally don't do. I normally mess around. But, a happy set means that there is the space to be able to do that and the support to be able to do that. Both Johnny and Alex [Pillai], the director, were fantastic. I think the thing about grief is that I don't know anyone who hasn't been affected by it. It's something we all recognize and have our take on. I certainly think I drew as much from my memories as from the fact that grief is a thing that never goes away. You just learn to live with it. Filming that scene was exhausting. I remember that.
Yeah, I bet. I watched it and was thinking, "I hope they didn't have to film this too many times." [both laugh] It's a beautiful scene. I can't wait for people to see it. In the scene, Violet is not purposefully or maliciously pushing her trauma onto her eighteen-year-old son. It just happens in her grieving, which is so heartbreaking and interesting to watch.
I think grief is all-consuming. You don't necessarily think about the effect it has on other people. It is all about you. I think it is very human, unfortunately, to sometimes affect someone else unintentionally. It takes a long time to understand that. At that moment, Anthony's been so kind to Violet and yet she doesn't want that attention. Nothing anybody says will make it feel any better. I remember once as a student on my way to college, I was in the underground and I just felt exhausted and drained and bereft and tired and weak. I sat down on the escalator because I couldn't be bothered. Everything felt futile. Somebody asked me if I was alright. I have never forgotten that. I got up and acted all British like "oh, yeah. Everything is fine." But I've never forgotten that because you can't handle care in a way. You have to go through all the anger and all the raw bits on your own.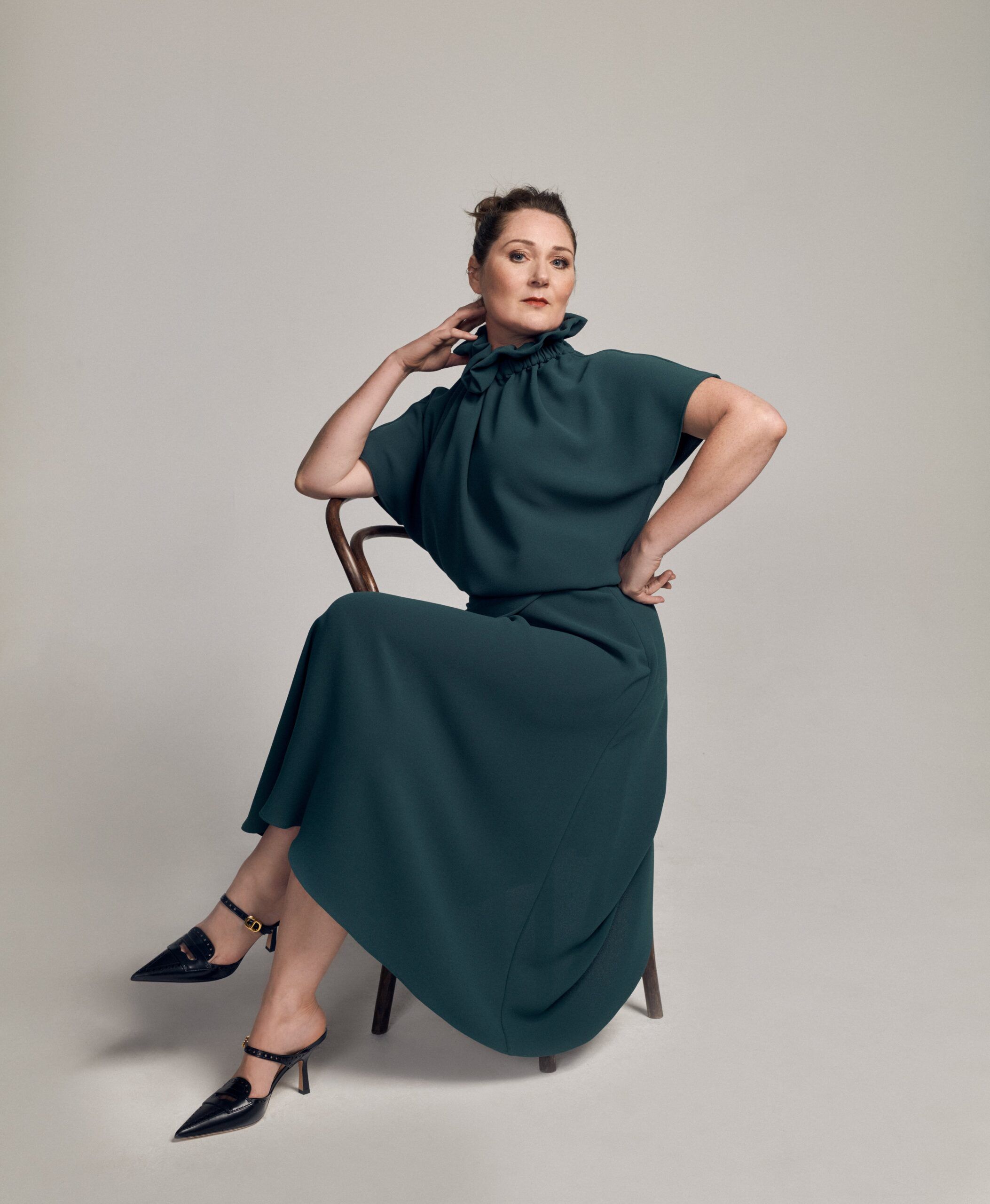 Green top and matching skirt EDELINE LEE Black shoes Christian Dior
I think it stood out to me in terms of Violet because she always puts her children first. She's not selfish at all. At that moment, because of what she was going through, she was. So it stands out in terms of her character as well.
One of the things that I remember from the book when they talk about Violet's past is the first time she smiled after her husband's death was when she held Hyacinth in her arms and the baby looked at her and let out a wail. I love that because she was frightened to be the mother that she needed to be and then suddenly this child had it all in hand for her. I love that.
I like Hyacinth. She's one of my favourites.
If I think I have problems with Eloise just wait until Hyacinth.
That's very true. If you could give Violet one piece of advice for the season, what would it be?
Oh! Relax. It'll be fine. Have a cup of tea and a slice of cake.
She is especially involved in this relationship, I think. As the series continues, what do you hope comes next in Viscountess Bridgerton's journey?
I'm desperate to have a dance at a ball. I really want to do that.
She does in Benedict's book, which should be next season if they keep following the books. So maybe next year? Maybe next season?
I'd love to do that. But now that I've laid the wish down, I'll probably be dreadful.
No! I bet you'll be great. Lastly, I'm sure it's all under lock and key, but is there anything you could share about the upcoming spin-off?
The only thing I can share with you is what you probably know already because that's all I know! It's about a younger version of the Queen, Lady Danbury, and Violet. That's all I know and that's rubbish. There are no spoilers there. I do apologize. If you hear anything, will you let me know? 
Interview by Sydney Bolen
Photography by Joseph Sinclair
Styling by Miranda Almond @ ONE Represents
Make-up by Charlotte Yeomans
Hair by Ben Talbott @ The Wall Group
Season 2 of Bridgerton is streaming now on Netflix.