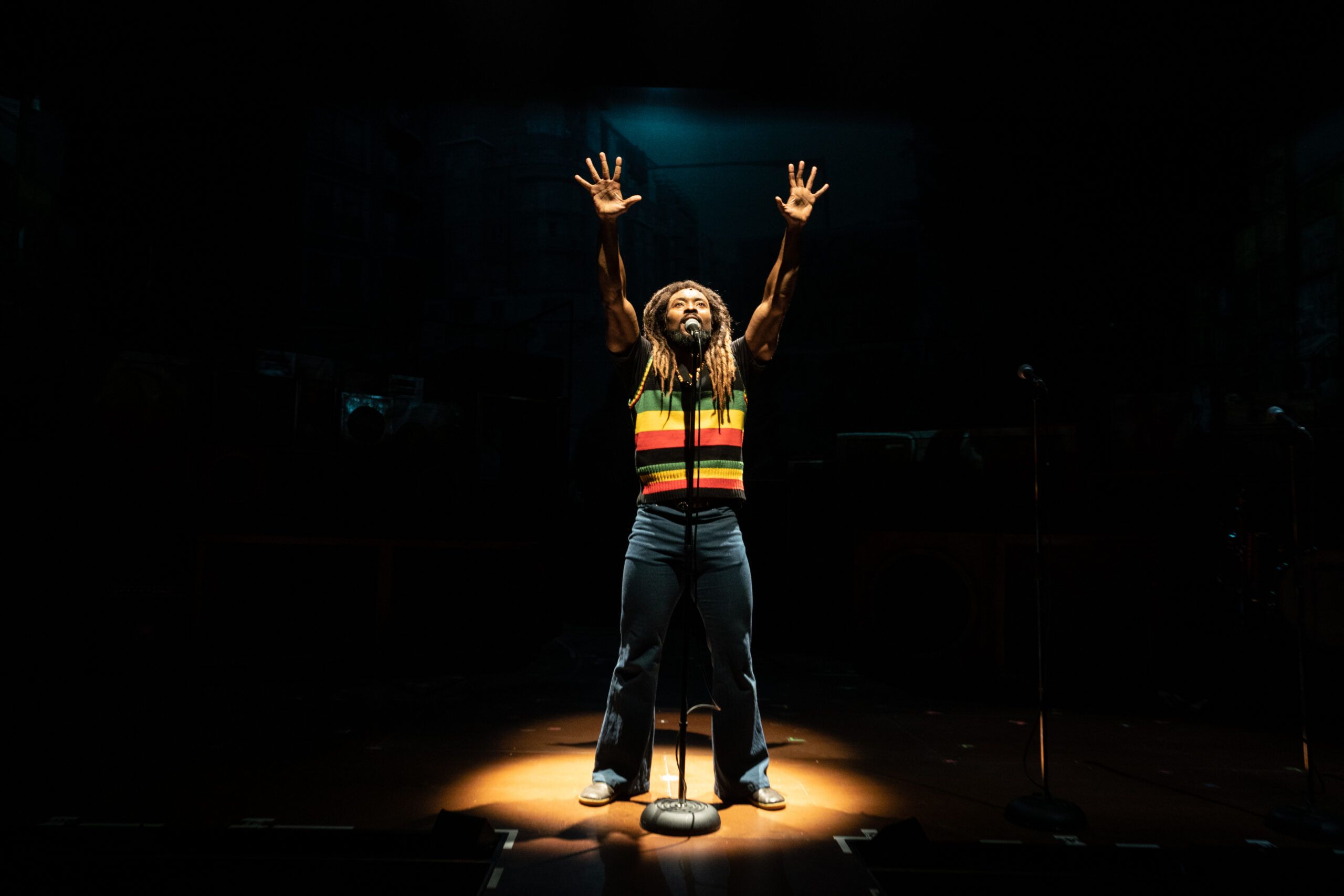 Get Up, Stand Up!
The cast of one of the most enthralling musicals currently on in the West End reflect on Bob Marley's legacy, representation in theatre, and why the women in his life are crucial ingredients in his well-documented story. 
I don't remember the first time I heard a Bob Marley song, but my father still has a CD compilation of reggae for kids in his house. On it, amongst Gregory Isaacs' velvet-voiced version of 'Puff The Magic Dragon' and Bunny Wailer's 'Back To School', is a Freddie McGregor cover of 'Three Little Birds'. I can only assume this is where my introduction to Bob Marley and reggae started—long before I understood any of the words, or Marley's towering legacy.
Fast forward about 25 years, and I'm sitting in the Lyric Theatre in London on a Tuesday afternoon, waiting for Get Up, Stand Up! The Bob Marley Musical to begin. I check my phone once more before turning it off. There's an email from my father, who I haven't spoken with since I arrived in the UK. He's forwarded me a newsletter from London Theatre News: 'Bob Marley Musical Opens To Rave Reviews'. Some timing. I tell him where I am. He answers instantly: I'm SOOOOO jealous! The house lights dim. 
What follows is one of the most enjoyable theatre experiences I've ever had. Marley's music is the backbone of Get Up, Stand Up, but the Clint Dyer-helmed production—which spans Marley's short but undeniably eventful lifetime—finds its beating heart in the relationships he had with Rita Marley and Cindy Breakspeare, and lungs in the actors who breathe life into the trio.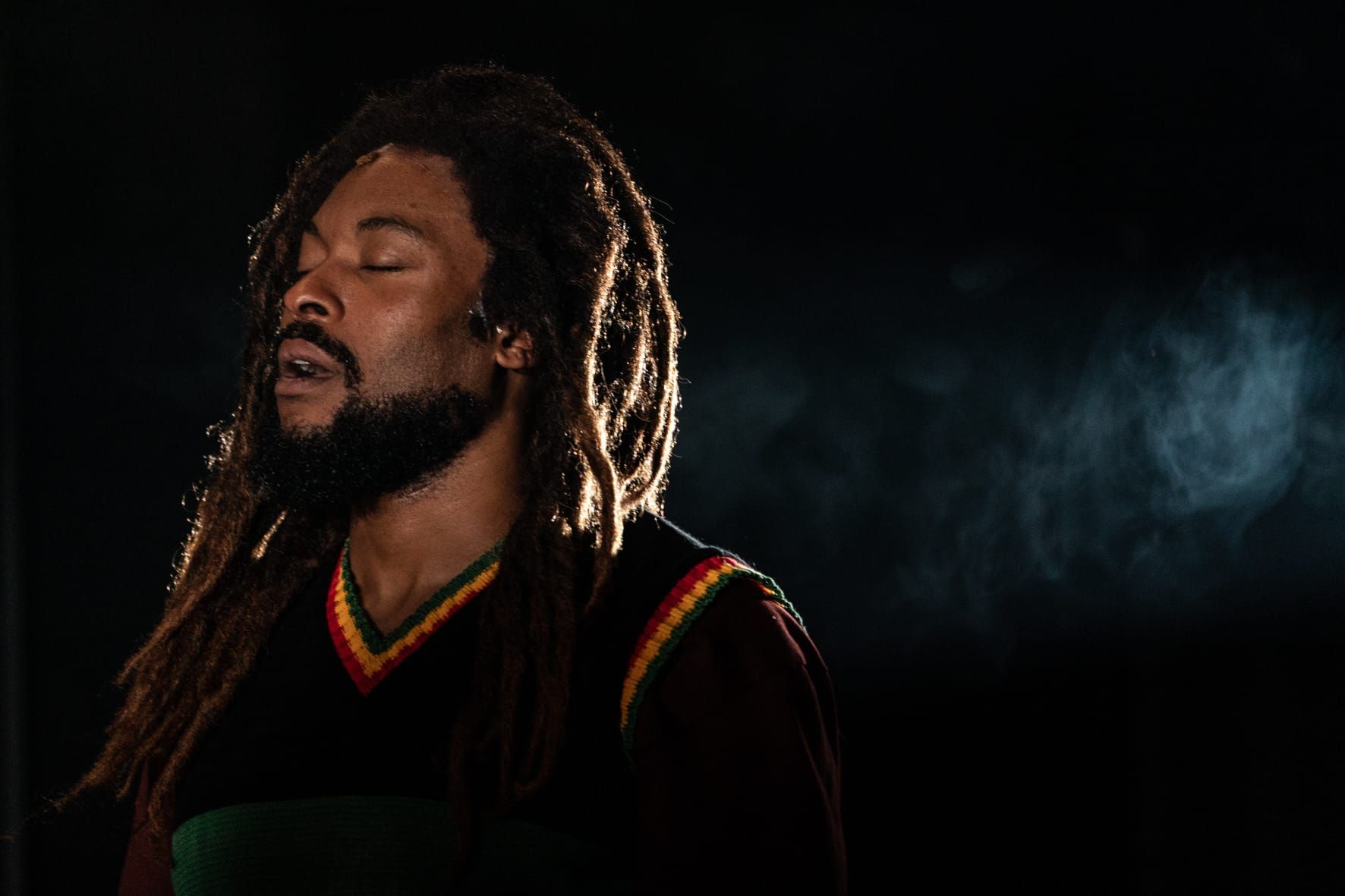 Much of Get Up, Stand Up! focuses on what Marley's music means to the world, so that is where Arinzé Kene, the Hackney-raised powerhouse who plays Bob with such convincing authenticity that there were moments I was sure the reggae icon himself was in the theatre, started. "I watched live performances, and read lyrics as I was listening to the albums in order. I listened to how the music changed over his life—as he left the Wailers, and worked in London," he says. "He's quite brilliant in that his music is very autobiographical, so that is a good entry point." 
Additionally, Kene says, a lot of people wrote about Marley. "Everyone who ever met him wanted to write a book about him, because he's so special. There are a lot of viewpoints, and conflicting information," he admits, "but even in the confusion, you get to paint a picture of a man that no one could agree on, because he was such a mystic figure. Bob was on another wavelength," he says reverentially. 
Kene has been a Bob Marley fan for a long time, but certain parts of his story surprised the actor. "You never really give the beginning much thought," he reflects. "I assumed he was always a star, but that was very much not the case. There were other lead singers, all these different iterations of the band. He didn't have the best voice, and so many people have spoken about that. But we don't always go to that, with music. Every now and then, you want to hear Whitney's technical ability, but Bob's drive and ambition overrode the technical stuff. I also know that about myself. I can sing, but I can't sing like this woman over here," he grins, gesturing to Shanay Holmes (Cindy Breakspeare), perched beside him.
Very few people can sing like that, I point out. "That's very true," Kene laughs. (For the record: Kene can sing, and extremely well. His voice, much like his performance, is breathtaking). 
But even as the musical and its stars hold Bob Marley in reverence, they don't shy away from his flaws. And though it's clear Marley loved the women in his life, the one time Get Up, Stand Up feels critical of him is when discussing his treatment of Rita and Cindy as he pursued relationships with them (and several other women) simultaneously. The show makes a rather pointed and dignified choice to give two of Marley's most popular songs ('Waiting In Vain' and 'No Woman, No Cry') to Holmes and Gabrielle Brooks (Rita Marley), making for some of the show's most poignant moments. 
"I don't think you can tell Bob's story without the women in his life," says Kene. "Bob genuinely needed help to get to where he was. Many people paved the way for this superstar, and made sacrifices for him. He made sacrifices too, but many of the people around him—particularly Cindy and Rita—would have been on a different life path had they not met Bob. He was, by all accounts, an incredible human being. It also took Bob to convince these people to live romantically unique lives." 
"What surprised me is how much of an artist Rita was in her own right," Gabrielle Brooks says from her dressing room, a week later. "There was a lot about her music career and her life as an independent woman that she'd given up."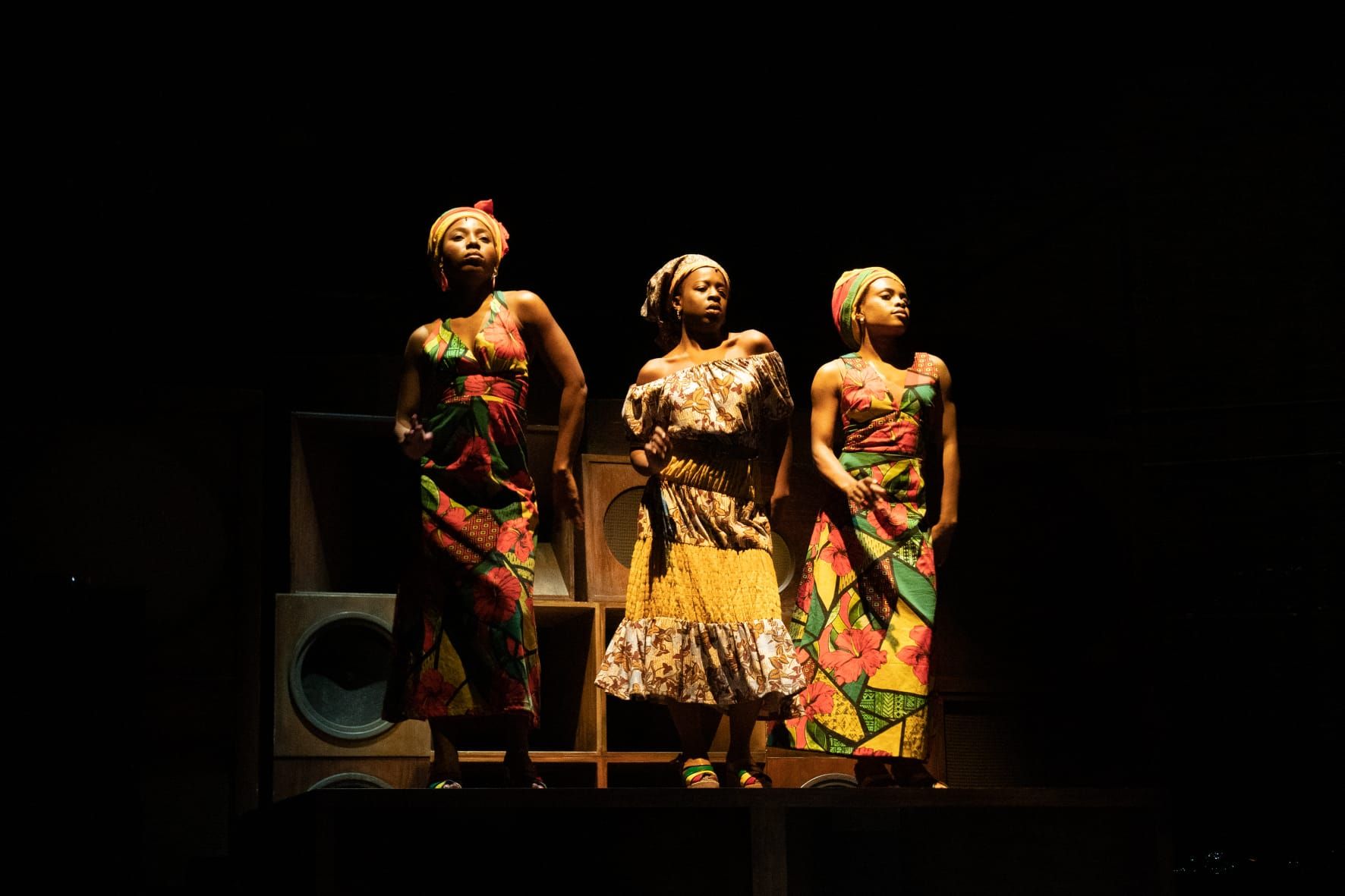 That said, Brooks doesn't want people to get the narrative twisted. "That's not to say she felt subservient to this man, but because she felt like he was offering a message to the world that needed to be heard. The assumption is that she was somehow trapped, or persuaded. She made her own decisions about the woman she wanted to be alongside this man. Not behind him. And he would ask Rita for feedback when he was writing songs. You assume one man is an island, and one man is a genius. He was a genius, but he also had allies that stood beside him to help him become the man he became. We need to understand the depth of a person outside of them being a hero," she continues. "He was a flawed man, but he was also a loving man."
"Two hours and 15 minutes is such a small space of time to include everything about him," adds Holmes. "But all the women who came into contact with him taught him something. I don't think he would have been able to survive without Rita. She was his backbone, his rock. That's an amazing love story within itself. And the relationship with Cindy is unique, because these two people were mixed-race individuals, and she was a phenomenon herself, in her time. When you look at her life and history, how she represented Jamaica in the 70s was incredible. I love that the musical goes there with both of these stories, and I think it's particularly respectful of Rita Marley." 
Breakspeare, the Canadian-Jamaican Miss World winner of 1976, flew to London to meet the cast—an experience Holmes describes with an impossibly broad grin. 
"When you're playing a character who is still alive and breathing and who means so much to your heritage and your ancestry, it becomes quite a huge thing," she says. "She's really something amazing. We took her across the road to have some drinks, and I got a video of her meeting Arinzé. She was so excited. She's incredible, graceful, and carries herself with so much dignity. I always thought she came from an uptown background, and I learned that she didn't at all. Obviously, because of colourism, it's presumed that she was well-off—or certainly that she didn't have to work. But she was a grafter. She worked from as soon as she could, in gyms, in restaurants. Actually, a restaurant she worked in was where she met the guy who ran Miss Jamaica. She was a hustler, making ends meet. And I really respect her for it." 
When I ask Brooks about speaking to Rita Marley, she simply says: "I freaked." Brooks' agent told her Cedella Marley (Bob and Rita's daughter) wanted to phone her, and that Rita might be on the call. "For about a week, I was trying to think about the most poignant, intelligent thing to say to this person I'd be playing, and her iconic daughter. I spent most of the time talking to Cedella. It's pretty incredible talking to someone who not only idolises their mum because she's a good parent, but also understands the impact their parents have had on the world. 
"She understands the sense of ownership the world feels like they have over Bob, and she respects it. She was really encouraging, open, and lovely. In a really calming way, it felt like she gave us her stamp of approval, which is all we could ask for."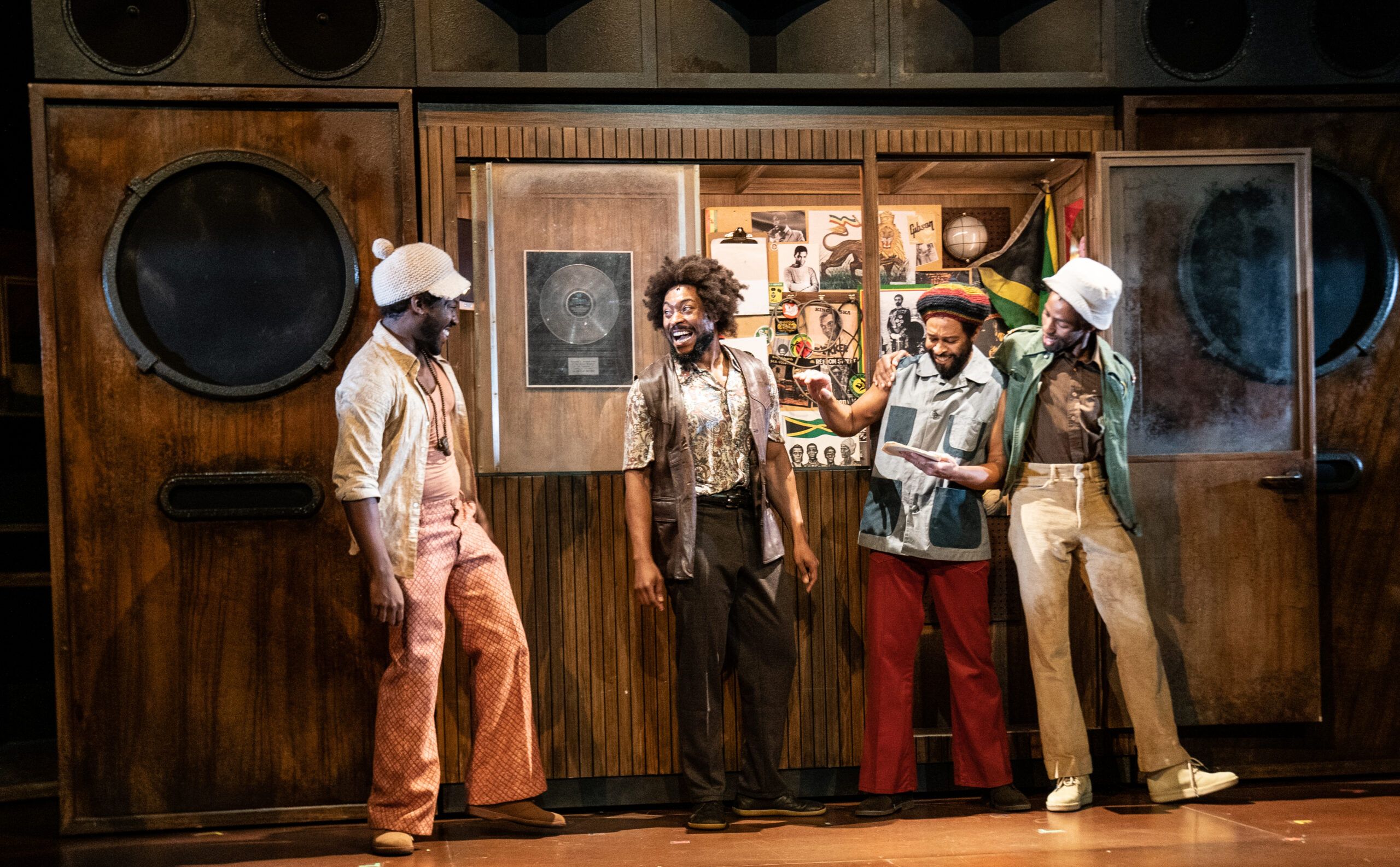 Despite the high-profile cosign from the Marley family, Get Up, Stand Up took years to get off the ground. Kene himself has been attached since 2016, when he participated in an early staging of the production. These workshops are often used to secure more financing or work out kinks in a script, and many actors who participate in them don't end up in the final productions. Obviously, this wasn't the case for him or Brooks. 
"I'm really lucky to get asked to do a lot of workshops," Gabrielle says. "I say yes because it's like a no-pressure event where you get to play with other artists on a new piece." Normally, Brooks would have a conversation about the workshop with her agent, but participating in this one was a no-brainer. "I was like: 'yep. I'm doing it'," she laughs. 
"I also said: 'I'm going to do the show'. It wasn't an ego thing. You do so many workshops and nothing comes of it. But this was incredible, because you were just surrounded by really talented Black people singing reggae music."
What was it like to watch Kene step into that role? "I have a lot of respect for him as an artist, and a person," Brooks says. "He knows this, because we are very honest about how much we adore each other's talent. When I saw him perform in a read-through, it felt like he'd had it down for years. It felt like he had honed the skills he needed to transform. It was incredible to see him become Bob Marley, but if I'm being really honest, I don't remember seeing him perform and feeling like he didn't have it yet. He always understood what he needed to do, as a performer and a leading man."
During the 2016 workshop, Kene was reading for a different character, when a different writer and director were attached to the project. In fact, at one point, Kene says he was sure the show was never going to happen. 
"Because I'd been attached to it since before the pandemic, it was always kind of touch and go," he says. "Getting anything put on in the West End is really hard work. It has to be proven, you know? This show went straight to the West End. That nearly never happens. And then the fucking pandemic hit, and it got pushed back, and pushed back," he says. 
The pandemic left The West End dark, and every creative in London with plenty of time on their hands. "Time doesn't always equal getting work done," Kene chuckles. A writer as well as an actor (he was nominated for an Olivier award for performing in his own play, Misty, in 2019), Kene—like so many other creatives—found lockdown to be draining. 
"I had no structure, having the entire day to write—or do fuck all. So the first few months I was struggling to get work done, and then feeling really guilty that I wasn't getting anything done."
He was involved in some productions that fell through. "I was scared of what it meant for the industry, the fact that it could be shut down that quickly. Right now, we're still in a period of recovery. Our show is very lucky," he admits, "because we perform to full houses every night, but that's not the way it is around town."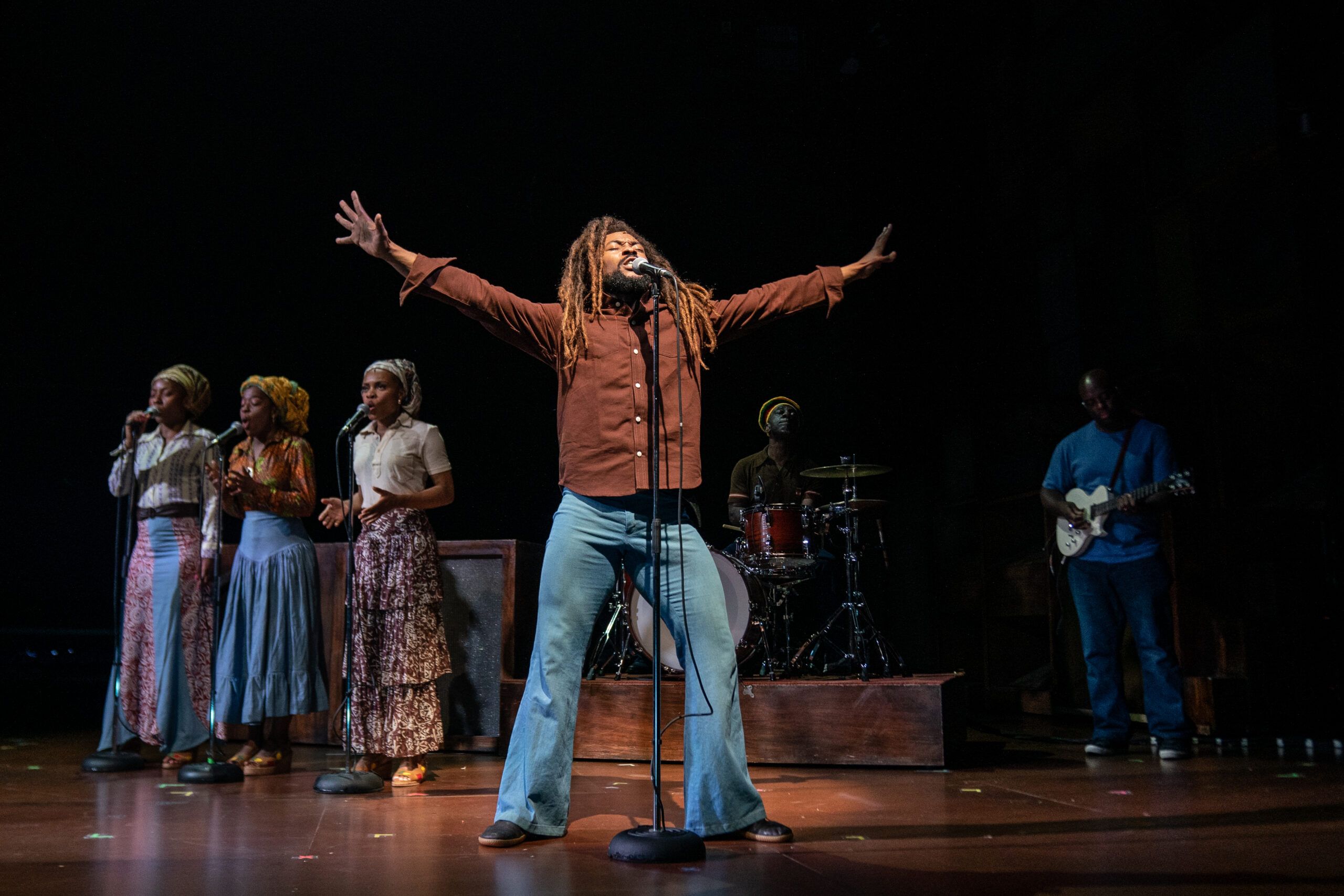 Luckily for everyone involved, Get Up, Stand Up! was an instant hit. And part of the show's success is that—much like Marley's music—it reels in a massively diverse audience, populated by folks from all walks of life, and makes them comfortable enough to participate.  
The reaction the show invites, according to Brooks, is proof that the production is doing its job. 
"'Theatre etiquette', she says, a little exasperated, "is part of the reason certain people don't feel like they can come to the theatre. They're not sure how they should behave. Throw the rulebook out the window, and it will encourage diverse audiences!" 
More importantly, she continues, throwing away the rulebook will stop theatre etiquette becoming a scapegoat for the current lack of diversity in live theatre audiences. "You can't invite a bunch of black people who have grown up with this music and tell them they have to sit in silence. It's ridiculous. They feel ownership over this music. It's the heartbeat of their home, and their history. To tell them they have to be quiet is like telling someone who is in the spirit in church to shut up. You just can't." 
It would be fair to say that Get Up, Stand Up is part of a wider cultural movement toward equal representation. The show is celebratory, radical, and challenges the norm all at once. 
"This is really unique, because just having so many black artists in one space is unique," says Brooks. "We are making history. It's hard to tell yourself that every day, because that statement carries a lot of weight. You can't go on stage with that much pressure, day-in and day-out. It does feel very special, and like we carry a responsibility, but it also feels like we are at the very start of a journey. I don't think anyone walks into this building every day feeling as though they have done the work. As joyous as it is here, and as much as we celebrate each other and the experience that we're having, we're all very aware that there's a long way to go, especially for the UK theatre industry, to create equity." 
During the pandemic, Brooks—who co-founded Mawa Theatre Company and created Black Stage UK—promised herself that her art will never again be separate from her activism. "This musical has been the perfect experience to come back to, because it aligns those two things," she says. 
"One of the reasons I took this job is because I wanted to do something that felt important to our community," says Holmes. "I'm very much a believer in taking up space, rather than asking for it. I think Arinzé is an incredible example of that, with the history of his career in writing and performing his own material. I would like to think we're trying to do the same in a commercial world. So taking this job felt like it was going to be an authentic choice for me. I'm very proud that I get to be onstage with this company, and that we have someone like Clint, and the crew we had, to make this as authentic as possible, and to try and truthfully represent a culture, people and lifestyle onstage in London. I can't describe the feeling of looking out and seeing so many black people in the audience, with their fists in the air at the end of 'Get Up, Stand Up', and what it's like to feel that massive togetherness that only Bob's music can create."
Get Up, Stand Up! is on now at the Lyric Theatre Shaftesbury Avenue.
Words by Tanis Smither