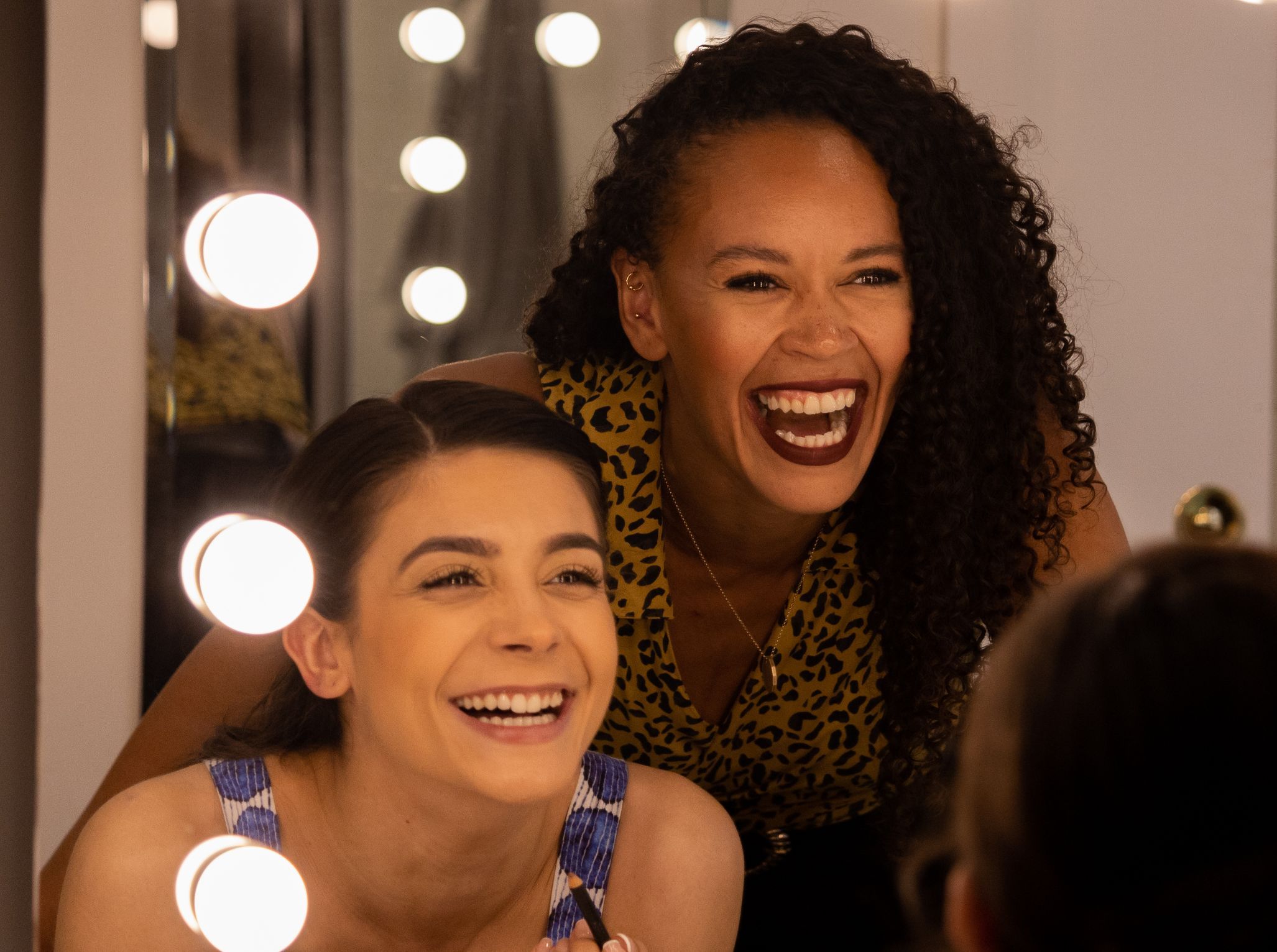 Grease
As Grease the musical nears the end of its 26-week run at the Dominion Theatre, director Nikolai Foster's grittier and more compelling take on the show has made it the theatre's most successful summer run since the hit Queen show We Will Rock You. With the 1976 film fresh on audience's minds, this iteration of Grease is much closer to the original 1971 stage production that the film was based on; gone is the Sandy who changes herself for a man, here we have a version of Sandy who has agency over herself and her decisions, played fantastically by Olivia Moore. Whilst the musical is set in the 50's, we are now in an ever so slightly more socially advanced era and the character of Danny almost feels irrelevant in a production where the ladies rightfully steal the show.
With most audiences going into the show with the love story of Sandy and Danny at the forefront of their minds, in this production of Grease the real love story is the evolution of Rizzo and Sandy's characters. Partly down to the tremendous skills of the actors playing them, both characters undergo transformations; Sandy embraces her tenacious spirit and finally just lets go. Lets go of the judgmental mindset she has had throughout the show and leans into the self-assured, confident character that we have seen, whilst Rizzo takes on a similar journey in reverse. Played by the exceptional Jocasta Almgill, Rizzo starts the show as the feisty, confident character we all know and love, but as the show goes on; she softens and drops her facade and shows multiple layers to a once 2 dimensional character.
1883's Amelia Walker sits down with the two actors playing Sandy and Rizzo, Olivia Moore and Jocasta Almgill to discuss their journey with the show and how they have managed to create such nuanced characters with equal parts heart and sass, earning them rave reviews from critics and audiences alike.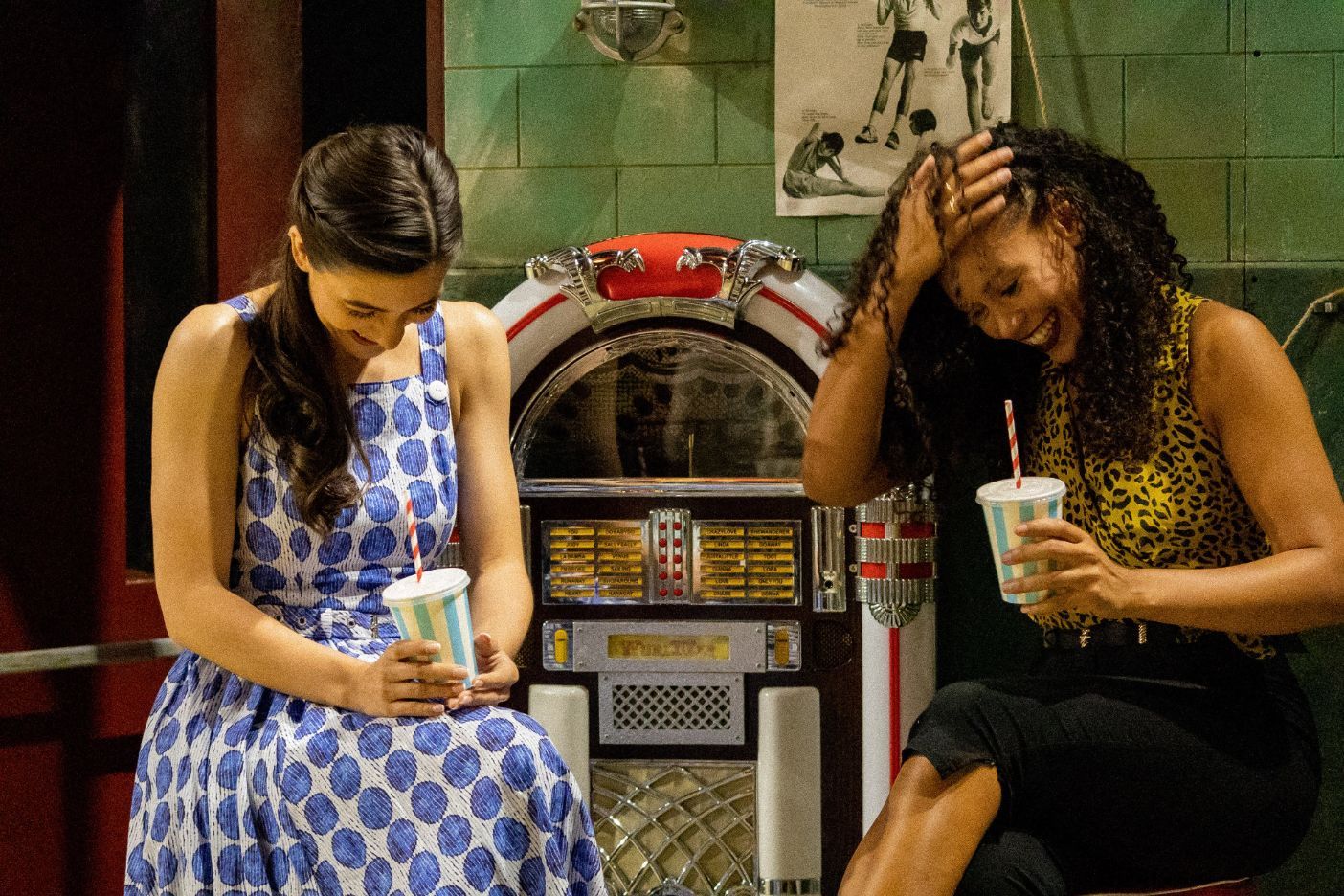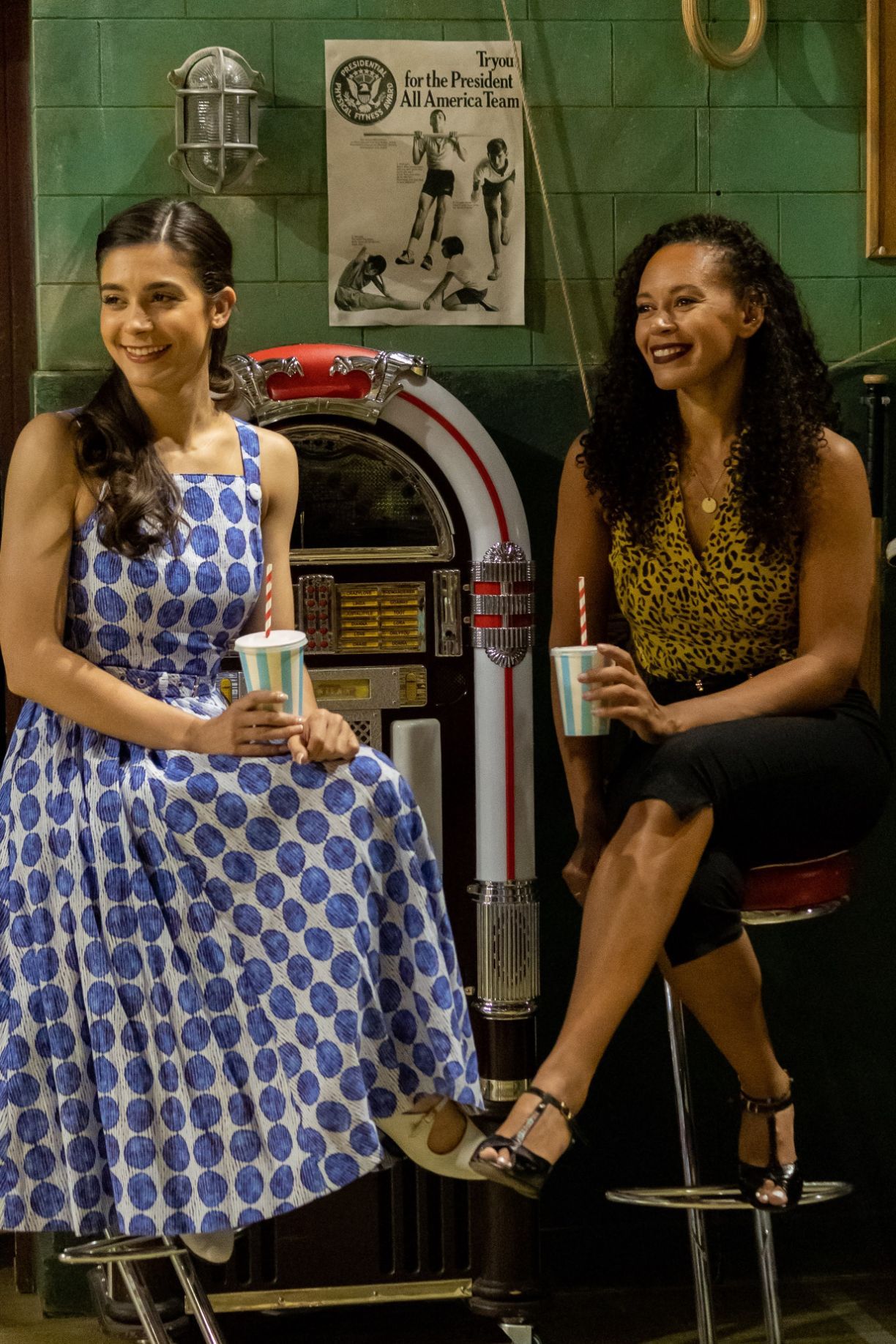 Firstly, congratulations on such a successful run so far, you have both given such depth to these characters that they're presented almost completely differently to how audiences remember them. You performed at West End live where there was some much needed championing of understudies and covers stepping up in the instability of the last few years and  I wanted to touch on the fact that both of you have previously been understudies in your career,  you have covered massive roles like Jenna in Waitress, and Anne in & Juliet, how do you think your work as understudies has prepared you for being leading ladies?
OM:
I think as an understudy you learn about everyone's individual role within a company and I feel like there is a understanding which is really helpful, although we're not understudying we know ways in which we can probably help certain people, for example if there's, a cut show or when someone's got to take on another responsibility. I'm aware of everything going on. Even with an understudy just going on – knowing and understanding those feelings that they're going to be going through and figuring out ways that you can actually help or offer support to them
JA:
Yeah. As an example, if the person you are usually playing opposite is off and the understudy is on, having been an understudy and having done that, I know what they are going to need rather than just being like, "this is what we do at this moment"  the most important thing is them and making the feeling comfortable so that they can make the character their own and being able to work together to create a new relationship, because that's something I've been very lucky in doing in my career. I've understudied really amazing people. I've had really wonderful guidance in that sense, and I've been able to go on with great people like Oliver Tompsett (who plays Shakespeare in & Juliet) and when I went on I never felt any pressure to do it any other way but my own way and I think that's so important as a performer, so that's definitely something I learned as an understudy and I hope I have brought into being a leading lady to share to the company.
OM:
I hope he doesn't mind me saying this but when Ronan Burns, who is the understudy Danny, went on there were some times where he would be like "I'm sorry was that different" and this is obviously no disrespect to the actor who plays Danny, but it's so refreshing to have different takes on a role; there's different instincts and different impulses as an actor. It's amazing to see someone else's take and to create a character that is theirs rather than literally stepping into someone else's interpretation.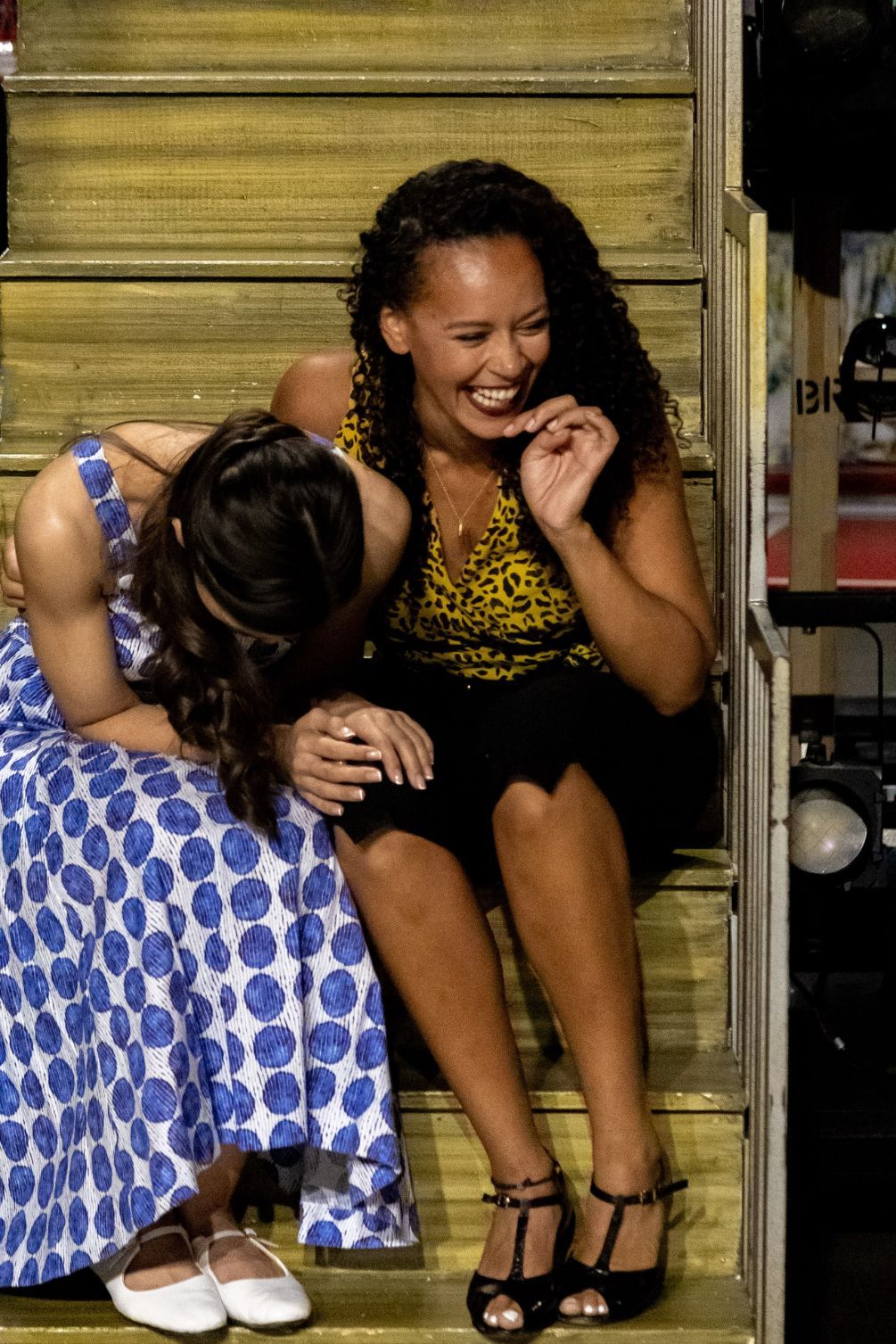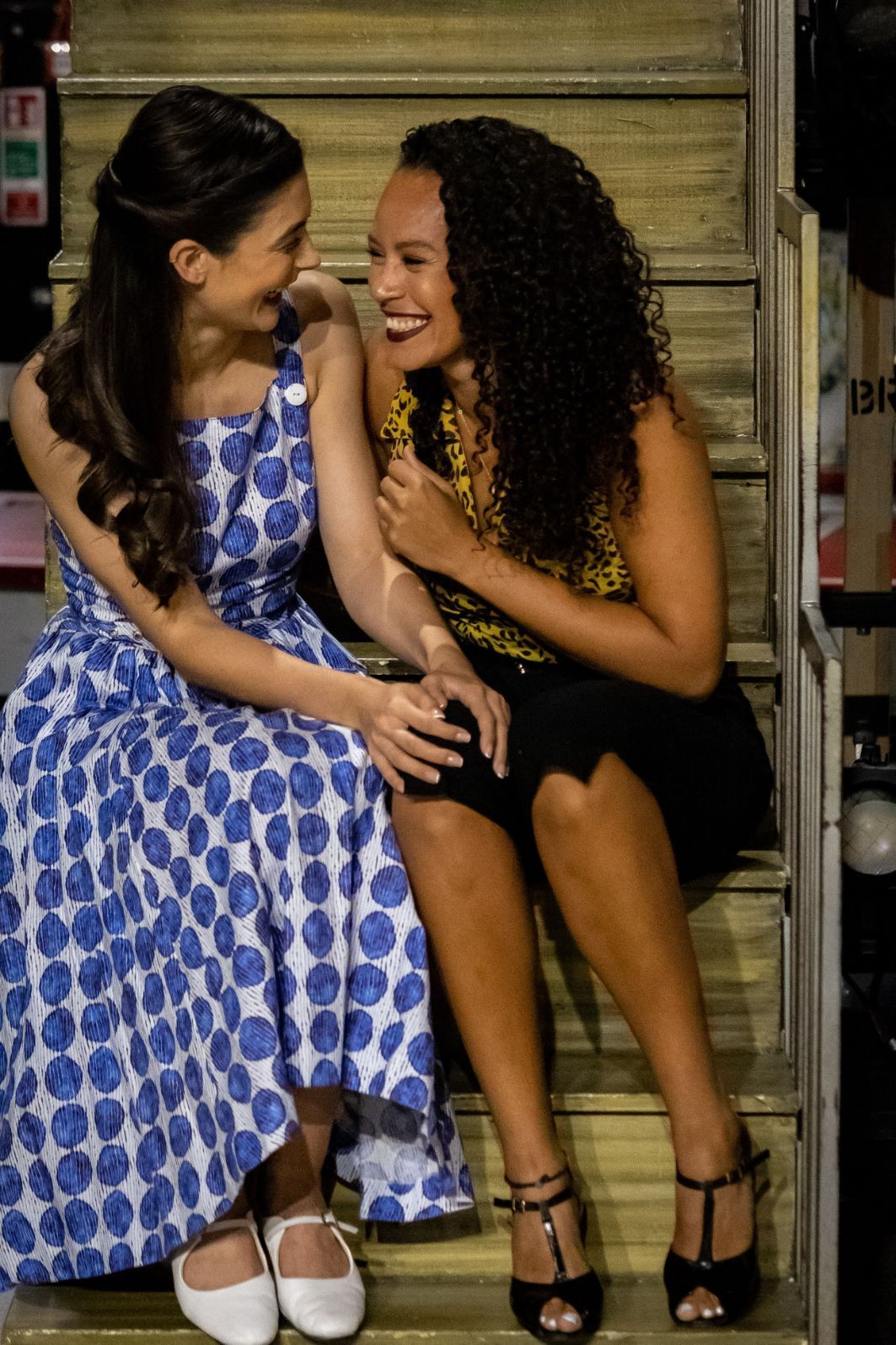 I think that has worked really nicely. Something that the two of you do extraordinarily well is bring so much dimension to these characters that people think they know so well because of the movie. There is such a nuanced, raw quality to these two characters, which is interesting because I have always thought of Grease to be very antifeminist but in the show the women have a lot more agency and self-assurances. Whilst it's very refreshing, I also can see how some audiences will come in with such high expectations of what they are expecting from these characters, how does that feel as an actor?
JA:
I definitely went into rehearsals guns blazing, I knew who I wanted Rizzo to be and it was really important to me that she wasn't just seen as a bully, she's vulnerable as well. Rizzo has a huge part in Sandy's journey and Sandy has a huge part in Rizzo's journey. It is it like a running joke with me but I do always say this show is 'The Untold Love Story of Sandy and Rizzo' it is refreshing for me to know that these two women have aided each other in their journeys. It's not necessarily about Sandy doing these things for Danny or Rizzo doing these things for Kenickie. At first glance, Rizzo would have seen Sandy and thought she was weak and pathetic and whatever, but actually, her being so open and so vulnerable and so able to say "I really liked him. I put myself out on the line" whereas Rizzo would never do that. Seeing Sandy's strength actually helped her change. I really hope that can be filtered down to audience.
OM:
I think it is also a testament to Nikolai Foster and Dale White because from day one they created a rehearsal room where we could adapt and make the story more current to fit in with the world that we live in. They were so open to changing and refreshing this production because as much as so many people love Grease for the film and how iconic it is, there are so many things about it that make people very uncomfortable and that are rightly not acceptable in today's society. I feel really proud that we worked with a creative team who were so open to changing it. Obviously there are a lot of moments where we have to honour the script, but seeing audience members react to unpleasant things is a good reminder that those things are not acceptable anymore. I felt so able to find my own Sandy, there have been so many wonderful actresses that have played her throughout the years, but I wanted to create a bit more of a backbone for Sandy, it was time for her to have that strength.
She is still such a sweet character and very vulnerable, which unfortunately makes her the brunt of a lot of people's anger or annoyance or frustration. I think for me personally my journey is massively through Sandy's relationship with Rizzo because if she didn't have that relationship with Rizzo, I don't think it would have resulted in her acting the way she does with Danny. There are many little moments in the show where being around Rizzo really builds her confidence. This kind of leathery, fierce, powerful moment, which in the film comes out of nowhere, but I think in this production there's more build up to it and it's a lot less of a shock because it's been built up. This is not me saying like our production is better than the film! I just I think there's a little bit more build up to it because of these moments.  This production is absolutely more about female empowerment.
I feel like they both have an opposite journey. Rizzo ends where Sandy begins and Sandy ends where Rizzo begins and I think it's something very special to watch Rizzo become more vulnerable and open in the way Sandy is at the beginning of the show. The movie was all about Sandy and Danny but it feels like a secondary plot point in the show. 
OM:
Everyone loves the love story, and yes we have that, but there are so many important topics and conversations that have been had within this show that so many people can relate to. It is so important to focus on those other moments as well, because so many people can relate to so many different characters in it.
JA:
Just going back to what you said before, that Rizzo ends where Sandy started and Sandy ends where Rizzo started, I think that's so important and it's so important to be celebrated because they're both better for it. To be strong and 'together' isn't better than being vulnerable, softer and gentler. All of those qualities are equally as valid, and actually, the best, well rounded human would be a good balance of all of those things. So I think that's really important rather than it being 'you should be this way or this way' or to get ahead, you have to be S-A-S-S-Y. Yes, its fun playing a sassy character but there is so much more there.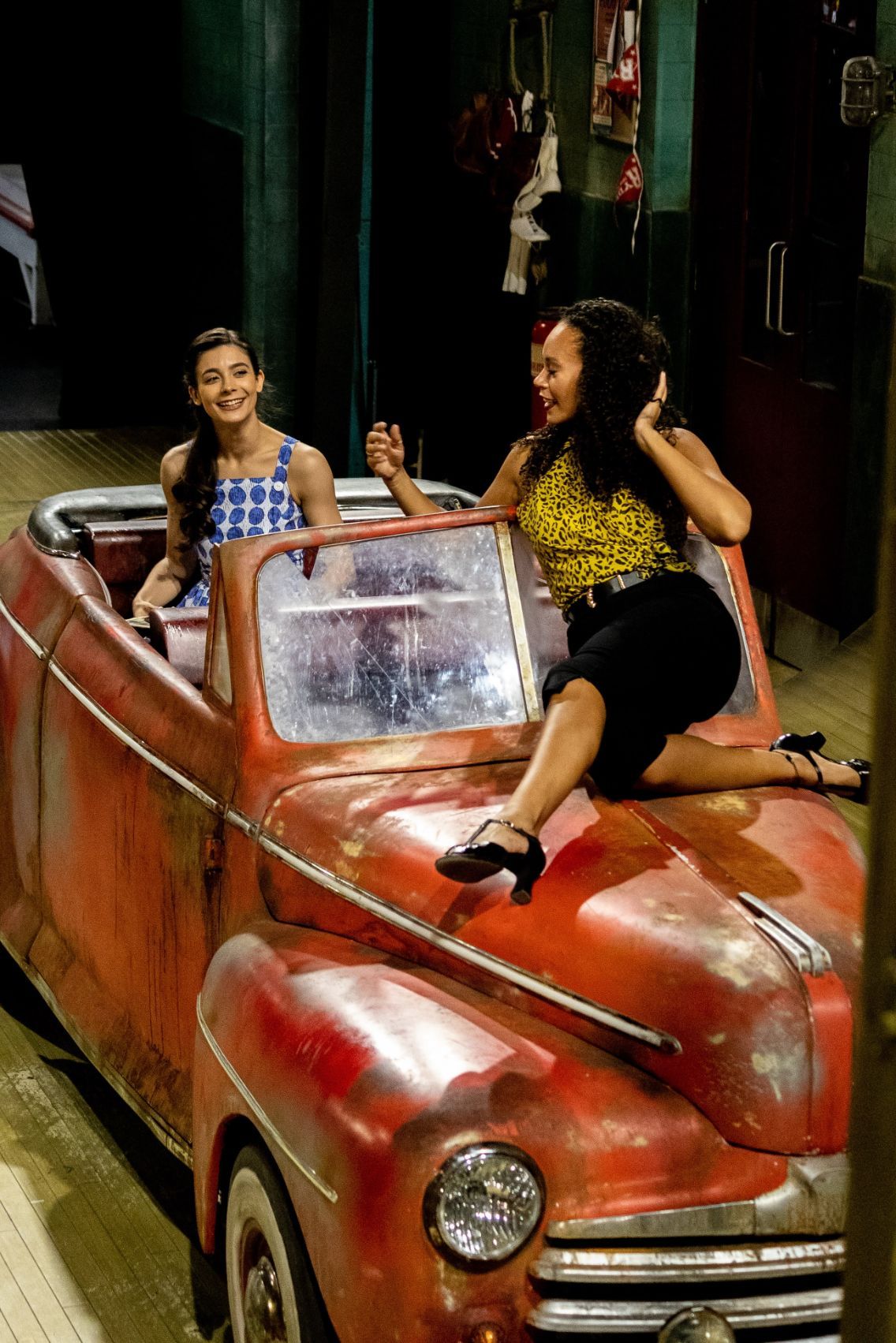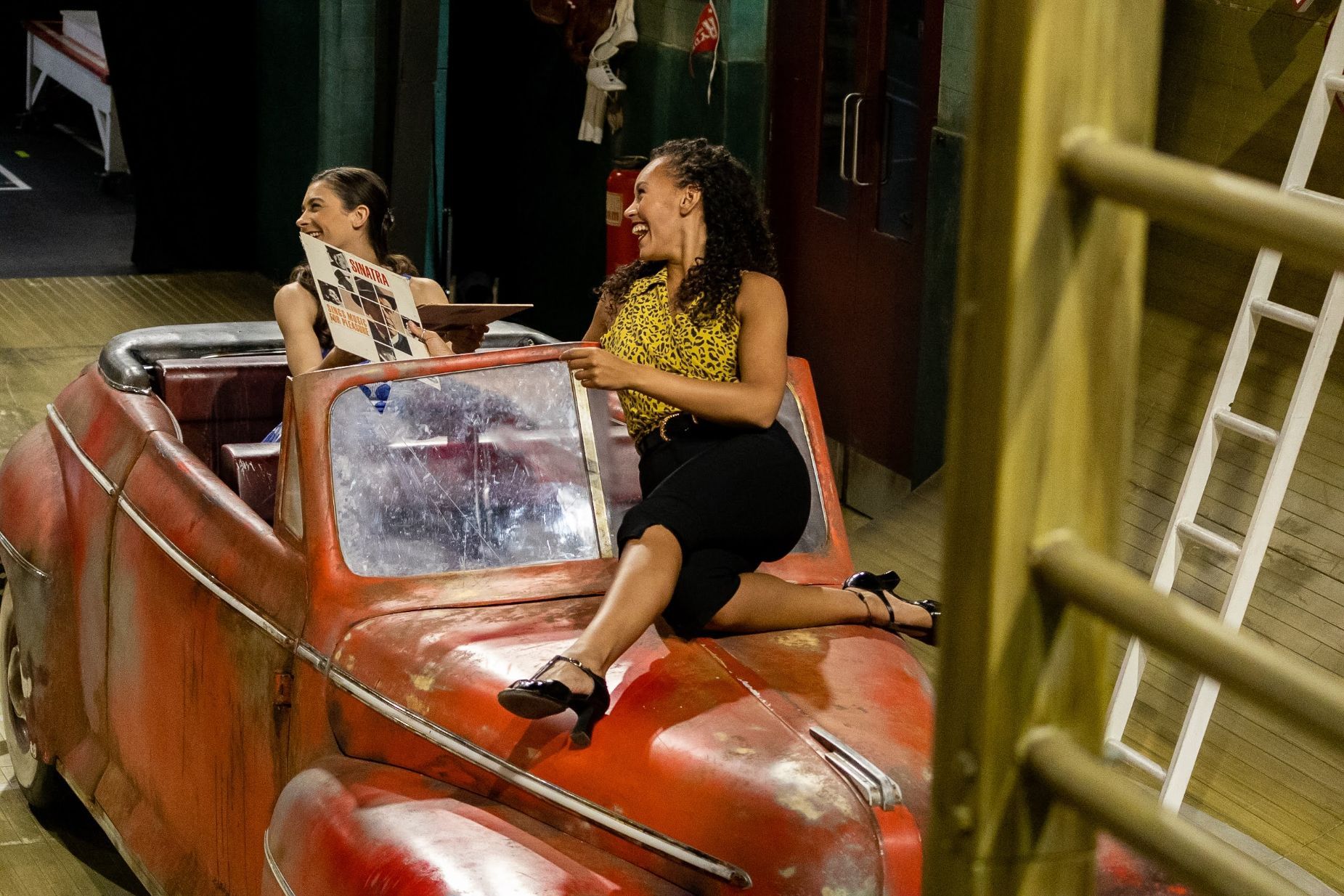 My personal favourite moments of the show are the transformation scenes that Rizzo and Sandy have. For Rizzo, in 'Those Magic Changes' you watch her just completely break down all of her defences and she sits and just sobs as the news of her potential pregnancy travels through all of the other characters. Then with Sandy, the song 'Look at Me, I'm Sandra Dee (Reprise)' is the moment where she finally allows herself to just let go. How does it feel to play those moments, it must be different every time?
JA:
It really is. It's honestly really draining because for me, I have to fully commit to it. There's a lot of people in the audience and I want everyone in the theatre to feel it so I feel like I really 100% have to go for it. It's definitely tricky, and especially in recent times with everything that's happening in America with regards to abortion laws and women's rights, I feel like there's a real responsibility to do it justice and play it authentically. The reality is a lot of people have had pregnancy scares, it's terrifying, and it isn't really talked about at all and it shouldn't be a taboo topic. It's something that I really want to tell authentically because it's something that can cause real torment and it can trigger a lot. When the overturning of Roe vs Wade happened, it added a whole extra layer to that scene. For Rizzo, at that point in her life she is sat there and is seeing everyone start to dance and have fun, what's going through my mind as Rizzo is that my whole life is going to change and my best friends, these people who I love so much are all having fun and I can't do that anymore. I'm ostracised and isolated. In that moment too, I am also physically isolated from the rest of the group, which Nikolai has done so beautifully with that scene.
OM:
When it comes to Sandy's transformation, this is me being completely honest, but in rehearsals, I really struggled with that moment from a singer's point of view because the last note is sustained and it sat in a funny place in my voice. So I would always feel so weak at that point, which is actually probably quite fitting for the moments before. My actor brain would turn on and all I would be thinking about was this note that I needed to sing. It was a journey because in that moment, I needed to feel powerful and headstrong and not be thinking 'are you actually going to be able to sing this?' So it took me a while to feel strong in that moment, and like change was actually happening for Sandy. Now I feel so much stronger in that moment too because I can relate to Sandy a lot with my experience with secondary school and now that I'm comfortable with singing it, I can actually relate to the moment a lot more when I am in it.
With actors, especially in musical theatre, obviously it is about the storyline and how you're connected to the text as a character, but you also have so many other things to think about; 'Are we in the right spot? Are we in the right light? Are we singing in tune? Are we actually singing? Oh my god, I just cracked! I need to quickly do my costume change' there is so much in your brain, so it took me a really long time to feel at peace with it or even happy with it because my singer/actor brain was like 'oh but can you do this?'
And you do it so well. I think like Sandy's transformation is one of the big moments that audiences anticipate, and in other productions of Grease that I saw, that moment felt very flat and almost performative for the audience to be like "here it is folks!" However, the build-up in this production works so well thanks to your performance and Nikolai Foster's direction. There must be a lot of pressure on you for that scene each night
OM:
Yes, absolutely!  Especially with the costume, I was so nervous about that because you obviously want to look good but you also want to feel good as well. The wardrobe department has been so accommodating to my feelings and have changed things. They've been so fantastic in putting how I feel as their priority. The leather leggings that I wear are actually so comfortable! The whole team have been so amazing. Colin Richmond who is the costume designer said from the get go that if you feel good and feel like your character then I'm happy. If things didn't fit or someone wasn't comfortable, they were fantastic about it and just so approachable.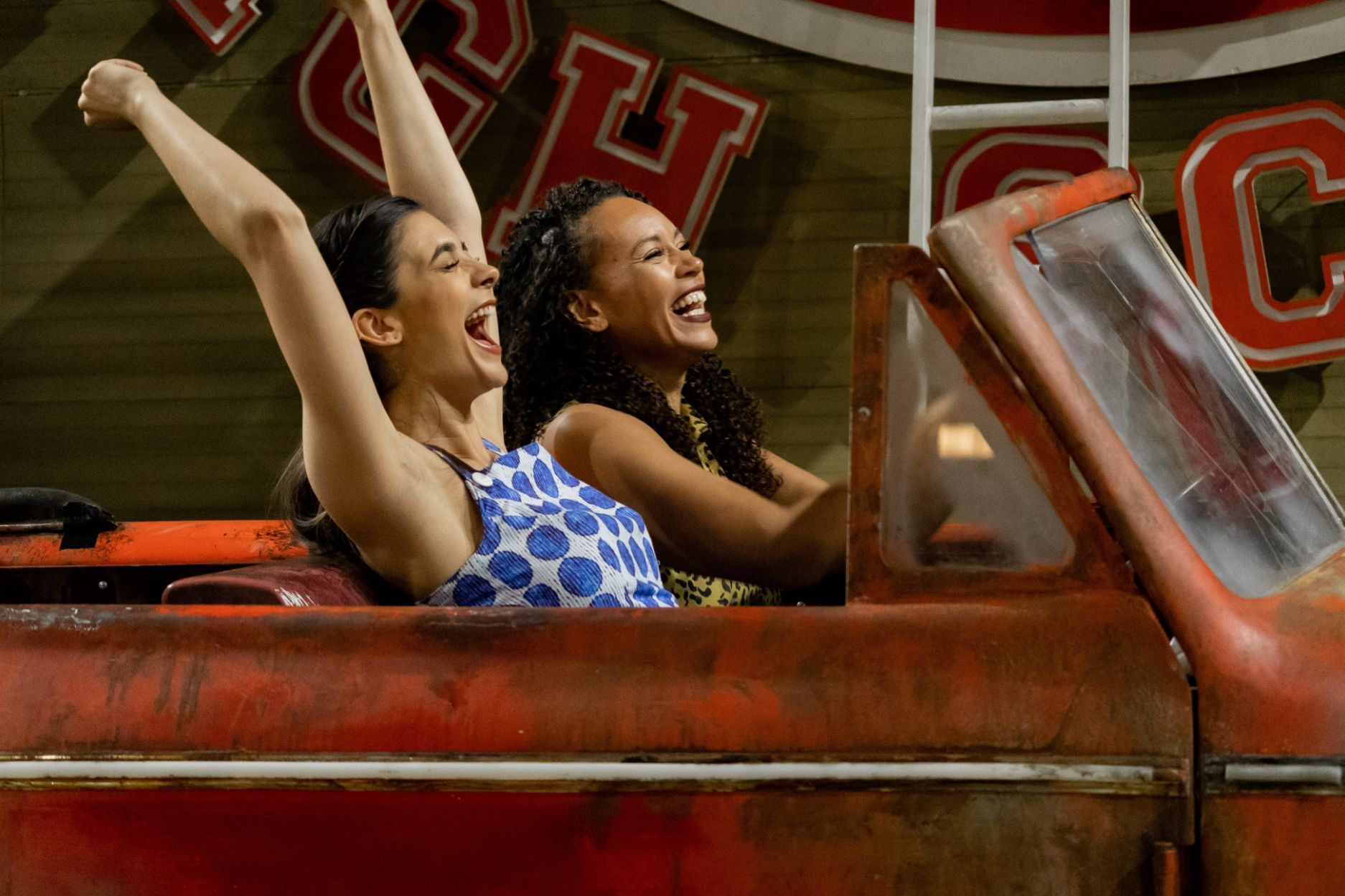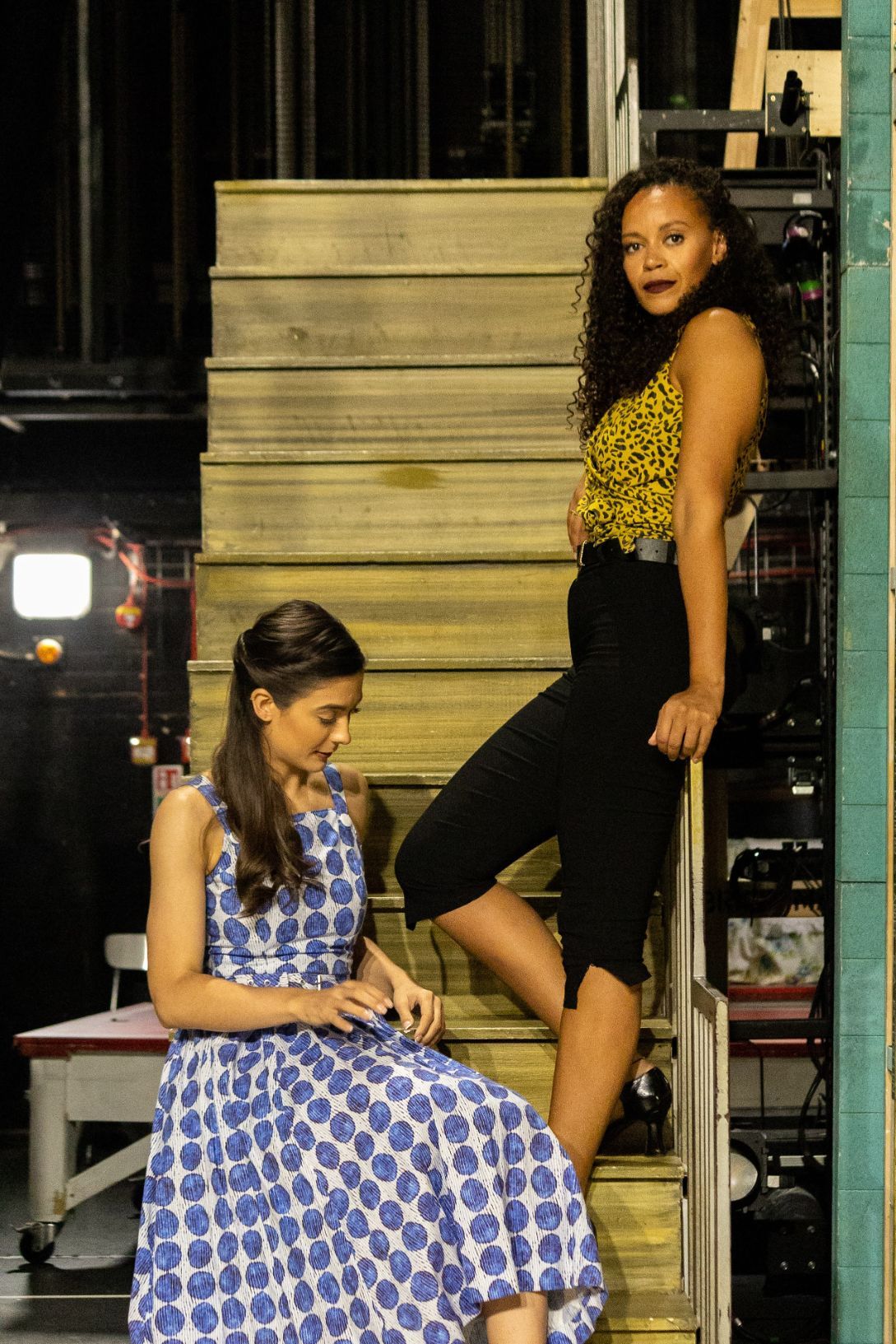 That's so good. Because the costumes are second layer of the characters.
OM:
Yeah, when I come out in the leather, it's so important that we feel confident.
JA:
Yeah, because in real life, Jocasta is not sexy but I have to be sexy onstage so I have to be like "okay lets work this" Originally, Rizzo's costume was a pencil skirt, it's actually in the original photoshoot but I really didn't feel like it was what my Rizzo would wear, it doesn't fit my Rizzo so we found something different that I think really works and feels a lot more comfortable.
For the last question. I want to talk a bit about audiences because now we are in a post Covid world after not having access to theatre for so long and the industry being so impacted and unsupported, it must have felt amazing to open a new production?
JA:
It's different. The support is there every single night, there is always an immense amount of support literally after every single number. You can tell and you can hear how much the audience are enjoying it. When Peter Andre comes out, everyone in the audience is just screaming, which is amazing.  I do feel like there has been a change, I feel like there is a different kind of approach now to theatre because the doors were shut for so long, I think there is that anticipation to come and watch a show. People are back but people are very precious about being back. Sometimes it can be incredibly distracting when people are talking or singing along, we want everyone to enjoy it. I think because people are so glad to be back that if someone near them is singing along, they aren't afraid to tell them to shush! I got a message from someone the other day saying 'I was really scared to come to the theatre on my own but I wanted to come and see the show so I took a leap and came on my own and thank you so much' and I think that's it right there, theatre is for everyone, it shouldn't be elitist or judgemental because it is here for everyone and I think everyone should get to experience it.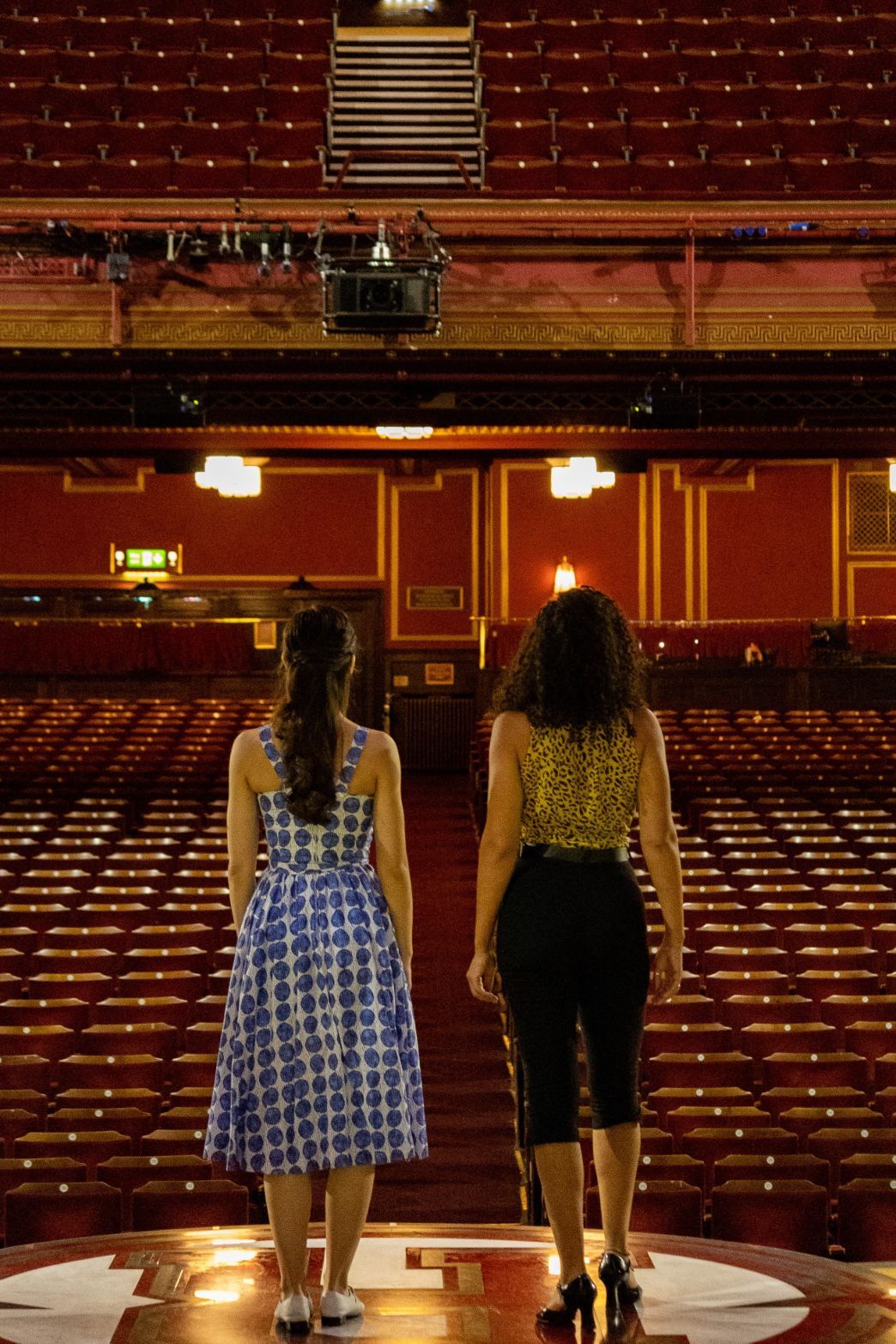 For more information on Grease visit greasemusical.co.uk.
Interview + Photography Amelia Walker