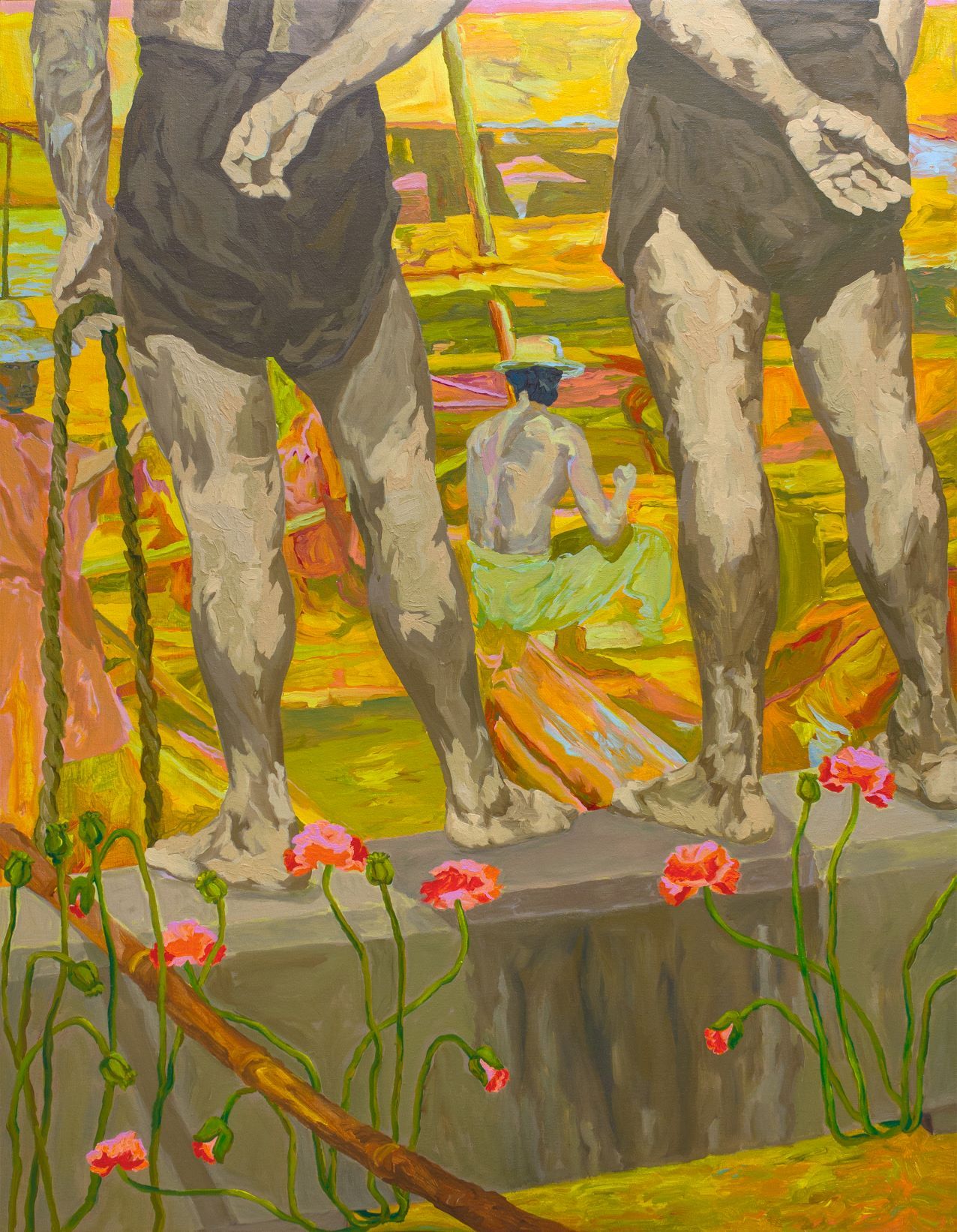 History and Legacy Reconsidered in the Now: Ghosts of Empires II at Ben Brown Fine Arts London
If you have visited Ben Brown Fine Arts in Mayfair recently, you will have been lucky enough to catch the truly wondrous Les Lalanne: Makers of Dreams, an extensive survey of the work of the late legendary French artistic duo François-Xavier and Claude Lalanne – known collectively as 'Les Lalanne.'
Choreographed by the late famed Italian designer Manfredi della Gherardesca, the exhibition – which runs until 29 July – presents an unprecedented body of over 100 iconic works that come alive as a magical menagerie spread across not just Ben Brown Fine Arts itself but also the newly opened Claridge's ArtSpace across the road. From François-Xavier's ingeniously functional Hippopotame I, a life-size hippopotamus in blue resin which opens up to reveal a full bath suite (currently situated in the main foyer of Claridge's), to the various iterations of Claude's surrealist Choupatte – superbly detailed veined cabbage leaves atop whimsical chickens' feet – the exhibition is playful, witty and vastly ambitious.
Following on in brilliant form this autumn, Ben Brown Fine Arts has just announced yet another impressive show: Ghosts of Empires ll, which is curated by Ghanaian-American curator and cultural critic Larry Ossei-Mensah. Running 15 September – 22 October 2022, the exhibition seeks to explore the intersections, overlaps, and dissonance between the Black Atlantic and Asia Imperialist Trade routes
Curator Ossei-Mensah is well known for his use of contemporary art as a vehicle to redefine how we see ourselves and the world around us, and for this exhibition was inspired by the formative text by British-Ghanaian author and MP Kwasi Kwarteng, Ghosts of Empire: Britain's Legacies in the Modern World. Bringing together an extraordinary group of contemporary artists hailing from African and Asian diasporas, the exhibition at its crux is an examination of how they are using their artistic practices as a platform to engage with the legacies of slavery, migration, colonialism, imperialism trade, and sovereignty, in contemporary times. By amplifying the conscious acts of liberation, resistance, and perseverance these communities have exhibited – despite their historical circumstances – Ghosts of Empires ll will provide a forum for a nuanced understanding of their collective diasporic histories.
This seminal exhibition features the work of Hurvin Anderson, Adam de Boer, Delphine Desane, Theaster Gates, Jeanne F. Jalandoni, Tidawhitney Lek, Chris Ofili, Fadekemi Ogunsanya, Maia Cruz Palileo, Miguel Angel Payano Jr., Paul Anthony Smith, Zao Wou-Ki and Livien Yin. 
By including both established blue chip and those swiftly emerging artists – and by exploring various cultural perspectives – Ossei-Mensah aims to find the reverberations and echoes across time and space, and to present dialogues and points of view that illustrate how these narratives cross, intermingle, and overlap.
"This show will highlight the oversights in the historical narratives that we've been taught designed to focus on cultural difference and articulate varying overlaps that exist within these communities. There are a multitude of communities that have been oppressed because of colonization and imperialism, who, in spite of that, have been able to thrive and create rich cultures that have had a heavy influence on contemporary society.
"After reading Kwasi Kwarteng's book 'Ghosts of Empire', I was struck by the specter of colonialism and imperialism in our macro and micro-environments; so, I wanted to investigate what role art and culture plays in cracking open this conversation to a broader audience. Given what is happening in all corners of the world it felt appropriate to organize an exhibition that not only articulates the nuances of the Black and Asian diasporal experience but also asks questions about how these communities have persevered and shaped the cultural fabric of our global society." Larry Ossei-Mensah
The exhibition Ghosts of Empires ll at Ben Brown Fine Arts London comprises the culmination of a two-part group exhibition which was presented in its first iteration at Ben Brown Fine Arts Hong Kong earlier this year.
Ghosts of Empires II runs at Ben Brown Fine Arts London 15 September – 22 October 2022.
Top image credit:
Livien Yin, Poppies, 2022, Acrylic on linen, 137.2 x 106.7 cm; (54 x 42 in.)