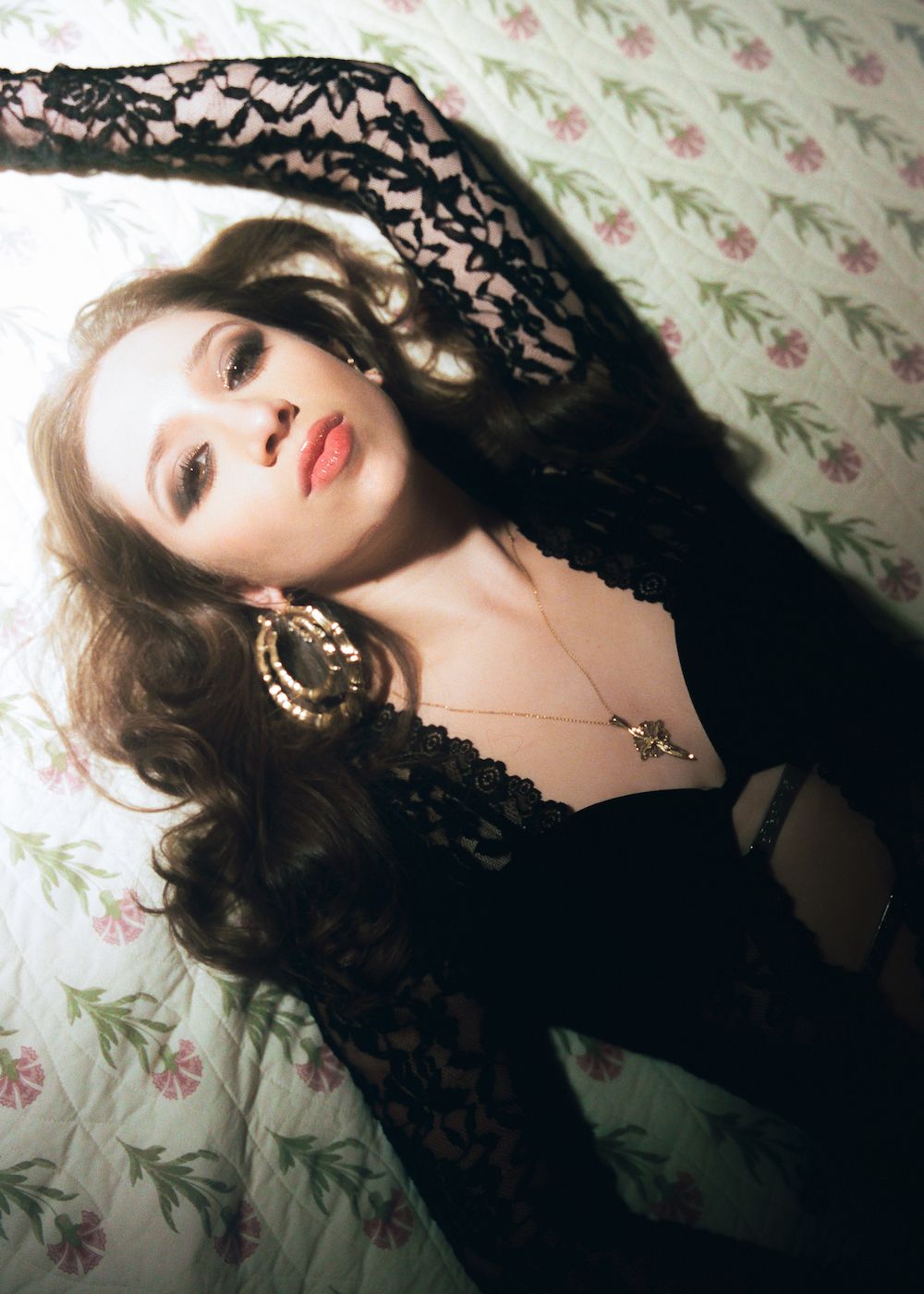 Isabel LaRosa
Multi-faceted talent Isabel LaRosa has carved a sonic identity founded upon personal experiences and dark pop undertones.
The rising act who earned acclaim continues her impressive musical journey with her recent EP YOU FEAR THE GOD THAT LOVES YOU. Having embarked on tour with pop sensation Nessa Barrett and playing across 20 shows, LaRosa amassed her over 200 million streams for catchy yet emotive single "i'm yours," delving into the feeling of having a crush on someone you're not dating.
With a relatable but intimate core to her luscious pop artistry, the promising talent who evolves with each new release speaks to 1883 about her latest EP, connecting with listeners, the first moment she realised her love for music and much more.
What was the starting point for your new EP YOU FEAR THE GOD THAT LOVES YOU? Where did the first spark of inspiration come from and what was the creative process behind the project?
YOU FEAR THE GOD THAT LOVES YOU started from hooks that my brother and I wrote, and eventually returned to the ones that we felt most connected to and finished out the songs, creating a story as we did so. It's honestly just a lot of us brainstorming, writing in our rooms and recording vocals in the closet. The lyrical and topic inspiration comes from personal experiences and others' perspectives whom I know very well, some lyrics are almost a look through their eyes, especially in praying.
While it's always hard to pick, which track from the EP is your personal favourite and why?
My favourite track from the EP is probably praying because it's so personal to my own experiences growing up around religion and people who I've grown up with have inspired so many lyrics on that song. It just talks about so many emotions I've felt in that environment.
You've just completed a tour opening for Nessa Barrett. How did that opportunity come about and what's been most enjoyable about the experience?
Being on tour with Nessa has been so incredible and I'm so grateful she wanted to have me! It all started with a dm from her after HAUNTED dropped just talking about working together and we began to talk more over time. Later on, she offered, and I instantly accepted! It's been such an incredible experience. Just being able to perform in front of such insane crowds and have people sing back is all I could ask for.
Parallel to the anticipation around your new EP, the buzz around your track i'm yours as well as your debut EP continues. What was the most surreal moment when it came to the success of this song and EP?
The most surreal thing with i'm yours was honestly seeing people on the internet sing the words in videos that they would make, just the fact that they knew the lyrics was insane to me. Relating to the ep, the craziest thing is seeing people sing the unreleased hooks at shows, I can't even fully process that one.
Given the relatable nature of tracks like i'm yours, I'm sure you've formed a great connection with your listeners. What's been the most memorable or treasured comment from a fan about the track or EP that you can remember?
I think that anyone who has told me that I've helped save them through music is the most beautiful thing and I'm so grateful to anyone who listens and cares. It's truly such an honour to be that to someone.
Having grown up influenced and surrounded by music, what was the first moment you realised your passion or love for music?
Finding artists like Melanie Martinez and Lana Del Rey at a young age was such an influential and pivotal thing in my development as an artist because it showed me that I could pair my love for visuals and aesthetics with music that matched it. It also introduced me to a darker side of pop.
Now having found your own sound, how would you say your artistry has evolved over time and what was the journey of getting there? Any key moments or turning points that have led to your becoming the artist you are today?
I've definitely gone through many phases of my sound, and I had to try and fail a lot before I found what felt completely authentic to me. HAUNTED was the song where I felt like I completely found what really clicked both visually and sonically and I've never looked back from that.
Personally what do you think is the most rewarding part of the music making process and what's the most challenging part of it for you?
The most rewarding thing is just having people resonate with the music that means so much to me. I think honestly teasing music on social media can be challenging sometimes because it can be difficult to balance numbers vs. a song that you just love, even if it doesn't blow up.
Coming back to touring, what are some cities or even countries you'd love to visit some day?
I loved every city we went to; in the future I'd love to go to Germany or more foreign countries in general. Honestly wherever fans are, that's where I'd love to go.
Who are some artists you'd love to tour with in the future if you had the chance to?
It would be such a dream to tour with Melanie Martinez or honestly Twenty One Pilots would be so insane. I would love to co-headline a tour with my friend Ari Abdul at some point in the future!
Besides performing and getting to engage with your fans, what's your favourite part of touring or performing live?
Besides the actual performances on tour my favourite part is by far the people. Everyone has been so incredible, and kind and I've developed so many friendships throughout this time.
Looking forward, where do you see your music go from here? What's your ideal sonic path?
I don't want to reveal too much and so much of my sonic growth is just exploring different sounds and seeing what feels the best, however I'd love to return to some dark dance stuff, but with a slight twist.
What are three things on your music bucket list and what are three things you're most proud of achieving?
Three things on my music bucket list are selling out the 9:30 club in DC, doing a billion streams, and just continuing to make music that connects with people because that's the most important thing. Three things I'm proud of achieving are being on this incredible tour with Nessa Barrett, having a song that people actually sing back to me every night, and writing and directing all of my own music videos.
Finally, what's one question no one has asked you before in an interview you wish you were asked? 
I don't think anyone has ever asked me my favourite colour and I think that's kind of funny, I think it's a little obvious!
New video praying and EP YOU FEAR THE GOD THAT LOVES YOU is out now, follow Isabel via @isabel.s.larosa
Interview Malvika Padin