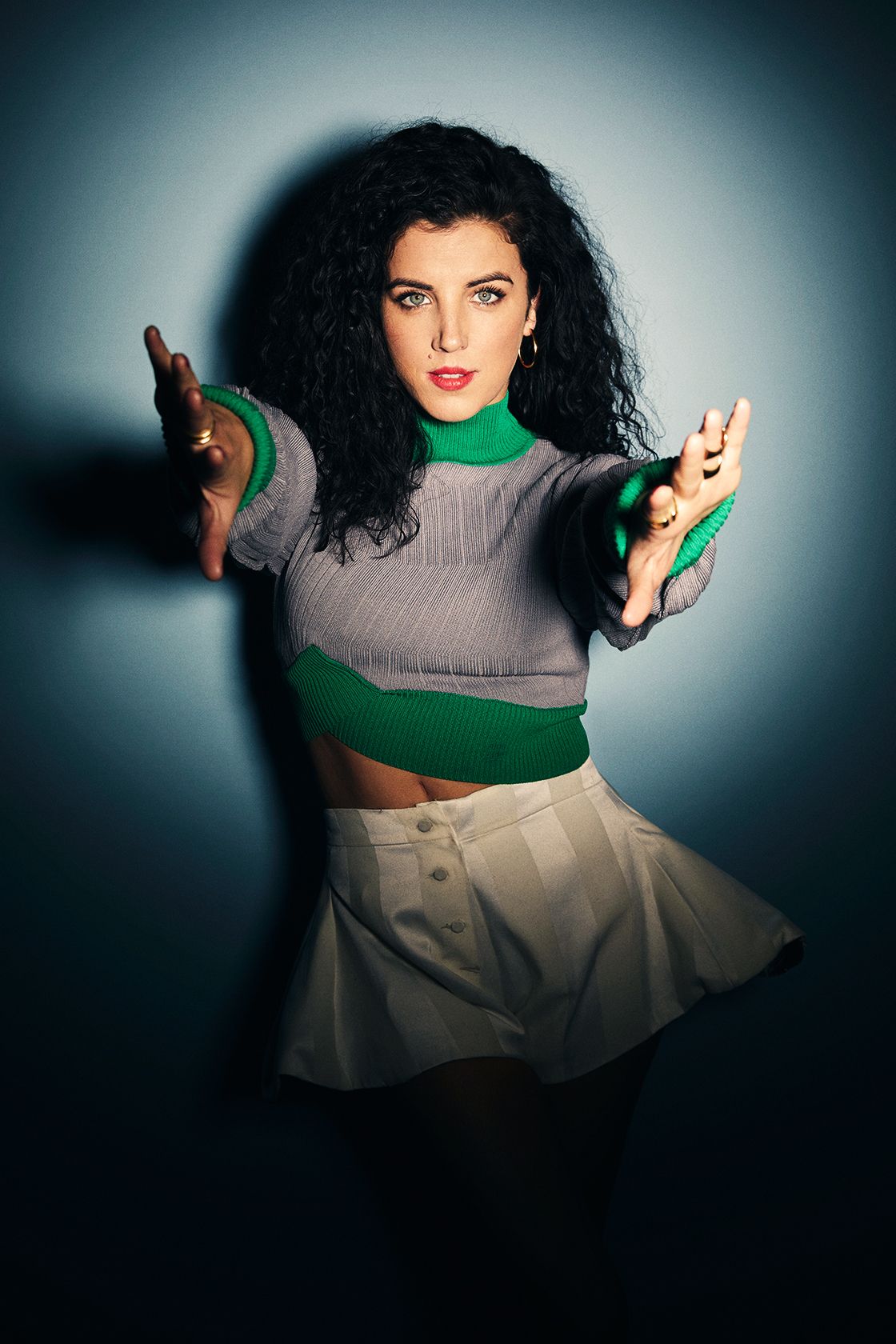 Jamie-Lee O'Donnell
Irish actress Jamie-Lee O'Donnell is paying homage to the city she loves in both new and familiar ways.
When Derry Girls first aired in 2018, the show bloomed into an immediate success. The Irish News reported that it was "the most-watched TV show" in Northern Ireland that year — millions of viewers tuned in to see the amusing antics of the protagonists, one of whom is skilfully played by the actress Jamie-Lee O'Donnell. O'Donnell portrays Michelle Mallon on the Channel 4 series, and she does so with the ease of someone who's been in the business for decades. The Derry native had been acting for a few years before she landed her role in Derry Girls, and it was her unflinching ability to completely embody her character that charmed audiences across Ireland — and throughout the world. The subtlety of her performance, coupled with her ability to seamlessly blend humor with dramatic elements, is a delight to behold.
When I spoke with O'Donnell about what it was like to film the last season, has already premiered in the U.K, she conveyed that it was a bittersweet experience. There was an immense amount of pride and sincerity in her answers as we discussed what it was like for her to film a show that was set in her hometown. And, in addition to her time on the dramedy, O'Donnell is also gearing up for an upcoming documentary on Channel 4 about Derry. Representing the community accurately is something that's deeply personal to her — both in her work in television and film and in her personal life as well. Allowing herself to further explore the nuances of the city she loves through the documentary medium is something she immediately found appealing, if not a bit daunting. She's doing a tremendous job of being a vocal, passionate, loving advocate for Derry, and of infusing honesty into everything she does.
A truth seeker in every sense of the word, you feel as though there are so many incredible things on the horizon for O'Donnell — all of which she'll approach with open arms, an open mind, and an open heart.
Speaking with 1883 Magazine's Sam Cohen, Jamie-Lee O'Donnell discussed what it was like to film the final series of Derry Girls and her forthcoming documentary with Channel 4, as well as her work in the upcoming creature feature Unwelcome. She also shared the incredible story of Gráinne Ní Mháille, and further highlighted the rich history of Ireland.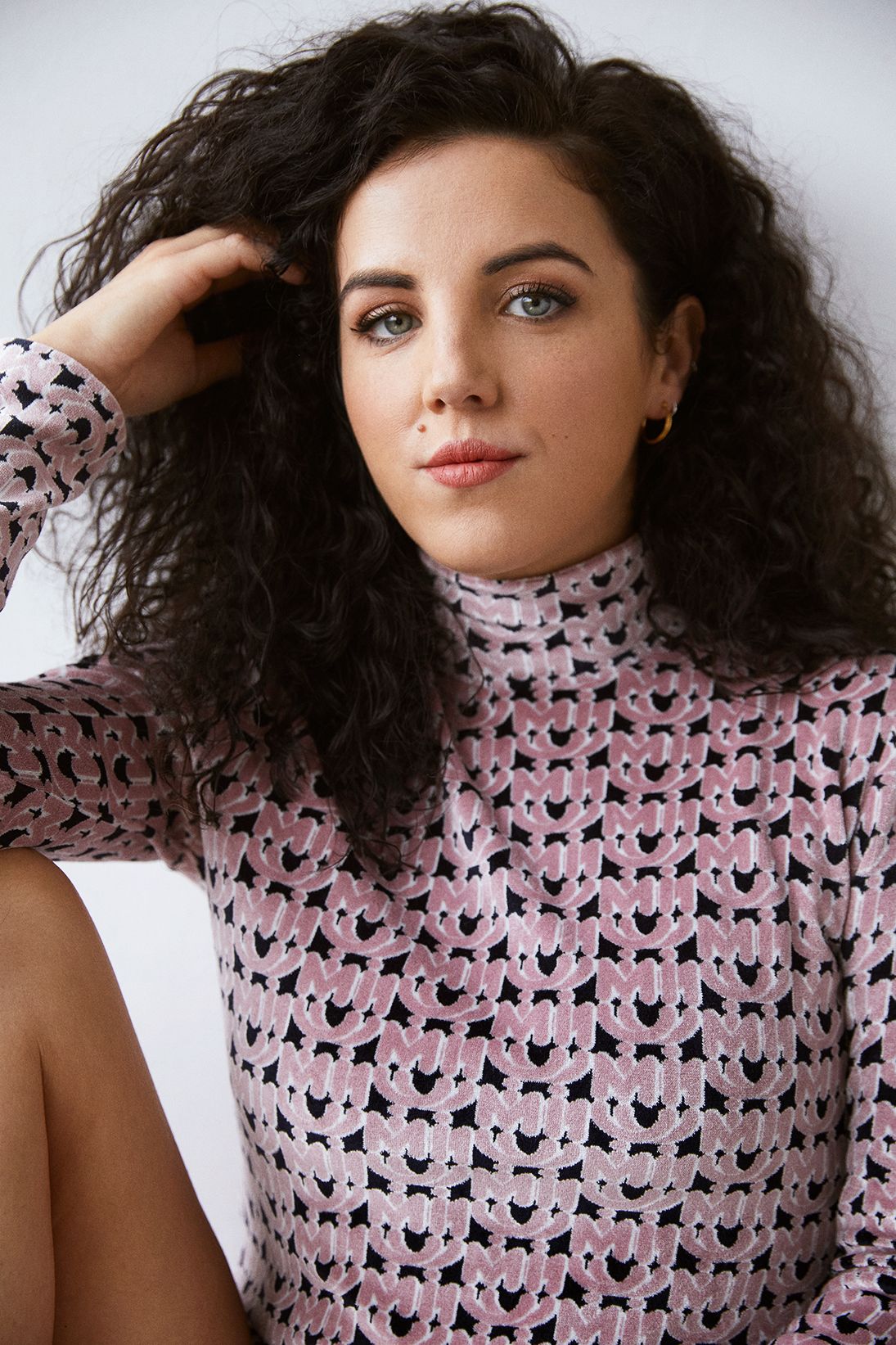 The final series of Derry Girls has been airing on Channel 4, and I was talking to Sophie about how it should hopefully be coming to the U.S. soon. The show has been so successful since it first premiered in 2018, but I was wondering, from your perspective, how do you feel you've grown personally and professionally since the show began? 
I think I've learned a lot, obviously in terms of the physical side of things about being on set a bit more, and working in such a high pace, fast environment. The show's always been really ambitious even from Season 1. Lisa McGee, the writer and the creator of the show, and Mike Lennox, the director, have always wanted to do these mini-movies within the show. And I think they've really done that. I think it gives you more endurance whenever you're performing. It's stuff that I'm really, really, thankful for. I think working with an ensemble at this pace … and, you know, we always had a lot of actors come in for certain episodes and things like that, you have to be a little bit more adjustable. You have to be able to flex those muscles, and it's such a hyper, big, energetic show, and to have been able to go and do that every day has been something that I've really, really appreciated.
I think you've done an incredible job and all of that shows in the opportunities you've had personally, but also in where the show has been going. Derry Girls tackles the different facets of life during The Troubles in Ireland, while representing everything in a way that's more based in humor. I was curious, though, since you grew up in Derry, how do you feel about the added exposure The Troubles have been getting recently through Derry Girls, or through depictions in The Crown, and in books like Say Nothing by Patrick Radden Keefe? 
It's our history. It's the history of my community. It never really went away for us, you know? I think Lisa … Lisa's obviously from Derry as well. So, in her depiction of day-to-day life in the '90s, we get into this sometimes, but that's the Derry spirit, that's the Derry energy, and there's this real sense of community. Like, no matter what's going on, we're pulling together, we're there for each other. And the thing is, this was a civil war that was everybody's day-to-day life. So, people did still go to work. People did still want to go get a spray tan or go get their nails done, or just go to work. That was all very normal. And so, for that fact to be brought up outside of Derry, outside of Ireland, I didn't really have any feelings toward it. It's always been a real, big thing within my community and my upbringing. It's interesting that people are taking an interest in our history now, I suppose. But it's nice to have a spotlight on our town for positive reasons. 
It's interesting, because, like you're saying, everyone, where you're from, is used to it and it's just the way of life. And I feel like that's how it is with a lot of conflicts — you don't really see that as something you deal with, or as something where you're going through everyday life alongside it. In an interview you did previously with The Guardian, you said how you appreciated that Derry Girls showed the community of Derry while still addressing the conflict. Is that balance between representing the community accurately, while also representing the conflict accurately, something that initially drew you to the series?
To be honest, I wasn't sure how that balance was going to go, because obviously, it's Lisa's own semi-biographical story of her experience growing up in Derry. But what drew me to the show were the amazing scripts and the characters, and the writing basically. I think Lisa really needed that sense of community and that sense of spirit within Derry, and that comes through in the show and the closeness and the bond that we have. That brilliance of the writing, and those big ideas for the people of Derry, to really get the story out there and really get the dream out there … and how unbelievably talented she is with the characters and how well-rounded everyone is. It was really exciting for me to get started on it.
It's been incredible to see how the characters change from one season to the next. As you were getting ready to film the final series, was there anything, in particular, you wanted to do to ensure that you said goodbye to Michelle in a way that felt authentic to who you are, but also to your journey with her as a character?
It hasn't gone out in America yet, but you see throughout Season 3 that Lisa has, once again, really allowed the characters to grow up a wee bit and explore other parts of their personalities and the world around them. And I think she's done that really, really well. The last episode went out over here last night, and the feedback from that has been brilliant, which I'm really happy about, especially leading into the special airing tonight. I think, when I read the scripts and got everything together, the journey of Michelle really came to a beautiful end. I think Lisa's made everyone grow up a wee bit because of the time that we grew up in. And I think she's allowed everyone to mature and to deal with more difficult issues than we've seen previously, and how we've all bonded together as a group of friends.
We're there for each other quite a lot, and we show those strong, positive sides of our personality for each other and for ourselves, and in the special, I think. I know I can't talk about it too much, but I'm really appreciative of the story that Lisa gave me, and gave Michelle, and I think she chose to show a mature side of her that's getting her set up for the rest of her life. So, I think when you see it, you'll understand. But I'm really proud of how Lisa's handled the end of Michelle, and I'm really grateful for what she's given me.
That's great that it was a gratifying experience for you and for everyone involved. I know that's not always the case when things come to an end, so it's nice to know that it ended in a way that you felt proud of and comfortable with, and happy about. 
It really, really did. I mean, Lisa has said in the press before that it was going to end around the Good Friday agreement — she has said since Season 1 that she wants to end around that era. It's such an iconic part of our history, and of world history. I think she's done such an unbelievable job, and I'm really dying to see it all, because she cares about the characters so much. She's really taken them on that journey and really matured them. She said on set that sometimes, when she's writing, she's a bit worried about where we're going to be in the future, even though we're fictional characters. So, she holds us all close to her heart, and she wants to make sure that we're all going to be okay, for us and for the fans as well.
That's really wonderful to have someone that cares so passionately in charge of everything because I'm sure the characters feel alive to her as she's been writing them and creating them, and as you guys have been bringing them to life. So, it's nice that she was able to also feel fulfilled by the journey the characters had. 
I can't speak for her, but I think so. And we talked a lot about the characters, and she's really, really passionate about it, and that's something as an actor that's such a beautiful thing to be a part of. And you feel so appreciated, and so looked after, within your job, it's brilliant.
I'm so glad it's been an overwhelmingly positive experience for you. Things obviously ebb and flow with time, but it's wonderful that you can look back on it in a way that's filled with gratitude and appreciation for the whole thing.
It's nice to be together because usually we're in the middle of a field in Belfast somewhere, in winter, in tiny dresses and shorts, and it starts raining. So there's a juxtaposition there, where we're usually freezing and standing in the rain.
You look totally normal on-screen, so you'd never know there's an actual torrential downpour going on in the background.
It's freezing. It's absolutely freezing. We're beside the bloody Atlantic Ocean and it's December and they're like, "What about a cropped jacket?" And you're like, "Ha! Sure, okay!"
You're like, "Sure, I'll try not to shiver on screen while I'm delivering this line, no problem!" 
We're great at that. We're pros at it. You get your outfit, and you're standing in random costumes at night in December in Belfast. 
I grew up in Massachusetts, so we're similarly on the Atlantic, on the other side, but it really can be so freezing, especially when you're close to the water and the water is cold.
And you're like, "I feel so welcomed to be doing this job. I'm really lucky!"
"The adrenaline will warm me and carry me through this!" 
Exactly! And the 30 cups of tea that the crew brings to us that are always, always, always appreciated. 
That's so nice! Then at least you'd know you'd be able to warm up again in a few minutes when you have another cup of tea. 
The crew we work with has been absolutely unbelievable. They're so passionate about the job as well. Over here it's such a big thing, and the crew is such a huge part of all the success of the show. The crew's been phenomenal and really, really involved. And I've shared a couple of things on my Instagram, little behind the scenes things, because they're the loveliest people and they've really, really made it so special for everybody as well.
I follow you on Instagram, so I've seen the pictures you've been posting of everyone, which has been so nice.I know, especially with something like this, where everyone is so close, but also that's coming to an end, that has a bigger effect on all the people that were working on it behind the scenes. 
Absolutely. Of course it was an iconic show, and the crew were absolutely imperative to the success of it. We're all friends. It's quite a lot of them we're meshing with, and we're so often discussing what each other is doing, while we're in hair and makeup or while we're behind the camera, and things like that. And it's lovely to text everyone. The show has been great, and we're all dead supportive of each other. I've worked with some great people, and I feel really, really privileged. 
It's great that you felt like you had the ability to actually form relationships with everyone and check in to say, "You did a great job." That makes it a better environment for everyone because everyone's doing their best because you all equally care about the project. 
That's what it does, the support, and being supportive. 
That's incredible. In addition to Derry Girls, you've been tackling quite a few projects over the last stretch. I wanted to ask you about the Channel 4 documentary you've been doing about Derry. I'm not sure how much you can say, but I was interested in hearing about what you were most looking forward to exploring when you were presented with this opportunity? 
I've always wanted to do something like this — like, a documentary style about Derry, about my hometown. So, when production contacted me from Channel 4, they seemed like the perfect fit to do it, because I was interested in doing it for quite awhile, and I had been waiting for the right connection. It's something that I'm really proud of, but it's also something that I'm terrified of it being out. Because I hate being me in front of the camera, and honestly, at one point, I had a panic attack one day because I had to watch it back in one of the edits. I don't know. It sounds weird, but I'm not massively suited to it, which is, to people who know me, really strange. I know that might not make sense, but it's quite a vulnerable piece, I think, because it's about my community, my hometown, and it's still very much back and forth with my loved ones there.
It felt like such a big responsibility, which I knew that it would be, and I wanted to do it, because I wanted to talk about Derry honestly. Because it's this amazing idea that people have of it, that Lisa created and that we've all created [on Derry Girls] and I'm so proud of that. And it's very, very spot on in terms of the comedy world, and what Lisa's done with the show, it's her life. She's 100% in it. And I've always wanted to do my own little tribute to Derry, and a tribute to the community and to the people who made me who I am, and who were really my backbone growing up. So, with my family and friends, and the bigger community, and with people from school and everything. It was nice to be able to say thank you, and to really talk about Derry outside of a comedy world for me, and to talk about my experience in Derry. I'm really excited about it, and I'm really nervous about people seeing it, but I'm happy with it. It was a very, very difficult job to do, because it was such an important topic.
I completely understand where you're coming from in terms of being nervous about it being a representation of yourself versus your character. 
It's odd, but I'm glad it's done, and I'm really, really proud of the work with the productions with Channel 4. I think everyone's really passionate about it. I think there was really a lot of honesty with everybody working on it. We all wanted the best, and we all wanted to make sure that we created a nice message, and a really honest message. It was really lovely work, with really great people.
That's wonderful. It's important to feel like you're able to represent your community the way you want to, and in a way that feels authentic to you and your experience, as well as the experience of everyone in your community. I feel like with so many of your projects, you take on that responsibility of being such a wonderful representation of your community, which I'm sure comes with its own pressures, aside from what we've been talking about.
I think Lisa, and Saoirse (Monica Jackson) as well, seem to be the same way, even outside of the show. We're all the same. There's such a protectiveness within communities like Derry, and there's such a sense of support whenever I come back home. I get stopped a lot, and it really ranges and varies from the type of people who stop me, both in the age groups and the people themselves. And it's such a lovely thing to see people who come over and they'll be like, "Would you take my hand for a minute? Thanks very much. You're doing a great job." It feels like I'm the mayor sometimes. [Both laugh]. But I'm not, obviously, but it's nice. Whenever we've been on set, the way we're chatting about Derry, people will be like, "What do you work for the city council or something? Do you work for the tourist board?" It's one of those things. I mean, Derry is in no way perfect, and many places aren't, and we do explore this in the documentary. But there's something about having pride about where you come from, and understanding the struggles that you've come through. Especially if you come from an oppressed background, socially or otherwise, it's important to have that pride and that understanding of where you've come from and where you're going. 
It's important to take stock of how far everybody's come. And because of that, you're very proud of it, and very protective over where you come from, and protective over who represents you within that community. And that's something we all do, I think.
I think you're taking it in stride really well, and it's incredible to have these different opportunities to do that, and to continue doing that, where you don't actually have to be on the city council or something, which comes with its own difficulties. 
Thank you. We're all part of it. Lisa's done an unbelievable job at representing the genuine heart of this, of Derry. I think that's why it resonates so well with other communities, too. There's real honesty with it, you know?
Absolutely. And I think it allows other people to be proud of their own communities as well, and to say, you know, "We'll accept the fact that maybe we're not perfect, but this is where we're from, and we're proud to be from here." I think that's huge to instil that value in people, regardless of where they're from. 
Definitely. And to not shy away from what some people might perceive as the negative parts of your upbringing or your community. Because everything makes you stronger, and I think there's a silver lining with a lot of stuff. I've been able to point out the areas that I feel would be benefited by more resources, for example. That's also a strength to be able to look around and say, "This needs help. This needs support. And this is what it could be." And to do that while celebrating the brilliant things about your community. 
Yeah, absolutely. And that helps the community grow and become stronger as well because then you're calling attention to things that maybe would fall by the wayside otherwise if it didn't have that spotlight on it. I feel like there are so many amazing things you have going on that I want to chat with you about! I read in a recent interview that you're currently writing your own scripts to be made into films and television shows. And you had previously spoken about how you wrote poetry when you were younger, so from my own writing curiosity, who are some of your biggest inspirations in terms of writing? 
The people around me, I think my family and my friends, and there's people in Derry sometimes when you're walking around — you see so many interesting characters, and there's loads of funny anecdotes and conversations. I think being able to take bits from people around you, and what's going on in the world, and learning from well-rounded people, in their flaws and all. It's lovely to be around certain people and to take inspiration from them, and things that I've been through in my own life, I draw from that as well. I think it's almost like a form of therapy where I'm writing stuff down, and every so often trying to form it as a script. So, you can get inspiration from anywhere, you know? And also books and things like that.
It is definitely a form of therapy. When you're doing a more creative project, it allows you to let stuff out that maybe you can't let out on screen, or even let out in your personal life. You can say, "This is just for me," even if it transforms into something that goes on the screen afterward.
Exactly. I like a really fancy journal!
I buy so many journals. It's ridiculous. 
Oh, I love it too! I love stationery. That's been my number one obsession since I've been a child, is stationery. It's so sexy. [Both laugh].
I completely agree, and to even have it personalized, I haven't gotten there yet, but that's the dream: To have a personalized stationery set. 
I did, and I personalized my coffee cup. That's where I'm at. That's how cool I am. [Laughs].
Amazing! I feel like I have to step up my game now because I get all my journals from the store and I'll be like, "This is really pretty!" and then I just write six things in it and buy another one. 
But it makes you happy. It's a nice aesthetic, and it makes you happy, and that's what it's for. You know?
Exactly. And I feel like it's motivation to write sometimes. 
It is. It is. 
You're also slated to star in the film Unwelcome, can you talk to me about your role in the movie, or is that still being kept under the radar right now? 
No, I can talk about it. It's a creature feature — it's a horror movie, and it was a load of fun to play my character. I play Ashley, and she's one of the sisters of the local family who come to kind of help out with this new couple who have just moved to Ireland, and things go awry very quickly, I'll say. But yeah, she's quite a tough character. There's clearly a lot of problems going on with the family, and it's one of those families that you see and you go, "Okay, they need therapy." It's that energy, but there's always reasons and stories behind that. And there are always things to explore behind that, and the movie itself was a great experience.
It was something I'd never done before, and it was a brilliant, brilliant experience. And we shot it actually between the two lockdowns over here. So, we kind of squeezed in the movie and then went back home. But it was lovely, and everyone I worked with, again, it was brilliant craic, but a totally different energy to Derry Girls, and a few of the other things I've done. Ashley's really a bit of a tough character, I'll say, but there's a lot of vulnerability underneath. And we see her … we see me do things I've never done before on screen. I'll put it that way!
Ooooh, that's exciting! I'm very interested in seeing this. 
It was a great, great job to do. I had loads of fun.
It's nice that you feel so fulfilled by everything you're doing professionally. I feel like it's so important to feel passionate about what you're doing. It must have been interesting to go from making people laugh and having fun on "Derry Girls," to then having to scream and be nervous on-screen? 
I love the challenge, though. I love that. That's part of my job. You get to tap into those parts of your personality and parts of your brain, and that big range of emotions. It's really therapeutic, and really nice, to be able to explore all those different things.
It must be really freeing to be able to scream and let everything out and have it all be authentic, but it's also for the movie. 
Yeah! It is. I'm screaming and then I'm like, "It's fine, it's for the movie." [Both laugh]. 
"Don't worry about it! We don't need to do another take."
Exactly. It was such a good experience, and I'm looking forward to it being out. 
I'm so excited to see it. I like a creature feature, so I'm definitely intrigued by this!
Sorry, I just saw the biggest spider in my house. Oh my God.
God, speaking about creatures!
I'm so sorry, go ahead. What were you saying?
I was just saying that I was excited about the movie because I like creature features, but I'm sorry that there's an actual creature in your home!
I mean, what are the chances of that?
Perfect timing on the spider's part. It was like, "Oh, you were talking about being scared?"
I know! It's still in my apartment.
I'm always so afraid of grabbing the spider and taking it outside.
I'm going to poke it and let it run. I've gotta get it outside. I don't like squishing bugs.
I know, I always feel bad. I don't know how to properly capture them, like those people who can capture them with a cup and bring them outside. I don't have the skills for that.
It's like a firefighter! You've got to have confidence if you need to do that.
I have to work on the confidence to get the personalized stationery and to take the spider outside myself.
Well, that's the takeaway from this interview! [Both laugh].
Do you have the spider situation under control?
I'm not going to lie … I can't find it. So, I'm going to pretend that didn't happen and go upstairs.
It's definitely going to pop up somewhere later on. Or maybe it'll be nice and see itself out. Maybe it'll be polite and go outside by itself.
I'm going to give it good energy and light some incense and hopefully, it decides to leave. That's the plan.
I always do that if there's a spider in the shower. I'll be like, "If you don't bother me, I won't bother you."
A social contract! Yes. Leave it on good terms.
The great spider debacle aside, I wanted to end the interview with one fun question. So, if you could play any iconic woman from Irish history, who would you pick and why?
I would pick Gráinne Ní Mháille, or the English version of her name was Grace O'Malley. She was the Pirate Queen of Ireland. I've actually written a few things about this — this is one of the topics I'm exploring in my writing. She's a real woman, and she led an army of pirates, obviously. And she went over and I think she spoke to Queen Victoria to settle various disputes about where she was a pirate, and because she was Irish, there was an attitude that the Irish weren't very bright. So, she spoke to Queen Victoria in Latin and a few other languages, because she was so educated. She ran fleets of ships and was in charge of so many men, she was one of the most severe pirates of her time.
Oh my God, she sounds incredible! I love pirates — I'll do my own research after this as well because I'd love to learn more about her. That's amazing though that you're working on things about her story and that you're exploring that now, too.
Well, in Irish culture and Celtic culture, there's a lot of really strong women and female entities. It's such a big part of our culture. Obviously, more so pre-Colonialism. But there's such a rich culture and a rich heritage, and it's something I'm really proud of, and something I really, really enjoy exploring as much as possible. There's so much there to work with, and there are so many amazing women, and men as well. But yeah, if you don't mind putting the Irish spelling of her name, that would be phenomenal. 
Of course! Absolutely. I want to make sure I get that as accurately as possible to ensure everything is represented as it should be, and now as the colonized version of things.
It's Grace O'Malley in English, but yeah, Gráinne Ní Mháille is the Irish version. Thank you. 
Of course. I'm very interested in Irish history in general. I feel like, growing up in the U.S., we really don't learn about it much. And now that I'm an adult, I want to learn and see how things really are in the world. It's definitely an interest of mine, so I'm looking forward to reading more about the Pirate Queen of Ireland. Thank you for sharing that.
It's really interesting research, too. And I've got a couple of different things written down about her, but yeah. It's really a topic of interest for me.
That's amazing. I think it's really incredible how proud you are of where you're from, and how you're representing that accurately, and exploring how to represent that accurately through different avenues. It's inspirational. I feel like not everyone has that sense of pride in where they're from, or take on that responsibility of leading the charge on behalf of their community as you have.
Thank you, thanks so much for saying that. I try. I try my best.
Derry Girls is out now on Channel 4
Interview Sam Cohen 
Photographer David Reiss
Stylist Emily Evans
Hair and Make-Up Sophie Knox
Top image credits
Rings by MI MANERA,
Top by VELVET GLOVE,
Skirt by Anastasia Bull