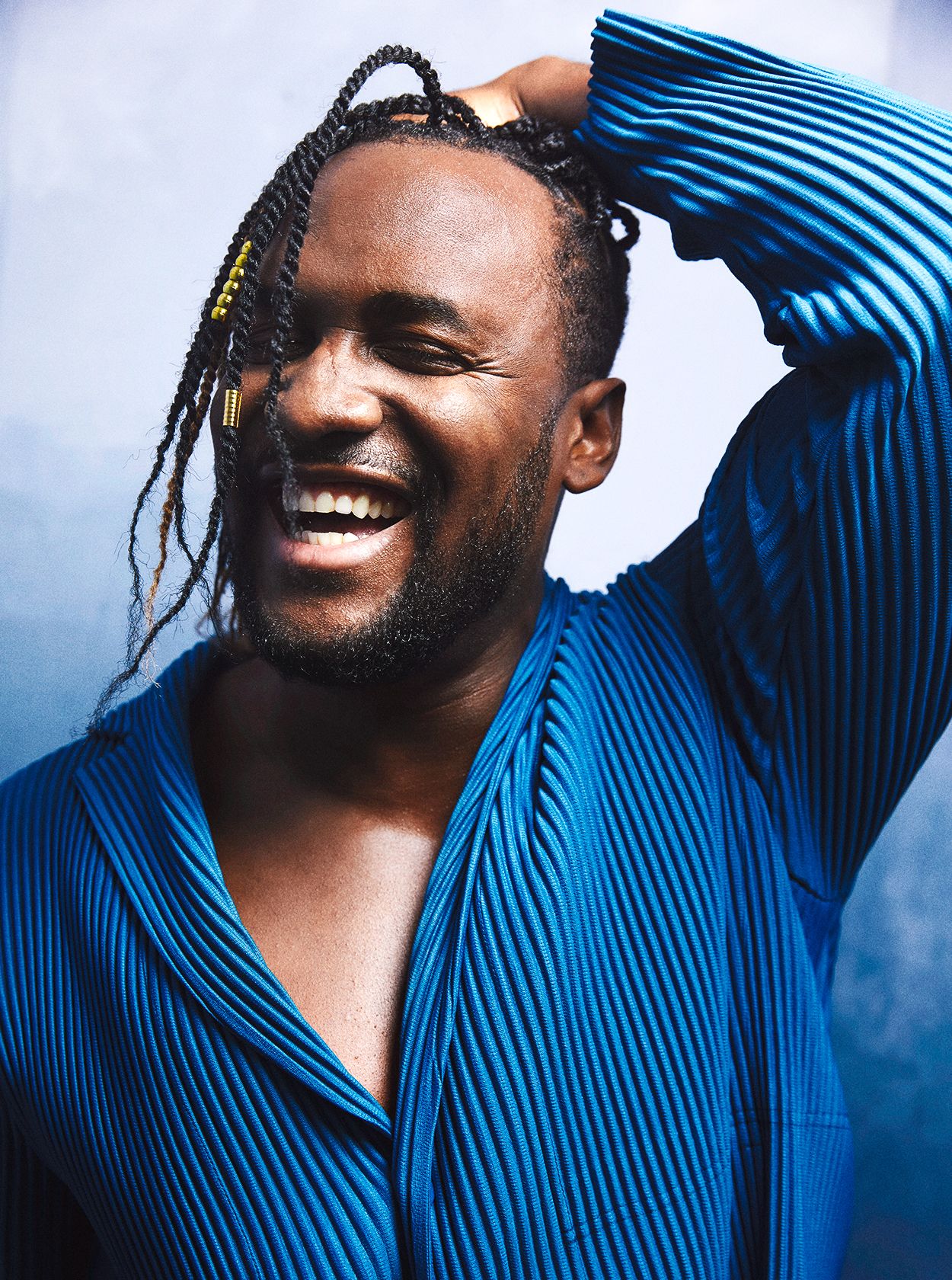 Kadiff Kirwan
A force to be reckoned with, Kadiff Kirwan is making waves.
When speaking with Kadiff, you are immediately struck with how seriously he takes his roles both on and off the screen or stage. He is very self-aware of the precious responsibility he holds in his hands as a representative of the black, queer, community. There are so many narratives waiting to be weaved and stories to be told, that we have barely even scratched the surface. A true treasure trove of tales and instead of waiting around for someone else to take the reigns, Kadiff is making things happen. He wants to be part of paving the way for those stories, creating the building blocks so future generations of young people can see themselves represented on the screen. It's no easy feat to undertake. But with determination and the right people around you, the tides can change. And while it is happening in Hollywood at a slightly faster pace than glacial, Kadiff wants to see more waves being made in the immediate future.
Bringing pen to paper, he is on a mission to prove that those voices deserve to be heard and those faces seen. Finding inspiration in his friends, Kadiff is on the right road, having already been commissioned by the BBC. 
Not everyone feels that sense of obligation, but it seems to be the fuel spurring him onwards. His ambition is palpable, his passion even more so. Talent positively oozes from him, and you can't help but find yourself excited for all the things he has to come. He is one to watch whether in front or behind the camera. 
He is an absolute force to be reckoned with.
In conversation with 1883 Magazine's Dana Reboe, Kadiff talks about the advice he'd give his younger self, the spark that led him on the path he is now, and what he hopes to manifest for himself this year!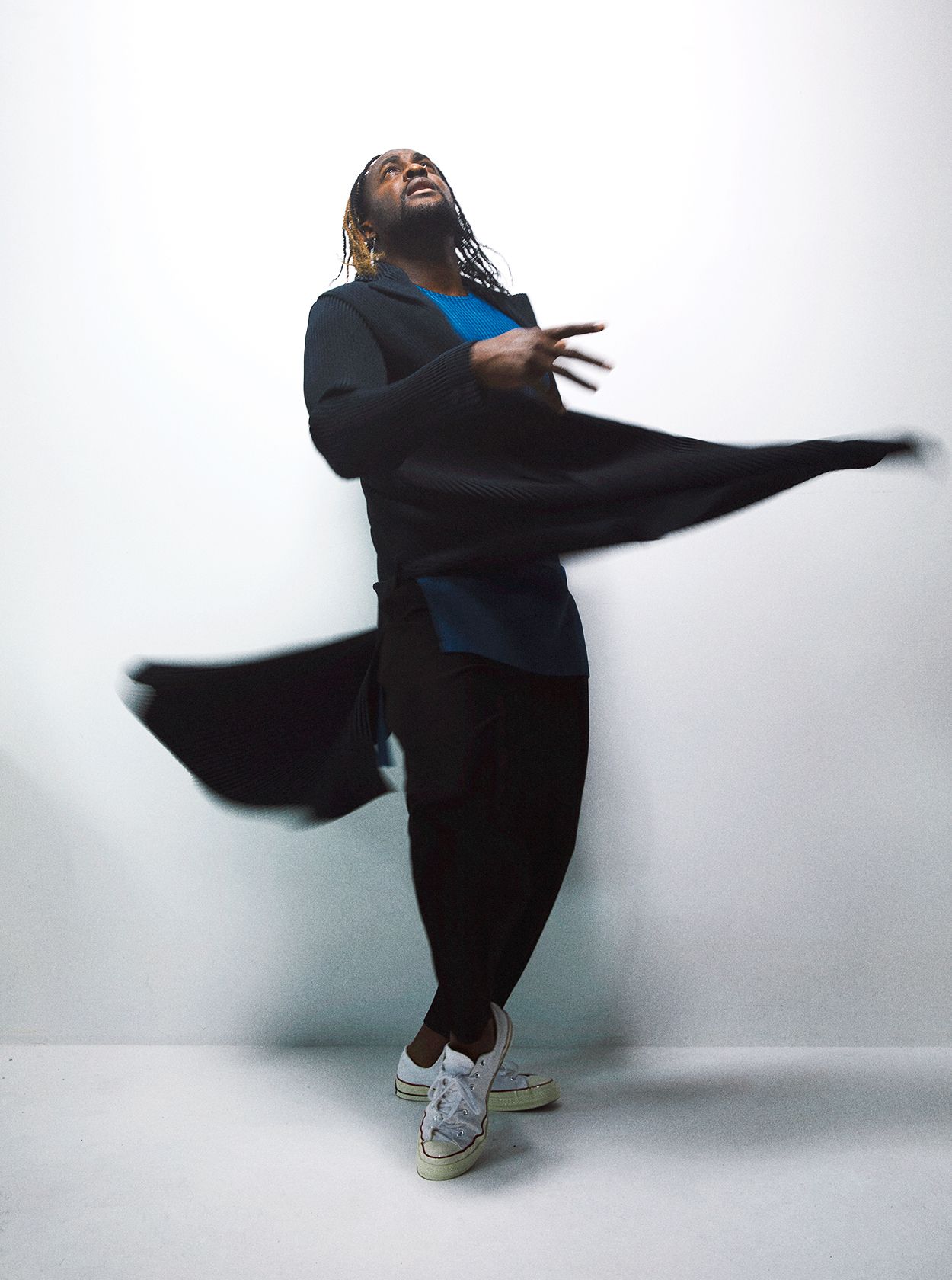 Starting right at the beginning, what was the spark that led you to be an actor?
Probably being a middle child [laughs]. What was the thing that led me to acting? I think I've always been quite informative. I loved athletics and stuff at school growing up. I was raised in the church. So, I used to sing in the church every weekend. I used to be the Christian boy band with my siblings, it was myself, my older brothers and two of my cousins. I was the lead singer; it was all acapella in the style of Boyz II Men. It was amazing, all sorts of traditional church and gospel songs. I'd say all those things led me to the path of acting. And then when I got to secondary school, I had a teacher who really spurred me on to do drama. I was sort of acting out, lashing out a bit, as you do when you're a teenager. And I had this teacher who was just pestering me. I talked to my mom about it, she said just go then you've been, and she'll get off your back. And I would say that was one of the most pivotal moments of my life because I found a place where I could really express myself. I found a community of people who were just having fun. Nothing was hard or labored. It was just about being yourself but also being a better version of yourself and taking on characters and singing and dancing. It was really, really transformative for me. Had I not done that. I think I'd be an accountant.
Wow, those are two completely different ends of the spectrum there. What has the acting journey been like for you from the beginning to now?
Well, getting into drama school itself was obviously quite difficult. It's such a competitive thing to get into one of the top drama schools. I went to the Central School of Speech and Drama here in London. I think there was something like 9000 people who auditioned. There were 18 people in my class. So, you know, if you stack up the odds, it was harder to get into than Oxford or Cambridge. That's quite a lot of pressure. Getting into Central was sort of the first, pat on the back that I was on the right path. They saw something, and I knew I wanted to express something. 
Drama school was a very interesting place. In my third year, I got cast in Guys and Dolls and I got my agent from that show. They've been absolutely amazing on this journey with me, and I started auditioning whilst I was at a school, and I got a job whilst I was still in my third year just before I graduated. I had quite a good start because I was straight into work. It was a UK and Ireland tour of Sister Act the musical, and I was in it opposite Cynthia Erivo. She was the most wonderful lead. Working with people like her and other wonderful actors, I sort of started learning on the job because there's only so much school can teach you. I started learning but, you know, I partied, I enjoyed myself, and the show itself was wonderful. It was a 15-month tour which was pretty intense.
15 months on the road?
Correct.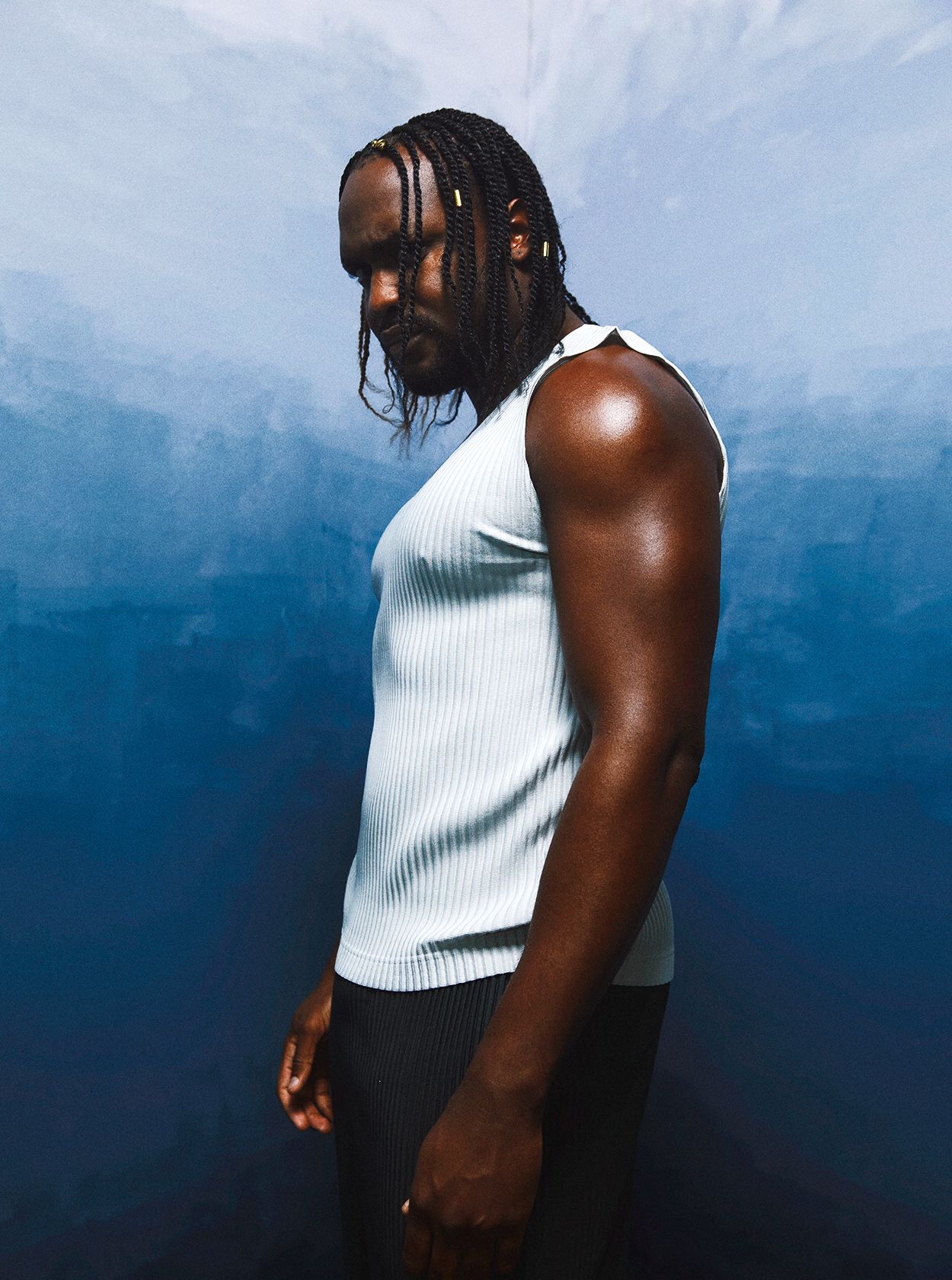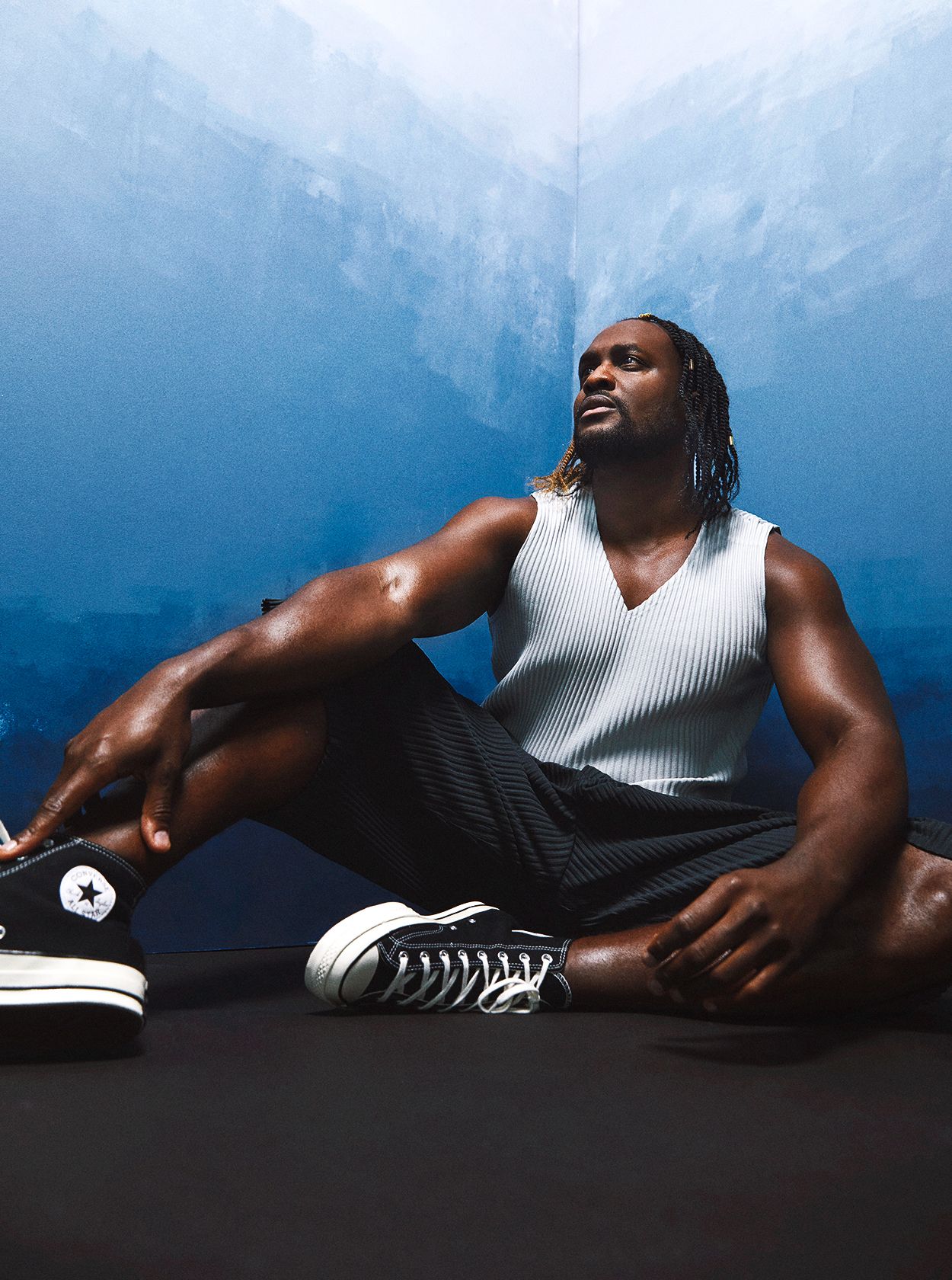 What was that like?
Oh, crazy. There are places in England that I never want to see again [both laugh]. It was wild, but I'm so grateful I had my foundations starting in theatre. There is such a wonderful sense of community and the fact that we're all in this together. You know, we're all trying to do the best we can to make the show happen. I understudied the male lead, I was in the ensemble and I studied the male lead, it really – without mincing my words – put a rock up my arse just to rise to the occasion. It was transformative. I so appreciate getting all that time, with that company because it made you realize what's important, what's not and what sort of stamina you need to do eight shows a week for that long.
Is there a piece of advice you'd give to your younger self knowing what you do now?
Oh, absolutely. Pay your taxes [laughs]. Always, always, always take a risk. This industry doesn't celebrate wallflowers, you know? It's an industry in which you can go big or go home and you've got absolutely nothing to lose by being bold and being brave and just stepping outside of your skin. If I'd have approached the industry in the way that people told me to, I wouldn't be where I am today. People told me I was going to be held back for so many reasons by being black, by being gay. I was like I'm black, I love being black and gay, I love being gay. Why would these be things that hold me back? I decided to listen to myself and be bold and be brave and trust in people.
In an interview you did with Attitude Magazine, you stated how you've started to put pen to paper and write the characters and stories you'd like to see. What has that process looked like for you? And where have you pulled your inspiration from?
You've just caught me on a break from storyboarding and writing currently. I've been really fortunate in my life. And if this is my lot in life, I'm completely happy with it. To be surrounded by wonderful, wonderful, multi-talented and multi-gifted women. People like Michaela Coel and Phoebe Waller-Bridge who I'm fortunate enough to be friends with, but also appear on their shows and see them star in the shows, write the shows, sometimes even direct the shows, and see all of what it takes to really put something out there. It made me go, 'wow they're doing it and they're doing it so well.' 
I'd be so silly if I didn't try to give it a go. I know I've got a story to tell. Being a young black kid that was rescued from a volcano erupting on a small Caribbean Island, my family and I moved to the UK. I think drama and finding performance and coming out and then go to drama school, being raised religious, not being in the church now but having faith in people are all things I want to write about.
I had a really nice childhood. You know, we all have our ups and downs but focusing on writing those stories and those narratives that are positive, that show people like me and my community in a positive light is so important. I wasn't raised on the streets. I wasn't raised, having to do things that would be questionable. For all those people that has happened to, I understand. But for me, I find the industry often glorifies the bad stuff more than the good stuff. So, if I could put a spin and write the narrative and life that I've led or been inspired by, I'm absolutely going to do that.
I'm currently working on a pilot script with BBC studios that they commissioned from me, which is as queer as it comes and it's going to be beautiful, and I'm working really hard on it. I've got a great team of people supporting me on it.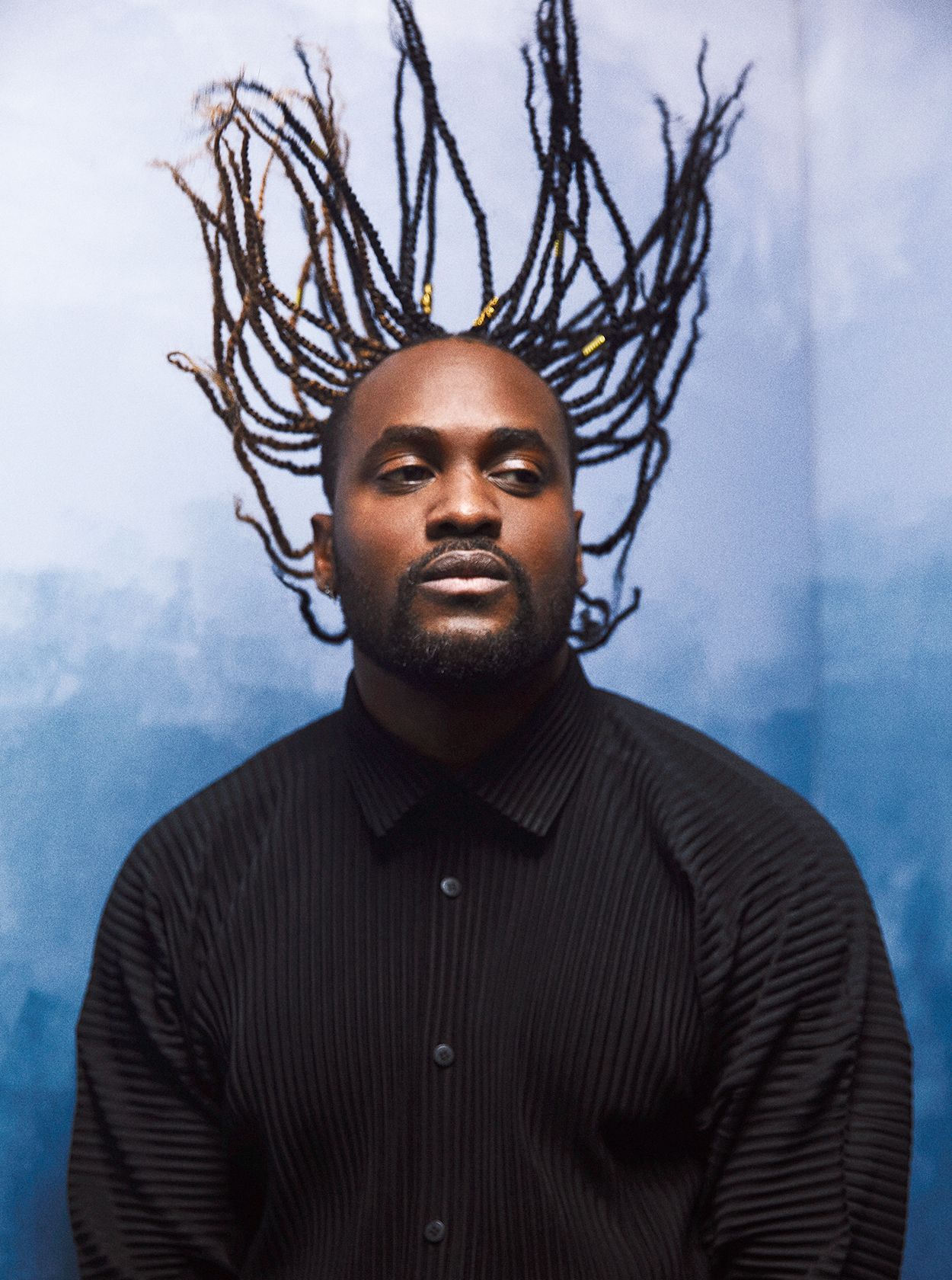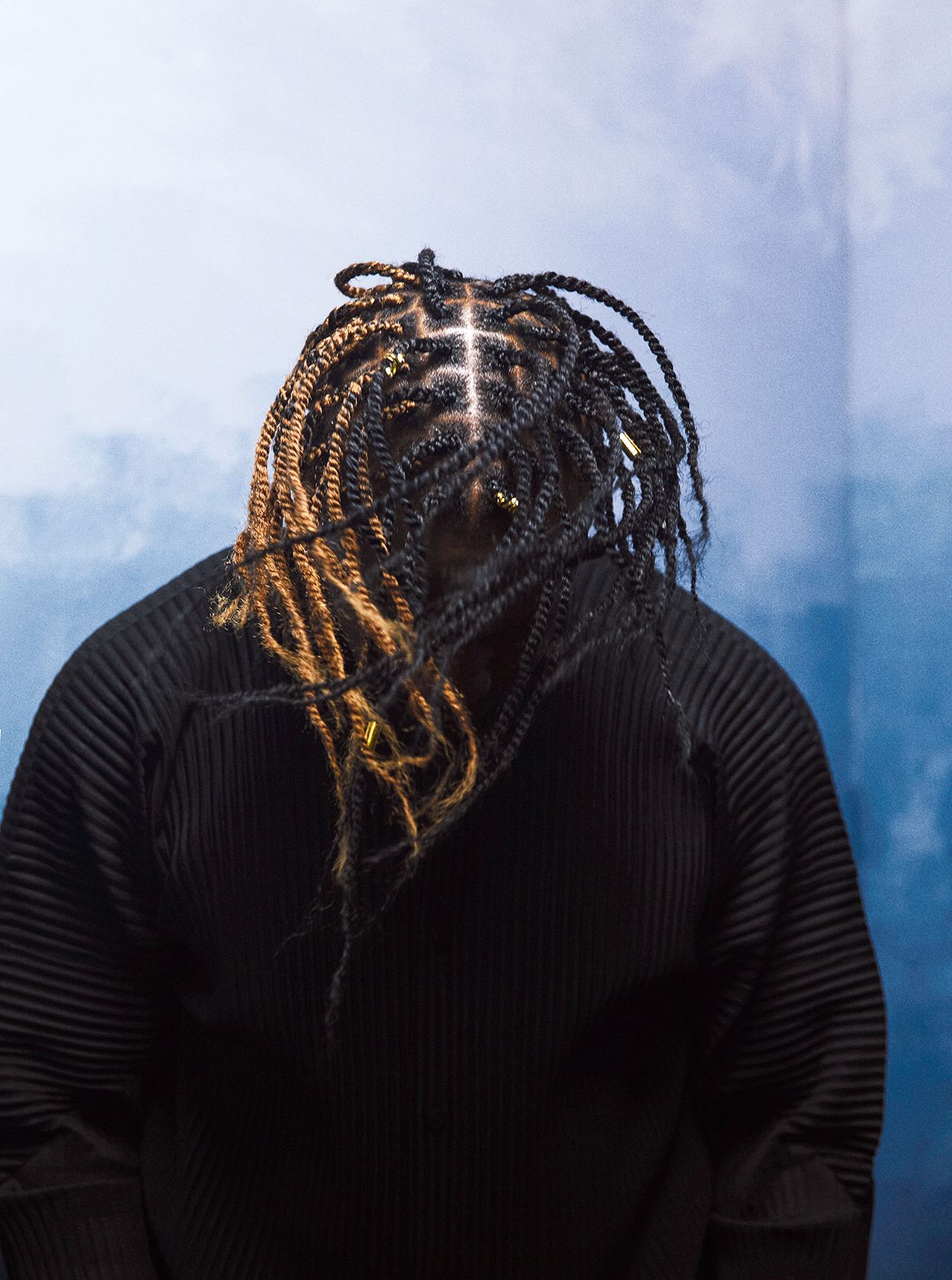 I can't wait to watch it. I appreciate what you're doing because there's not enough of those stories in the media right now.
Yeah, I mean, we have shows for the YA audience and we have shows for the older audience. For us in the middle, like I'm 33, there's this gap between I'd say 27 and maybe 37 where we're not being catered for, I feel. It's such a hazy part of your life where you're trying to be an adult, but you also want to have a good time. I'm trying to encompass all that with us in mind and my age range in mind.
Absolutely. It's funny to go on social media and see exactly that. Do any of us in our thirties know what we're doing?
Not. At. All. We're not aimless and we're not directionless, we're just trying to figure it out.
Of the roles you've played on screen and in theatre, who resonated with you the most and why?
Tough question indeed. I did a play at the National Theatre called Home. And it was, for me, one of the most important and life-changing things I've ever experienced. It was a play about the inner-city workings of homelessness within the UK. It focused on a group of young people between the ages of 16 and 21, who for whatever reasons, found themselves homeless. 
Our director went in with just a recording device and interviewed them and asked: what does home mean to you? So, this play was all of their words. It was a verbatim piece. Every single breath, every pause, everything was from these people.
I played a young queer kid who was kicked out for being queer. And then on the flip side, I played a young immigrant from the Caribbean, who was so appreciative of the life he's been given. That's where I met Michaela Coel, Antonia Thomas, Ashley McGuire, and the most incredible group of people while making this piece. I got to open the play by singing Beyonce's Halo acapella. Let me tell you: that doesn't happen very often at The National. It was one of the most nerve-wracking pieces of theatre because it was all about precision. It was all about playing these real people, who were also up there with us in rehearsals. They came to see the shows and they weren't afraid of telling you: hey, I don't talk like that. That doesn't sound like me. You know, it was so immediate to them, because it was them that we were playing. Having that pressure and having that responsibility for me was so important. And it has made me approach all my work in that way. That was the play that led to my first television role. So, I've tried to apply that to everything I've done since then.
Do you have a dream role? In theatre or television?
Absolutely. I want to play Luther Vandross in the biopic of his life in a film or TV series. Luther Vandross, to me is the king of soul. His music, his life, his legacy. I think it's so rich and ripe for the picking in the hands of the right people. It would be amazing. I get told all the time that I've got a similar look to him. I've leaned into that [laughs].
Hopefully this interview reaches the right people in Hollywood. 
Let's make it happen!
Bringing black queer representation to the forefront is important. Those stories deserve to be told and seen. How does it feel to be helping pave the way for that?
I don't consider myself to be paving the way, I feel like I'm a part of the change that's happening in our industry. It feels like it's happening… at a pace. It's gone just beyond glacial, so not as slow as it used to be. It feels amazing, because what I find out there right now is people aren't waiting for the 'yeses.' They're going, I'm going to do this myself. I'm going to show you that we are of value, and we are here and we've always been here.
I'm so proud of the way the work has been received but also people taking chances on these stories. We need 5 million more, don't get me wrong. Having something like Moonlight, on the flip side, a couple of years later, you get something like Heartstopper and on the flip side, you get something like It's A Sin all these shows have blown my mind. I'm so thankful and I just want more and more and more.
Hard agree. We definitely need more! What is one thing you'd like to manifest for yourself this year?
I would like to manifest being in the moment and staying in the moment. I think as a society when it comes to aspirations and just generally living day to day, we get distracted by so many things, be it social media be it looking left and looking right. We're constantly bombarded with how everyone else is living. And for me, I want to be mindful of where I'm at, to feel it and to understand it and to appreciate it because not many people even get here. I'm trying to take each moment with both hands. Because the next moment isn't promised.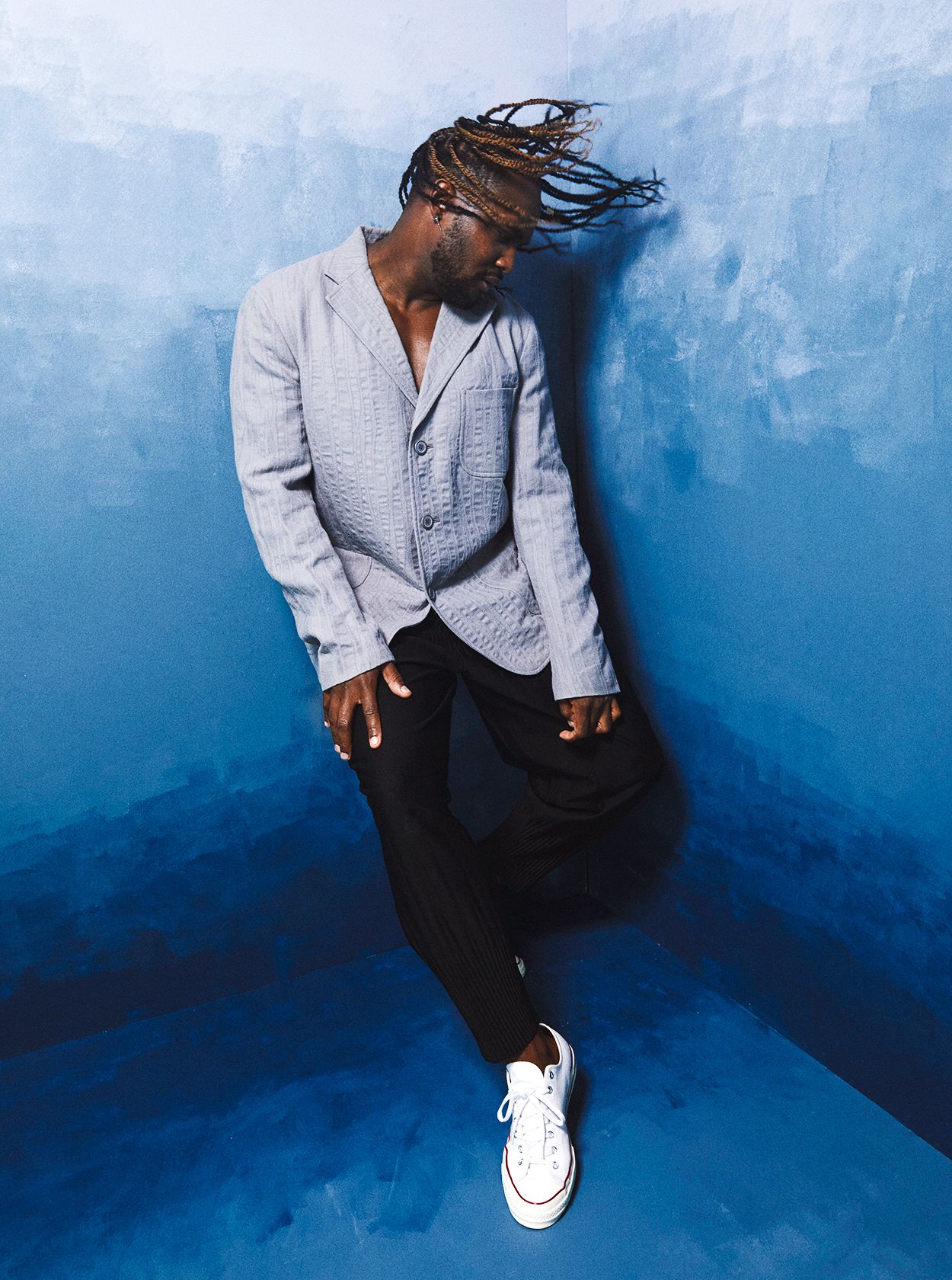 That is so true which leads me to my next question: what is one bucket list item you hope to achieve in your lifetime?
I would like to show run a show so I can not only get my story out there but cast and have people like me. I've been handed down so many pearls of wisdom over the years and I would love to be able to do that for the next generation. The longevity of our community lays on the shoulders of people handing things down. Especially as young black queer people. So if I get in a position, God willing, or whoever's willing, the universe willing, I would love to have more people like myself on board for the ride.
The theatre or the screen? What is your preference and why?
I love the money of TV [both laugh] and the feeling of theatre. 
I love that answer.
Honesty's the best policy.
Do you plan on going back to the theatre at some point soon?
Yes, I really do. I'm currently shooting a TV show for Apple. Once I'm finished on the next season, I would love to dip my toe back in. I also want to sing on a stage again. I want to give these old dusty chords a flex.
It's a different type of skill set I would assume from being on the stage to being on a screen.
Yes, it would mean I'd have to behave myself. It's a lovely routine. Give it to them every night, eight times a week. I want to feel that again but not for too long. Because you know, it can be taxing but I want to get back out there on the stage.
Amazing. Looking forward to all you do next! Thank you so much for your time today.
No, thank you. Keep on keepin' on.
Everyone Else Burns available to stream on All 4 now
Interview Dana Reboe 
Photographer David Reiss
Stylist Way Perry
Grooming James Catalano 
All clothing Issey Miyake (current season and vintage)