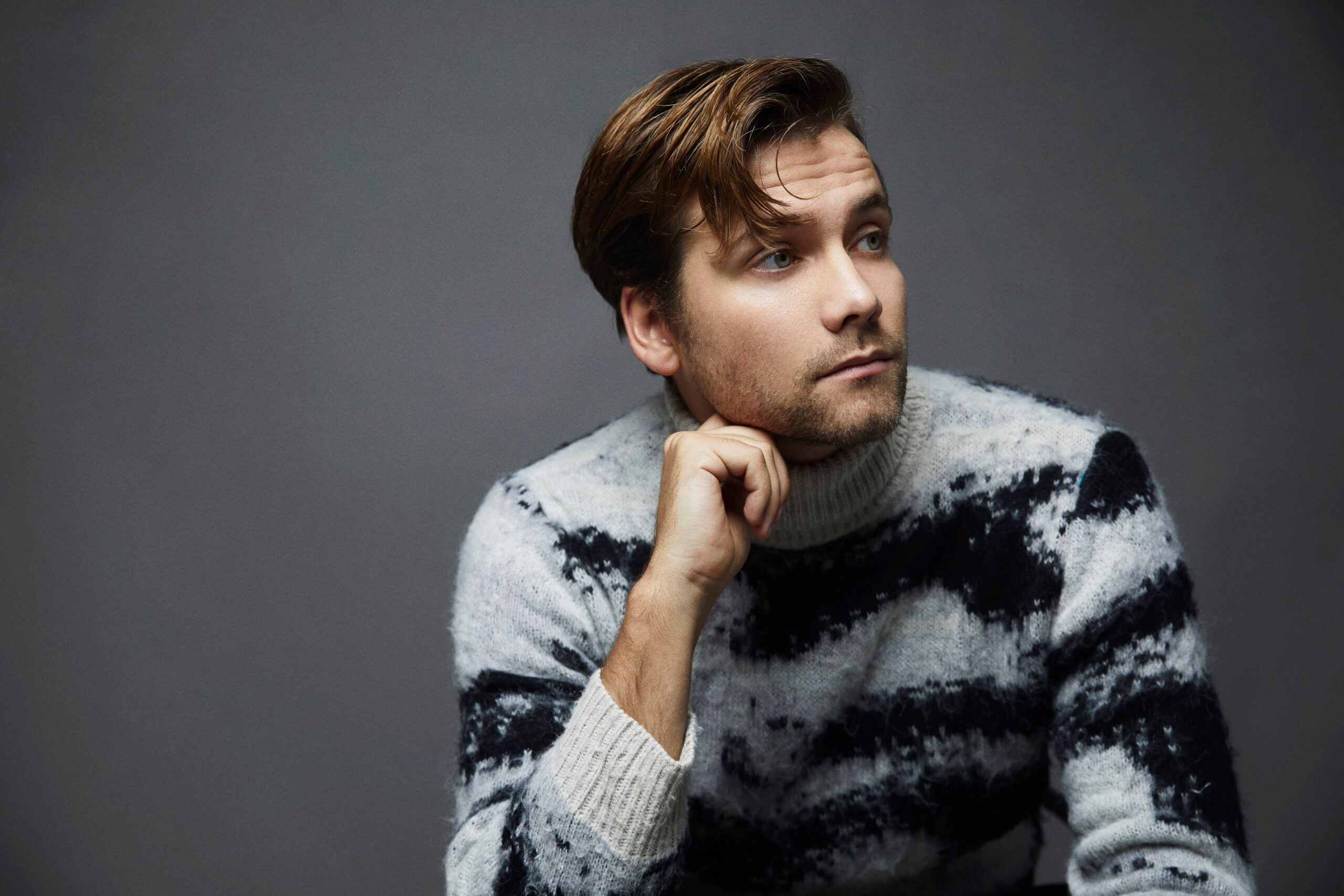 Oliver Dench
This year, British actor Oliver Dench will be on our screens as the intriguing, wounded painter Lucian Ainsworth in ITV/PBS's Hotel Portofino – a stirring series that entails everything from family drama, emotional highs and lows and mystery, all with a gorgeous backdrop of the Adriatic sea. 
Both acting on-screen and in theatre plays, Dench's acting credits are versatile to say the least. After starting his acting career as Will Palmerston in the hit Nickelodeon show Ride he then went on to star in the acclaimed Sci-Fi series Pandora and the long-awaited adaptation of Noughts & Crosses, and after recently completing season 2 of Hotel Portofino, Dench is now gracing the theatre stages in Paris for the renowned play Cabaret. 
In conversation with 1883 Magazine, the talented actor chats about his painting endeavors for his role in Hotel Portofino, his obsession with Shakespeare and Charlie Kaufman, and what he is working on at the moment. 
Hey Oliver! Where in the world are you at the moment? 
I'm currently in Paris actually. 
Wow, I'm so jealous! What brings you to Paris?
I'm doing a musical. I'm doing Cabaret. It's actually so fun. When I first got into acting, all I ever really wanted to do is be able to do theatre. But getting seen for theatre is sometimes difficult and not the stuff my agent puts me up for. So, for me, the opportunity to do this when I just finished Hotel Portofino was ideal. Do you know the musical at all?
It's the musical that is based on Berlin's Kit Kat Club isn't it? I've seen it in London. I must admit I mainly know it from the series Schitt's Creek where they do a performance of Cabaret! Have you seen that?
Ours is a different production than the one in London but I am having the best time. We've been here since November. I've heard many things about Schitt's Creek but never watched it. I remember when I was working on a show called Ride in Canada about six years ago when lots of our hair and makeup team had just finished the first season of Schitt's Creek. I remember hearing about it loads, but never watched it. Apparently it's amazing!
It's such a good series, you should definitely give it a try! So being an actor on-screen and in theatre, do you have a different approach when preparing for a role for each? I can imagine it must be quite different. 
Yeah, it is. I kind of feel as though it's quite intuitive though. I think the risk, the famous risk, is to do too much on screen or too little on stage. I think that's what the rehearsal process is for. Like for me, going from doing mostly screen for the last many years coming to this I was really scared. I was really intimidated. Like I would be bad. But we had our rehearsal process in London and that whole process was a good chunk of time for me to start feeling more comfortable about the way I was going to present it and the weird things I was going to do. Largely it's the same job in terms of storytelling, and knowing what you want to do with your character. It's so hard though with acting, because I have no idea. You never know what it's like, because you can't see yourself. I just have to trust my director. They tell me if I'm bad.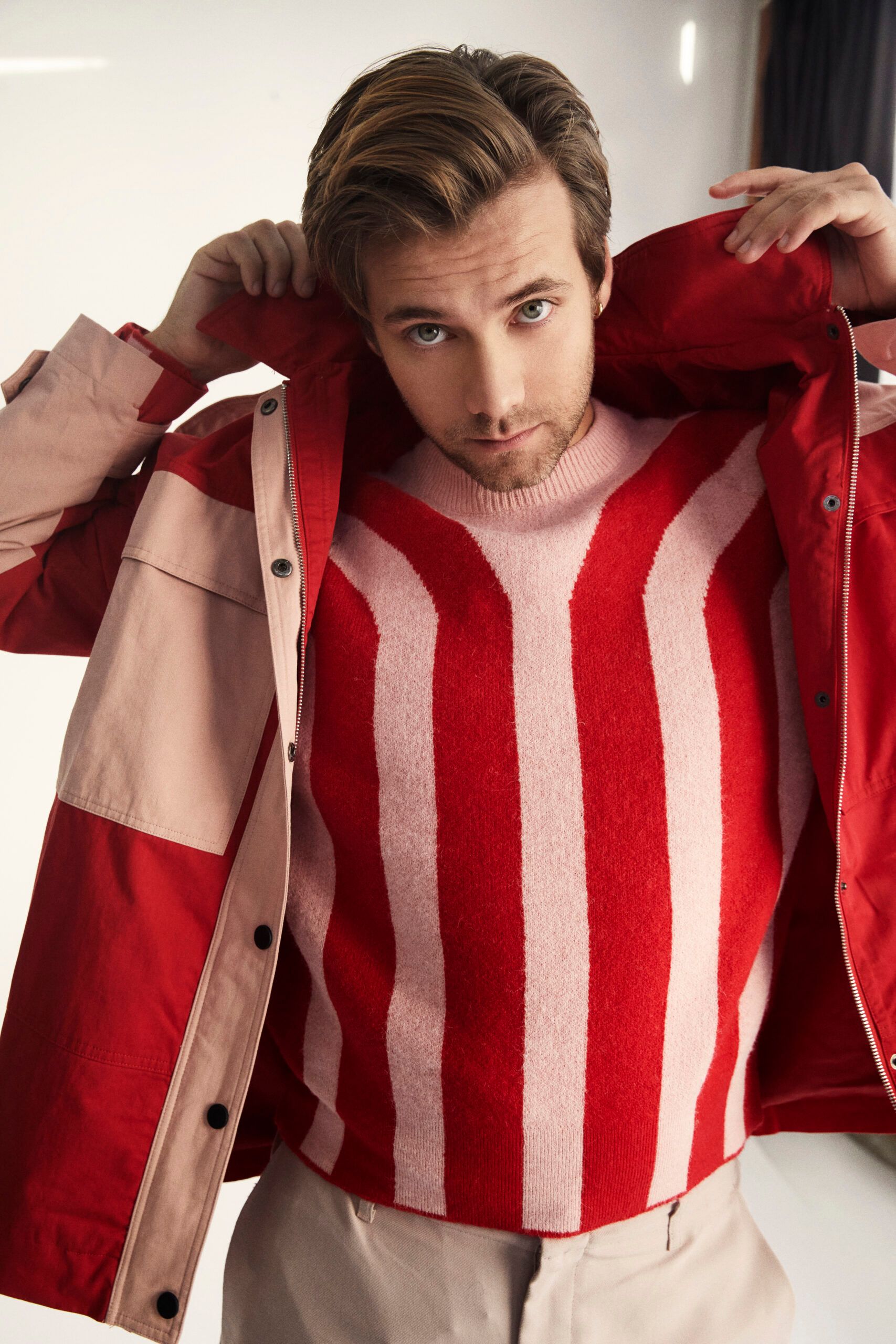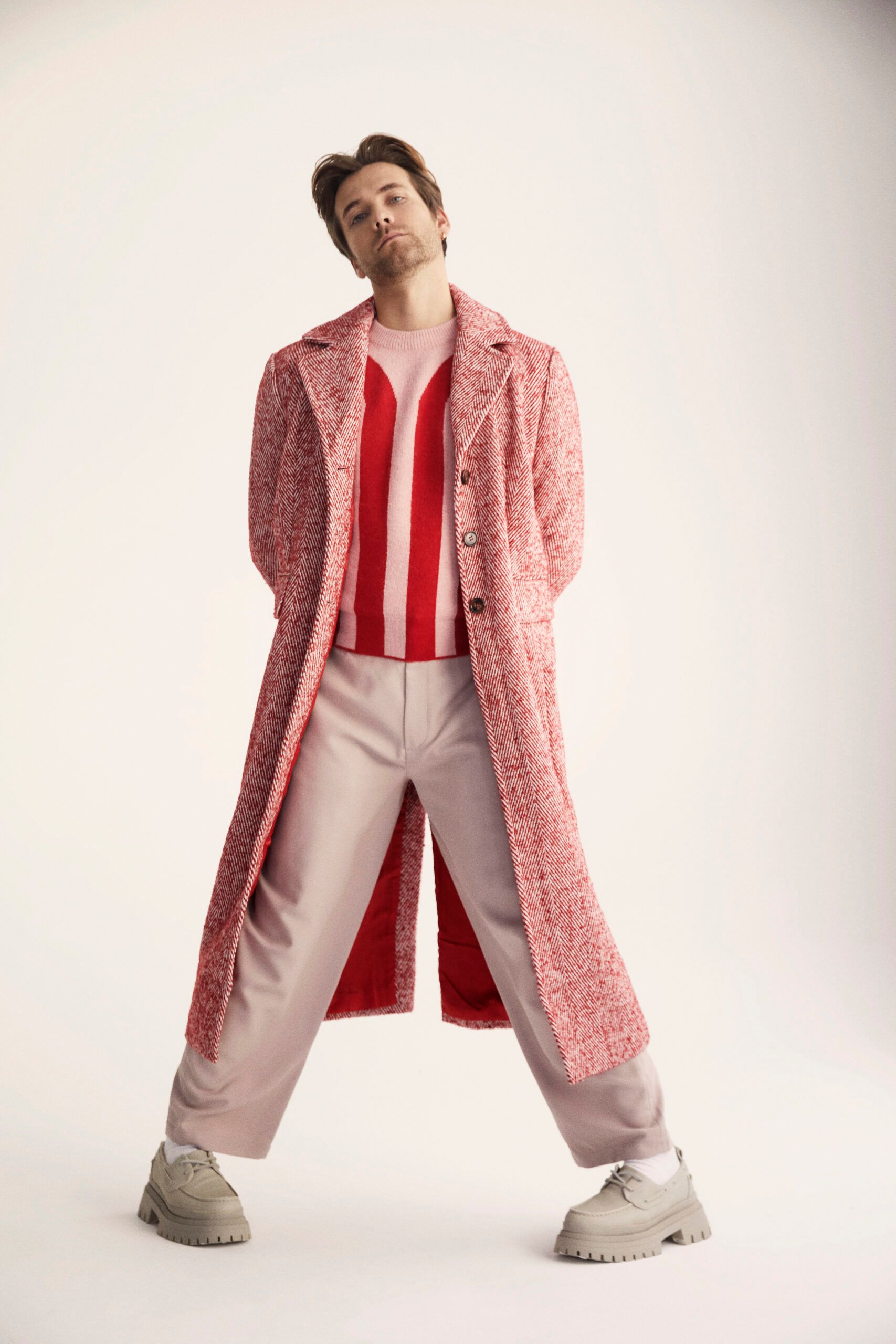 coat Brora jumper ASOS trousers Mr P shoes Tommy Hilfiger
That makes sense! So what was the casting process like for a Cabaret, did you just jump straight into it or were there different screening stages? 
So I was away shooting the second season of Hotel Portofino. I sent through a tape, so I had to tape a couple of scenes and a song, which was terrifying, because I like to sing, but I'm no great vocal talent. But even that was a weird thing in terms of pitching the different style of acting for the stage at the screen, because I had to do the tape filming myself, so I think I was doing a much more screen-like performance. I thought I'd really screwed it up. I remember a couple of days after I sent it, calling my agent and saying, "I think I really screwed up that Cabaret tape by doing something really 'filmic', can I go again?" But they evidently liked it and I got the job from this tape. 
Sounds like everything worked out perfectly then! As far as I remember, there is quite a bit of German involved in Cabaret, also considering it's based on a Berlin club. Did you have to learn any German at all? I'm from Germany hence I'm asking. 
My character is actually American but yeah there is lots of German in it. We were always saying that the ideal place to do it would be in Germany because then you could actually stage the bits between German characters in German. Whereas in the standard scripts everyone is speaking English all the time, with the exception of a few words here and there which is kind of weird. It's always weird, you know, when you watch something, and there are two German characters talking to each other in English, and in accent, it seems a bit odd. But it was great for me, because I didn't really have to learn anything. I mean, it is heavily implied that my character does speak at least some German, but I never had to do it. Any words I do have to say, I just have to do it with a heavy American accent.
Haha, it's a difficult language so I don't blame anyone speaking English! Let's talk about Hotel Portofino where you're playing the role of Lucian. 
Yeah, so the second season release date is confirmed for Australia in February. The first season comes out on ITVX, on the third of February. My character is called Lucian Ainsworth. He is the oldest child of the Ainsworth family, a family who decides to travel to Italy in the 20's to a hotel. Lucian was very badly injured in the First World War. So he is removed from service along with his best friend, Nish, and has developed a few techniques to deal with the way he now views the world. After being injured so poorly, his self-esteem is at an all-time low. So in the first season he self-medicates with a lot of alcohol and a lot of sex. He is a painter, so he indulges a lot in the beauty of the world, and I love that. That's my most exciting thing. Because I think that is so beautiful. The world is so beautiful. The idea of being able to go to Italy to paint where the light is so stunning. Summer in Portofino is beautiful. I think that's what Lucian relaxes into, rather than dealing more directly with any of the things that he's been through. 
Did you do anything in particular to prepare yourself for this role?
I painted. I've got cast fairly early compared to what I'm used to in a job. I thought, wow, Lucian's a painter. I want to make sure that my painting looks good. I love art, I love drawing anyway. But I felt like I should practice as much as possible. So for weeks, if not months in that kind of post lockdown slump two years ago, I was just oil painting every day, painting endless portraits of everyone that I knew and annoying everyone. I remember before I met him, I messaged Assad, who plays Nish, to ask him if I could paint him. I think in hindsight, it's probably the most pretentious thing I've ever done for anyone because he didn't even know me. He just knew there was this random guy that you'd be working with, from whom you get this message saying that he wants to paint him. I think that must have been really weird for him, but I did paint him. Paint him I did. It was fun.
I remember messaging the producers of the show saying, I've been painting, I've been painting this whole time, could I use some of my paintings in the show, I would like to paint, and they sent me back a very nice email that said, he has to be good, haha. I did send them pictures and some of them are really good. I'll show you and then you could tell me that they're great and that they should have used them the whole time. (proceeds to show me paintings)
That is really good. I mean, I'm not a painter, but that is objectively quite good. It's a great effort. I think they should have definitely used them because that makes it even more authentic, you know? 
That's what I thought. But they disagreed. 
We should all sign a petition so they can be used, but I mean, that sounds like the perfect preparation to be honest.So where do you keep all those paintings now, do you have a gallery at home now? 
Some of them I keep. They're all filed away somewhere. I mean, the vast majority of them are impossible to look at. They're just awful. But I'm proud of them so I still keep them around.
I tried to paint during lockdown as well but nowhere near as good as you, hah. So what was filming like for Hotel Portofino?
So we actually filmed in Croatia. Croatia is still absolutely beautiful. I would have loved the opportunity to go to Italy but I think that Portofino has probably so dramatically changed from what it was like in the 20s. I think that it is just filled with super yachts and ery, very fine restaurants. I think it would have been very difficult to film there. Croatia is just beautiful. It's just not the same vibe culturally, but that's okay. That doesn't matter when it comes to shooting. We shot about, I want to say about three months, maybe two and a half months. It was a pretty quick shooting schedule. For six episodes, I  think it was something like 12 weeks, roughly two weeks for each episode. We were there a little bit before to discuss or rehearse. 
That sounds pretty packed. So what did you do to unwind after a long day of filming?
There were elements that were stressful but to be honest, not too bad. Not compared to some of the other jobs I've done. The whole cast and Adam, the director and everyone else that was out there were so kind and sweet, welcoming, and comforting that not really much stress came from that aspect of things. There was some time when we would stress about the work. Or we wanted to do specific things with scenes. That was difficult.. But the people were so nice that it was never an issue in that way. We basically just finished at work, and went on to eat and swim.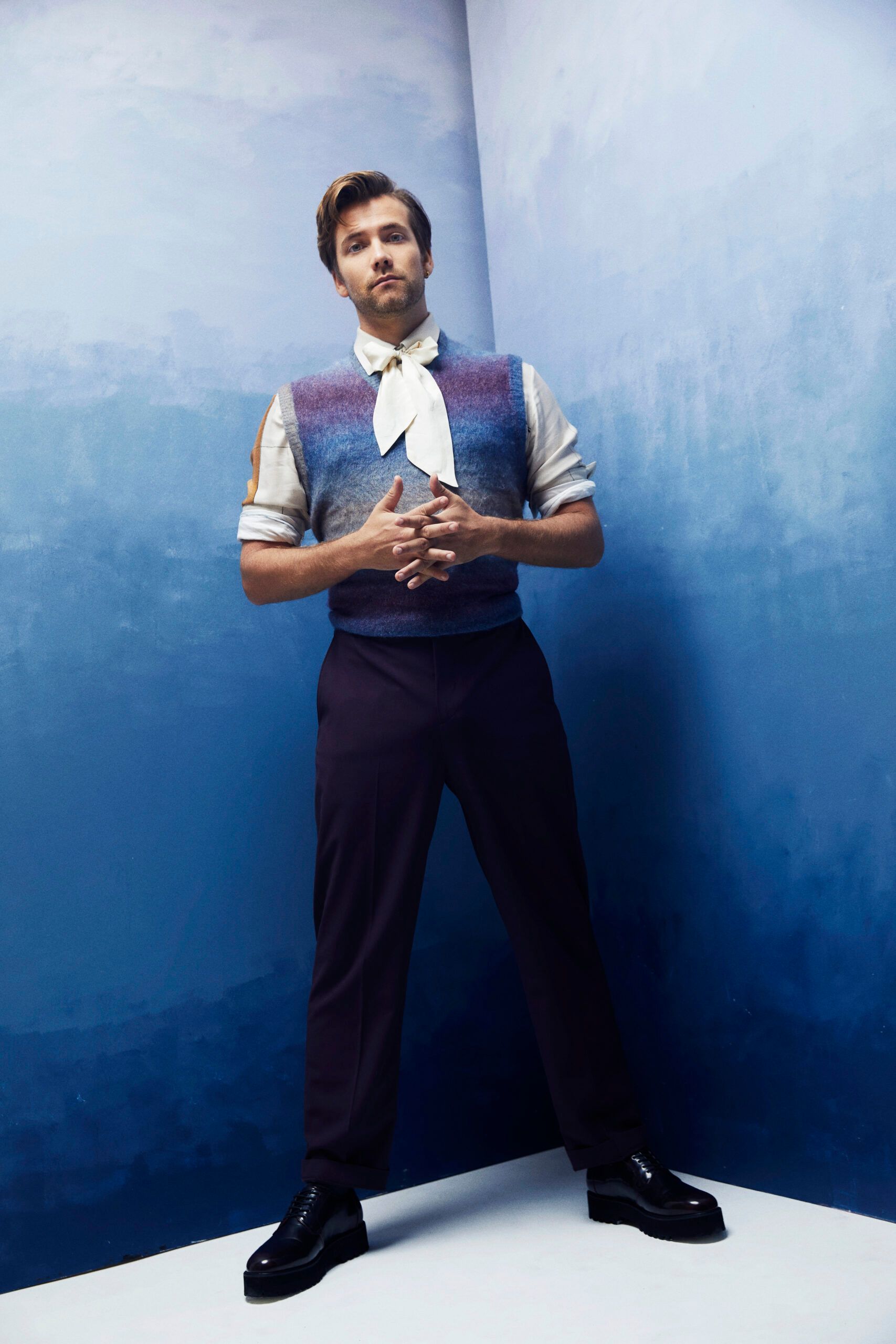 knit vest Paul Smith shirt GANT trousers Tommy Hilfiger shoes Adieu
Sounds like an actual dream! So is there like a sort of character that you haven't played yet, but would love to in the future? 
I don't really know. I don't find myself thinking that much in terms of characters. I used to really just want to play Shakespeare roles forever. There's almost like a canon of Shakespeare roles, especially for men, that you can age through, like playing Romeo, then Hamlet, and then keeps going up with all these Shakespearean lovers until you eventually play King Lear and Prospero and then die. I used to think that that was the ideal career. I don't really think like that anymore, even though I would still love to play all those parts.
I think more in terms of people that I would really like to work with, and they tend to be directors and writers and such. I love Charlie Kaufman. I've always been obsessed with Charlie Kaufman, and I think the things that he does are so interesting and so exciting. I would do anything to work with him. There are other writers who I really like, people like Pinter. I'd love to do a Pinter play, because again, they're really interesting and nuanced and confusing. Or Beckett plays. I also have recently become obsessed with Daniel's who have done Everything Everywhere All At Once'and Swiss Army Man, those are absolute masterpieces. So I do think about that in terms of people I want to work with. In terms of characters, yes, I would absolutely do it if someone wants me to play the steering part that I always imagined I wanted to play.
Love that! So what would be your ideal Shakespeare part then?
When I was young, I really wanted to play Troilus from Troilus and Cressida. I just thought that was amazing. I think that the play is chaotic and confusing. It's about war, and it starts in the middle of the war, and ends in the middle of the war, and no characters get what they want. I think that's remarkably modern for a Shakespeare play. I think all Shakespeare plays are remarkably modern pieces of time. I think he's a genius, he's everything to me. But 'Troilus and Cressida' in particular is weirdly displayed in an odd interpretation of romance and an crazy interpretation of the Trojan War, in particular- they have the Achilles character as this evil cheating bug, which is not at all how he's portrayed in other films. I think it's so wild that Shakespeare turned up and was like, this is how I'm going to write it. Also everything else. Every Shakespeare part. 
One day you can channel those characters, let's speak it into existence! So what else are you currently working on, besides Cabaret and Hotel Portofino?
I'm writing a lot. I write with a friend of mine, one of my closest friends who is Manuel Pacific, he is also an actor. He was in Ride with me at Nickelodeon about six years, probably more than six years ago, who knows, a decade ago. Now we write together. We have a lot of projects on the burner. We're primarily writing something about a young person's TV show about a cooking school at the moment. She's just being shopped around by an Italian company but I can't speak too much about it. It's all bubbling away. It's really great for me to have something to focus on and something else to be working on that feels to be a creative outlook. It's always good to be working on something. Once I finish Cabaret in a couple of weeks I'll be going back primarily to focus on writing with Manuel as well as audition and then wait to see about Hotel Portofino season three.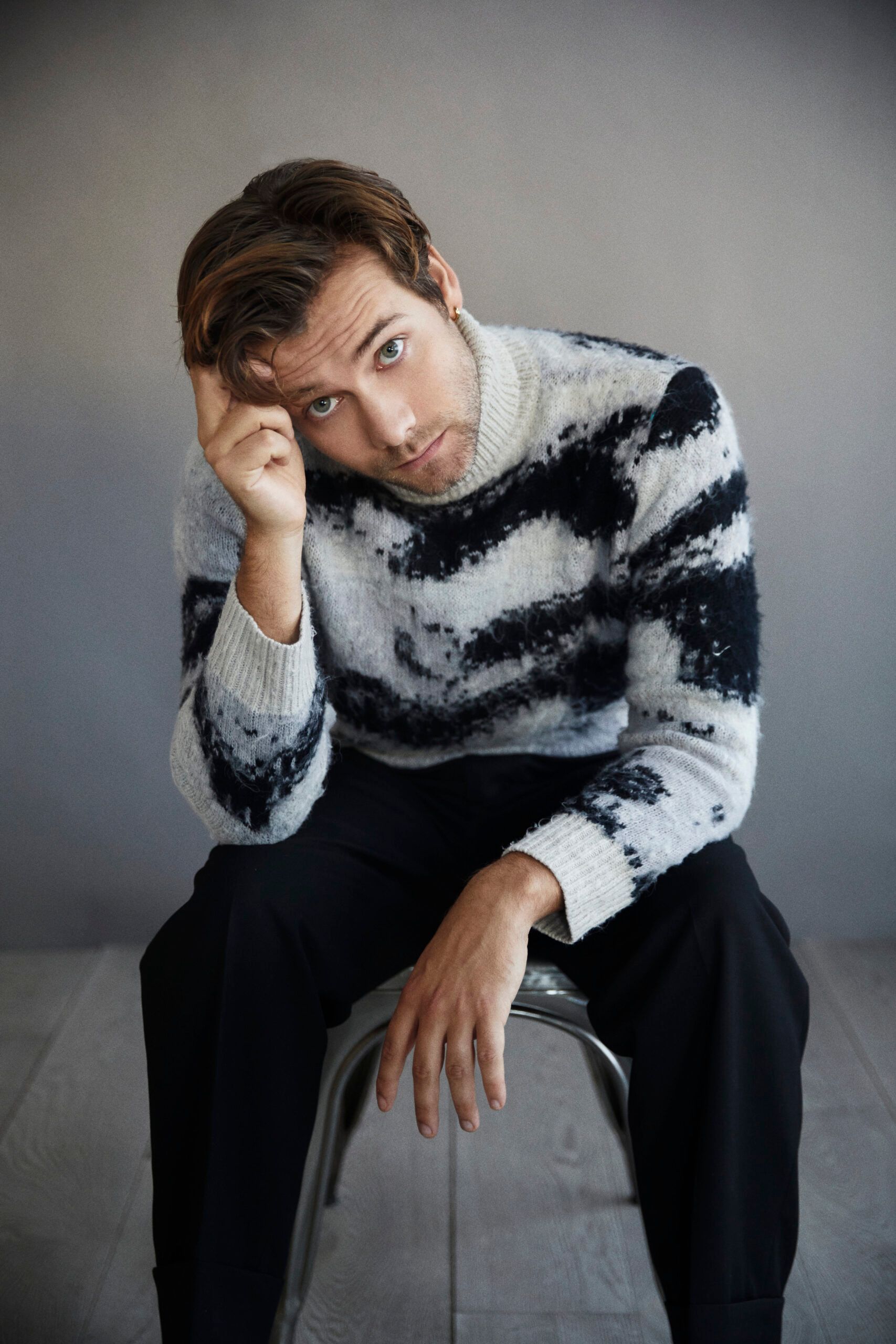 jumper Topman / VETEMENTS trousers Percival shoes ASOS
Sounds like you've got a busy schedule ahead! Last but not least, I just have to know, what's your favourite film?
It changes radically depending on my mood. But I'm massively into Synecdoche, New York, which is a Charlie Kaufman film. It's just a masterpiece. It's so good. It's with Catherine Keener and Philip Seymore Hoffman just doing the greatest Charlie Kaufman thing ever. It's so all-encompassing. I don't know if you've seen it.
I haven't but I want to!
It's not for everyone's taste. I've shown it to other people and they were like, "wow that's depressing". But that's not really how I view it. It's about an artist, a stage director played by Philip Seymore Hoffman, who gets a genius grant to do whatever he wants. So he tries to put on a massive theatre show that encompasses all of life. So he casts people to play everyone in New York and tries to build a set the size of New York. It keeps getting deeper and more confusing and rehearsals are going forever. It's got that Charlie Kaufman magic realism. So, things get weird pretty quickly as he starts hiring people to play himself and they start hiring. It's wild. For me, it is so tragic, so beautiful and it's so funny. It encompasses life. For me, it has that tragic comedy that feels like life. It's so complete and everything and it takes him through his whole life. The performance is amazing. The script is one of the best things I've ever seen. It never fails to make me feel something. 
I will definitely watch it. You sound very passionate about this film.
It's SO good. It really is so good. 
Interview Antonia Künzel
Photography David Reiss
Grooming Charlotte Yeomans
Styling Bertie Taylor-Smith