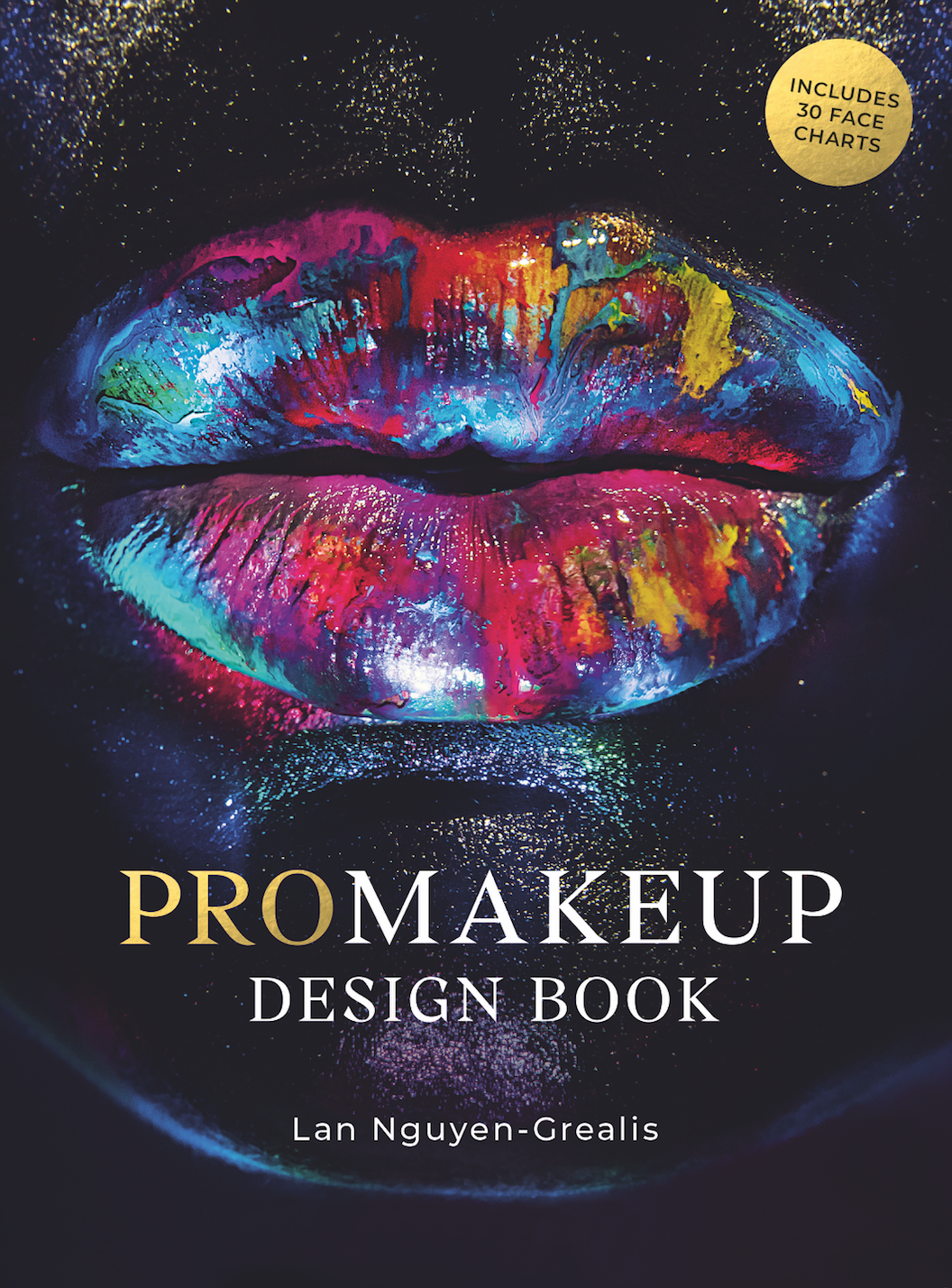 Lan Nguyen-Grealis
Lan Nguyen-Grealis is a talented and established name in the beauty industry. With her career going from strength to strength, working on celebrity clientele to producing jaw-dropping editorials, not only for publications and brands but for her own published books.
Not leaving us disappointed, Lan has now released her second book 'PROMakeup Design Book' for those who want to get experimental with makeup. With double helpings of creativity, Lan also has a new brand collaboration with Revolution PRO, and we are ready to hear all she has to tell us here at 1883.
You're now known to many as the skin alchemist, did makeup and skincare always feel like a natural career direction for you?
No, definitely not. It's something I fell into by accident. 
As the years have gone on, I've just got better and better and homed in on my skills more. When I first started, there wasn't any true academic or anything to tell you what the industry is like and even about skincare to be specific or makeup. For me, everything that I've learned is through my own experience and developed working with people from all areas, whether it's normal women or from working on shoots or with celebrities. The whole thing about why people understand me is that everything I've gone through has been a learning technique. So, when I started doing makeup on people, I'd often hear, 'Oh, are you an artist because I feel like you're painting me?' so I feel that's where that comes from.
I mean I've developed through the industry. I've had a really good experience in my training as such because I've navigated through the old school times where you had to work hard to get your name out there because it was all via recommendation if you were to survive. Then the time came where Facebook and social media started to come in, and I started speaking more about what I was doing. I found it helpful because without that agency or PR knowledge and not knowing where or what was happening in the industry; I felt like my power was on people talking and recommending by seeing, whether it be from behind the scenes or final images, I was constantly sharing but for me that was my advertising tool. Now, well, it's all paid off. 
You previously used inspiration from famous historical figures, has there ever been somebody that you wish you could go back in time and work on?
When I look back to films, Judy Garland, Marilyn Monroe and all those iconic women in the 1920s to '40s. Women that looked like that for me were beauty; that's still relevant even now. I feel like the way they looked and how much they groomed themselves was a big thing for me. Even just growing up in my family seeing my mother or my auntie get ready and making an effort to look good because they wanted to, it was a way of presenting themselves which I think was always my motivation. I've been lucky to work with a lot of celebrities that have that sort of old school vibe of getting ready like having the perfection of being groomed, looking amazingly beautiful but not overdone. Just feeling good about themselves. Some people that I've worked with such as Bianca Jagger and Debbie Harry; it blows my mind to think of the skills and techniques they did to create their looks and for me, it's been influential.
For those aspiring to be a makeup artist, what qualities do you feel are vital for the role?
I think they have to home in on what they love. I think too many people nowadays are doing what they think people want them to do. The only way to stand out is to home in on what you're good at and to take inspiration not from the obvious just copying one person to the next. Read up on all the history books, go back in the art world. 
Just really dissect; those eras are iconic for a reason. I think it's very important for aspiring people to go back and look at why past artists were successful. It's important to be able to learn their own skills, the way I have because there's no fear; it's your signature and you develop it your own way. It's really important to find your own journey and education, go and build up all your skills for everything. 
There's no point going to all these schools and learning it all, but then not knowing where they're coming from. As an artist, makeup is an art form. Although it's technical, you do have to have that instinctive flair that makes you different to everybody else if you want to push your career. I mean, I had some advice from a PR person before I started breaking out who said to me, 'You've got great technical skills and you can carry on your day-to-day and be successful, earn money, have a nice career. But if you want to have a really, really good career, you have to take risks, you have to push yourself. You have to work in all different fields and have a signature. Otherwise, you just get lost. And if you don't have any of those things that scream out who you are, you'll just get lost.'
Which top three products does every makeup artist need in their kit?
The number one thing I work with is highlighters; all different levels of highlighters from tinted moisturisers to creams and powders. Highlights are just amazing mixes to add to your makeup kit and skills.
I'm going to say just highlighters. There's no top three as on the face you've got to have all these different things to perfect the face; there are great multi-use products out there. You can get cream blush that can do lipstick, eyes, cheeks. You can do a full face; cheek creams are probably an underrated product. You can do a lot with them.
Brushes. You have to have good brushes. I'd say looking at most people from having past students and artists I think the secret is having a good set of brushes; they are an extension of your hands.
For me, my secret weapons have been my eyeshadow brushes. I feel like sometimes, skills-wise, if you're not 100% there, a good set of brushes do help you.
That's the one thing I look for when I've got someone on my team, I look at what highlighters, what brushes and I'm always checking the cheek products. I don't think people carry many, sometimes they get caught up in just their favourites. Creams are essential. 
Your new book 'PROMakeup Design Book' focuses on how to create looks for the camera, would you say you chose this as a natural progression from your first book 'Art & Makeup' which focused on the world of art, cinema and sculpture as the main inspiration?
Yes, definitely. At the time, I didn't know. The first book was all about brain dumping, a nod to the arts like blending, understanding history. Then following up, it's about getting people to be more practical. Understanding the beauty and the editorial side. With the face charts, it's about using the skills to become a designer.
I felt like it was time to reach the mass audience. I used to hear a lot of men say 'oh, you know makeup is not an art form'; it's just a bit of a slap on the face. This sort of thing, and then people's mindsets on makeup as art always think it's a bit crazy as it's not wearable, so I created this book so you wouldn't just look at it as a makeup book but as art and makeup. They could look at the images and they don't think about makeup anymore, they just appreciate what is there in front of them.
This was more tailored so it's approachable; it's getting the younger generation, or anyone involved in makeup, bloggers and editors, to give it a look and just think a little bit more outside the box and feel that today you can be designers or creators. Allowing the reader to think this could be a good makeup look, or just having a bit of fun with it and take out the element of being too serious.
By having these illustrated smudge charts and having a bit of skin tone to them, the person who's thinking about the makeup is thinking about a real face without realising they're learning to develop and look at a face to build up a beautiful piece of makeup work and design which, for me, is a really big skill. Just get creative.
It's not every day a Makeup Artist releases such a creative visual book. Were there any obstacles you had to overcome to produce this?
I spent two years in research worldwide constantly trying to see if there was anything out there and there wasn't; everything was quite text-heavy. I felt like things were very generic, or images that were done in the past were re-used to talk about something else. I feel that's done a lot which is great but if I wanted to teach people, I had to think about me as a student and how I teach and want to think about those images. I would say it was quite tough because you could create those looks all day long, but what do they mean?

That was the hardest part. To try and define what it is, and how is one image going to teach somebody by just looking at it and reading it. How can they be inspired to create something or give them that push to want to do something? I think that was the hardest thing, the decisions in the images because none of the images were from me producing for a magazine or any other brief, they were specific to find a visual way of doing so to teach. So, I guess that was the hardest thing; I think, is putting it together. 
The risk you take as a director and as a makeup designer is that you try to tick all those boxes then process over everything. Then just producing it just for the book because if I had 1000 pages, I could fill 1000 pages but refining it to just four or six pages is tough as you get attached to your work. I had to be controlled and not attach myself to my work. As soon as I created the work, I had to remember that it's not for me; it's for all the students or those people reading it, so it's worth it. You have to put a value stamp on it and to believe you would 100% buy this yourself. All those mental questions before even producing it was hard.
Did you find it much easier to write this book, after having such a successful first?
Yes, I mean because the first one was history orientated. It was very factual, and it's all about having a nod and respect for the things that happened before me. So, trying to give that information, I was researching history to make sure that everything I was saying was coherent of that time.
So, this book is all about now which I found it was a little bit easier to navigate because the target audience is a little bit younger. I feel like there's like a whole refresh about living now and how to develop for the future, so I guess it is a bit easier because all I'm doing is giving tools. I'm not telling people what to do and what's happened. It's about using your initiative and using what you have around you to create something new.
What was your favourite look to create and shoot?
There was one; it's got a girl with her hands covering her face. It's all dotted paint and that collection of imagery was about being technical with your brushes, your fingers or your materials. There's one of them where we had melted chocolate, and the two images when you compare them have the same sort of element of a painterly look but one of them was actually just dipping your fingers in different paint, and just using a rhythm of the music, and just feeling and just massaging the whole face and keep going to keep layering and following the contours and following the areas on the face. It created a beautiful image, and it's unexpected because you can never plan it because it's where your fingers are moving. When we did the melted chocolate, we pasted it on and we did the same sort of technique but obviously, when the chocolate was melting on the face, it moved into something completely different and then she got really hot so we had to put her outside to cool down but then that caused some cracks so we had to bring her back in and melt it again and use the hairdryer. We had so much fun! And we laughed so hard, but the image just makes me smile.
The two are like opposites even though they use a similar technique, but completely different materials. When you look at them you know one has beautiful sadness and an artistic feel whilst the other is just fun and young. 
What would you want your readers to take away after reading this new book?
I would like them to use it as a diary, and as a way of documenting themselves as artists. To just put pen to paper, put the makeup to paper, and just start, start drawing, start doodling. I want people to get in the mindset of, not just creating vision boards and mood boards but to try and create their own unique looks on paper and design it before they actually do make up a face. I'm hoping that they'll carry this with them all the time, and just use as a reference and a good tool to show clients what they want to do or just use it as a diary and tool. To think of something and to be able to write it down.
You've recently collaborated with Revolution PRO in which you launched the Ultimate Artist Palette, what led you to create such a bold and bright palette that could be used on all areas of the face?
I was approached by Revolution PRO as the first makeup artist to collaborate with them because they usually work with influencers. I met the owner [Adam Minto] a long time ago and he's been watching my career and he just said, 'Is there anything I can help you with? I think you should be making something, is there anything you've ever wanted to make?' And with this book, I did think about supplying some sort of artistic product people could use alongside the book that's going to be quite accessible and easy so they could just sketch with it. 
When I had this opportunity, to collaborate with Revolution PRO. I just thought about what do I need because everything's amazing out there; billions of palettes, there are billions of colours. When I look at my kit, I thought you are picking up palettes for certain colours. I thought what if I could have all the colours I ever liked using, that I always use, that are basic testaments of time where you can work on everyone across the board and have it all in one place.
We did the research and, there wasn't anything out there that had a full face. Everything is either contour or eyes.
Are we going to see any more collaborations or books in the near future?
I have another book in me and I've started writing it already and again, it's another step forward into that world of makeup. It's just in its early stages. I mean producing this one was four years ago in my mind and it didn't happen overnight. Collaborating, I'm hoping this is the beginning of more collaborations but I'm just happy. I just love what I do, and if I am able to create stuff that is useful for everyone again in a few years then great.
There are loads of problems we still have as makeup artists so if I can help any brand or develop anything, then you know I'm always open to opportunities and it was just great that this came at that time. Revolution PRO was about, you know, being quite proactive, with what customers need. I think that's why they've done so well and that's why I agreed to do this with them as it was not just for the masses but for the professional masses and being affordable, but also having the best materials as well. You know, I haven't sacrificed anything. I've really put everything into it to make sure it's a good product. It's taken a little while, but a lot of brands put years into this and with Revolution PRO having access to a lot of factories and the whole thing being cruelty-free, vegan and natural, it was just like a no-brainer for me.
Quickfire Round 
If you could only eat one food for the rest of your life, what would it be? Potato.
Movie choice, horror or comedy? Comedy. I'm scared of horror!
What's your biggest pet peeve? I currently think my pet peeve is the trolling, the negative of social media.
What would your superpower be if you could pick any? To own a magic wand.
Who is your dream dinner guest? Tim Burton, I would love to just sit there and talk to him as he doesn't do interviews.
interview by Chantelle Phillips
Visit www.laurenceking.com for more information on Lan's latest book 'PROMakeup Design Book' which is available for purchase online at www.waterstones.com.