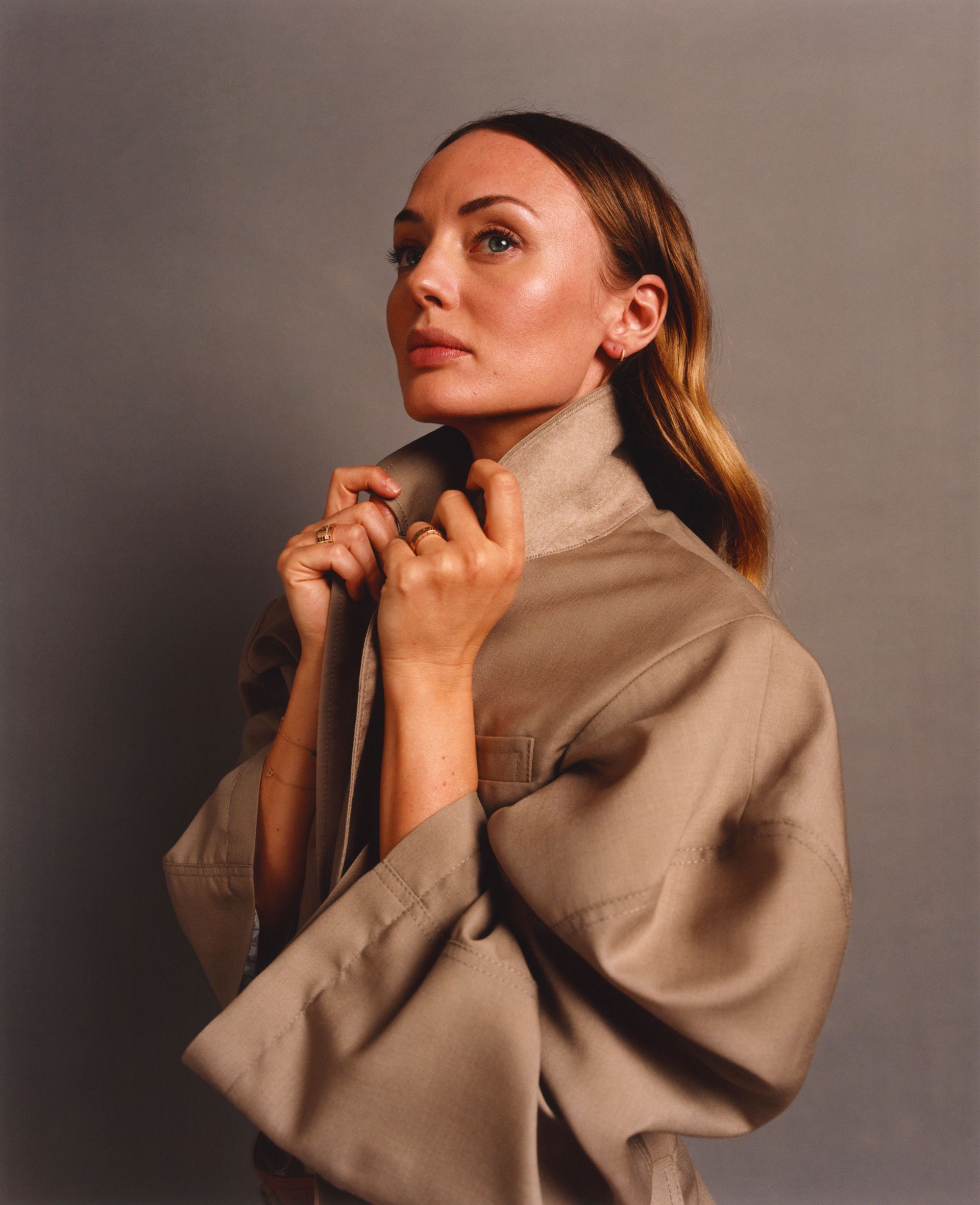 Laura Haddock
Best known for portraying Meredith Quill in the Guardians of the Galaxy series as well as Viviane Wembly within Transformers: The Last Knight, English actress Laura Haddock realised her dream of working with Spanish producer Álex Pina soon after joining the cast of Netflix's mystery-thriller, White Lines.
Having binge-watched Pina's popular show Money Heist that's also on the Netflix platform, her lead role on the British-Spanish White Lines not only allowed Haddock to establish her versatility as an actress but also gifted her with many unforgettable memories with a cast she became incredibly close with.
In conversation with 1883, Haddock recounts her experience working with Pina, recalls her fondest memories with the cast and crew of White Lines and speaks of her upcoming project The Laureate.
Shortly before you received the script for White Lines, you binged Money Heist and said you wanted to work with Álex Pina? Do you remember your first reaction when you actually got the opportunity to work with him?
I was so excited. I had so much I wanted to say to Álex but the language barrier was stopping us from having a proper conversation so initially there were lots of thumbs up and me trying to act out my favourite scenes from Money Heist and Alex smiling at me appreciating the effort but none the wiser. Marta Milans who plays Kika in the show came to our rescue; she is bilingual and began translating everything I was saying to Alex and his responses. We did this for about an hour. She — and he — are wonderful.
You've posted BTS content from the show on Instagram quite often. What are some fond and funny memories you've taken away from filming White Lines?
I have made some of my best friends on White Lines. We felt like a rep theatre company and were so sad when we wrapped up and said goodbye at the end of season one. One memory I will never forget is being in jellyfish infested waters [and] Danny Mays safe on the boat whilst I said my lines at the speed of light. I think I may have even said Danny's lines at one point to hurry the scene along whilst a crew of divers swam beneath me catching these stingy little jellyfish in nets throughout the take, and Danny looking down at me in between takes saying, 'Lau, If I could be in there with ya… I wouldn't be.'
How has motherhood positively impacted your work? In what way has it you helped nuance your acting?
Becoming a mother has deepened my understanding of unconditional love, empathy, fear. I believe these things will help me as an actor. I have found myself gravitating towards mum roles. Maybe that's a natural pull because I'm now a mother? Maybe it's my age? It's really exciting to be able to explore motherhood on screen. I have my understanding of it but then again, every woman is different in her approach to motherhood and there is so much to explore.
What message or advice would you give mothers out there who might feel like they can't follow their passion anymore once they have a child?
It's difficult to try and be and do everything; being a mum is a full-time job, therefore, anything we do alongside that is either a necessity or has been something we love, are truly passionate about and couldn't imagine our lives without. But it's, at times, difficult to balance the two. I know my children will be proud of me and my decision to continue working, doing something I love; it's important to me that it positively impacts their lives as well as mine. It's also important to me they understand positive work ethic, that they too can follow their dreams, whatever they might be and have a family. It's a balancing act but it can be done. It's also interesting to me that men don't get asked this very same question. Women have always needed to justify being a mother and having a career; it shouldn't be this way, but it still is.
As an actor what kind of scenes do you find particularly challenging or daunting to tackle?
This completely depends. Sometimes the scene you are most anxious about filming becomes your most favourite and one you were excited about shooting ends up being tricky.
What kind of roles would you like to try in the future that you haven't done before?
There are so many roles I would like to try; I am about to play an American woman who manages to get her son to safety from war-torn Italy to the States on her own in the 1940s. She, herself a prisoner of war, has to overcome the tortures she has faced to get him to safety. She struggles with being a full-time parent and each time she gets him to safety she leaves him, knowing he is safe, yet she needs to escape the pressures of actually parenting her son but believes every choice she makes is right for him. She is suffering from severe post-traumatic stress. It's going to be a difficult process I'm sure, but I'm looking forward to exploring this character. Her name was Lucy Ramberg and is the mother of Mario Cappechi — who went on to win a Nobel Peace Prize for medicine.
Speaking of the future, what can you reveal about the upcoming film The Laureate? Do you know much about poetry?
I love poetry. I'm currently writing a TV drama based on Sylvia Plath's time interning at Mademoiselle Magazine in New York in the '50s. Pre-Ted Hughes, pre-suicide attempts. Her mind was so active and her writing so elevated.
The Laureate is a beautiful yet tragic film about a married couple, Nancy Nicholson and Robert Graves played by Tom Hughes. Nancy is an artist and female rights activist, and Robert is a poet. Their romantic relationship is suffering, and they decide as a pair to invite an American poet, Laura Riding played by Dianna Agron into their home and ultimately their relationship in hopes of rediscovering their love for one another. It's beautiful and I loved exploring this woman, Nancy Nicholson. She's strong, contemporary, open to learning new ways of living in hopes of bettering herself, her partner and their love.
Besides acting what are your creative outlets? 
I write, read. I'm currently reading 'The Girls' by Emma Cline. My favourite book is 'Just Kids' [by] Patti Smith.
You have a 'breathe' tattoo on your right wrist which was a way for you to remind yourself to stay calm and take a deep breath. Aside from the tattoo, what helps you stay grounded?
My children help me stay grounded. Keeping things as simple as possible. My family. There's a lot of us so when we are together it's the best kind of mad!
Have you gotten any more tattoos since then?
I do have other tattoos; I have the number 'eight' on my arm. An important number to me for lots of reasons. In a spiritual sense, the number eight is all about giving back. It balances achievement with gratitude; a cycle the eight is continuously manifesting. I would like to get more tattoos. There is a guy in Madrid who does the most beautiful tattoos, Pablo Torre. I worked with a makeup designer on White Lines who had the most beautiful tattoo done by this artist. One day, when the time's right, I'll go back to Madrid and find him.
You've had the opportunity to play roles in some great films, but what has been the most surreal moment of your career so far?
Surreal? Probably watching Transformers. I'm not sure whilst I was at drama school [that] I had ever imagined I would do a job where I would be on-screen doing a scene with a robot. It was a pretty surreal but amazing experience for lots of reasons; one I will never forget.
When you watched Money Heist and got the chance to work with Álex Pina, you said 'the universe heard me.' So for your future, what's something you'd love to put out into the universe?
In terms of my career. The directors I would love to work with are Greta Gerwig, Drake Doremus, Derek Cianfrance. I would also like to see the West End recover from the effects of COVID-19. The arts have helped us get through this period of time, writers, actors, musicians and our industry at one point were regarded as 'nonessential jobs'. For me personally and my kids, the arts were and are essential for our happiness, our ability to escape, to learn, be inspired during a potentially really lonely time; the arts made us feel connected, entertained, positive. That first night when the theatres will reopen, and the play goes up will be electric. I want to be in the audience that night. [Or] better yet, be on stage. It will go down in history. Those first plays, the actors, directors who reopen the West End — a tradition we may have taken for granted before COVID-19 — have been cut off completely, and the night it reopens will be magic.
Featured Image Credits
jacket Lanvin rings Chaumet
Team Credits
interview by Malvika Padin
photography Rhys Frampton @ A&R Creative
styling Olga Timofejeva @ The Only.Agency
hair Anastasia Stylianou @ The Only.Agency using Dyson Hair and TIGI
makeup Isak Helgason @ The Only.Agency using SUQQU
casting director Angeliki Sofronas
photo assistant Danny Walker 
White Lines is currently streaming on Netflix!
[embedyt] https://www.youtube.com/watch?v=Uj7uyeaJjFQ[/embedyt]