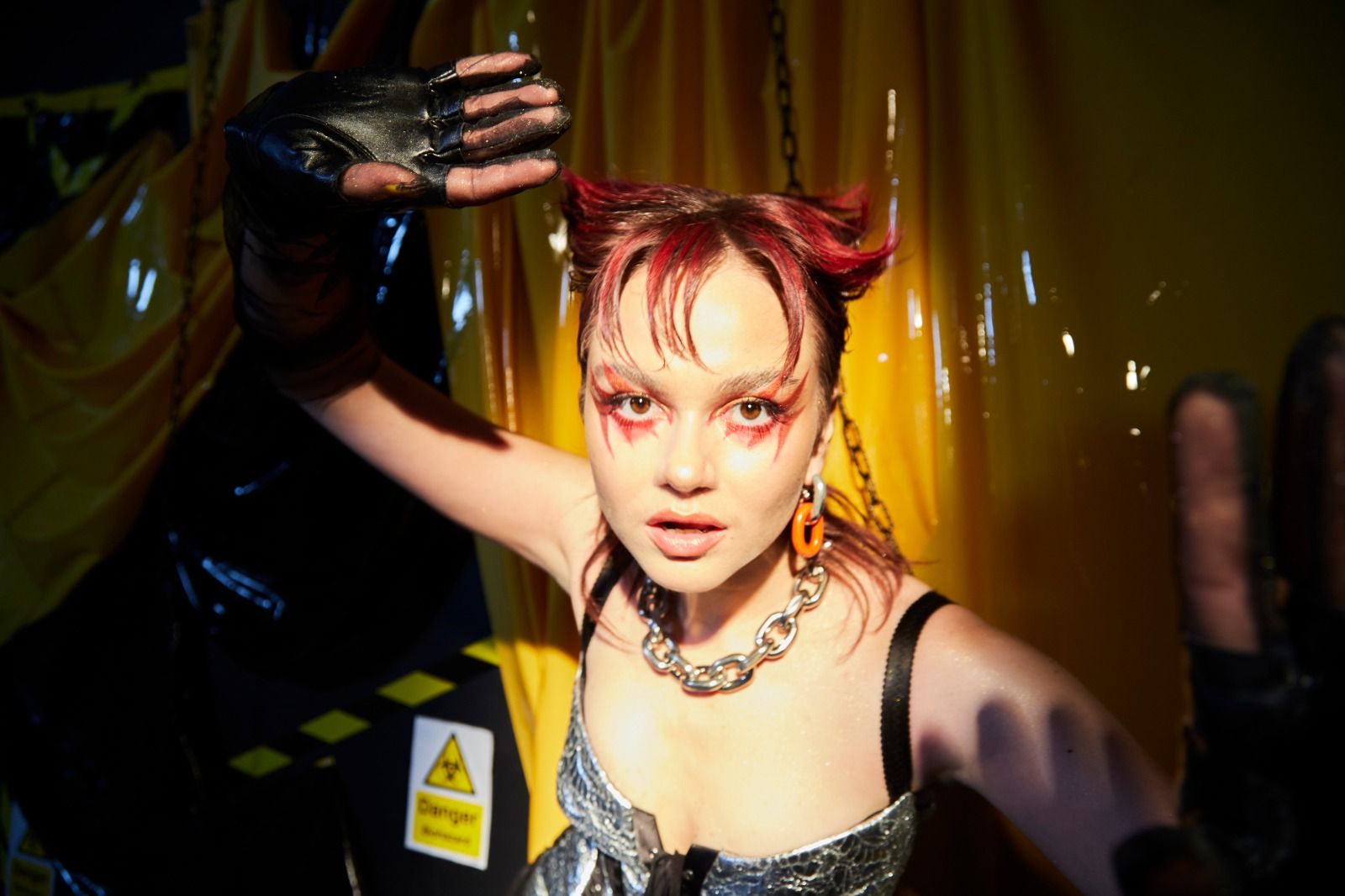 Lina Maxine
London-based alt-pop artist and neurologist Lina Maxine has just released her debut EP MIND GAMES. It's an eclectic mix of edgy, bass-driven tracks accompanied by Lina's unique, raspy and melodic vocals.
The talented new artist is combining science and music thanks to her impressive background in neuroscience. Having studied at the renowned Ivy League school, Brown University in the US and after earning a master's degree in neurobiology at Oxford University in the UK, Maxine takes inspiration from the brain and all of its secrets, weaving them into her musical releases. Whilst honing her craft, learning to play bass and gaining experience mixing and producing, Lina wrote and co-produced MIND GAMES and is now spending time producing and collaborating with professionals at London's Tileyard Studios. Punchy, guitar-driven track MANGO kicks off the newly released debut EP and references a relationship that has become "overripe", Lina uses the play on words to say "If the person you're with doesn't love and appreciate you, you've got to 'let that MAN GO". Maxine's second single from the EP, SHALL WE, is the first song she ever wrote and is about taking a leap of faith. With its haunting, dreamy vocals and catchy chorus, it's a wonderful stepping stone into the rest of the dynamic 6-track record. It is clear to see that Lina is at the start of a compelling music career and it is exciting to see what's next for the artist. 1883 spoke to Lina Maxine about the writing process behind her debut EP MIND GAMES, how she uses her understanding of the brain in her music and what's next for the LA-born singer-songwriter.
Hi Lina, your debut EP MIND GAMES is out now. Can you please tell us about the writing process behind it?
I started writing this EP during quarantine. At the time I was finishing my dissertation for my master's degree in neuroscience, I used to write music and fantasise about all the different melodies and potential lyrics, at the same time. I think I was on that creative streak because I had to concentrate so much to do this, to finish this project. It's also about depression in old age, which is obviously a very serious and prevalent topic. I sort of used writing in the background as a way to stay inspired. By the time I finished my dissertation, I had quite a few well-formed ideas that I then took with me back to London. I started collaborating with musicians and producers and just being with friends to see where it could go. It kind of just rolled into this body of work that is now out which is incredibly unbelievable, but also quite satisfying.
You wrote the entire project and co-produced everything yourself while building your skillset. Mind games has six tracks and they traverse themes such as self-worth, romance and revenge. What sort of message do you hope fans take from this EP?
I think my idea in calling it MIND GAMES was a reflection on how many situations went on in my head internally that nobody knew about, sometimes in TV series or movies, especially now in Euphoria for example, they show potential scenarios of somebody just screaming out loud how they actually feel but then they show what happened in reality and nobody screamed, everybody was just silent. Meanwhile, internally, there's this whole discourse going on that more often than not is quite emotionally charged which is the reason they choose not to express any emotion in real life situations because it might be too much or they don't really know why they feel a certain way. I think for me, this has been capturing some of those moments where I felt like I wanted to either say or scream something or felt something very strongly and that is put into these, what I would call, case studies. Situations where I felt like I wanted to say something.
What track on the EP are you most excited for people to hear and why? Rubix is a personal favourite of mine.
I have to say I agree with you. Rubix has been something that is kind of a signifier of my style or at least the style that I'm going towards, musically. Lyrically, I think it takes that metaphor for a toy and how the concept of toying with something can be so relevant to a relationship where you feel like you've been played by someone. That causes a lot of unrest in someone I think. In terms of production, taking some elements from rock music and some elements from pop, really having that Billie Eilish approach with vocals I think puts it into this quite characteristic realm in which I would hope to grow further and develop more sounds that take on characteristics from Rubix.
Growing up, you participated in a number of singing showcases and competitions, then spent time as the lead singer in a jazz band at the renowned Ivy League school, Brown University in the US while studying neuroscience, ultimately earning yourself a master's degree in neurobiology. Have you always been determined to pursue both music and a career in neurobiology or do you find yourself more drawn to music now?
 I think quarantine time has definitely changed things up for me. I think it allowed those sorts of loopholes in the natural stream of things where I had to take a step back and really look at my life and whether or not there was a different path to work towards rather than staying within academia which I totally loved and enjoyed. It's every project that I was able to participate in, I think it did give me quite a unique perspective on mental health, people and minds in general. Pursuing both music and neuroscience has never been the goal. I was more so pursuing the academic path, but since the EP and since now seeing that people actually relate to my music, I'm thinking of taking it all the way towards music. Maybe coming back to neuroscience in a way of having conversations about how music can be a part of cognitive therapy and be a part of healing for just about anyone really.
Let's talk a bit about how you use your understanding of the brain to assist your writing process. You like to really delve into how the brain works at processing sound waves and how certain frequencies may trigger emotional reactions. Can you tell us more about that please?
I think in production there have been some take-aways from the many projects that I've done. For example, one of the projects in undergrad was about how repetition in music contributes to how much we like a song and how that has to do with short term memory. We experience that just about any time we open TikTok and certain music or a certain part is repeated several times. You feel emotionally related to it. I always think about these concepts of what on paper has been shown to prove somehow effective in making people remember the song but then sometimes it's better to just stay away from any of these findings and just create what feels good as I think that's what people relate to the most when you're performing in a heartfelt way and you're delivering an important message. In terms of production, a beautiful chord progression is probably more relatable than any sort of neural finding, just because nobody really understands the brain to the fullest. We're only now trying to make some sense of it but it's still a mysterious and wonderful thing.
Your track shall we was the first song you ever wrote. The lyric video shows you in an indoor skydiving simulator, which must have been so fun to shoot. Would you ever go skydiving for real and are there any other adrenaline sports you'd be interested in trying out? 
I actually suggested to my team to go skydiving for the first time and film it in a vlog style video for Shall We which I had to sit on for a few moments to understand whether or not my consciousness is allowing me to take that risk. I've never done anything like that before. I definitely, after receiving the training in the indoor facility, think I'm thinking about it. I've never been an incredibly adamant risk-taker, i'm always just kind of cautious about the potential consequences, but who knows, nothing is impossible. Maybe one day well, yeah, I definitely want to go skydiving.
You made your live debut in New York City at the cutting room last year and then played a sold-out show at London's The Bedford in Balham just days later which must have been an amazing start to playing live. What would be your dream venue to headline one day and do you have any interesting pre-show rituals?
Performing in New York was incredibly unbelievable. I felt like I was living a dream and I also met somebody there who facilitated Lady Gaga meeting her future Manager which was one of those moments you remember as a memory that takes you on in pursuit of this career and really inspires you. In terms of venues, I don't have a specific one in mind. I love performing live and just about anywhere that has a good sound system works for me. In terms of rituals, I haven't performed too much but in the shows that I have, I've found myself not so nervous. I felt like I was channelling this sort of confidence where people would come up to me and say, "you don't really seem nervous" and I say, "is fish nervous in the water?" and kind of, you know, exuding that none-nervousness so that people actually wonder why that is. I think it is the ritual that then charges me to go out there and show that confidence to the fullest. 
Finally, for someone that is at the start of a promising music career, what are you most proud of so far? And what are some of your goals for the future?
I think just as somebody who's totally new to the industry, just learning about the inner workings in the background of what goes on. I'm not signed to a label and I'm releasing everything independently, I want to be the boss of my own brand and enterprise, learning more about music, distribution, royalties and anything that goes on in the background. It has been very, very informative and kind of guides the future where I want to take this and considering that I've stepped into this at quite a unique time with digital distributors taking on NFT's and offering music up for communities to invest into an artist that they see potential in. I'm really, really excited to be a part of this new stage in the music industry and being able to take control of that is really empowering.
MIND GAMES is out now. Follow Lina Maxine @linamaxinemusic
Interview by  Gabi Oates