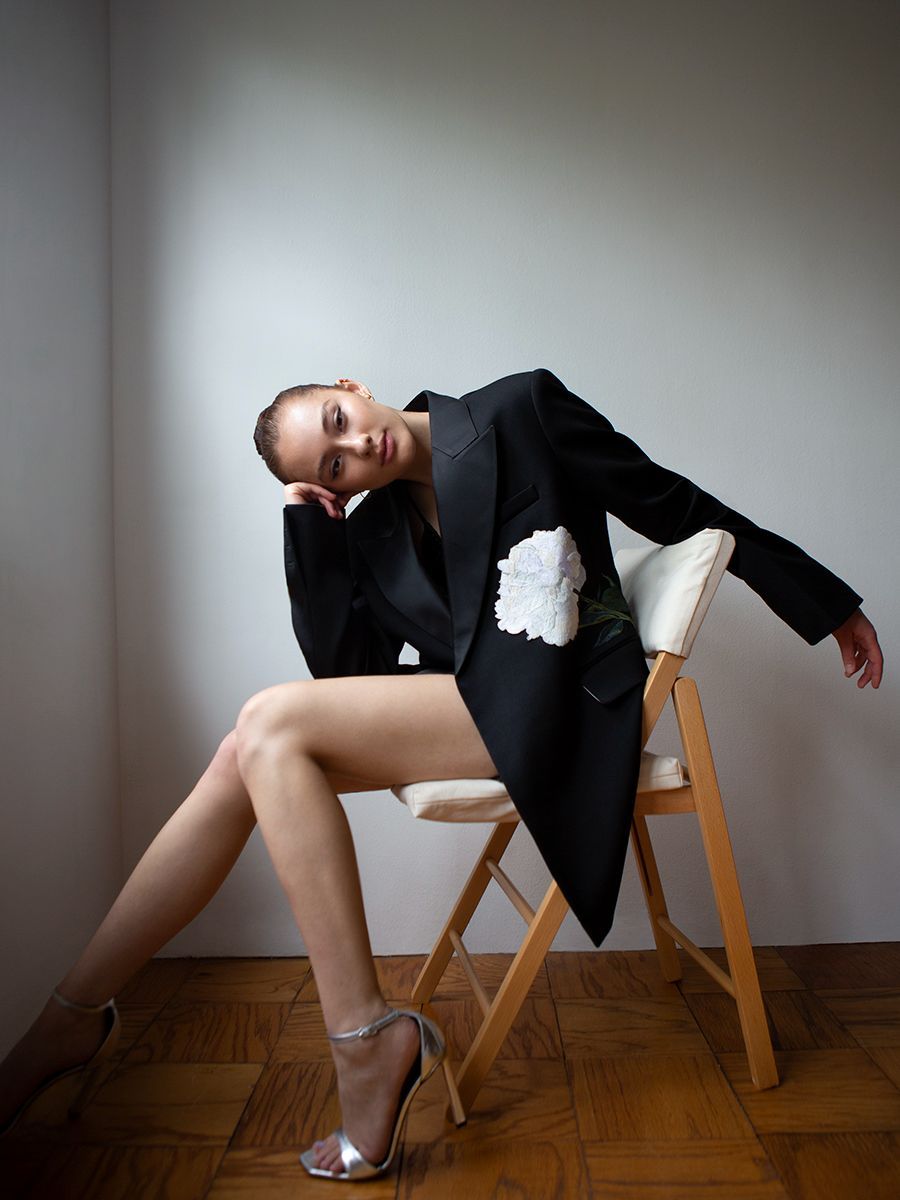 Lola Tung
The world has fallen in love with another Jenny Han story. The Summer I Turned Pretty is a young adult romance by the New York Times bestselling author, who released another two novels in the trilogy, titled It's Not Summer Without You and We'll Always Have Summer. Set in a beautiful, quintessential beach town, the novels follow the protagonist, Isabel Conklin a.k.a. Belly, as she navigates coming of age, first love, heartbreak, and grief. 
Fans of the series were delighted when a TV series adaptation was announced along with an Asian-American lead, similar to Han's book and movie series, To All The Boys I've Loved Before. Since the show's premiere on June 17th, the show and books gained a new wave of fans, eager to read and see more of Belly, and her two love interests, Conrad and Jeremiah Fisher, brothers who grew up alongside Belly. 
This is Tung's first major role out of school and she's currently gearing up to go and film the second season of The Summer I Turned Pretty. We caught up with the actress and chatted about the show, activism, and Taylor Swift.
Were you a fan of the books beforehand? 
I wasn't a fan of The Summer I Turned Pretty series beforehand. I read the books after I got cast, but I was a fan of the To All The Boys movies and I would watch those a lot. So it was exciting to see another Jenny Han project being brought to life.
What was it about the story that drew you to the project?
I think it was really exciting to see a story about a 16-year-old girl just being a teenager and feeling all the emotions of a teenage girl. I think what's so cool about the script is that Jenny and the other writers really allow the teenagers to feel all of those emotions and don't mock them in any way. We talked a lot about how when you're in high school everything feels like the biggest thing in the world. And I think you really get that but it doesn't feel like they're trying to make fun of it or anything. It's just allowing them to sort of live through all these emotions and feelings and embrace them.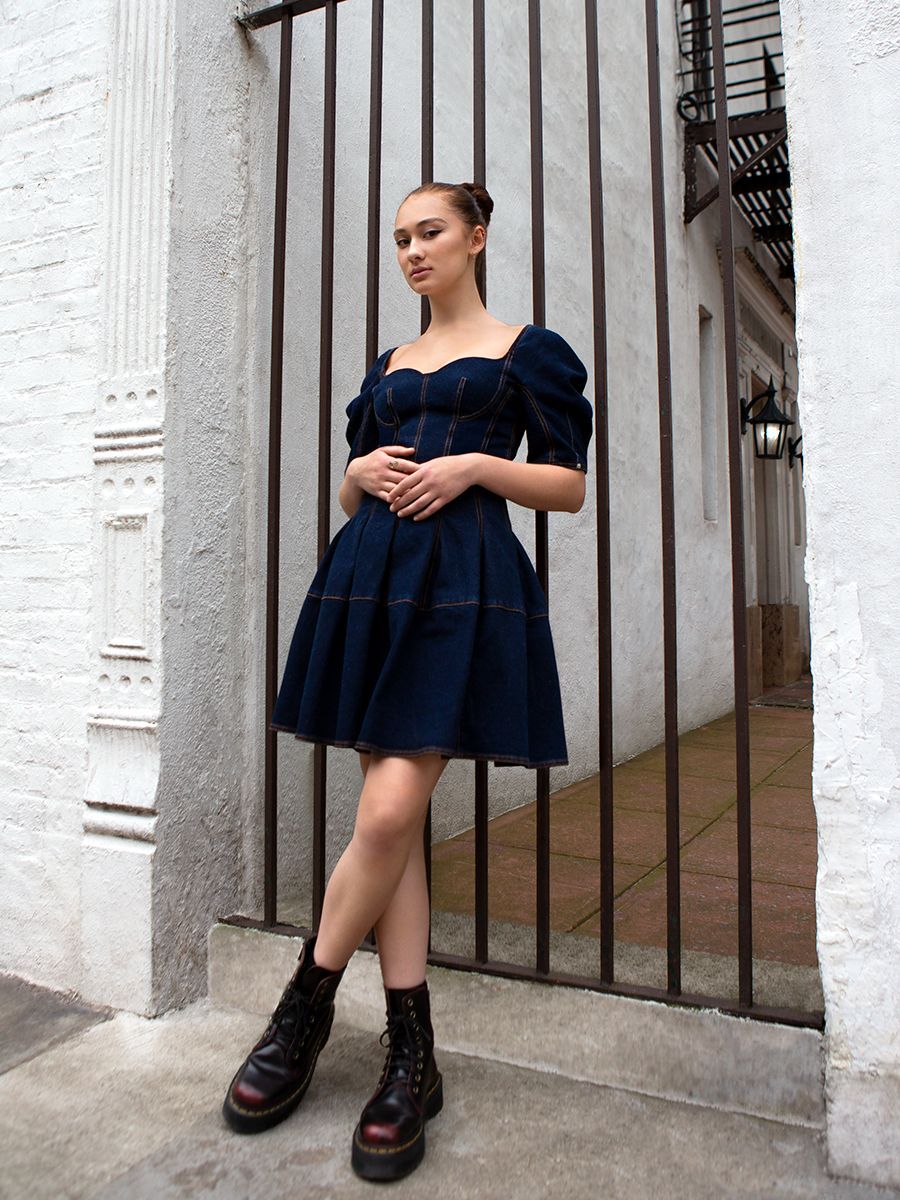 This is your debut role and it's also your breakout role. How has it been just seeing the reaction from not just fans of the book but new fans who are discovering the show?
It's been so wonderful! I'm so grateful that so much of the response has been so positive, especially with the book readers. We wanted to make them happy and they have such a connection to the story, so that was really important. The books were written in 2008 and it's now 2022. It's just been really incredible to hear people's thoughts about it and to see that people enjoy it. It's also weird that people are seeing it and it's not our little project anymore. It's really lovely!
LaGuardia High School has many notable alumni, including Jennifer Aniston, Timothée Chalamet, and Sarah Michelle Gellar. What are some valuable lessons you took away from your time there? Not necessarily just for acting and performing, but maybe even for life? 
I think high school is such a formative part of any person's life. I learned a lot while I was there. When I first got to high school, I knew that I loved acting, and I knew that I wanted to do it, but I think I really got serious about it when I was there acting every single day. It can be a lot but if you love it even after all those long hours, you know that it's something you are passionate about. I learned a lot about professionalism, the industry, and life. As I was growing as an actor, I was growing immensely as a person and learning who I was. When I first entered high school, I was really shy, and I still wouldn't consider myself the most extroverted person, but I think I really was able to ground myself more and figure out who I was. It's cool that I now get to play Belly, who is going through the same thing. 
You've been vocal on social media and offline about different social justice issues, like women's rights, gun control, and climate change, to name a few. On your Instagram, you've posted pictures at marches as well. It's incredible to see a younger generation being out there and trying to make a change. Do you think having grown up in a city like New York, where these kinds of conversations and actions are encouraged, had a hand in your wanting to be more vocal about these issues?
Absolutely. I feel very grateful that my parents always encouraged that and instilled in me that my voice mattered and that my opinion mattered and that I should fight for the things that I believe in. Being in New York City is so wonderful because there are a lot of people who feel that way as well and who are willing to do that work with you and want to make a change. I also think it's a lot of pressure put on the younger generation to change the world. We want to for sure, but it's…
A lot of pressure?
Right, exactly. Everyone needs to be part of that change, but I'm definitely grateful that I grew up where I did and that my parents were so supportive of that and so encouraging as well.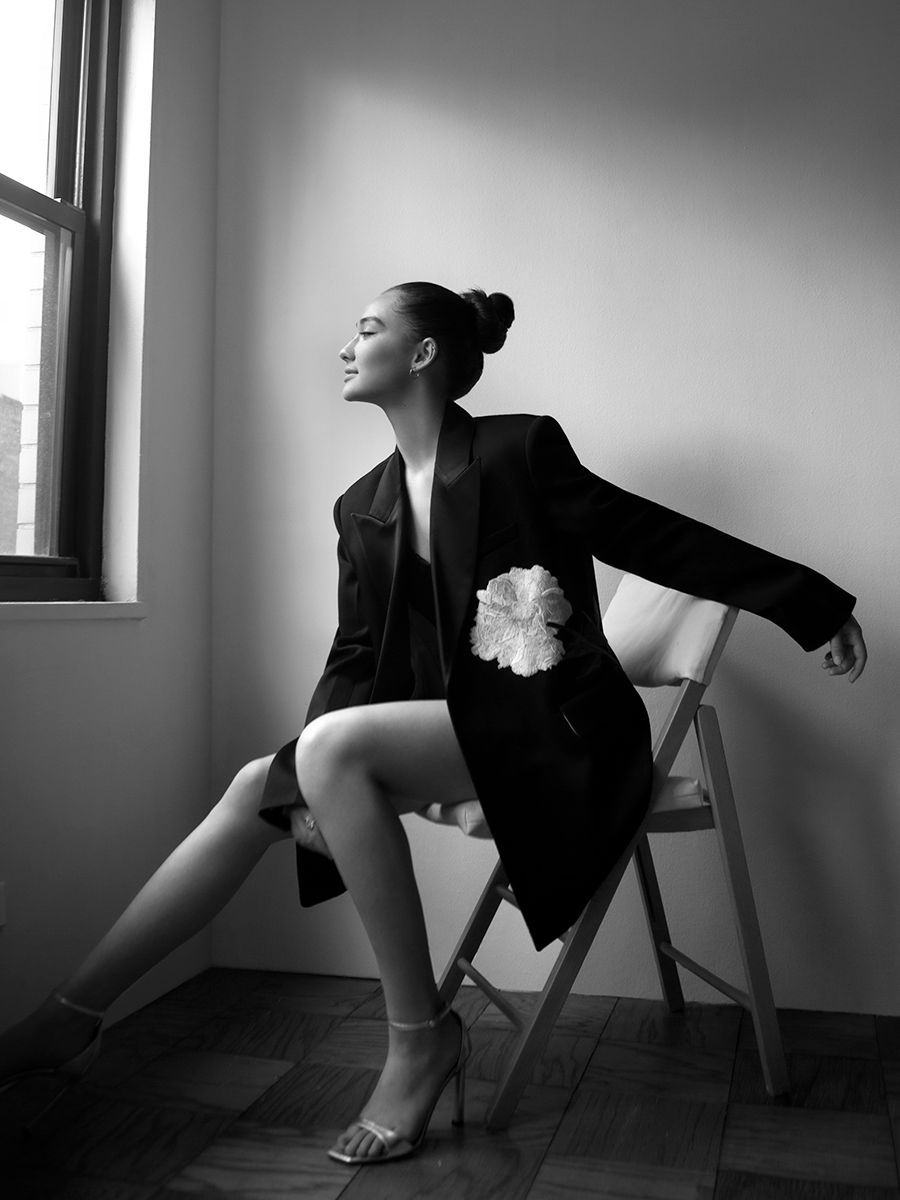 The show is filmed in a gorgeous beach town. What was it like filming there? What did you and the cast/crew get up to for fun after filming?
We filmed in Wilmington, North Carolina. It was kind of like summer camp. Obviously, there were long days of work, but we really had so much fun together and I love everyone in the cast. We had fun onset and offset. We'd go to the beach a lot, and have game nights where we play card games and eat snacks and watch movies. We played baseball sometimes because some of the guys are good at baseball, and I was trying to prove my skills from my, like, one season of softball in grade school. We were always hanging out even if it was just throwing a volleyball around because we also had volleyball practice and stuff like that. It was always a blast.
Personally, reading the books and watching the show, I remember being Team Conrad, but also being very frustrated with him. For a while, I flip-flopped between him and Jeremiah. Watching the show, I was Team Cam. Is there anyone you ship Belly the most with? Who and why?
Oh, gosh. I'm sure people are tired of hearing this, but I always say Team Belly. It's all about what she wants and following her heart. I think all the guys are really wonderful and bring such wonderful things to her life. I love doing all my scenes with David, Chris, and Gavin because they're all such cool guys. It was really cool to find the different things that are so special about each of their characters and that Belly loves so much about each of them.
I remember feeling so frustrated by Conrad but then changed my mind whenever Belly and he had a cute scene with Taylor Swift playing in the background. She was a massive part of the soundtrack and even released her version of "This Love" for the trailer. Jenny has mentioned that she has turned to Taylor's music a lot for inspiration. Are you a Taylor fan? If yes, what's your favorite song?
Oh, my God. Of course, I am! I'd be crazy not to be. I feel like Jenny's made me even more of a Swiftie after all of this. I don't know if this is a basic answer, but "You Belong With Me" is one of my favorites.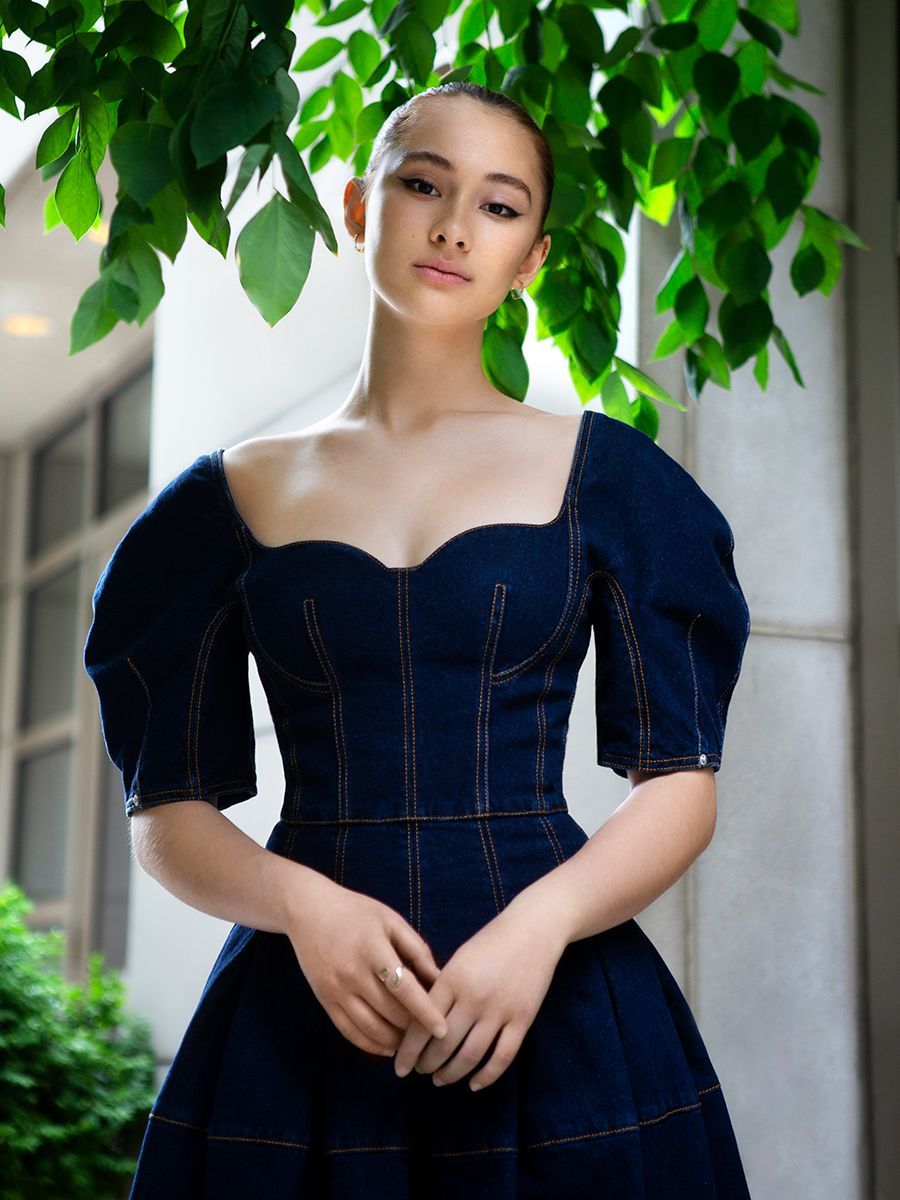 Classic!
It's just a great song, and you can really scream it when you're feeling it. She has so much wonderful music and I can't even begin to…oh and also "The Way I Loved You"!
The show is much more mature than the books, but also realistic to our time today and how teenagers are. Why did it feel important to make it a bit more mature with the language, sexual content, etc?
I think Jenny would probably have a better answer. In terms of the updates and stuff, she wanted it to feel very now and very 2022, I guess. For teenagers in 2008, I'm sure it was a different experience, but that's a good question. I'm not sure… 
It definitely had the Euphoria touch. 
We were trying to figure that out. We were like, who would fit in with Euphoria?
Maybe Conrad! So, when I was younger, summers often felt very magical. I remember romanticizing my life and who I would become after it was over because it just felt like this long stretch of time where anything could happen and I'd come out of it like a completely different person. Belly also romanticizes summers and this one summer did end up being life-changing for her. Did you ever have a summer like that? Or one where you felt like you grew a lot from?
Yeah, I mean, definitely last summer when we were filming, but I think also, right before that too. I had just finished my first year of college in Pittsburgh. I went to Carnegie Mellon and was on my own for a year and away from home. I think I grew a lot as a person, matured a lot, and coming home from that, and then going into this big project…it was really cool because then I grew so much over the experience of filming. It was extremely life-changing because I learned a lot about myself and was very independent after, you know, the pandemic and being home for six months, and graduating from my living room with my family. Then I was off on my own doing all this stuff, which was really, really cool.
Belly kind of went from being a dorky teenager to maturing into a woman. Over the course of the summer, she's made aware of her maturity through the deb ball and then all the people and guys noticing her. Oftentimes that can put a lot of pressure on the girl to look a certain way and act a certain way. Would you say Belly felt that pressure, or do you think it was a bit more natural for her?
Jenny and I talked about that a little bit, too, because I think with growing up, especially for a lot of girls, there comes this new self-consciousness or self-awareness. It can be difficult to deal with that sometimes because you've just become so aware of your body and of other people noticing you, which can be a really weird thing sometimes. The one thing about the show and about the title and about Belly is that it goes so much deeper than her outward appearance. It's about her growing up and maturing internally. The nice thing about these people that she's spending this summer with is they have known her her entire life. So even though things are changing a little bit, she can be herself and be the person that she's always been. There are some new things happening and some new self-awareness and awkwardness and things to figure out, but she's still the same kid she was last summer, just a little bit more grown-up.
I do have to say that you brought so much life and energy into Belly. You played her wonderfully and I know it can be difficult to bring a 2D character to life, but you did it beautifully. 
Aw, thank you!
When you go back to filming the next season, what are you most looking forward to? Is there a specific plotline or scene that you're really looking forward to filming?
I don't know how much I can say. I'm just looking forward to filming in general and to being back with the game and working again because it was so much fun last summer. I know we're gonna have a blast. If it's, you know, following the trajectory of book two it'll be very, very interesting to see what happens just in terms of Belly and the boys and her relationships with them.
What other projects do you have in the works?
I'm really focusing on season two at the moment, and we'll see what happens next.
What's your favorite part about summer?
The beautiful weather and the memories that you make with your friends.
What's your beach read this year?
It's Not Summer Without You by Jenny Han!
Going out to soak up the sun, or staying indoors with the AC on?
Soak up the sun!
Favourite ice cream flavour?
Chocolate!
The Summer I Turned Pretty is streaming now on Amazon Prime Video.
Interview Naureen Nashid
Photography Karl Simone