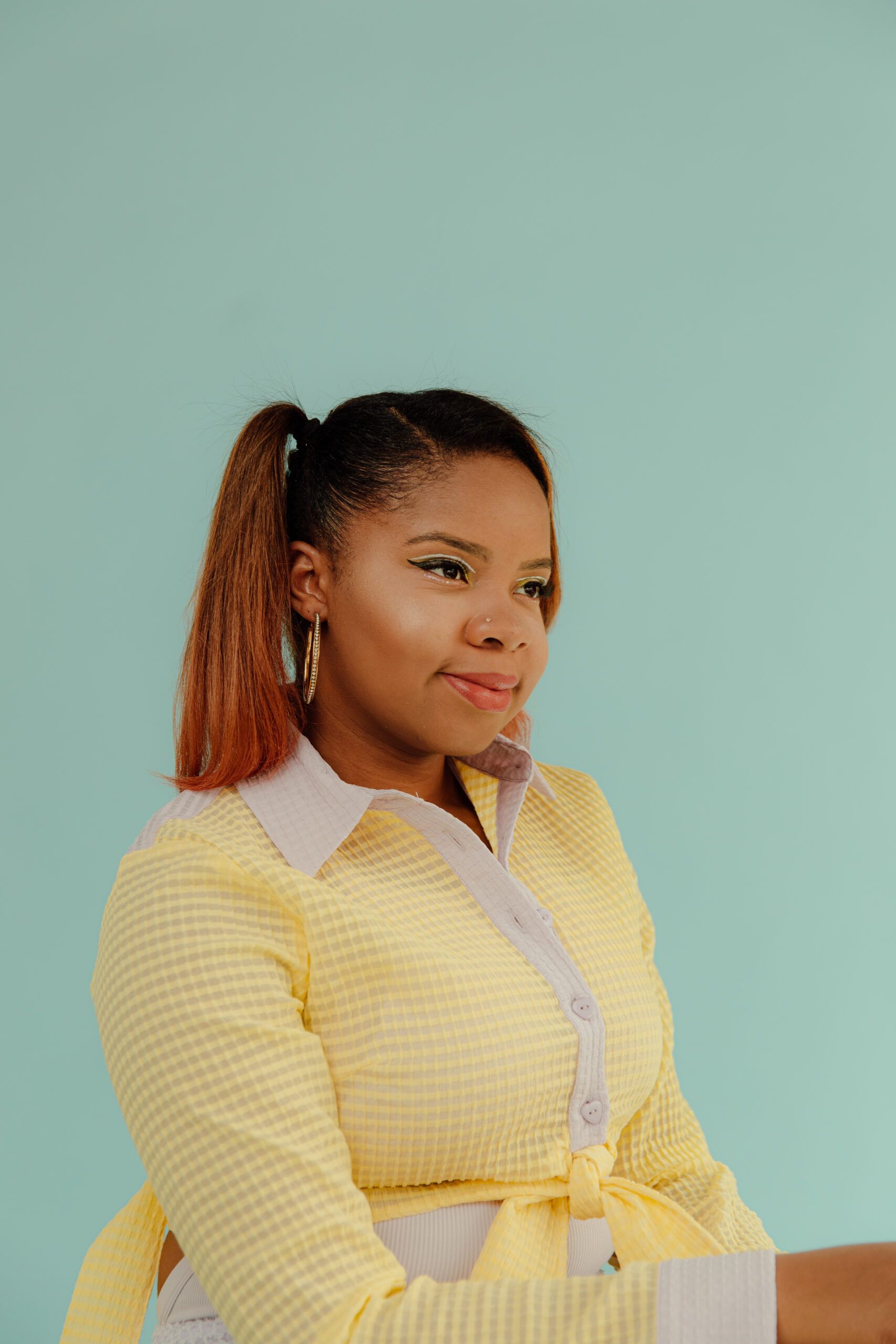 Melle Brown
Melle Brown is a rising DJ and Producer that you need to take note of.
With a burning passion for all things related to old-school house music and contemporary soul, Brown has been steadily building her career as a promising DJ and producer. It's all thanks to her vibrant collection of grooving tracks and unique DJ mixes. The electronic artist has already garnered support from tastemakers like DJ Mag, BBC Radio 1, and Mixmag to name a few. Her 2019 project Intersection EP was critically acclaimed and received support from the likes of Mr Elton John and renowned DJ MistaJam. Alongside all this, the talented artist also hosts a show for Reprezent Radio, performs at various festivals, and runs her own business, Mellody Agency. An organisation that provides music services for artists.Most recently she's unveiled her latest collaboration with music industry legend, Annie Mac. It's a euphoric single entitled Feel About You.
In conversation with 1883 Magazine Melle Brown discussed her latest single and its DJ Koze remix, how she got into her career, and what she hopes to achieve with Mellody Agency.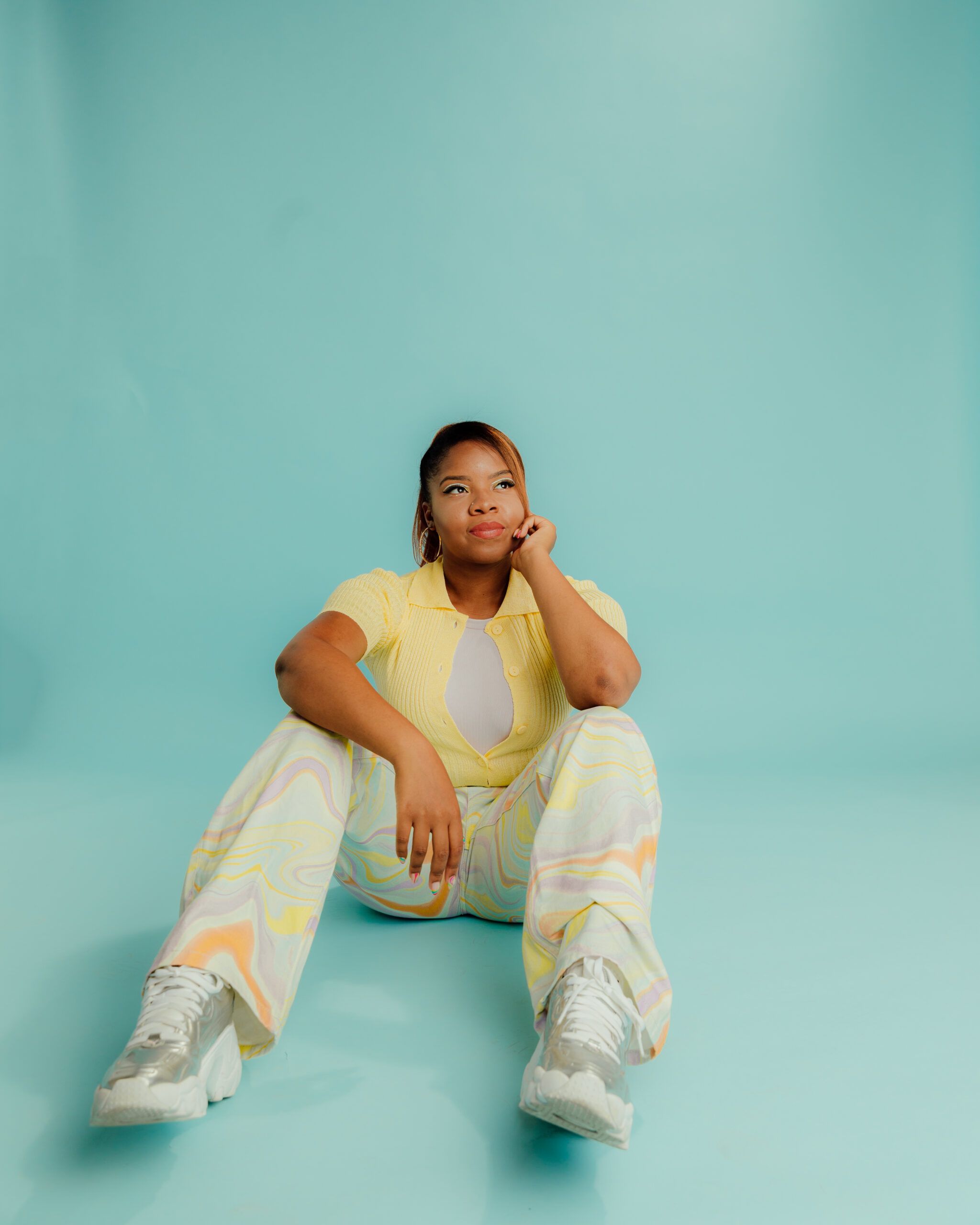 Hi Melle, thanks for speaking with 1883. Talk us through your latest single, Feel About You. How did your creative process differ this time compared to your previous releases? And why did you decide to collaborate with fellow music tastemaker and author, Annie Mac on it? 
Feel About You was a surprise to many people, including myself. I never anticipated being able to say "I collaborated with the legendary Annie Mac" but it came about in such a special way which then enhanced the creative process. Producing the track originally, I just had the team and Adrian Mcleod but needed Annie to hear it. She loved it and started writing lyrics to it. There was a time just before summer that was quite busy for both of us so we made time to create the track via zoom calls and WhatsApp so in that way it challenged me a bit more than it would have if we just created the whole thing in the studio. There were quite a few moving parts but it was a very fun puzzle to put together, it really challenged me to think outside the box a little bit more because the lyrics and verses are more lyrical and almost poetic, its not your average verse in a song, I've never really done a track like that before. I grew as a producer, an artist, and a person. It's been a life-changing experience, something so special that we had so much fun creating which you can really hear in the track.
We also of course have to mention the recent remix of Feel About You. Iconic DJ and Producer DJ Koze has given us a dance-floor-ready remix. How did it come about? Can you tell us about it, please?
Basically, when Feel About You was released we had a long list of people we really really wanted to do a remix that would take the track to a different state or new level. DJ Koze was at the top of the list and Annie is good friends with him in a way so decided to reach out personally and Koze loved it. It's been special because Annie recorded a few new bits for the track as well so in that way it was a collaborative process. To be honest, DJ Koze is a legend, he knows what he's doing so I was blessed to hear his take on it without putting too much of myself into it.
For anyone who doesn't know you yet, you're a fast-rising producer, DJ, and radio host for Reprezent, how would you describe your musical style? And could you please explain how you got into music and radio in the beginning?
It's a fusion of Neo-Soul, House, and Jazz–basically all the genres I love [laughs]. I grew up listening to an eclectic range of music, so I can't help but feed that into my sound. It's everything I listened to but mainly house music with more of a modern twist in terms of using future beats genre elements, working with up-and-coming singers and musicians, and really trying to create a beat that feels familiar but also fresh. How I got into music was I started producing music at the Roundhouse in London on their summer workshop scheme that would give kids something productive to do in the summer. I did some other courses as well, flashmob dancing, and video making but music production was the only one that stuck. I loved the way you could go to some music software with something completely blank and leave with a fully-fledged track. It was just amazing to me with all the different structures you could do so I really delved into music production. I went to the BRIT School and studied musical theatre but my heart wasn't really in it. Every time we would do a show or something I would make the instrumentals and dance pieces using my production techniques so I decided to go to university and study Music Technology at the University of West London which was amazing. I met some incredible people there, including my co-host at the time, Blue Canariñho. We started on Reprezent Radio together and had a show called brown and Blue, it was the home of New Age Smooth and we would put on up-and-coming artists in the R&B and future beats world which allowed us to network, support artists, collaborate with artists, and the journey just built from there. I released my first EP intersection on Jamz Supernovas label, Future Bounce. Actually, it was my second EP, my first was my dissertation for university and was called Blossom. That EP taught me a lot, I had to learn how to do all the other things needed in a release after you've produced it. The PR, radio, artwork, all of that stuff. Those two EPs were a massive foundation so I just kept developing my skills and collaborating with more people. DJing then came into it for Reprezent Radio and so the gigs got bigger and the projects got bigger. It all grew naturally, it Blossomed. I think that is why I called my first EP blossom, I saw how it could blossom but I never imagined to be where I am today. 
Alongside your busy career, you've also launched Mellody Agency, an organisation that provides music services for artists and there's a real emphasis placed on community. Has the business side of the music industry always fascinated you? And is there anything you would like to particularly strive to achieve with the agency?
I have always been fascinated with the music business because as much as the music is the most important part, as artists we also need to understand the business so we can reach the places we intend to with our music and be clued up. We always try to make the best decisions so the music business has always been a large part of my background. I volunteered at so many different music companies before starting Mellody Agency and also worked at Warner Records for two and a half years. Being with a major label like that taught me a lot. Mellody Agency is more of a self-love project, not just for me but for the community and for up-and-coming artists to support them. 
My goals with Mellody Agency are to put on workshops for aspiring music professionals and musicians in the communities aged between 16 and 21 to inspire them. To tell them stuff I didn't know and that I've learned. I would like to introduce them to different people across the industry who I think might help so that's the goal for Mellody Agency, to build it as safe space for people to blossom. I want to support the community because I don't think enough has been done to support people that may not have the same access.
Your recent set at Love Supreme Festival looked so good, we loved that you took your mum along! Can you tell us about your pre-show ritual? And what is the wildest thing you've seen when performing at a show?
This question has made me think I need a pre-show ritual because I currently don't have one [laughs]. Obviously in the days before I practice my set, make sure I've got all my USBs and all the equipment is right. Though in terms of a pre-show ritual, I should probably do some deep breaths, and some stretching, so thank you, you've taught me I need to get a ritual. I'm going to work towards building one and maybe next year we can do this again and I'll tell you I've got some special sprays and I'm cleansing my aura [laughs].
It's not wild, it's quite fun but recently I played at Defected Croatia on a boat party, It was incredible. There was a speed boat driving alongside the side of our boat so they could hear the set and they were also partying to the music. It was two boats, side by side and it was incredible to see them gravitate to the music and they also go a free show as well. That's probably the wildest thing I've seen, keeping up with the boat so they could hear the music!
When you dropped your debut EP Intersection back in 2019, you received a ton of well-deserved support from the likes of Elton John, Radio 1 and more. You mentioned in a previous interview that once the pandemic hit you lost a lot of enthusiasm for making new music. How did you get your mojo back and were there any lessons you learnt from the making of Intersection that you'd love to implement for your next body of work?
The way I got my mojo back, per se, was to pause and actually realise it's okay to live in what was going on, to process everything around me and not force myself into anything just exist like everybody else was doing. Some people found it really therapeutic to jump back into music and be creative but I actually found it more anxiety-inducing, I just wanted to exist. Once I realised I could do that, come back stronger and better for it after having a break, it made me feel a bit more at ease but I didn't realise until it happened. I was so anxious because I wasn't feeling creative but something told me to give myself some time and everything would then fall into place. I would get my inspiration and creativity back, get into the studio with different people and my manager, Jamila, helped me with a lot of that. We created a plan to put in loads of studio sessions and before I knew it I had made Brown Eyes, then One More Chance and Feel About you. Everything just fell into place so as an artist, I would say it's really important to realise when you need to give yourself a break and actually live in these experiences.  
In terms of Intersection, what I would bring forward to my next project is what I've brought forward from all projects, the collaboration and working with up-and-coming talent, musicians, and singers. I came across Oli Hannaford on SoundCloud and had interviewed him on Reprezent Radio, so I asked if he wanted to come to the studio because he has a beautiful tone and we made Background Noise. There was a lot of noise going on in the studio at the time and we didn't really know what to write about so then Background Noise happened. It became a beautiful metaphor for the industry with how there's a lot of noise but equally, all you really need to focus on is music. I would also try to give myself a deadline to complete a body of work and then just get it out there. I do what a lot of perfectionist artists tend to do and go over it again and again. Sometimes it's ready and I just need to release it.
Imagine this: you've been asked to curate a one-day festival anywhere you like in the world. You're heading but you'll also be doing a Back to back DJ set. Where would the event take place, who are you teaming up with for the B2B set, and who else is on the lineup?
The festival would take place in Detroit. I have a huge love for Detroit and the sounds that were birthed there. It's just deeply soulful house and deep house, so to be in Detroit, playing the music I love would be insane. So many people from the community understand the sounds so I would like to be somewhere where it feels right. Not that it doesn't feel right in other countries, I just feel like Detroit is the home of it. A lot of the sounds I play were born there. 
How many artists am I allowed to go back to back with for the DJ set? 
It's your festival so you can make the rules…
Well, I would go back to back with Moodymann, Louie Vega, DJ Minx, and Gina Jeanz. I want a spread of legends and the newbies. I would also have Melvo Baptiste, Cody Currie, DJ Lev, I love her so much, she's an up-and-coming artist, an incredible DJ. I would also have Kerri Chandler, there are so many people, I'd have the whole scene.
Hypothetically, if you could produce an album for any artist or band in the world, who would you pick and why?
I would produce one for Peven Everett I just love his voice. It's so versatile. But also in terms of the way I produce, I have fusions of different genres and Peven is one of those people who can sing over garage and house music. With his own album, he has songs that vary from jazz, break beats, and house. It would really stretch my wings as a producer to go through the genres I love but to all collaborate and bring in new talent within it. The idea of that makes me really excited. So yeah, my choice would be Peven Everett.
Music production is so vast and there's always something new to learn. We'd love to hear about what DAW you use, and anything you would love to share about your creating process….
I started learning on Ableton but I use Logic now as my main DAW. I love the structure in Logic and the fact I can see the timeline which is really important to me, especially when trying to structure a track. It's really helpful to be able to see it in the way logic gives me but I do go between DAWs so there are some I like on Ableton like the ping-pong delay and certain plug-ins. I might export a stem, put it in Ableton, do what I'm doing then bring it back to Logic. A tip I would give is, you don't always have to stay in one DAW. I think a lot of people know this but mixing the DAWs will give you more freedom, I've created my own super DAW in a way because I know what I'd go to Ableton for and what I would go to Logic for. It has given me a lot of freedom but one thing I want to experiment more with is Ableton Live and build in the live element to my sets so that's the next step for me.
Some people may not know that you've DJ'd for other artists such as the incredible Little Simz during the Welcome To Wonderland tour. How does the atmosphere change when you are performing alongside another artist as part of their live show? Is there a feeling of more pressure?
I think Little Simz has a way of creating line-ups that always support and put on new talent so when I performed at The Roundhouse for her Welcome To The Wonderland experience, it was a community of up-and-coming DJs and artists. There were people like Tiana Major9 and VanJess, so many different names mixed with people like Rapsody. It felt like an environment where you could be yourself and the audience was so receptive to it. Obviously, it's always nerve-wracking to play the mainstage at the Roundhouse but because there was so much going on and so many familiar faces, especially in the audience, it was really special and felt more like a collective experience rather than just playing to a crowd because they were so engaged. It was a really special moment, especially because my journey started in the Roundhouse and so did Simz's in a way. If there was a bucket list thing, that would be it.
Do you think there are any misconceptions about being a DJ that you would like to clear up?
One obvious thing to clear up would be the nightlife aspect of being a DJ. We are also human, we like to sleep and rest. As I'm newer to the scene, I'm starting to play more and more, so one thing I am going to be more aware of is the house aspect. Not drinking on every set, making sure I'm getting enough rest, and making sure I'm not burnt out. I think that's the side of the industry which has the misconception that we can just keep going and go all night long and we're fine but everybody needs rest so I think teams, music managers, and people are starting to be more mindful about the mental health aspects and everything that comes with being a touring DJ. I feel it is a safer space now more awareness is coming towards the forefront but I'm still new to the scene, I'll probably have even more things to say about it in the next year but for now, it seems people are becoming more aware of mental health, physical health, and burn out so it is improving.
Music brings people together that's for certain. But there is something truly special and euphoric about dance music that brings people even closer than other forms of music. Why do you think this is and could you please describe the first moment when you were exposed to house and soul electronic music and had that: "oh my god, this is amazing" moment?
Ultimately, we all have so much going on in our independent lives so when we come together on the dance floor and are met by basslines, drumbeats, and soulful chords, they literally touch my soul. So I think the dance floor, especially in dance music, is where everybody comes to let go of the things going on in their lives and have a collective experience that enables you to feel safe and let go. You meet new people, girls in the toilets who are always sharing perfume for example, it's just nice to be able to let go. Our heart rate is something like 120bpm so a lot of dance music is that bpm and higher which just has a way of making you move. 
My introduction to house and dance music was through my parents. They would always be listening to house music in the car really loudly so I had no choice but to enjoy it and luckily I did so it just embedded those rhythms and beats and chords into my soul. To the point where it just sort of falls out when I'm making a new track. I have to have a fall-to-the-floor beat rhythm and if it doesn't have it then it doesn't sound right to me. I then started finding my own artists that I liked and different DJ mixes. I then started listening to Radio 1 and Mi-Soul Radio. Mi-Soul was really soulful and jazzy with deep house and Radio 1 just had something different to offer and introduced me to artists I didn't know about. It covers more of the electronics so doing my own research and listening to blends got me to where I am now.
Finally, what's next for Melle Brown?
New music! I'm in the studio a lot at the moment doing remixes, I just released one with Diplo, there's the DJ Koze remix that has dropped, and there's another Feel About You remix dropping. I'm going to be playing Printworks on the 24th of September and I'm also playing Claptone – The Masquerade in Tobacco Docks for Halloween which will be epic. It's on the 29th of October. There are gigs and shows rolling in, I hope to be doing more festivals next year. Everything is going well, more music, more gigs, and my own headline show at some point. I'm just going to keep going.
Follow Melle Brown melle.brown
Interview by Cameron Poole
Additional writing credit Gabi Oates
Photography by Peter O'Sullivan