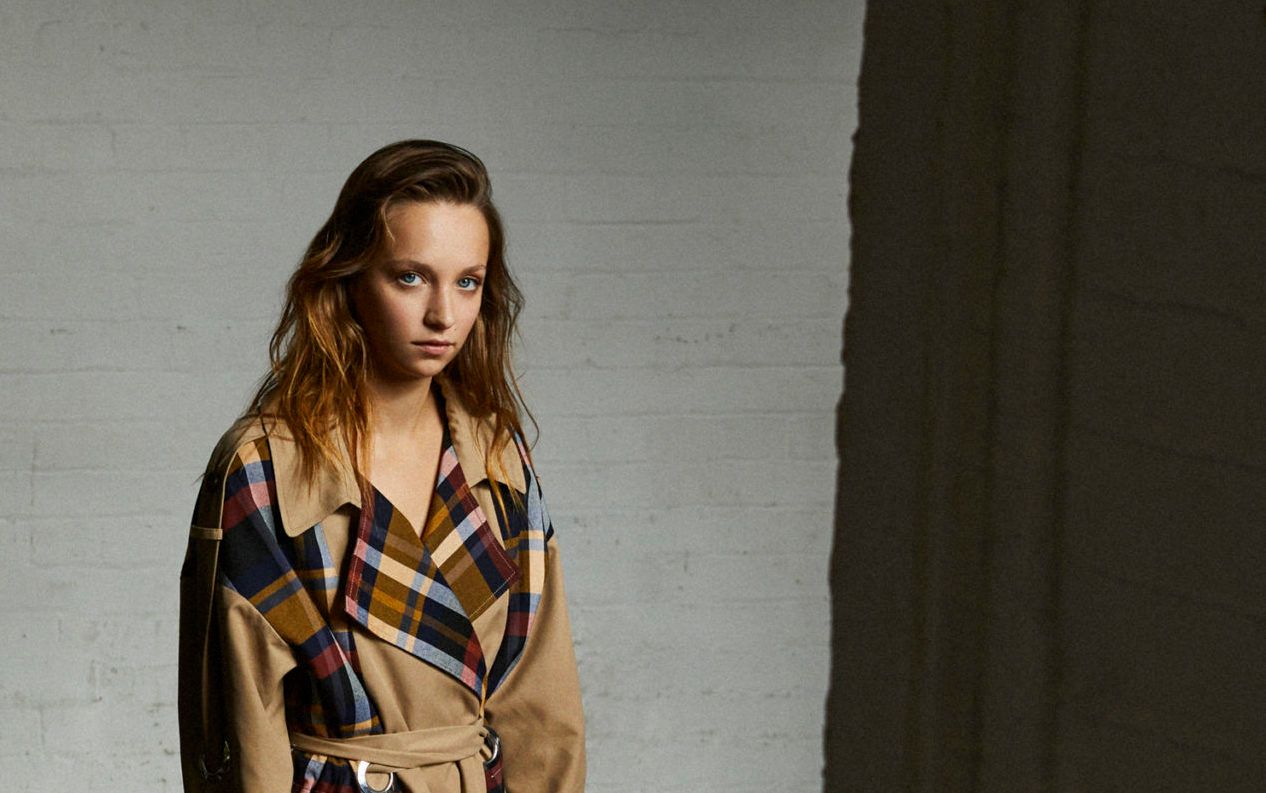 Molly Windsor
Throughout her career so far, Molly Windsor has tackled harrowing roles ranging from portraying a victim of grooming in the BBC drama Three Girls, based on the Rochdale Scandal, to darkly-driven student Rose in Cheat.
We had a chat to Molly about the importance of storytelling through film and TV as well as revealing to us what we can expect from her upcoming role as a lab assistant with a dark past in Traces.
One of your latest roles is in Traces as Emma Hedges, a lab assistant at The Scottish Institute of Science & Anatomy. Are you allowed to reveal to us anything about Emma?
So, Traces starts with Emma going back to Dundee as that's where she was born but moved away when she was very young. She is going back to take on a job as a Lab Technician and she's 23, which is that age where you're working out who you are. She's going on her own journey by taking on this big job.
How intensely did you have to research forensic science when you were preparing for the role?
For me, the forensic science wasn't too heavy as the viewers are led into that world with Emma while she's discovering it. There's a machine [on set] which they use quite a lot and I had to get to grips with, but we had a lot of advisers who are really passionate about what they do. They really did help so it wasn't just me on my own.
What drew you to audition for the role?
I read the script and I always go on if I can see it in my head. I allow my imagination to take over and if I can see the world clearly, then that's always a good sign. After that, I went and met the team with Amelia [Bullmore], the writer; she sat and went through the whole story with me. That was surprising as it's really rare to have a meeting where it is just purely about the narrative. It was all just about these characters and that was really exciting, so I was hooked!
The series also has an all-female production team, so did this bring a different energy or dynamic to the set?
For me, my career has been predominantly female-led productions and so for me, it was really no different. However, I am from that very lucky minority that I've worked with brilliant directors, both male and female, where it has been very balanced so I can't really comment.
Do you feel that the film and TV industry is making more progress with the gender gap, or is there still some way to go?
I still feel that absolutely it has a long way to go as when I started acting, I was really well supported by people who told me to take the jobs that I want. It's a hard-enough industry to hang out and wait for the jobs which you believe in. For me, jobs came along where characters weren't three dimensional or interesting but I had a supportive enough team to say 'it's not just a job'. I have been very selective in my work and I think a lot of my friends have had completely different experiences so yes, there is still a long way to go but we are getting there less and less slowly.
You've also won a BAFTA for Best Leading Actress with your role in Three Girls in which you portrayed a victim of abuse. How did you cope with the intensity of the subject matter?
For me, Three Girls wasn't just a job; it was so much more than that as the girl who I was playing is a real person. She was involved in the process and wanted the story to be told as they had been called liars, so it was really important for their voices to be heard. For them to hand their stories over to the BBC to be made into a TV series was just so brave; I thought that if they want this, then we need to do a good job. It was the perfect team as Phillippa Lowthorpe, who directed it, led and supported us all so it was the right people and the right script all done for the right reasons.
Do you feel that Three Girls succeeded in shifting the public's awareness of the case?

I think to an extent, but it was incredible to see the reaction to it. When I initially finished filming, I couldn't talk about it. I would just say that I had finished filming a project on grooming. Everyone has seen statistics, so they were like 'oh okay, I get it' when actually they don't. When people then saw Three Girls, they then started reacting from their gut so became moved by it and angry – I think that is what is powerful about film and TV as it's storytelling which is personal. You can watch the news and react on an intellectual level, but this will hit you in different places – which is what we intended to do.
You also took on the lead role in the independent film Make Up where your character questions her sexuality after being stalked by a woman. Can this be described as a coming of age film?
Yeah, it can be, although it is quite a simple way of putting it. I think what is very powerful about Make Up is that the story is told with elements of being strange, although it does all stay in the realms of reality. The way the story is told is very intelligent as with the self-discovery from the character you can tell what she is going through. Lisa Palfrey is in it and she is brilliant with her comedy.
How does the film highlight any issues faced by the LGBTQIA community?
You could look at it very generally speaking, and it could be any relationship as I play a character who is 18 and has been with her boyfriend for three years. She is at the stage where she questions everything as she has never known any different. In this case, it is an LGBTQIA story but for me I do look at things from a human perspective. It is easy to run away with the issues and talking points, but really these are very interesting characters who are questioning their own norms.
Having also starred in the ITV drama Cheat as a troubled student, how did you have fun delving into a character that had such a dark personality?
Rose was really fun to play and as I didn't go to university, entering that prestigious world was more fun working all of that out. It was so similar to being at school with all the politics!
Did you ever cheat on tests when you were at school? 
I can't remember, I wasn't academically driven so I was never bothered about passing!
Team Credits
interview by Nicky Lee-Delisle
photography Josh Shinner
styling Olivia Jones
hair Fábio Nogueira @ Frank Agency
makeup Justine Jenkins
casting + production Angeliki Sofronas
styling assistant Nadine Petzke
location TT Liquor, London

Traces airs Monday, 9th December on Alibi!