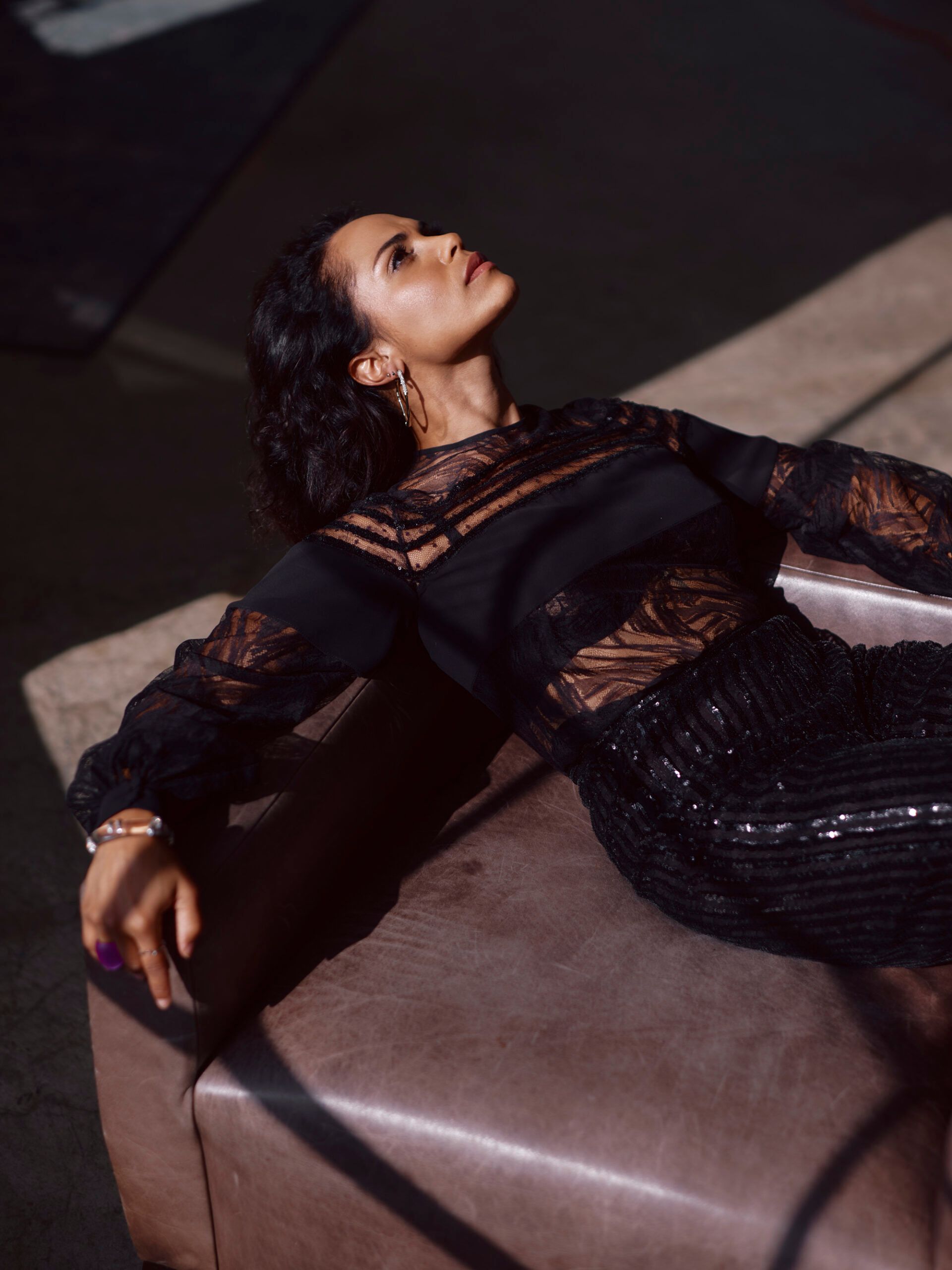 Monica Raymund
1883 had the pleasure of sitting down with

actress

Monica Raymund from hit show Chicago Fire, and with her latest show Hightown being renewed for a second season, we will be seeing much more of Monica on our screens.
Not only do we get to find out Monica's thoughts on her character Jackie from Hightown and more… having already had some experience in the director's chair as well, Monica shows no signs on slowing down.
I just want to say congratulations on Hightown! It was such a thrilling watch and you were incredible in it. Tell us a little bit about the concept behind the show.
Hightown is a crime drama set in Provincetown, Massachusetts on the backdrop of the opioid epidemic and it's centered around my character Jackie Quiñones who's this lesbian alcoholic who struggles getting sober and also works as a National Marine Fisheries Service agent in Cape Cod. One morning during a hangover, she stumbles across the dead body of this girl that's washed up onshore. That's where we begin the show.
I think it's safe to say you start off in the thick of it right from the beginning!
Exactly! That's a really good way of putting it. I like to describe it as if you're on an already running train. There was no beginning point, we're already off and out of the station and the ride is already in process.
The show has seen such a huge success with it being the most-watched series on Starz and being renewed for a second season. Why do you think viewers are more drawn into dark, crime dramas?
I really enjoy watching dark, gritty crime dramas myself. For many of us, we wake up in a world and we're seeing a lot of destruction happening in so many countries, whether politically or socio-economically. We're seeing drama around us and it's a way of escape. For me, it's almost like a way of connecting to a community where everybody is feeling the same way, almost like a union of sorts. But it's also to do with great storytelling. Where you have a moment that you're so invested in and throw yourself into and then allow the story to do the work for you; lay back, relax and watch the show that is so dynamic and has multiple layers, where you can't quite predict what's going to happen and just go along with the ride. It's a form of escapism and these shows are just super entertaining to watch.
It's weird rooting for someone who's essentially an antihero. Jackie has got all these issues, like alcohol and substance abuse but you want her to succeed. You're rooting for someone who has some elements of good, but can also be inherently a bad person.
When you have characters that blur the line between good and evil or light and darkness, you're dealing with a very smart writer. And it's also one of the sexiest qualities, for me, to be reading a script that has a character that fits the description of the antihero you were talking about. Antiheroes have this goodness in them but keep making these terrible decisions as a way to survive. In some of these stories that we love, characters are given a bad hand. And sometimes, the way that they know how to survive is through indulgence, hedonism, denial, selfishness and addiction.
Was it difficult to play and tap into a troubled character with substance and alcohol addictions?
It was difficult, yes. Unfortunately, I know a lot of people, friends, family, acquaintances who struggle with addiction or have struggled in the past. So, having access to those resources was extremely helpful in supporting my exploration into Jackie. But it was also a very personal thing for me, in some ways. I also tapped into and brought a little bit of my own personal life and experience with Jackie, which meant sometimes going to places that I have avoided in my own life. So, what you're seeing on screen is Jackie but also parts of Monica working out some things too, which was therapeutic but also a magical and beautiful art form.
How would you say Hightown stands out from other crime dramas out there right now?
It's quite bombastic; that's the first word that springs to mind! What I mean by that is that it's a very character forward show and you see how these characters make very ambitious decisions who are clearly going to be feeling the repercussions or will be failing hard. Every character, whether they're flawed, fighting for the dark side or the light side, they're just in it one hundred percent. They just have so much gumption. And because the writing is so dynamic, you start to see this fascinating story unfold in front of your eyes where you see how these characters learn about each other and the world that they inhabit but also how their perspective changes and seeing what they're going to do to get what they want.
Can we expect that bombastic nature from season 2? Where does Hightown go from here?
I haven't read any of the script but I'm hopeful that it continues on that path of being ballsy, of being bombastic. The only way to go from here is forward. We're still on this train and I think we speed it up, we go faster, we go harder and dive into the wall. So, I think the best way to come into season 2 is to expect even more fire.
I read that you wanted a bit of a change coming from Chicago Fire. Was it a challenge coming from Chicago Fire, playing Gabriela, to Hightown and playing Jackie?
It was totally different. It was difficult at first as that transition takes a little time as I've been playing Gabriela for six years and I've been on that network and with the same cast for so long. It was almost like shedding skin but then allowing myself to find a new skin and getting uncomfortable. It did take a little while but once I started moving and working in that skin, it felt organic, freeing; if anything, very liberating to be able to push myself into doing something so drastically different. In a way, I like to think of it as reigniting my imagination and rekindling my love for storytelling.
You've sat in the director's chair a few times for popular TV shows FBI and Law & Order: Special Victims Unit. What kind of stories do you want to tell next?
I've directed three episodes of television so far and I'll be directing some episodes of Hightown season 2. I'll also most likely be directing a few more episodes of television in the next year so watch this space! I have my second short film I'm working on which I hope to film in the next year as well. I love TV and have been a TV girl for 12 years. I'm very comfortable with the format of television and the pace at which we shoot. I do really want to make a transition into being a filmmaker and being the director of movies. I am a storyteller through and through.
Which filmmakers and storytellers inspire you?
I love Jean-Pierre Jeunet and his sense of magical realism that he brings to film. It's definitely how I would approach filmmaking. Another would be a woman who's my age called Brit Marling who wrote The OA. She's a wonderful filmmaker and writer and is quite brilliant in the way she approaches visual performing arts.
With what the world is going through right now, do you expect great art to come from this?
Yeah, I really do as that's how we've coped for as long as we can remember; through great pain usually comes great art. Unfortunately, that is the price to pay for growing the field of the arts and we can trace this all the way back to Greek drama and Greek tragedies. So, I bet the world will deal with this trauma through artistic exploration. I know for a lot of people this time has been a sort of incubator for their work. I mean I've been working on a couple of things through quarantine and in the face of all this madness, plus how uncomfortable and shitty it is here in my country anyway, with all of the friction and significance that's been happening, the only way that I know how to express myself is through my art.
I would say you're at the forefront in your industry by pushing more women into filmmaking. In what ways can we do more to help women into the industry?
There are lots of mentorship programmes that encourage women to apply that allow them to shadow filmmakers, directors, etc. and I'm aware of grants to help women. So, there is certainly positive movement as people are hungry to see the female perspective. But to build on this further, we need more women in the writers' room; this is where the movies are being originated. You can't do much without a script so getting women into these rooms where ideas are manifested and where ideas are germinated, I think is one of the most important challenges we need to overcome. That responsibility lies with the producers and the studios to create the space for this to happen.
You've also participated in BLM marches recently. How important is right now for the BLM message to be amplified as far and wide right now?
It's a life or death situation for so many people. That's how crucial and that's how much of a high stakes game it is. The fact is this movement is the expression of such a long streak of oppression and this is what's part of what needs to happen in order to form a more perfect union in our country. We're seeing a revolution where black people are demanding to be seen and demanding to be heard who have, for the entirety of their experience, been oppressed. So I will repeat myself, the Black Lives Matter movement is a matter of life and death.
What are you most looking forward to doing once lockdown has ended?
I see it as there was a time before COVID and a time after and I don't think we're going back to that 'normal' and we have to adapt to this 'new normal'. But I have missed my daily routine of a lot of boxing, going to the gym, having lunch with friends and just being out in the world. I'm somebody who really loves connection and connecting with other human beings. Even if I go somewhere alone to read a book, for example, to a restaurant or park or wherever the fact there are people around me is a real comfort.
Team Credits
interview by Sean Mackey
photography Shane McCauley
styling Christina Pacelli @ The Only.Agency
hair Marcia Hamilton @ Forward Artists
makeup Toby Fleischman @ Tomlinson Management Group
Don't miss Hightown's season finale this Sunday, 12th July on Starz!