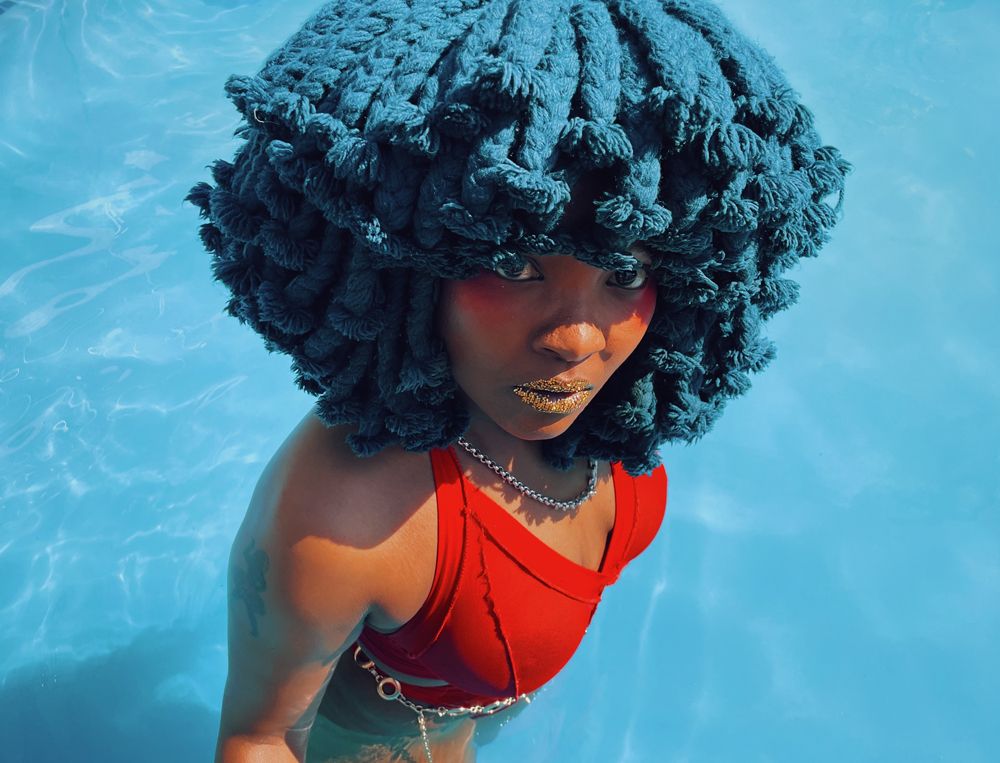 Moonchild Sanelly
Moonchild Sanelly is entering a new phase of her career and that is one of world domination.
After what has been 14 years of grafting and cementing herself as one of the leading and most versatile artists that have dominated the South African music scene across multiple genres she is setting her sights on the rest of the world.
The Port Elizabeth native has been in the South African music scene since 2005 when she got her start in Durban, before heading down to Johannesburg. She has been known to evolve herself as an artist over time making music that has crossed everything from EDM, South African house, pop, Gqom, R&B, Amapiano and more.
Working with like the likes of Beyonce, Diplo, Gorillaz, Major Lazer, Ghetts and South African hitters like Maphorisa, Sho Madjozi and many more Moonchild has cemented herself as an outspoken artist who is not afraid to be herself 1000% her icon teal hair and her energetic tone of voice brings her signature flavour to any song you hear her on. Tie that into the colourful and visually appealing aesthetics she brings to her live shows she is 1000% sure of who is she and does not give a fuck about anybody else.
After grafting and dominating the music scene she is ready to spread her vibes to the rest of the world. Having already taken the South by South West stage this March and set to take the stage at the Primavesound Sound Festival she is making her way one stage at a time. Her second album Phases out today follows her 2015 debut Rabulapha, and I can tell you now the Moonchild you hear today has grown and evolved into someone worth paying attention to.
As a female artist in South Africa she is as unapologetic as they come addressing a whole lot of things and speaking on the celebration of different women from the hoe to the side chick to the strippers and every type of woman in between. Phases is a representation of the many phases of Moonchild and the artist that she is.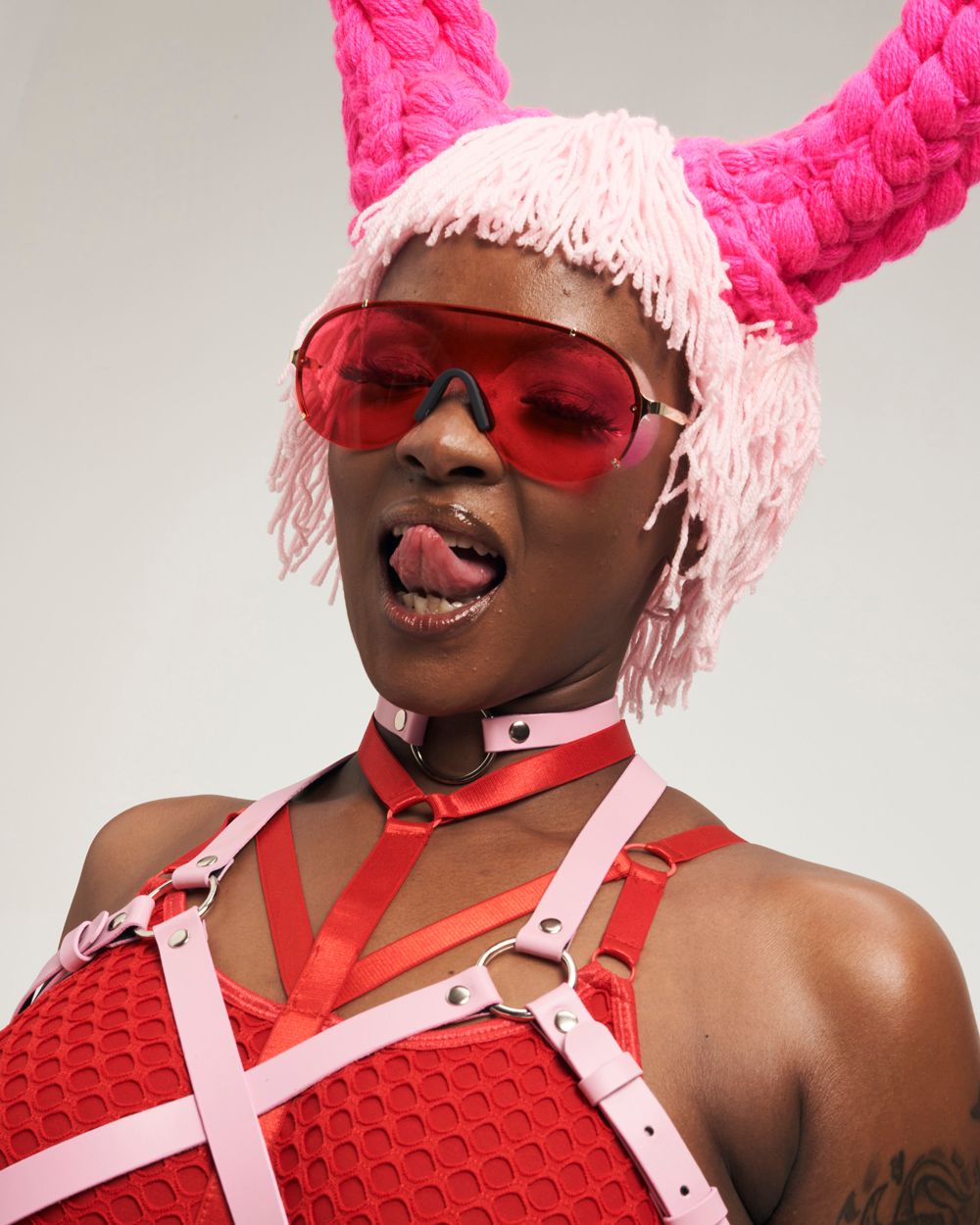 So the album Phases is out today, for you when did the process start to make the album?  
So with this one, we literally started recording at the beginning of lockdown because this is me and it was with a producer called Lunatik and we just started because we had been locked in. Then we started getting bored indoors so we got Airbnb's and were setting up the studio equipment and then we ended up going to the studios to record. The label started sending in beats which were sent from other artists and I started working on the ones that I was fucking with, so it was just a fun process. I feel like also with this one, with it being called Phases and all, that was because I went through so many different phases, in the different relationships I was in and because of the time I had been in lockdown I was able to be, I was able to listen to myself and able to show some vulnerability in the album. I usually work so fast, everyone knows that about me in my team. I'm just like shout out to COVID because it's time I never thought I needed because I'm so fast and I don't like slow stuff. So it gave my album more emotional vulnerability, a different side to me. 
With the Nudes EP in 2020 and the singles you released throughout COVID, was this building towards the album?
That was just giving people music and releasing during that time because it was just a thing that like the world may stop, but it doesn't stop our world. Because I've got a lot of music I just wanted to drop something because I knew my album was on its way. So that's why even with starting, I just called the producer to set up the whole studio, I just needed to start because I wasn't going to be crying about COVID , even though I know the conditions, it was like how I flourish against this bullshit.  
How was the experience of working on the album during the pandemic? 
It was very interesting because I would say that for the most of my 14 years career I had been hustling. The deal that I always wanted came to life in the first year of lockdown, and so everything came full circle for me when the world stopped. In terms of what I was doing it wasn't that much different for me, I mean of course, with the virtual shows it was weird in the beginning because I'm so used to engaging with my fans, but you got better at them because it was the only way. I'm fortunate enough to have been able to still work, you just had to adapt and learn to be comfortable with it, so you have to have fun and give them a mother fucking show. Tt got better every time.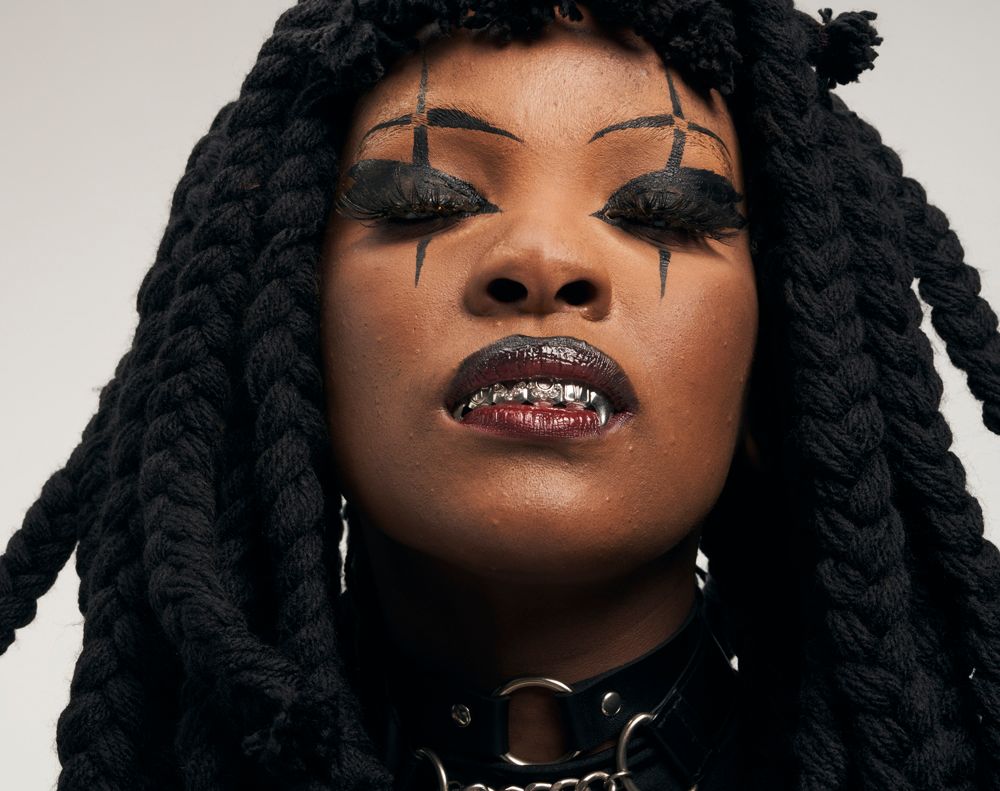 How did you handle the world coming to a holt just as you signed you record deal in early 2020?
The thing about me, I'm very intentional and there are a lot of things I tick from the boxes that I write down that I want to do and where I want to go. So for those two years it was about putting this shit together because when the world opens, it's my global domination phase. So, when the world stopped for everyone, for me and my career it was the 360 moment. I feel like it was gearing me up for this shit. It's the taking in of everything. The album the first time performing the album was at South by South West with packed shows every night. So that was so fucking crazy because it's given me so many different feeling with everything else I've done in the past. On the album, the song I start with is called Favourite Regret and it is crazy how the lyrics are about me doing exactly what I'm doing while I'm overseas. It gets trippy because I'm singing a song that talks about your international career, while you are doing it. It feels like prayer and I've never explained a song like a prayer. It feels like that phase. I feel it, it's beautiful. So that's me performing the album and it's been crazy just doing South by South West, and singing those songs for the first time and the audience. I had to sit on the toilet at some point, I feel like that's the only still moment I had and I was like what the fuck? What is fucking happening? What the fuck? Like there was no relief from the overwhelming feelings realising everything you've always wanted coming to life. It's crazy.  
Having established yourself in South Africa, to what extend did you have to change your mind set to launch yourself internationally?
I've done a lot of talks over the years and before even lockdown, I've had five years of touring international festivals and doing talks on how to be an independent global brand. And one of the things aware of when you travel to any market is you essentially have to start from scratch. For me, I've been doing this a long time and I planted my seeds way before South Africa even celebrated me. I find that the biggest fault is the ego of someone being big here, and it ends up with them not wanting to even go international and start from scratch again. If you want to make it bigger and have an international career you have to remove that ego. You introduce yourself to people all the time, so because I've been aware of these things for years, I am very conscious even with my songwriting, when I write in (the language) Xhosa I write things people can sing along to. I think of the international palette without diluting myself. So I don't write things that no one can sing along to. And when I go into the studio, I always picture myself performing the song for the first time and having the audience involved immediately without knowing the song. That's the strength of being outside in the global space. So, I don't operate on ego. My dreams have no ego. I've always moved for bigger and better things.
You've always had this great way of being able to work with any style of music and collaborated with a wide range of artists from Beyonce to Diplo to Ghetts and so many others. What is your process to stay true to yourself when working other artists, be it international or South African?
I think for me it's a lot of things and it's different every time. If I vibe with you I go for it, when it makes business sense I need to still vibe and I go for it. I think if it's vibing it has to be super special, if it's not a business move, and I'm very fussy because I'm so creative and I don't have a box. I'm a storyteller that's why you can give me any genre, and I'll tell you my story there. As a songwriter, I think that's my advantage. I'm a storyteller and there are no limits, I credit it to my background. When I used to leave fashion school early and go look for a mic and whatever genre it was, I'd say, yes, I do that to freestyle on the mic, a whole set and then go home. That was without me knowing how it would be a part of my future, I just needed to sing and now it's my advantage. I write songs, I write stories, I talk shit a lot, that it is a story. So you can give me a word and I can create. And so for example, Ghetts and I to got along so well from 2018 was because it was the same thing. I was in awe of how fast he worked, he was in awe of how fast I worked, and it was like we met the same person for the first time in the studio and we just kept creating the whole time. So it's just magic man. I just it's a feeling, it's a vibe.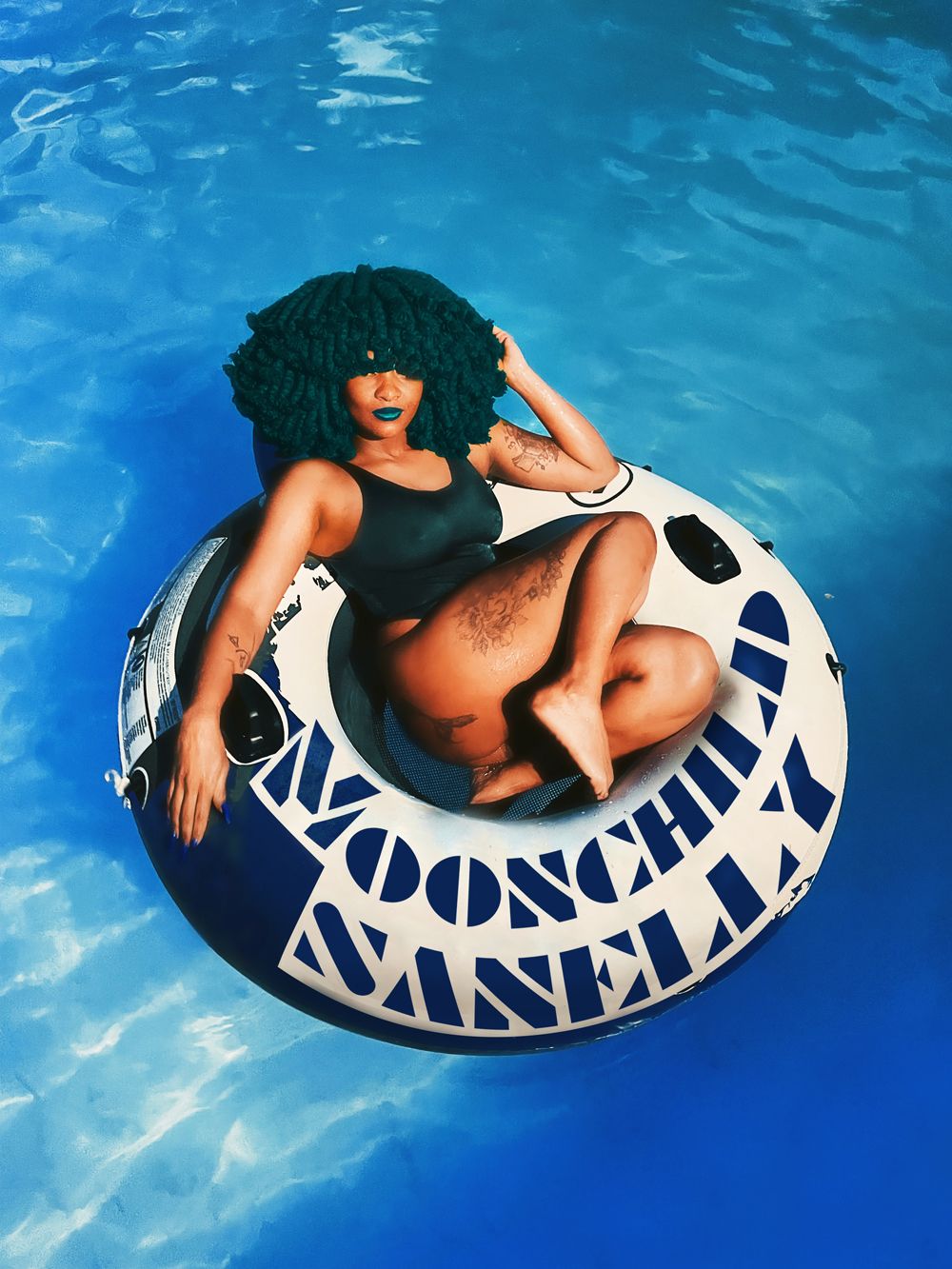 On the album you work with several different artists and producers, such as Ghetts again, Strip Club, the UK artist Trillary Banks and of course, Blxckie who is doing his thing in SA. Not forgetting Lunatik on production, TOKiMONSTA and a few others. How did you choose who to collaborate with?
Ghetts I wanted him on here because we've worked so well together. I had to have him on the album. My label hooked me up with Trillary, I didn't know her before the song, so I recorded the song and I just thought something was missing. But I was like, I do like the hook, so you guys do something with it, and then they sent it back to me and I was like, Yeah, I fucking fuck with it. I only met Trill when I was in London, we shot the video and I loved her. And I love Blxckie, he's so magical. I love him. It's literally because I love him and I love his work so I just wanted him on. And then with the production and I love Lunatik. He is a really, really dope South African producer and the one who started the song with, I work with him a lot. TOKiMONSTA I fucking love her and she's in there. I got to work with some cool people. 
You mentioned you were able to be more in tune with your emotions and vulnerability on this album, with your lyrical content you touch on several different things. How was this different compared to your previews projects?
It was good for me because it was my diary. I think it was the phases I was going through as well. Being at home and stuff like that. I remember when I wrote Bird So Bad there are a lot of birds around where I live, so I was just like looking out my window and just smoking and I was like I wish I was a bird so bad. And I was going through something in a relationship at the time and it was a grey day so I just started writing it and had access to a studio anytime and the sessions were scheduled so I could go in once or twice a week but also sometimes I would have emergency ideas that I had to go in and this was that time. Having time allowed me to express my feelings in all the aspects because nothing was rushed. I allowed myself to be vulnerable which is scary, you know.  
Personally and artistically how have you grown and evolved over the years?
I'd say I'm more mature emotionally and I guess because I'm more mature, it's less, it's less judgmental because there's more understanding. And I love psychology a lot. So I always find routes to ways people manoeuvres things they say and stuff like that. It always intrigues me. So even in this album, the celebration of women is not just a type of success that's celebrated by society, but it's first of all, it's an adventure sport to own a vagina in this world. So shoutout to all the women for being a hustler. Number two, if you know your position is that I want to be a side chick and I don't want to be main at all there's a song for you because it celebrates you knowing which position you want to play in your life. I'm celebrating the stripper and telling the people at the strip club, please pay and respect this is at work. You know, I've got music that tells you I am leaving you, but I will get over you while I'm with you because I don't want to cry and take you back so we can play that song when you don't dare to do it. So all these different things that men use, whether it is like oh that crazy one, that hoe, like sit the fuck down shut the fuck up because it's not about you, so I celebrate all the shit that is used to break us. When we should be celebrating who we are in general and fuck whatever anybody else thinks  
As a female artist in South Africa, you have never been shy about speaking about your sexuality and sex in your music and many topics African women should not address. At what point did you feel comfortable speaking honestly about the type of artist you are? 
I remember a moment when I was in the poetry space where I started, there was no power in the poetry about women. It was always vulnerable and always about the same thing. And I was like, Fuck that. I know other kinds of women, I know motherfuckers, I know people that hustle, that's my reality. I don't know this reality. I know strength. And so I remember I said fuck that shit and I started writing and I started being the villain about reality. It wasn't out of my reality but funnily enough when I was writing I didn't realise it. I was summarising my past. Everyone in my life is a song. As long as there's an impact, good or bad, you are a song. 
Where we are in the current landscape of music where people are looking at the talent that is across the continent of Africa and specifically Amapiano where we look at how it has broken through on the global level. As somebody who has been in that space and has been representing that space for a long time now what does that mean for you being an artist in this time where people are looking at what has been going on?
What does it mean to you as an artist when you see African musical talent and specifically Amapiano (South African house music ), break through onto the global scene?
It is a good thing because now a lot more South Africans are benefiting from its popularity, instead of just inspiring an international audience and therefore not celebrating the originator. So it's a good time because even the kids are having access to things that a lot of people back then were fighting for. Great for me. I am super happy about it. I'm happy that it's shining, getting celebrated and is a collaboration rather than inspiration, which would cause an uproar if you are not involving the originators. But now there's access and shoutout to the internet as well. 
Anybody who knows Moonchild Sanelly is very much aware of your brand in terms of your image and you know the Blue hair and everything that you exude so in building your career and growing your brand where did it all come for you?
You have a very distinct image, such as your blue hair and the energy you exude. How did you develop your Moonchild Sanelly brand? 
I've always been conscious of my image because fortunately for me, I grew up being allowed to express myself since I was in fashion school, and I've always been allowed to do colour and holidays when I was still in high school. So I remember a time when I used to still be red and that when I learned about branding after years of just being very chilled, having the red hair. I remember Rihanna came out with the red situation in 2011 and now everybody was doing red hair, but people were also suddenly looking at what I was doing and I could see that people were watching what I was doing. So when I went with the teal I made sure to I copy-wrote it because I knew it was going to be jacked by somebody and I knew that I was going to be great and that style was something I was going to take with me. So I remember calling my lawyer and saying please register my hair, and that's when I started to know more about branding and my image outside of just singing. Because I am a musician I also have a strong image and I get coins based on my image so I started getting coins from it and it even still it just gets better.
We have to talk about your live show as you're be performing in London, what can we expect? 
It's going to be ridiculous I am coming with my whole team. My dancers are coming. My DJ is coming with me, everybody I rock with in SA is going to be on stage with me and we are ridiculous. There's going to be lots of energy and good vibes, the energy is always there. It's just going to be different altogether, people won't be expecting it. Everybody must just come ready. 
For people who aren't aware of who Moonchild Sanelly is, what do you want people to get out of listening to this album? 
I'd say celebrate who the fuck you are. Own who you are and just live proudly as who you are. You'll never have regrets, you'll have lessons if you learn them as who you are. You know everything is a lesson. Just celebrate who you are, live the fuck proudly and just own it.
Phases is out now, follow Moonchild Sanelly via @moonchildsanelly
Interview Seneo Mwamba