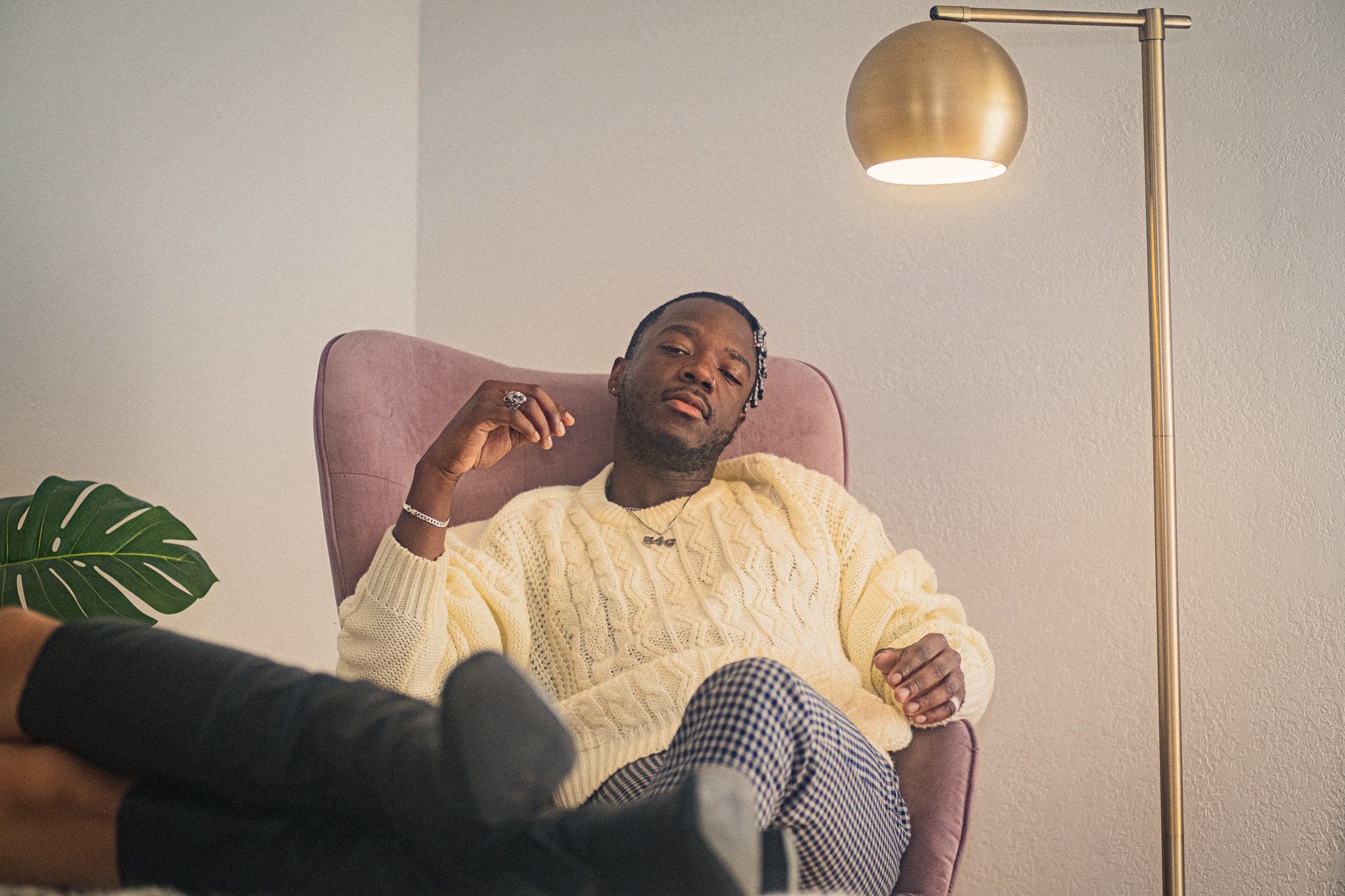 MyCompiledThoughts
Dive into the human psyche with MyCompiledThoughts' latest track Pentagon.
The Haitian-Boston raised, LA based MyCompiledThoughts is reminding us of the layers of humanity in his latest track Pentagon. With his silky smooth vocals, MyCompiledThoughts seeks out answers in the aftermath of a betrayal. A pentagon serves as a metaphor; something to show the many sides and layers that come when someone is being defensive after being hurt. 1883 Magazine chats with MyCompiledThoughts about his new track Pentagon, the meaning behind the track, what the rest of the year is looking like for him, and more.
You have ties to Haiti, Boston, and LA. How would you describe the way these places have influenced your music?
Hey guys! Thanks for taking the time to be interested in me. I really appreciate you guys. As far as the way these places have influenced my music, they have given me a chance to experience a variety of different people, cultures, and energies. Which genuinely drives a lot of the things I sing and write about.
Your first song Game of Love back in 2019. How would you describe the way you've grown as an artist between then and now?
The funny thing is Game of love wasn't actually my first song release, but that song is such a testament to my actual love of music. I started releasing music on Soundcloud first around 2013-2014 as a producer first and foremost. Till I eventually started singing and recording on my own records. I've grown a lot more confident because I used to be so afraid of how I sounded.
Can you tell us a bit about your new single Pentagon and the inspiration behind it?
Pentagon is a song inspired by the beauty of defensive attraction. It's the concept of being infatuated/ in love, but also wanting to be placed on a pedestal. I really wanted to write a song about how much I yearned for love while also accepting the fact that I want to feel even more special than before. Can't forget to mention Roberto Murillo on bass. That man is legitimately an angel; he can make any song I make come to life with his vast knowledge of music theory and bass lines. Also, Shane Dylan, I call him the orchestration master genuinely has the hands of an angel when he touches any synth of piano. They help ground the song and give it that actual life. Cause lord knows having more than one ingredient in a soup adds so much flavour.
What did you learn about yourself while writing and recording it?
While writing this song I learned that I just want something in between lust and love. Something balanced that treats me like I'm worth more than a dollar bill or a beautiful smile.
Talking of songwriting, I was wondering as a songwriter how has your relationship with self-doubt changed throughout your musical journey so far?
My relationship with self-doubt is a battle that I cannot run away from, but the biggest thing that has helped me has been being able to have a group of people actually tell me I'm not crazy. Tell me I'm not weird. I think this hasn't necessarily removed the doubt from my life, but has helped me realize that no matter what music is a small part of what I offer to the world.
You're gearing up to release the music video for the track. It shows you in a perspective of a bird's eye view, exploring past memories of ex-lovers. Where did the concept come from?
The concept was materialized by my creative team and I "The Bodega Plus boys" we were all in the drawing room when Cesar and Daymian came out and said "this would be crazy" and like the Rambo squad they are, with a budgeted team they came together to create such a marvelous piece. I am more than thankful to be able to congregate my ideas and visions with them because they help make everything so much better and realistic.
What was it like filming the music video?
Filming the video was exciting. I had some beautiful actors along my side. Idania, Erica, and Angela, and a chance to share my smiles and energy with them. On set everyone was just bubbling. We had a really cool spot and we did everything in our power to experience it. Forever thankful for everyone that showed up.
What do you hope people take away from Pentagon?
Honestly, I want people to be able to experience themselves. I want when they hear my song for them to not feel so lost. If someone can hear my song and tell me it made their day better or even inspire them to be more expressive, I will be happy.
What 3 songs would you choose to soundtrack your perfect day?
This question makes me happy! Biking by Frank Ocean, Moins joli by IIiona, and Give you by Lotto Ash! They're such great songs dude.
Finally, what are your plans for the future?
Genuinely want to be able to share my experiences with everyone that appreciates me and my tribe. I find music is helping me find more people I can help and care for. Genuinely happy to be able to be present. And thankful for you guys. Hopefully my music will give me a chance to be more present in the world