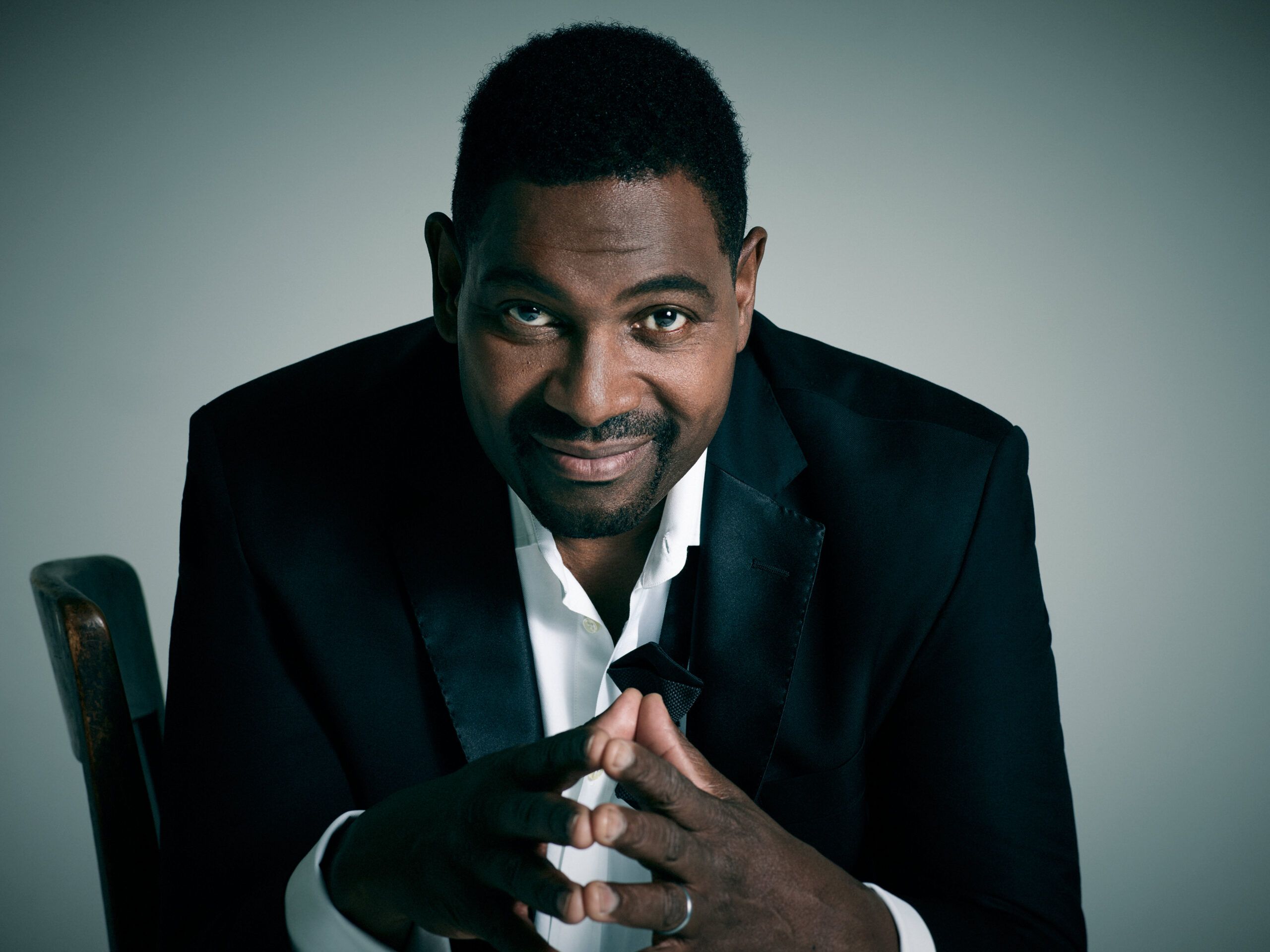 Mykelti Williamson
Mykelti Williamson is a man of principle and discipline; his fire lies in the depth of his words just as they do his numerous performances, whether on TV or in cinema.
Bringing his talents to yet another Dick Wolf franchise in Law & Order: Organized Crime, Mykelti Williamson has been leading with faith to spearhead his latest performance. In cahoots with his onscreen wife Cassandra, played by Jennifer Beats, Williamson stars as the cunning Preston Webb, a man that can be described as "ambitious," "resourceful," and "loving." Webb's mission is to leave behind his life in the Black Crime Family to help usher in good within his community, but, as you might expect, his path towards his goal is rather complex.
"Much like myself, Preston has a code that he follows. And just like everyone in the world, he is a complex individual. On the surface, he is just a bad person, but the beauty of the human experience is that no human is just all bad. And that makes things complicated. He's a great way to discuss life and all its intricacies, I'd say." And discuss life and all its intricacies, we most certainly did.
For 1883 Magazine, Mykelti Williamson discusses his journey within Hollywood, what it's like for him acting alongside fellow heavyweights in the craft, what to expect from Preston Webb on Law & Order: Organized Crime, and what to expect from one of the industry's most talented minds throughout the rest of his year.
You play the ever-so cunning Kingpin Preston Webb on Law & Order: Organized Crime. Like every great villain, he's written and crafted in such a complex way that it is difficult to root against him. How would you describe Webb, and what sold you on going for this particular role?
Anytime I can come into the Dick Wolf world, it's an honour. I've known the cat since he worked on Hill Street Blues, and we were both young guns coming up. For him to remember me and honour the gifts of my ancestors that flow through me was such an honour. See, with me, all you get is the truth, so when somebody calls me, they're going to get the truth, but they're also going to get the highest level of creativity. I never will embarrass humanity and my people intentionally. My people are job number one for me because this is my ministry.
I'll give you an example of one of the reasons I wanted to do this show. We're filming an episode where my character talks about going to an expensive neighbourhood when Preston was a kid and looking around. The writers let me have his experience, using his imagination with my character with no harm intended. However, that's his journey; that's not the Black journey because we're not going to no white neighbourhood looking around, especially if you're a young teenage boy. After all, you know what it could cost you. So, if a young black kid does do that, he has to be aware that he could've gotten into a world of trouble or worse. So, doing that was a risk that Preston took so that he could have a dream session.
These are the kinds of layers we're adding when I blend my art with everyone else's art. Add that with the fact that nobody is all good and all bad, so you get with Preston's character. He does harbour some guilt, but he's trying to build the next Amazon. In his wake, he knows there are injured people, so he's trying to set up health clinics and other resources to help his people get their life together, and he's doing it with the intention that he will be leaving this life behind one day.
In that description of Preston Webb, you discuss what it means to be an authentic and complex human being, let alone a Black human being. What did you do to [prepare yourself to enter into the world of Preston Webb in Law & Order? What resources or experiences did you look to validate the Black experience? I know Black people aren't a monolith but…
The Black experience is its own experience. With Preston Webb's journey, I tapped some friends who–I have some friends on speed dial that many folks don't want to meet. I'm sure you also have some of these people in your phone right now. But as an actor who travels, I have people like that in every country. They've come up to me, and I never presented myself as someone above them, and because of that, we have made connections. In that experience, though, I find out that they do business a certain way, and it's interesting because they're the most incredible people in the world with a wife, kids, and all of that. So, that is where Preston Webb comes from; he's as human as some of these people that I have met globally. So, he's a combination of these genuine people and the humanity I love to bring to each character I play.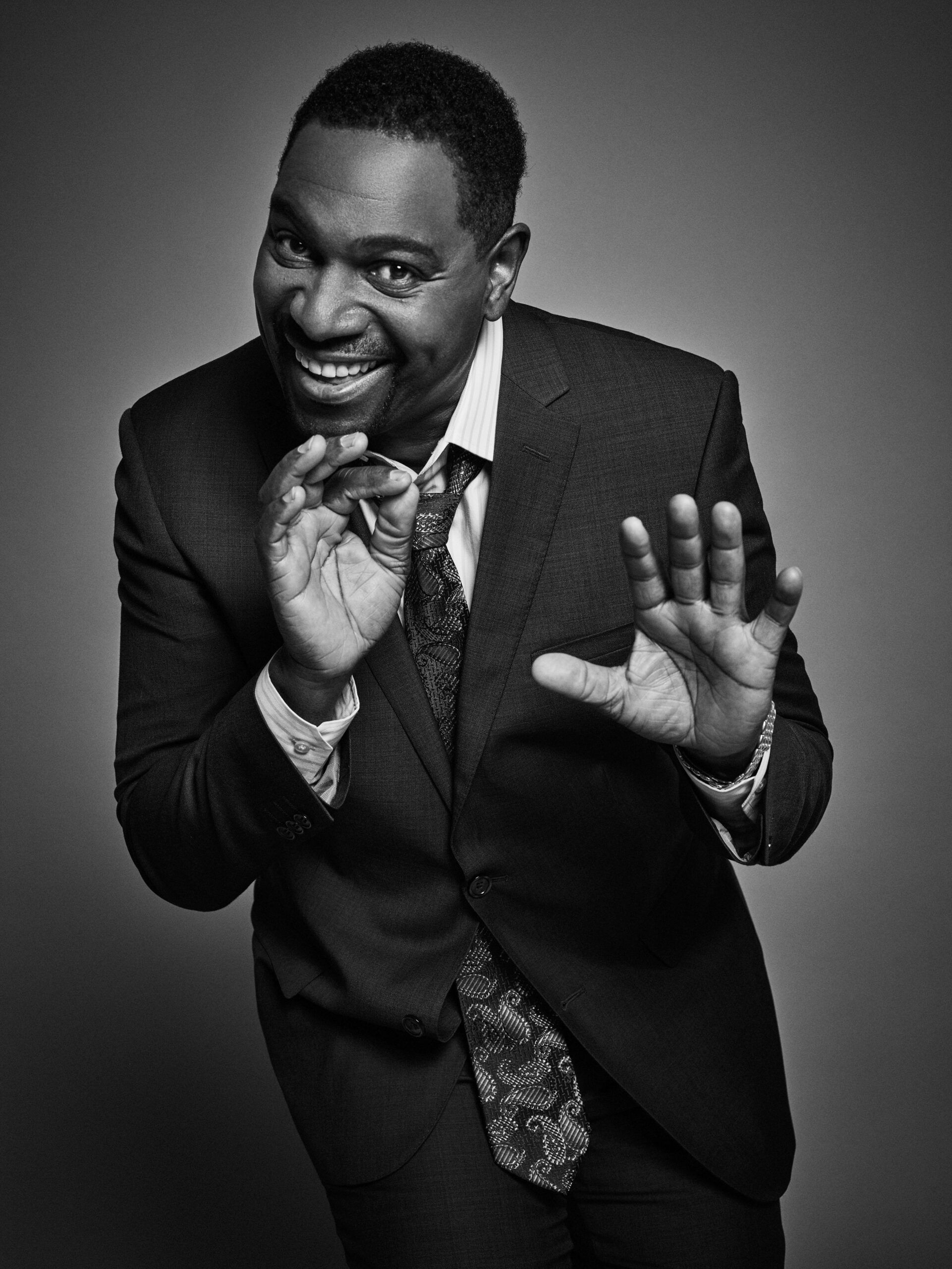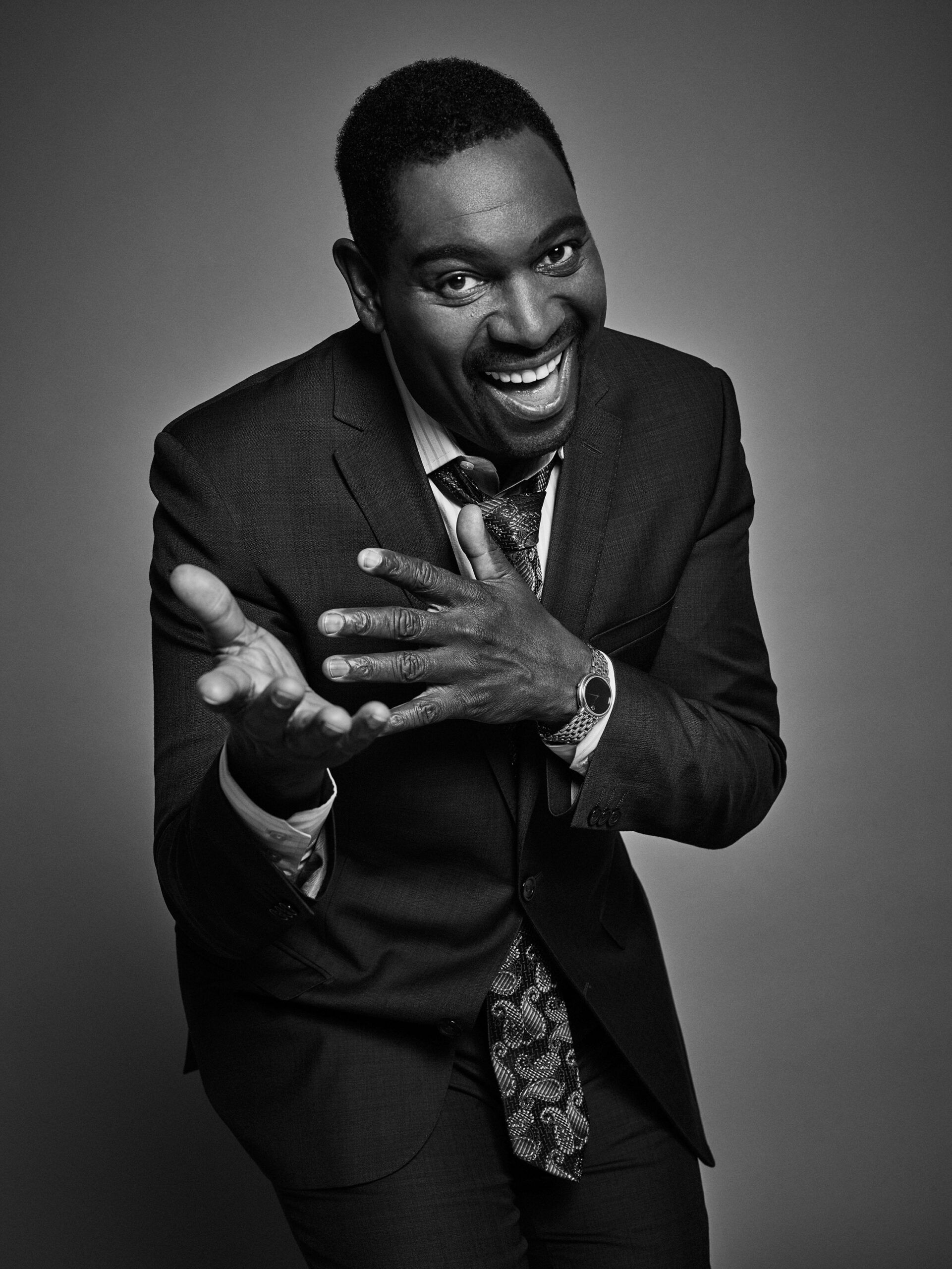 With playing Preston Webb and joining the Law & Order universe, has there been any pressure due to the show being iconic and what people have come to expect from you as a prestigious Black actor?
No, my legacy, like yours, is intact. Ain't nobody in charge of that. So, I don't give people that much leeway. That's between me and the one I pray to. But, I never take audiences for granted. In every single job, especially when you come to a show like this, the thing for me is that when you're working with people like Danielle Truitt, who is one of my industry daughters, I love this young lady, man, she is a force. And Chris Meloni, Chris, Chris Meloni [laughs]. That's a cool dude, he's giving, kind, and he's got skill. He's cut from a piece of fabric off like the Al Pacino, the Denzels–he's high-level fabric. So, I don't want to come on here and mess this show up.
But there is always that little bit of nervousness because you don't want to mess it up, and you can never get to the point where you're so cocky where you roll up in there, and now you're the main event. I don't think so. And I bring fire, and I ain't scared of nobody on the stage or the screen, and they know that. But [the cast] is all tight because of that; I bring fire, and so do they. So, no pressure but just all of us building off each other.
With that fire you bring, you can see the intensity and passion in every role you play. You also mentioned that particular class of actors, including the Pacino and the Denzels, but you're in that class too, T, let's give you your flowers as well. With that being said, you've had your share of bringing to life complex characters through your performance as Bubba Gump in Forrest Gump, Gabriel Masson in Fences, and now with Preston Webb—they all are complex in different ways. Still, they're similar because they are honest glimpses into unique human experiences. And those are not the only complex characters you have played. So I want to acknowledge that your resume is extensive, but with you sharing the screen with Denzel Washington, Viola Davis, and Tom Hanks, to name a few, what do you bring to the screen to match their level of showmanship?
First of all, thank you for all of the kind words, man. I appreciate you for that, and let's not forget that you are also great at what you do; you are smoking this interview. But to answer your question, I would say humanity.
You're a legend in the game, from your time working on Forrest Gump, working alongside Denzel Washington and Viola Davis, dabbling in some theatre, even directing and writing your own works. With you being the well-seasoned veteran who has worked in different versions of the film industry over the years, how has the industry changed for Black Hollywood? In a good way and a bad way.
The bad thing is the biggest enemy you will ever have is yourself. I don't care how other people get mad at you, don't get mad at you because they're mad at you. Never forget that. Be sure to keep your relationships intact and your sword/mind sharp. And that applies to Black Hollywood; whatever you want to do, be sure to understand it fully. Not in the beginning but over time, become a student of it so that if you want to write Karate movies, you need to learn all you can and stay open. I learn from you in this interview right now. And all that does is reassure me that if you keep believing and keep going with the right energy, it will be received the right way, and you can achieve anything. It works. Through this, though, there is the good thing: the industry is so full of opportunities for people like you and me now, and it's only getting better. We're all learning from each other, which has changed a bit of what we do as actors and Black people.
We mentioned you utilizing your director hat and shining from behind the camera; I read that you have three projects that you are being worked on that you have writing and directing credits on; what can you tell me about those projects, if anything at all?
Sure, man, I have a show that I co-created with a friend in Ft. Lauderdale, FL. We're going to shoot the first three episodes in May, and it's called Going Hot with Michael T. I don't know if you remember the amazing Barbara Walters, but when I was growing up, she would be interviewing people, and it would be so profound. You couldn't believe she asked what she asked, but you couldn't turn away. So, that is what Going Hot is like: we'll be sitting down with industry friends and politicians that I know and grew up with, and we'll talk about a lot of deep stuff. The first cat is someone I went to high school with: Ice T.
Then I will have Tom Hanks and Gary Sinise from Forrest Gump later; the three of us will have a reunion on the show. So, that's the kind of stuff we're doing, so I have to schedule dates that work for everybody and shoot it. But I have a film out now, a Paul Kaufman film called Butter. It was a book, and Paul wrote the screenplay. It's about an obese high school kid trying to get it together but can't. People are teasing him and calling him nicknames like butter, so the kid decides that he wants to take his life on the internet: he's going to eat himself to death. It's a movie that teaches us to be kinder to people, so that's the reason why I did that movie. I play his mentor in that project. And, of course, I have Law & Order: Organized Crime, where I play the head of the Black Crime Family, Preston Webb. He's a very responsible cat amid all the dark things that he is doing, but he is trying to get done with that whole life. It's interesting, so we'll see; I'm sure if he'll make it.
What is something that you want to tell people who are trying to chase a dream like acting, music, etc.? What is your advice for them to keep going with their craft?
First thing I want you all to really think about is the mindset in continuing to succeed. Success is not a destination, it's a journey, and I hear people say things like, "when I make it." Well, when you make what? If you walk by sight instead of by faith, it'll seem like you're not doing enough for an actor. It'll feel you're not getting as far and as fast as you would like to. We are all impatient; when I was younger, I learned patience. So, you must be patient with yourself and be hard enough on yourself to do your work as you prepare to be ready. Not just ready but ready ready when you're number is called. You better go in there and smoke it, just crush it. Because if you're two or three times better than people you will be competing against, you will never be denied. If you're aware that this is just good enough, you're setting yourself up for failure. Don't aim for average. It truly starts with you.
Law & Order: Organized Crime is airing now.
Interview by Marc Griffin
Photography by Nathan Johnson