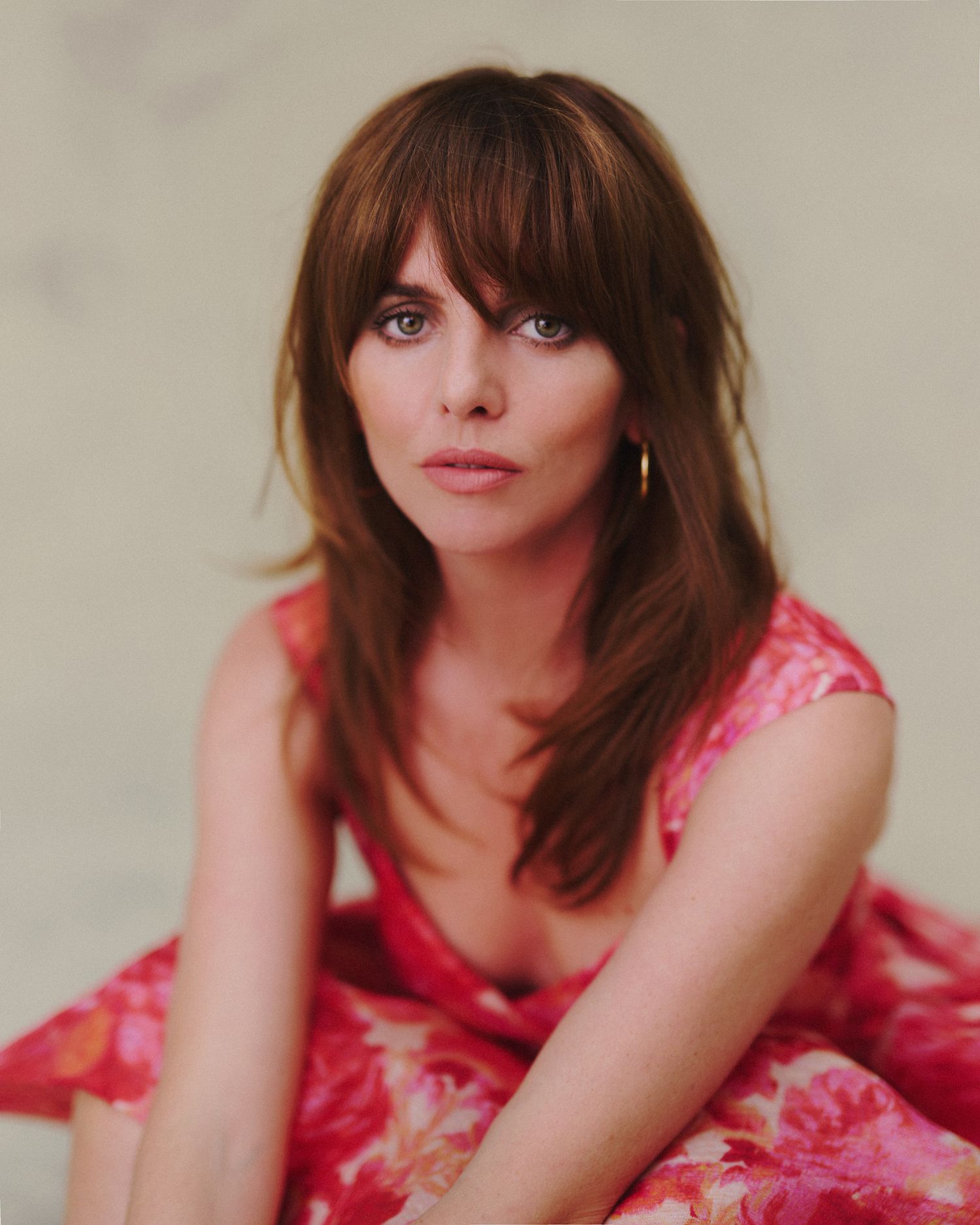 Ophelia Lovibond
With a filmography that spans across 20 years, Ophelia Lovibond is truly one of the most dynamic and daring actresses in the industry. 
Some actresses dream of a career like Ophelia Lovibond's. The British actress has been working deftly over two decades, shaping a filmography that showcases her versatility as an actress and the growth she's made through her craft, project by project. With stints on iconic British staples like Apple's Trying to BBC's Roadkill, to most recently the series about British Prime Minister Boris Johnson, This England. In the meantime, Lovibond's latest takes her not just to sunny Los Angeles but into LA in the 70s.
In HBO Max's Minx, Lovibond is at the helm as Joyce, a lovable but prudish feminist writer dedicated to telling the true lived experiences of women across America in the 70s. Unfortunately for Joyce, no one takes her idea seriously and she begrudgingly teams up with a low-rent publisher to create the first women's erotic magazine. For Lovibond, who is a self-described 70s lover, the project was made for her — not literally, but she truly embodies Joyce through her dedication to her work.
1883 Magazine's Kelsey Barnes chats with Ophelia Lovibond about Minx, portraying feminist themes on-screen, and more.
You've been acting for over 20 years — more than half your life! When you look back at your career, how would you describe the way you've grown and developed as an actress?
Oh, wow. I've never, ever been asked that. 
I actually first remember seeing you in the Gabrielle Aplin music video, which is funny, and my mum was always a fan of Elementary so you've always been around!
She's amazing! I've always been attracted to variety. I've never thought, "Now I'm going to focus on drama, or now I'm gonna do comedy, or now do plays." You eventually have some sense of what fits, but I have always been attracted by variety. I do think that's one of the main perks of doing this job at all. It's not 9-5, you don't know where you're going to be. When I started working when I was 12 years old, it was a sitcom filmed in front of a live studio audience, but it was a perfect introduction into working professionally. It was halfway between theatre and TV. To learn on a multicam sitcom at 12 years old — learning the awareness of the camera and the sizing of lenses — is a great education. You learn how to temper your performance and how to respond to the audience. 
I'm kind of learning as I go along. It's been really helpful to go from one project to another when they're really different from each other because those differences highlight different tools. I understand that each job helps me apply different tools in my kit. I do certainly believe there are some parts that I've got, like Elementary, I don't think I could have played that part if I was much younger because I wouldn't have understood her motivations as a character. Sometimes you do look at your work and realize you wouldn't have been ready to play them. You wouldn't have understood them.
With a role like Joyce in Minx, I feel like you've reached an entirely new level of your career and talent as an actress. When Ellen Rappaport was ​​developing Minx, she noticed that a lot of the 70s magazines were covering the same issues we're talking about today. Was there anything specific you did — whether that's research, reading books, listening to certain music — to flesh out Joyce's character?
Ellen, in fact, gave me a stack of Playgirl and told me not to tell HR! [Laughs] I got quite a few Ms magazines on eBay from the correct years. Any book in the pilot, because Joyce mentioned quite a few different books, I read all of those. I had read several already but some, like Our bodies Ourselves and The Kinsey Report, I hadn't read before so I got them in the correct editions. I didn't get revised editions from you know, later than Joyce would have been familiar. I didn't get revised editions from you know, later than Joyce would have been familiar. I took a photo of the stack of books that Joyce mentioned and sent it to Ellen. She was like, oh my god, you were born to play this role. I had my highlighter and little tabs along the way. 
Any of the references that I didn't get, I read up on. She talks about going to Vassar and not being some cool, sexy girl, so I had to do a deep dive on the school. I got the history of how it was set up and I got printouts of what the girls were wearing. Then I looked into what Pasadena was like to grow up in in the 60s and I'd also read the magazines that were out at the time and better understand why Joyce would want to supplement them with her idea.
Were there any 70s movies or music that you listened to?
Oh, that's the other thing — I love the 60s and 70s aesthetic. All of the clothing is what I love to wear. It is a dream, honestly, because I love all of that anyway. Most of my clothing is vintage from the 60s and 70s, my favourite car is a 72 Mercedes SL. When I got the script and saw it was set in LA in the 70s, I immediately said sign me up! With the music, I love disco, Crosby, Stills, Nash & Young, Jackson Browne, and so many more. It was helpful just having it on all the time every morning in the trailer. We'd always be playing 70s music on set Jake [Johnson] would always have 70s music playing, like Fleetwood Mac.
It's like immersing yourself completely in that world, I can only imagine what it was like going to set for the first time.
What's really brilliant though is it doesn't feel like a dime store version of it. You don't wear all the clothes from that year because you might have something from 10 years ago that's been repaired. It felt really real that way. The set design was just so detailed which was really helpful in locating the characters within that world. Seeing your castmates dressed up — the costume really helps tell that story. Joyce is a Vassar girl and she's quite buttoned up, so her clothes are indicative of her internal monologue that's going on. When you turn up and you see Jessica who plays Bambi wearing miniskirts and knee-high suede platform boots, or Doug with a single button done up on his silk shirt. It helps with the story, for sure.
There's a part with Shane, after they have been having casual sex, where he basically tells Joyce that she used him. It was an incredible scene that highlighted everything Joyce stood for and, essentially, threw it back in her face. Something that I love about Joyce is that, like everyone, she's incredibly flawed. What was it like working through that on-screen?
I remember when I was at university, and I went through this phase where I wouldn't wear makeup because that wasn't feminist. Why should I dress myself up, this is just an oppressive patriarchal tool. But, as you grow, your understanding of feminism becomes more complex. I certainly recognized elements of that and in Joyce. I think what is really interesting is that you can have a certain idea of what feminism is and then only apply it to women, which is sexist and that's not feminist at all.
That's certainly developed with me in the last 10 or so years, like understanding the effects of gender stereotyping on men and how that kind of feeds back into the treatment of women and how important it is to not only to tell women encourage women to express their opinions and allow men to feel comfortable expressing their feelings. They're not going to be called weak which is problematic on so many levels. It all feeds into each other. I do think that Joyce's behaviour makes her realize that her view of feminism is really limited. It's not intersectional in terms of gender or race because she's been kind of stuck in the library. She tries to apply her intellectual view to reality, and it doesn't always fit. I really loved that Ellen showed how flawed she is, how limited it was, and how she gets in her own way. She learns that she needs to be flexible to allow things to evolve.
What I love about this show is that despite being set in the 70s, it holds a mirror to issues we still face today. Episode 5, the hysteria around the birth control story, in the final episode it discusses marital rape which I found so powerful. At its core, this show is basically a workplace comedy, but it touches on so many issues we actually still deal with today. What was it like exploring this on-screen?
Frankly, there's no time to chat! It's a quick ship to schedule with a quick turnaround. I think what's clever about the show is that it planted the seed of thought, I hope anyway, with the audience. It's a half hour comedy that he doesn't go into deep philosophical discussions about marital rape, for example. I don't think even rape within marriage was recognized until the 1990s. Discussing a single sentence that references might be enough to spark contemplation of it. To have that in a show is satisfying to a part of. My friends and family have said this role was written for you. You're an actor, you want to play things that are completely different from you, like I'd love to play a sleuth set in the 40s because it couldn't be further from who I am. But it's amazing to really get behind what Joyce is saying because it's the scenes and questions that I am familiar with.
Watching this show opened up a lot of discussions between my own friends and I about sex positivity and neutrality which has been quite freeing. Sex and nudity for women has always been a hush hush topic and women have been conditioned to be quite passive. I read that a fan of the show came up to you in Venice of all places to share how much she loved Minx. It reminded me of the scene when Joyce gets a bag full of Minx fan letters from women. What has it been like to engage with fans about the show and their thoughts on normalizing male nudity and the female gaze? 
That moment in Venice was so unexpected. I was on my honeymoon, and we were at the gate in the Guggenheim. We were in the garden looking at sculptures. You know when you just get the sense that someone is watching you? I thought, oh, no, she's looking at the sculpture. Then I turned around and she was there, looking at me, and asked if I was in Minx! She was really shy and quite young. She tentatively said, "I think I'm a feminist?" I just thought about how long feminism was a 'dirty' word. A lot of people will say "I'm not a feminist, but I do think women should get equal pay" and that's that's all it is! What is it about that label that you are scared to have applied to you? What is it that you have been told? It means that you would want to distance yourself from it? I think it's just been made more complex but that was so genuine that it put such a skip in my step to see that she had really responded to it. 
I read that you had a lot of autonomy with Joyce and could put so much of yourself into it. I think that's quite poetic given the premise of the show. What was it like to have that much collaboration while on set?
The writing is brilliant, the writers know what they're doing. Jake and I just love improvising. If we were crosshooting something, we'd ask to do one more and play around a little bit with it just to see what we could provoke out of each other. In some shows they say no, they prefer you to stick to the script. But with this they encourage it! It was really fun and it's freeing because you're getting to play around. You just don't know what's going to happen which is why I love improvising.
I know you're prepping for season 2 now — as you head into it, if you could give Joyce a piece of advice from you as Ophelia, what would it be?
Oh my god, that's so good. Do you have advice for her?
Given that finale, I think she's bitten off a bit more than she can chew. I have complete faith in her, I think she'll figure it out. She just might need some help.
Yeah, I think she needs to know that accepting help doesn't mean it's a defeat or that she's wrong. Again, that sort of is quite an interesting aspect of the character. She's felt that she can't depend on anyone else. You do see elements of that in season one where she gets manipulated or she gets double crossed or betrayed, and she just from experience doesn't feel like she can trust anyone else. She's overstretched herself and it's at the point where she just can't really enjoy any of it because it's become this behemoth to herself and the idea of letting anyone help her. She thinks they're going to do it wrong, and she will lose her temper. I'd tell her to trust herself and trust that not everyone is going to betray you. It's okay to be discouraged. Disappointment or rejection can really disillusion you, but it's important to keep going! 
Lastly, if you could manifest something for yourself this year, what would it be?
A selfish request —  I would say house on Ischia. A little nice hideaway house with a little Fiat 500. That is the dream.
Season 1 of Minx is out now on HBO Max.
Interview Kelsey Barnes
Photography Pip
Styling Racheal Perry
Hair/Grooming Liz Taw
Makeup Justine Jenkins
Top image credits
Look Zimmerman Jewellery Mejuri