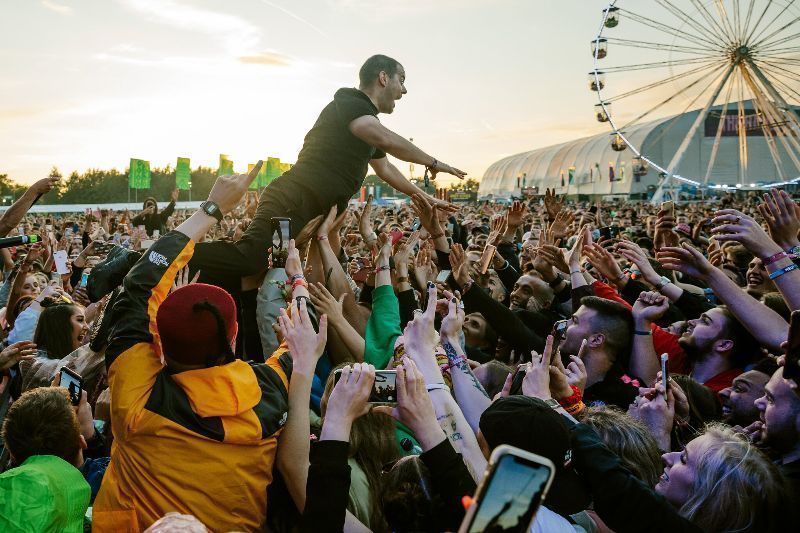 Parklife Festival 2019 x Rimon
For a Canadian who has only experienced North American festivals, Parklife was the perfect introduction to the British festival scene. Happening just a short tram ride away in Heaton Park, Parklife embodies everything one would expect from a British festival: a huge variety of acts, DJ sets to get every person moving on the makeshift park dance floor, and lots (and lots) of mud.
In true British fashion, Parklife attendees embrace the mud and the rain to see acts such as George Ezra, Khalid, Solange, Christine & The Queens, and Manchester's very own  Blossoms, just to name a few. 
You may ask what makes Parklife different from the many other festivals happening around Britain and Europe this summer, and that is its ability to appealing to all of its attendees. For two full days, you're in the middle of a park with the power to choose to get right in the middle of the crowd to see an iconic act like The Streets, or maybe decide to go on the ferris wheel to watch the main stage from the highest point, or have a drink and catch a DJ set from one of the many talented DJs, like Mark Ronson.
Parklife also gives new artists a chance to grow and flourish in front of an audience who might have never seen before. In particular, Rimon, who is a singer from Amsterdam, performed to an excited crowd of both fans and new fans alike. Her newest EP was released at the end of 2018 and has been embraced by fans for its linear storytelling. After her Parklife set, we sat down with Rimon to talk about her music, her inspirations, and her star sign.
What's your origin story? Tell our readers a bit about you and your music.

I started singing when I was very young and when I got to the age of 16 or 17 I felt like, okay this might be something that I can really dive into and make a living out of it, you know? I was very insecure all the time until I read this book called The Alchemist; it inspired me to just go after everything I want in life and instead of just thinking about doing something, just do it. When I was younger, I used to watch MTV all the time and I'd hear about the big stars singing in the little bar and then all of a sudden, the CEO of this big major label was there and then they signed them and it's like this perfect fairytale. I always thought, Oh, it's not going to happen for me. At the age of 18, I met Samuel Kareem, who is the producer of all the songs. We started making so many songs and then, at one point, we just decided to release it and everything went so fast after that.
You dropped out of school, right?
Oh, yeah. I dropped out when I was like, 17 or 18, around the same age that I was reading that book. I was like, f that! My mom is African and education is priority number one, but I really felt I needed to pursue music. I think two years ago I started music school but I dropped out of that as well because I got so busy with the artist life!
You released your full length EP, BBYGIRL FOCU$,at the end of November. What does that collection of songs mean to you?
I was like recording a lot of songs and I noticed a year after that, because my songs are very feelings based, I realized that I was very euphoric at one point in my life; I met a guy, we had a relationship and everything was fine until he started cheating. I noticed that in my songs when I was recording the song started to be more melancholic and sad. Six months later, the songs are very empowering and very like because I made the song moved and focus in that period of time. The songs on the EP are basically in three phases; the first two have a lovey dovey vibe, the third and fourth are very sad, then the fifth and the sixth I'm trying to tell myself I'm not dependent on this person and I need to put that energy that I've been putting into one person into myself and my own craft. That's why it's called baby girl focus to always remind myself to focus.
You're quite a vibrant storyteller through your lyrics. Where do you pull inspiration from?

Love and stuff that I'm going through. Do you believe in zodiac signs?
One-hundred percent.
What's your sign?
Scorpio!
Scorpios are dope as hell! I love Scorpio as friends, but not as lovers! My ex-boyfriend was a Scorpio and he was psycho! [Laughs] Every time I was in the studio he would get so jealous because I'm around so many guys! He would feel possessive and it was just too much. I'm an Aquarius and it didn't work.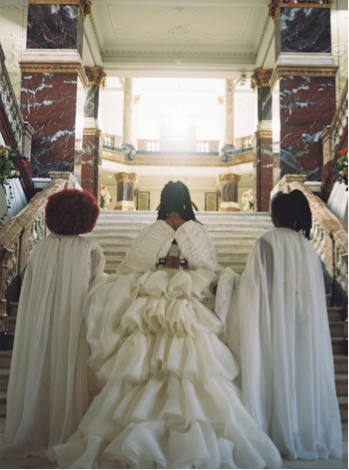 Which is so funny because I can't deal with Aquarius as lovers!
But men are even worse because Aquarius are quite detached in a way and they don't show their emotions I feel like as a female you can do that more, but for men it's even worse so it's like double detach! For me, I'm an Aquarius and it's hard for me to express my emotions out loud. Writing is like a form of therapy in a way to put my feelings out there and make a song out of it. So that's where I pull my inspiration from—my emotions, but also things that I see around me or things that interest me. For instance, Nighttime is a song about a stripper and I'm obsessed the whole stripper scene in a way; people perceive others being strippers as a bad thing, but I see strength in it.
It's completely owning your own body and making your own choices.
Exactly! And people talk so bad about it. It's something I'm really inspired by. Nighttime was about that, which has nothing to do with any of my emotions. I try to expand and try different things and to just look around me and not always be into my own feelings.
Last month you released a visual for your song, focus,which was shot in one take. Was that stressful for you?
To be very honest, I feel like my other videos were more stressful because this was one take, which is really hard, but I didn't have to stress about locations or scenes! It was just one take, everybody knew what to do and that was it. I've been so involved with my other videos; I like to write all the concepts, treatments, and everything for all the videos, so whenever someone comes to me and says we need to cut time so this scene and this location is not going to work out, for me that's so stressful. With this video, it was stressful because the light was gone, the sun was going down so we didn't have a lot of lighting, but it wasn't stressful in the way I'm used to. 
Where did you shoot it?
A museum in Amsterdam where they showcase different cultures. It has an institute in there for teachers and students who have to get immunized to go to different countries. In the building for that there's this marble hall, which is where we shot the video.
I found the video and the lyrics empowering. The lyrics "you don't need no one/to comfort yourself/embrace yourself/all of this by myself/all of this without no help" in particular really spoke to me. After you sing these lyrics in the video, there's a man struggling in the chair. What does that represent?
It's a trilogy in a way. I mentioned the themes prevalent in the EP, so the first is in sugarcoated love, which was lovely dovey and me and the same guy just being all cute and so in love. The second video was dustand that has the same guy and that's where I find out that he cheats, so that's a very grimy video. The second video closes with me putting him in the trunk of the car, kidnapping him basically. In the third video, I use the same guy and force him to listen to my words; I let him know that I'm gone and I'm in a better place now. I don't need him at the end. He's stuck in the TV and I trapped him in his own guilt.
I like that everyone is wearing white and the audience doesn't even know he's there until he appears tied up in all black clothing.
Yeah, it was it was supposed to be like a little plot twist to have him there as well to close the story. He's wearing all black was to show that we're pure, we've moved on, and you're in the gutter.
Visuals seem to be important to you; do you have them planned when you're writing?
When I start or finish a song, I immediately have visuals in mind and I'll write it down and I'll get PowerPoint up and just get the whole mood, the whole concept the whole shot list, whatever. We have the same team every video, it's just our friends basically, and we try to execute my plan the way I had it in mind, which is not always the case. 
You seem to be pretty hands-on.
Yeah, definitely. Before I started releasing music, my manager had me fill in this sheet and I had to write what would make me different from other artists in the same scene that I'm in. I kept thinking about that and I thought the visuals would always make me different. I used to be in photography so visuals are so such an important thing for me, so I try to combine both worlds in a way.
I don't feel like a lot of artists have a long narrative in their videos, either.
To be honest, I wanted to do a short movie! We didn't have the budget, but I would love to do a short movie based on every song one day.
I feel like as an independent artist, even if you don't always have the budget, at least you don't have to give up certain artistic things.
Yeah, definitely, that's why I'm not signed. I feel like I need my creative freedom. 
Who are some of your musical inspirations?
I love a lot of artists and a lot of different genres as well. I love like Erykah Badu, Lauryn Hill—those are the legends! And then there's Frank Ocean, especially because his songwriting is insane to me. I listen to a lot of hip hop actually, so lots of Kanye and stuff like that. FKA twigs, too! She's a real inspiration when it comes down to her visual and overall concept and the way she brings out music it's not even about the music to me; it's mostly her visuals, her shows, everything is just madness.
Last question: What's coming up for you?
I'm going to drop another EP this year with a few singles and videos and all of that, and right now festival season is happening, of course. I'm thinking of doing a Europe tour at the end of the year when the EP drops. And I want to work on my album—that's my main goal right now.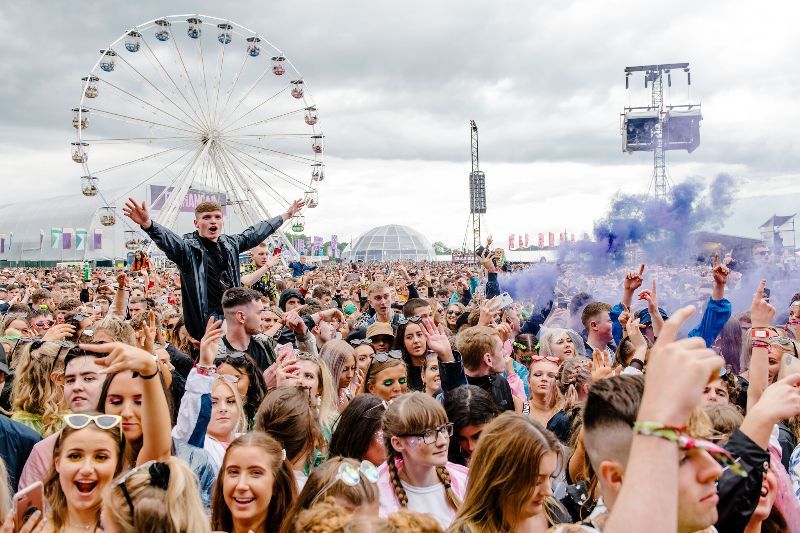 Parklife will return to Heaton Park on 13th & 14th June, with early bird tickets on sale now. For more information, click here: https://parklife.uk.com/
Written by Kelsey Barnes