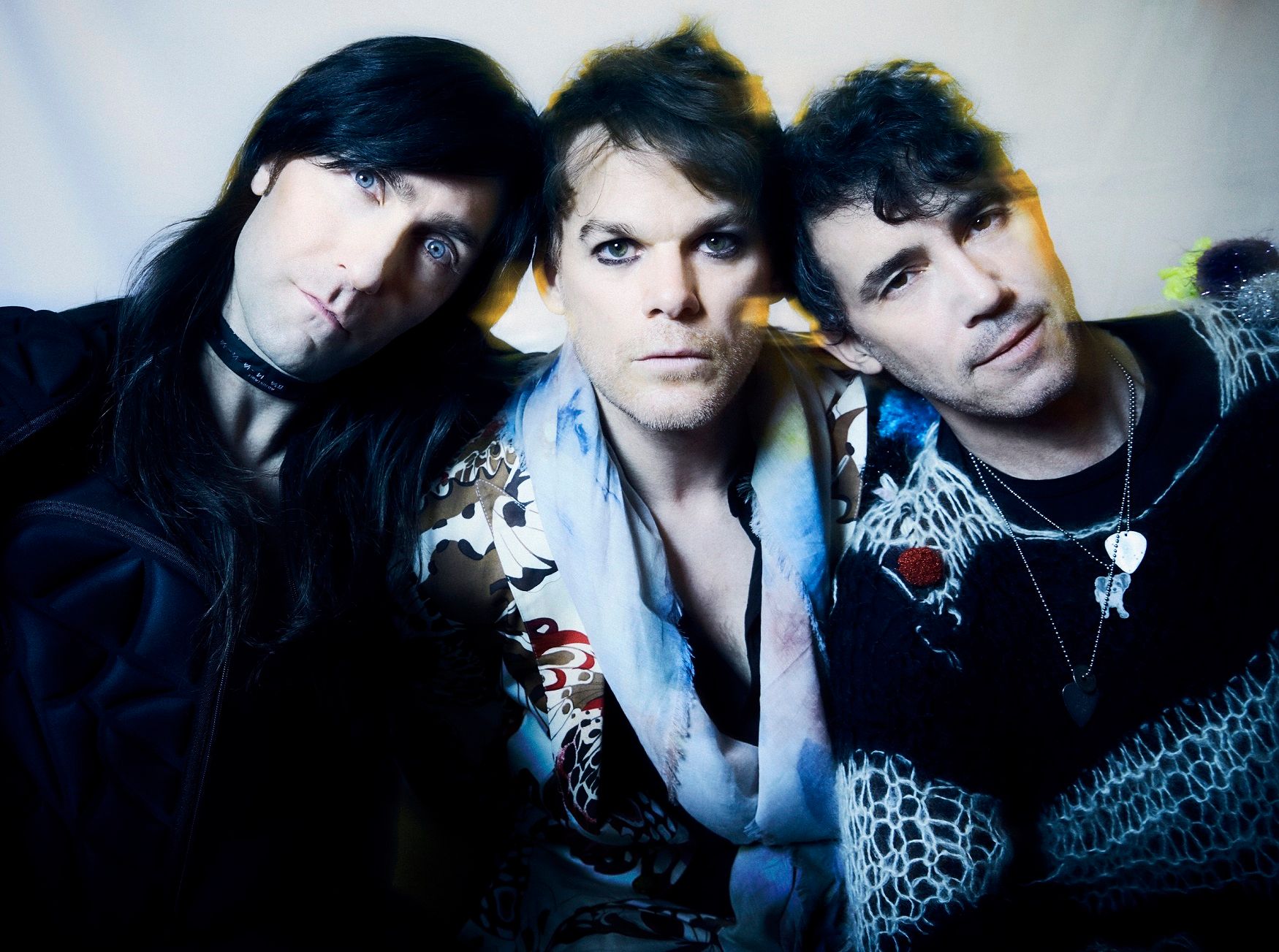 Princess Goes To The Butterfly Museum
American trio, Princess Goes To The Butterfly Museum, are a band of calibre.
With an alt-rock sound that favours stripped-down synthesizers, drums and ambient electronica, Princess Goes To The Butterfly Museum (normally abbreviated to 'Princess') are a fast-rising group with a flair for theatrics and the experimental. And that makes perfect sense when you delve into this supergroup's history. Comprised of frontman Michael C. Hall, drummer Peter Yanowitz and keyboardist Matt Katz-Bohen, Princess was founded several years ago after the trio met whilst working on Broadway's 'Hedwig and the Angry Inch'.
And yes, those names might ring a bell. Michael C. Hall is an outstanding musical talent that has performed on Broadway's 'Chicago' and  'Lazarus' to name a few. Alongside this, he's also renowned for his TV and film work, most notably for his roles in 'Dexter' and 'Six Feet Under'. Peter Yanowitz is a versatile musician who was a founding member of The Wallflowers, Morningwood, and has shared the stage with artists such as Natalie Merchant, Yoko Ono and countless others. Finally, the effortlessly cool Matt Katz-Bohen has spent the last decade touring with Blondie and has worked with Boy George and Cyndi Lauper. So yes, this trio has some pretty big strings to its bow.
But what makes Princess a truly exciting project is the fact they've been able to combine their individual talents, influences and  backgrounds in a collective manner which has resulted in an enthralling and immersive body of work with their 2021 debut LP, Thanks for Coming. Now, the band are gearing up for their first ever UK/EU tour which starts the end of this month. So with that in mind, 1883 Magazine spoke with Hall, Yanowitz and Katz-Bohen about their debut record, forthcoming tour and more.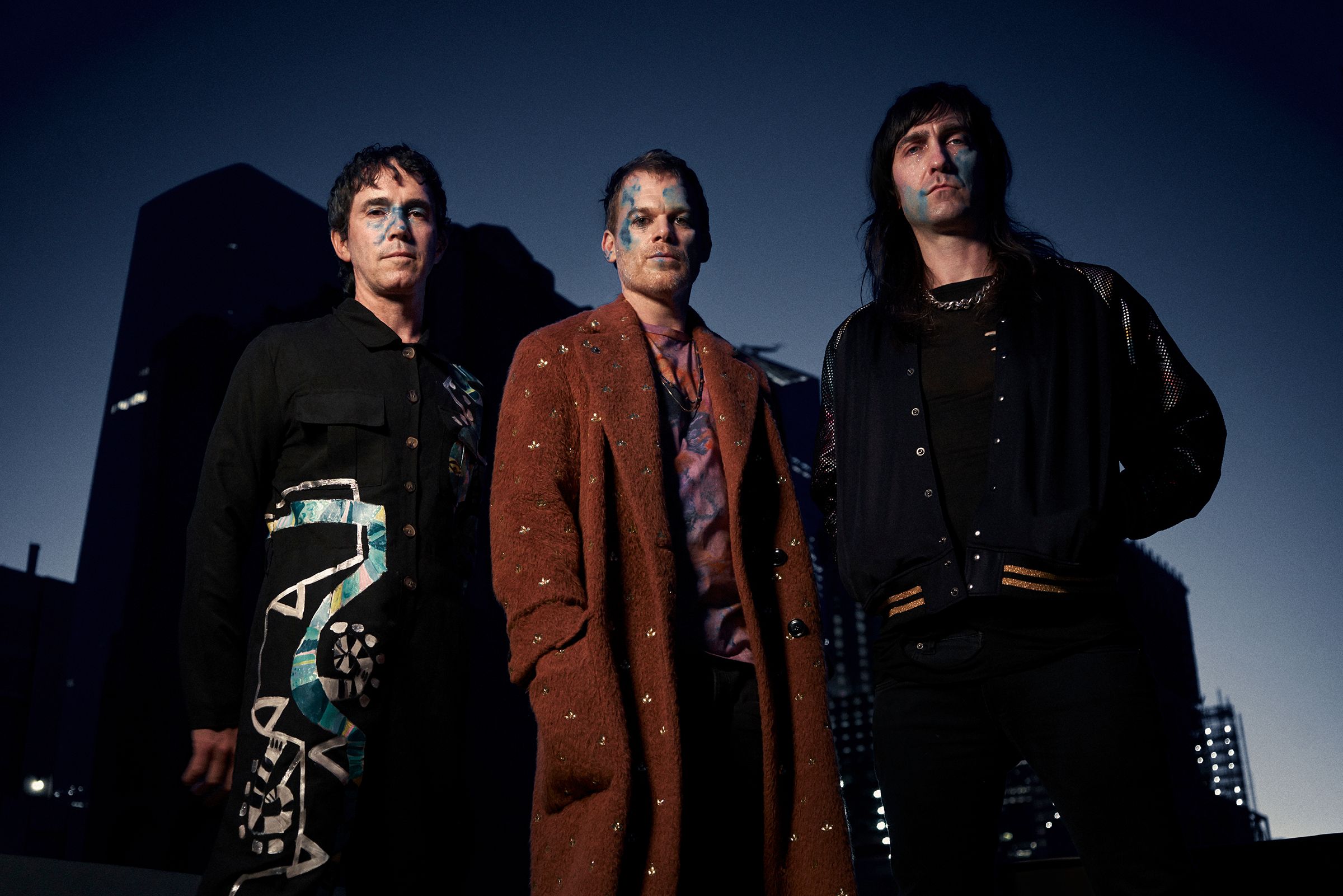 Hi guys, your full length debut album, THANKS FOR COMING, dropped earlier this year. What were the biggest challenges you faced when making it?
Michael: The biggest challenge might have been just waiting to release it.  We've had it ready for a while and we were just eager to get it out there. We had certain people consult us and let us know when they thought it might be a good time to release it but I don't know. That was me trying to come up with a challenge but nothing else immediately comes to mind to be honest.
Peter: The biggest challenge for me was how we were going to release the album and everything that comes with that. We had self-released our first EP and I think during the pandemic, there was really very little chance of getting anybody else to release it because it seemed like everybody was kind of just waiting out the pandemic and so we ended up self-releasing Thanks For Coming on our own imprint. So that was a challenge, we had to figure out how the logistics of that and how to put out music in such a weird time.
As 1883 is exclusively premiering the new music video for "Tomorrow's Screams", can you tell us about what inspired its music video? It seemed quite spontaneous or was it all well planned out?
Matt: It was pretty spontaneous really. We were running around and worked with director, Lexie Moreland, so she had a lot to do with the video. Lexie had a lot of brilliant ideas like 'you guys feed each other apples', so she told us what to do.
Michael: Yeah, we trust Lexie and we allowed ourselves to be her little guinea pigs. We shot it at a house in Massachusetts where I was working at the time and she managed to capture something that felt  very authentic and true to life, even though it was totally fantastical and weird. I don't know, maybe that's what it feels like to be.
We need to acknowledge the fact that you're all in many wonderful creative projects outside this 'supergroup'. Simply, what do you each get from Princess Goes To The Butterfly Museum that you don't get from the others?
Matt: we have a lot of fun just collaborating with each other and we all come from different worlds and we all respect that aspect of the collaboration. Which is maybe something we don't do as much in our other projects.
Michael: Yeah, it's cool to be a part of something that I think the three of us feel we own. We're not doing this in service of anything other than whatever collective thing we're able to create. And I feel like it's all of ours, It's not like any member of the band is there to serve anyone else's vision. It's this collective project that we're all in service of. None of us planned the band, It just sort of happened to us and I think it's been a beautiful thing and we've just continued to show up for it. And you know, that does feel big, to my experience creatively.
That's great to hear, it must be nice for you all to have this collective project that you're all completely passionate about. 
Matt, speaking of side projects, you've worked with Blondie for many years, what would say have been the biggest lessons you've learnt from working with Debbie Harry and the band? 
Matt: Yeah, working with Debbie and the band, I would say they take it very seriously but they also don't take it all that seriously. So I appreciate that and they make me laugh constantly. So that's been something I've learnt from them.
Secondly Matt, on another topic, it's fun that your band's name was made by your daughter, is she still cool with the three of you using it?
Matt: Oh yeah, she loves it. She absolutely thinks it's great and she's very proud. She tells kids in her class about it. And yeah, she has a great time with it.
Peter, you're an incredibly versatile musician and drummer, you've obviously played as part of The Wallflowers and Morningwood, but also drummed for Natalie Merchant, Yoko Ono and many more. How do you keep drumming exciting for yourself and what would be your perfect drum set up?   
Peter: To answer your first question, it's really easy to keep drumming.  At The forefront of it, it is just so much fun to play the drums and I'm kind of a hyperactive person or at least I was when I was younger. But even now, drumming is such a good match for me, just beating on this shit. So I never really have to struggle to keep the drugs interesting for myself. They're always really fun and drumming is a necessary part of everyday life for me.
Peter: My dream kit is the one I play in this band. I play this electronic kit, a Roland V drum kit and it was made in Japan.  It looks like an acoustic kit but it's all connected by wires into a brain and it's really cool because you can get real drum kit sounds but you can also get electronic sounds and 808 samples. It has a whole library of all these sounds and then I can mix and match and make these hybrid drum sets which is kind of what I've done in Princess. It's the first time I've ever really been able to play with all of those sounds and have them all kind of work together. So obviously this is my dream setup, it's a mix of Roland and acoustic drums.
I love when you can have a drum kit which is a hybrid of both acoustic and electronic elements, wether it's an acoustic kit with an electronic sample pad involved, it just adds so much more to the dynamics.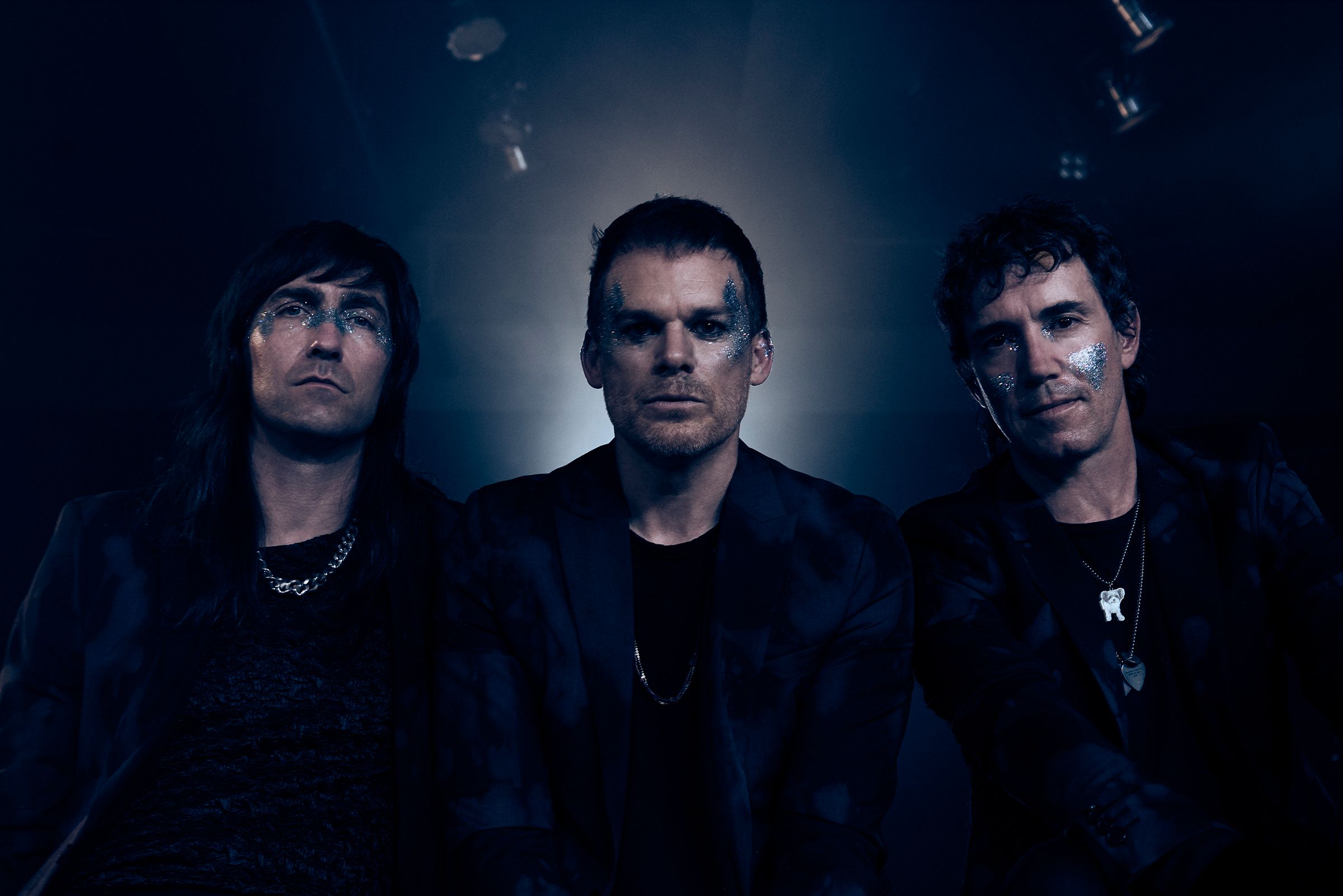 Michael, this is just my opinion but I feel Bowie would have enjoyed Princess Goes To The Butterfly Museum, after meeting him and performing in Lazarus, those experiences must have surely of had a profound effect on you and could have possibly inspired some of your songwriting? It feels like there are a few nods to him on THANKS FOR COMING and your debut EP.
Michael: Where?
It's just the ambient soundscapes and the lyricism which remind me a bit of Bowie. You could take "Nevertheless" off the album or "Ketamine" off your self-titled EP, and they just feel like they are somewhat inspired by Bowie to some extent. This is just my personal reaction to listening though…
Michael: I'm very flattered to think that would occur to you. Certainly the sounds we're making, we all have our influences, but that's definitely one of the places where our inner-influences intersect. Working with Bowie was beyond 'beyond' and definitely gave me maybe some sort of catalyst to move myself into this band, none of it is necessarily conscious though. I'm not looking to emulate anyone lyrically, but inevitably the people and lyrics I love are going to just naturally influence whatever comes out. So I suppose that makes sense because he was huge.
Also, I'm curious to know Michael, Let's say Dexter listened to Princess Goes To The Butterfly Museum, which song do you think the character would be his favourite?
Michael: Oh man, he'd probably like "Sideways" but I don't know. When I think of Dexter listening to music, I think he would listen to marching bands with no lyrics.
We need to talk about the fact that you're going on your first ever debut headline UK/European tour soon which kicks off at the end of this month! Are you all excited? And is there any particular venues that you're really looking forward to playing?
Peter: We're excited about all of them and very excited to get over to the UK, Scotland and Ireland. They're all going to be new venues for us. I believe I've played Bush Hall as part of another project but we're really thrilled. We've been playing around New York for the last few years and the shows have been few and far between. We'd play one show and then play another like a month after. But this tour will have 16 shows, so it's going to be rapid fire, one after the other. And personally, I'm just looking forward to that.
Peter: It will be really interesting to see what happens to the band, our music, and live set after we play all these shows one after the other. When we were writing the record and even our EP, it's always been in our minds to go over to Europe and the UK. For some reason, being in the States, and writing the kind of music that we make, it just felt natural to go to the UK. When we play in the UK, there will be a lot more potential people that would understand what we're doing with our music and accept it. So it's pretty cool that it's actually worked out that our first tour is going to be in Europe and UK.
Finally, what's next for Princess Goes To The Butterfly Museum in 2022?
Matt: Yeah, we have a new album that's done, it's mixed and we're just waiting. We're putting the final touches on the mastering of the record right now. So that's what's coming in 2022 and there will be more touring as well! 
Princess Goes To The Butterfly Museum's UK/EU tour is on sale now. Purchase tickets by clicking here. Follow Princess Goes To The Butterfly Museum @princessgoesofficial
Photography by Paul Storey
Interview by Cameron Poole