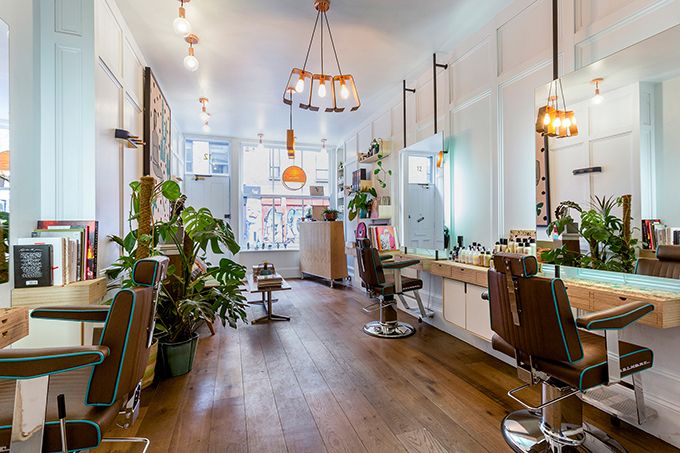 Ralph + Rice
'We're not mega eco-warriors, nor are we trying to force this belief down people's throats," explains Anita Rice, co-founder of Ralph + Rice, east London's coolest new eco-friendly salon. "We want to showcase that you can have a premium service and help the environment by just doing a little bit.'
Wise words from Rice, for if everyone did a little bit, not only would we would see a change across the industry but across the world.
Situated on Cheshire Street, a stones throw from East London's famed Brick Lane, Ralph + Rice is dedicated to providing eco-friendly practices with salon expertise. In fact, so dedicated are founders (Dan) Ralph and Rice to their cause that everything from interior design to hair-care has been chosen according to it's effect on the environment, ensuring the salon is truly sustainable.
On a personal mission to consciously make more sustainable choices, including those in beauty, I was excited to experience the salon for myself.
Spread over two floors, the small yet expertly designed salon was built using locally sourced furniture from Hackney while the fixtures and cabinets are made from on-trend cork (apparently one of the most sustainable products you can use, since the extraction of the cork doesn't harm the trees). It's proof to Ralph's and Rice's dedication that each and every detail has been thought of; from eco taps to save water usage, to upholstering the salon chairs in the UK reducing their carbon footprint and even using biodegradable waffle-print towels (made from recycled paper) instead of cotton towels, saving vast amounts of energy by ditching all that washing.
With over 18 years hairdressing experience New Zealander Rice is the creative talent behind the brand and the one I am lucky enough to have my appointment with. As she sets to work transforming my unruly tresses with some expertly placed highlights, we bond over our mutual love of Davines.
An Italian, family-owned hair-care line, Davines is part of the new crop of hair-care brands proudly committed to their sustainability and use of natural ingredients, using both renewable energy and recyclable materials to produce their products. It is also the only hair care line Rice uses in her salon.
Following some further banter, a wash and treatment using the divinely smelling Davines and a desperately needed cut and blow-dry, the primary reason for visiting the salon become clears. Dan Ralph and Anita Rice may be dedicated to the greater good but they also know a thing or two about great hair.
Help the environment and look good. I'm hooked.
To book your appointment at Ralph + Rice visit www.ralphandrice.com
Words by Alicia Irvine-MacDougall
@editorsbeauty