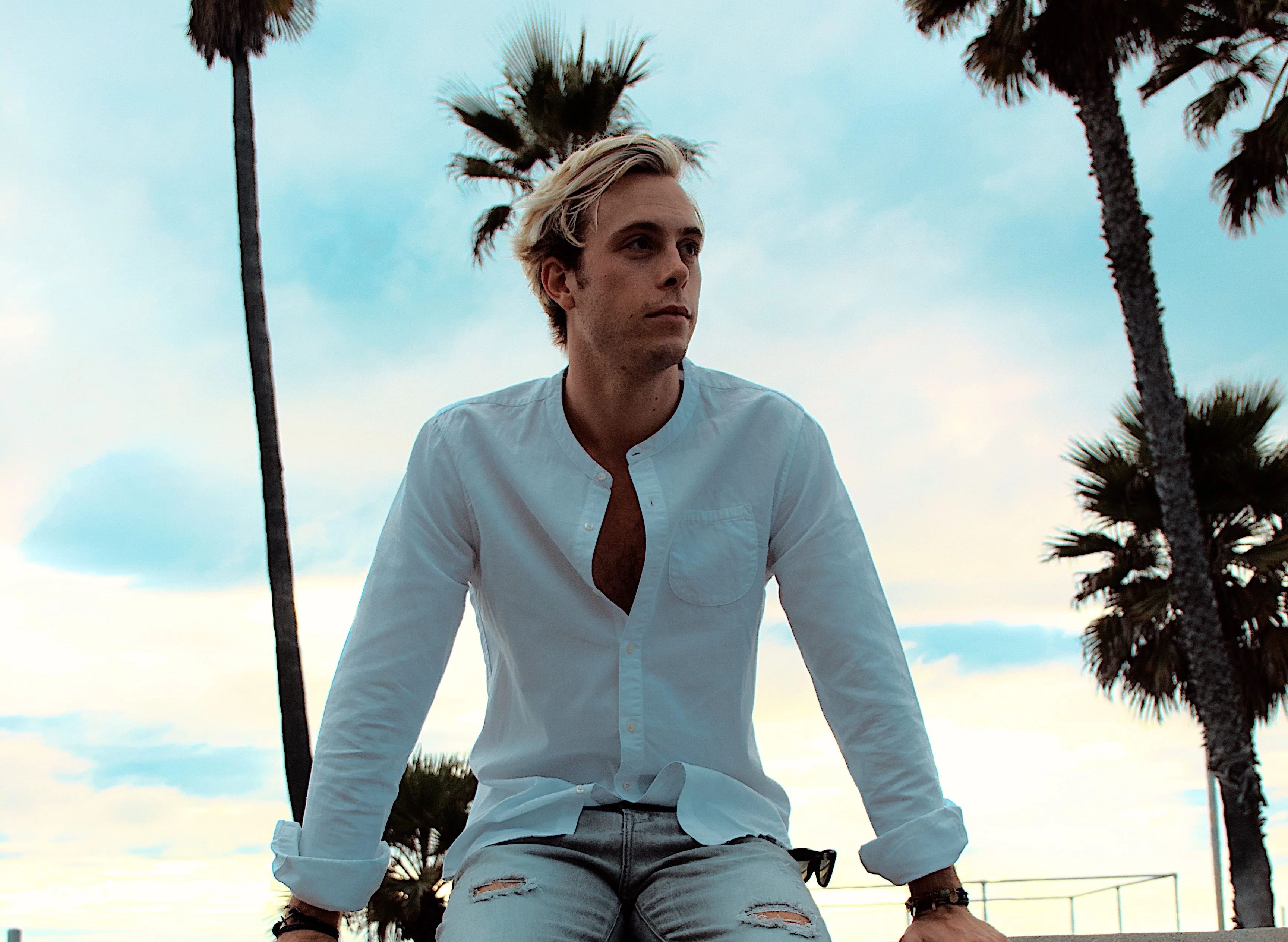 Riker & The Beachcombers
Whether he was part of the musical act R5 with his siblings, acting on Glee as Jeff, one of the Warblers, or competing on the 20th season of Dancing With The Stars, Riker Lynch has been singing, acting and dancing his entire life.
In his brand new project, Riker & The Beachcombers, Riker sets out on a trop rock vibe that'll make you want to grab your keys and drive out to the beach for a rocking party. 'Sex On The Beach' is hot, fun and a headbanging tune. The music video is even more steamy, incorporating some of the things he loves the most, which are 80's films, family, and friends. 
Riker is set to go on tour this fall with one of his favorite bands, O.A.R. Alongside his first single, 'Sex On The Beach', he has a new single coming out titled 'She Just Wants To Be Famous', with hopes of getting an album out soon after. Since our chat, Riker has gotten married to his fiancé, Savannah Latimer, and things have been busy for him. We touched base with him on everything from his music video shoot to what you can expect when you go see him on tour!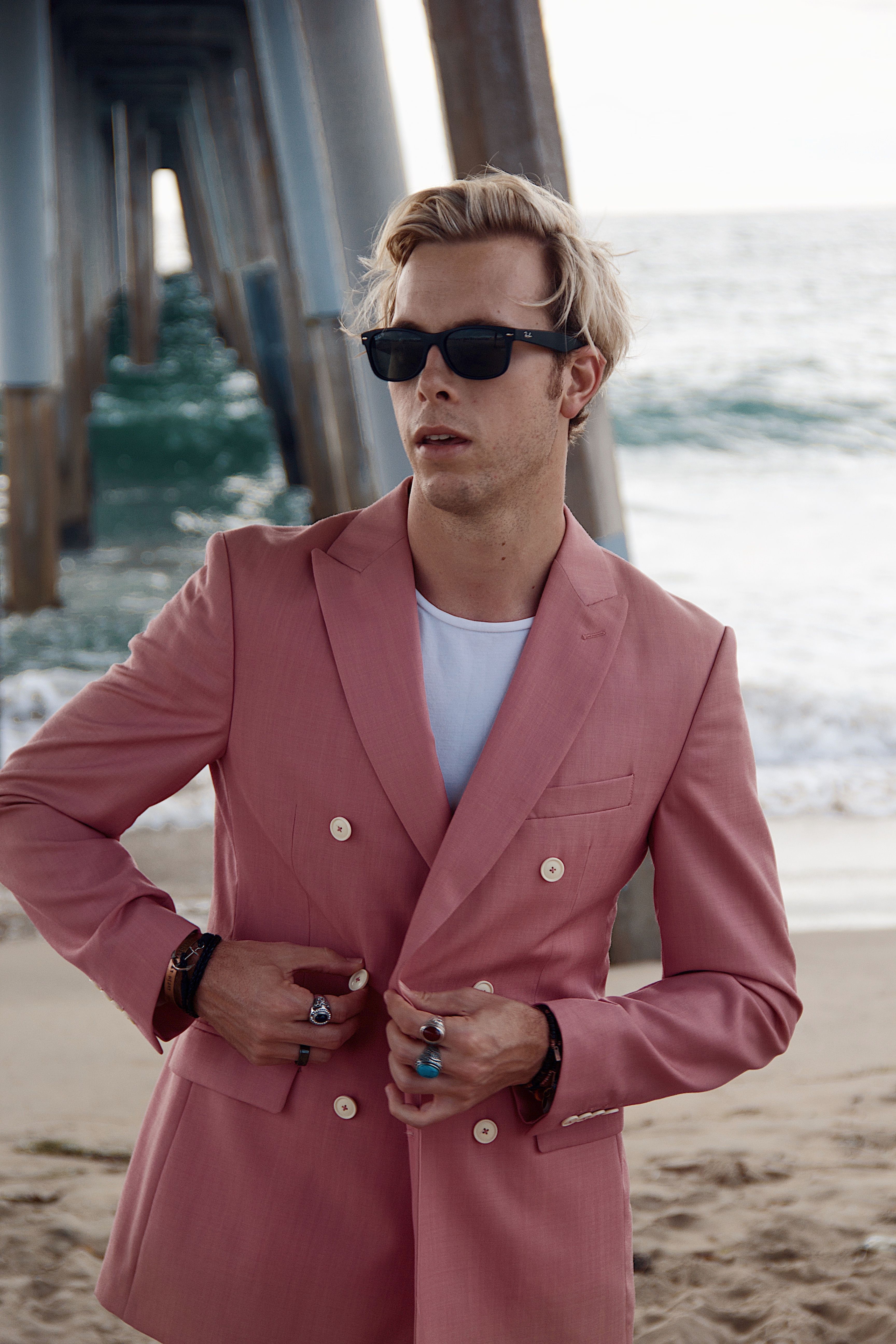 'Sex On The Beach' is quite different from anything you've released as a part of R5. Talk to me about this new era of music that is Riker & The Beachcombers. 
With Riker & The Beachcombers, we're really focusing on this tropical, beach vibe, usually coined as trop rock. Nobody is really doing anything new in that genre. Jimmy Buffett made the genre incredibly popular and famous with 'Margaritaville' and all of his other songs. I'm inspired by that island, laid-back, vacation, no-worries kind of vibe and I wanted to add just a little bit of the current pop vibe, a little more of rock. My project's more like a rocking beach party. You're at the beach and it's a great party, but it's a little more of a rock and roll vibe than just always laid-back. I'm going to have more laid-back tunes, 100%, but at the same time, I really like to put on a big show. I have a lot of energy within the songs.
With 'Sex On The Beach', my brothers wrote it on tour. Might've even been on an R5 tour. They had that guitar lick, had the chorus. When we got back from tour, Ross and Rocky started The Driver Era and released their first single 'Preacher Man'. I started talking about this idea I had for a project that has a tropical beach vibe. Everyone knows I love anything on the beach, any island, I'm all about it. The only places I like going on vacation are tropical places. Everything about Riker & The Beachcombers is very me in a music project. When I was talking about it with my brother Rocky, he was like, 'Dude, I have just the song!' He played me the demo for 'Sex On The Beach' and right then I decided that'd be my single. We finished it a couple days later, recorded it and then I shot the video. I'm really satisfied. My brothers are really great writers, they've been writing for years now. The fact that they just had that and they lent it over to me and I was able to finish it with them is just fantastic. They've got big things coming as music writers.
The music video for 'Sex On The Beach' looks like it was a lot of fun to make. Tell me about the shoot.
It was very fun! We had to find a way to use family, friends, and property because I don't have a budget for these things yet. My cousin Gordy and I got the idea together to not do a typical, on the nose, sex on the beach kind of a music video. Let's make it a bit more comedic. We wanted to have my character be the pool guy and drew inspiration from '80s films like Fast Times at Ridgemont High, National Lampoon's Vacation. We had that little dream scene in the middle that we pulled directly from that. It was really chill. I was texting Kimmy Caruso, who was my co-star in a film called Colossal Youth. I was like, 'Hey, I'm looking for someone to be in this music video to just be a friend of Savannah's. All you have to do is hang out by the pool and I'll make you a cocktail.' She was like, 'Done, I'm there!' It's pretty easy to get friends to just come and chill by the pool, especially if you make them a nice, tasty beverage. My producer is my other cousin Gus, his girlfriend Kyla is the blonde girl in the video, and of course, my wife, Savannah, is the lead girl. We just thought it'd be fun, an easter egg for the hardcore fans, or for people who are going to be discovering the music and discovering myself. So after they watch the video, they can figure out things like 'Oh, that's his wife'. I like little things that are hidden, under the radar, to give a little extra surprise, if you will. It was a lot of fun, it was a gorgeous day out. We shot that up in Chatsworth, California. That pool and that whole house is owned by a band called Between Friends that we're really close with, and they were nice enough to let use the pool and shoot the video.
What was it like being on Dancing with the Stars? You made it really far on the show!
That, still to this day, was one of the hardest things I've ever done. I can already kinda dance too, which blows my mind. I did Glee for three years, I had done some hip-hop and some tap growing up, so I kinda thought I could fake my way through it. But when I got on, I instantly thought, 'Oh my gosh, this ballroom dancing stuff is completely different!' It's so technical and so physical. If your elbow drops just a little bit, you're incorrect and you lose points for that. It's, like, six hours a day for rehearsal, Tuesday through Saturday, and then shoot the show live on Monday. It is a very intense experience, but so fun. Andy Grammer, who's a friend of mine, asked me about the experience because they were asking him to go on the show. I told him that he should absolutely do it. It's so difficult and such a challenge that it makes for a real fun experience, and you can prove to yourself that you can handle all this choreography and technique. 
How do you feel physically after the show?
I'm pretty active. I play ice hockey twice a week, almost on the regular. I play softball and beach volleyball with my family. I was semi-prepared for this, but after the first week I figured out that this is an entirely different style of endurance. With all the adrenaline and nerves that are just built up during the week going into the live performance, you go all out for two minutes for as hard as you can. It's a different style to just working out where you do a set for 30 seconds and then rest. Hockey's like a 45-second shift where you go all out and then rest for a minute. It's a different endurance style. By the end of the show, I could do two numbers back-to-back, if I needed to.
You're going out on tour this fall with O.A.R. What should fans expect from your live show?
We're going to bring the tropical vibes to wherever we are, and most of it is going to be on the East Coast when it's going to be chilly. Hopefully, I can bring some sunshine vibes that the music has and bring that out onto the stage. I'm trying to get my sister, Rydel, to come out and play keys. My brother-in-law is going to be on drums the second-half of the tour. He can't be on the first half because right now he's on tour with Julia Michaels. I'm really excited about that. I'm really big on family and surrounding myself around great people I look up to. I want to be around that kind of energy, and also give out that positive, optimistic and fun energy as much as possible.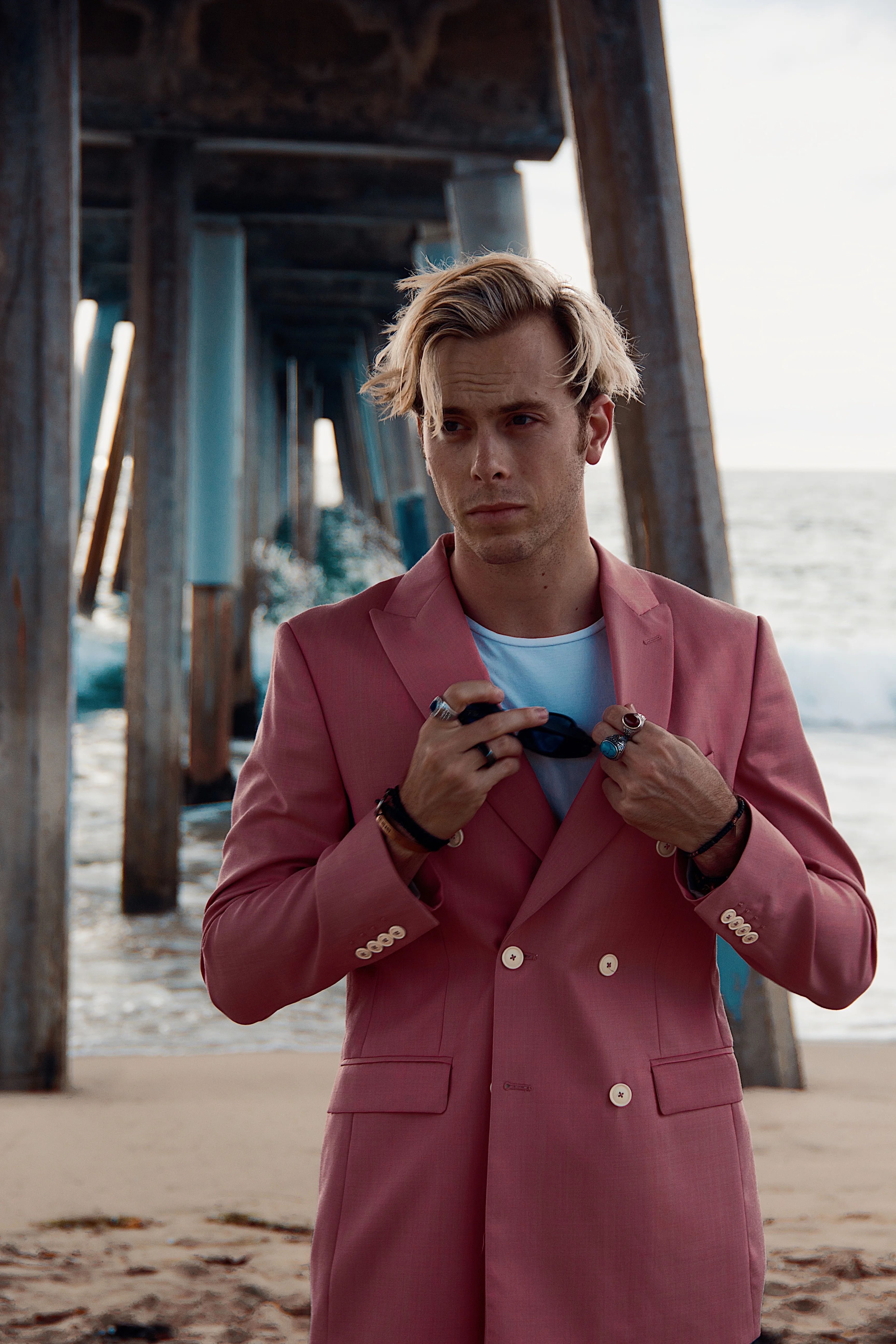 If there's any movie trilogy or series you could have one of your songs in, what movies would those be?
I'd love if one of my songs got into a Quentin Tarantino film. He's so specific on his music and his vibe. The vibe of his films is pretty cool and if he picks your song that means he really believes that your music fits into his film and it's exactly what he's looking for. Obviously, it'd be really cool to have a song in one of the big superhero films, that's always a huge market…so many people love seeing those movies and I do too. I love movies so much. I go once a week with Savannah. It's so much fun. I love movies so much that any movie trailer that wanted to use one of my songs, I'd tell them absolutely. I'd be so excited, whatever kind of movie it is. 
What's next for you?
I'm going with two more singles and then hopefully an album. I was part of this PledgeMusic thing where basically people can pay to get a lot of behind the scenes videos and extra access to the project. The whole company went down in flames and people were paying for this stuff. I wasn't getting paid for anything as far as pre-orders, merch, and experiences, like going out and having lunch with fans. I've done all of the lunches and I have to give out a bunch of free merch. People ordered it and paid for it, but the PledgeMusic company basically went bankrupt and haven't paid me. I've been figuring that out so hopefully, I have an album because a lot of people paid to have their name and a big thank you in the notes in the booklet of the physical album. I want to be able to do that and come through with what they paid for, even though it's unfortunate that Pledge is not really doing anything for me. My fans have been incredibly understanding and patient and I am so grateful. I've been doing music and entertaining and acting for a very long time. People are really loyal with the R5 crew, and Glee, or wherever they've come from to follow me and my projects. I appreciate it and I'm so grateful. Whether it be a short album or a long EP, I'm not sure yet. We definitely have the next single coming out in the fall most likely, and that's a song called 'She Just Wants To Be Famous', which was also written by Rocky and Ross. We understand that no one is going to have our backs like we do because we're siblings. We work really well together, and we're going to continue doing that and building our little Lynch empire.
Credits
interview by Javis McFly
photography Gordy De St. Jeor