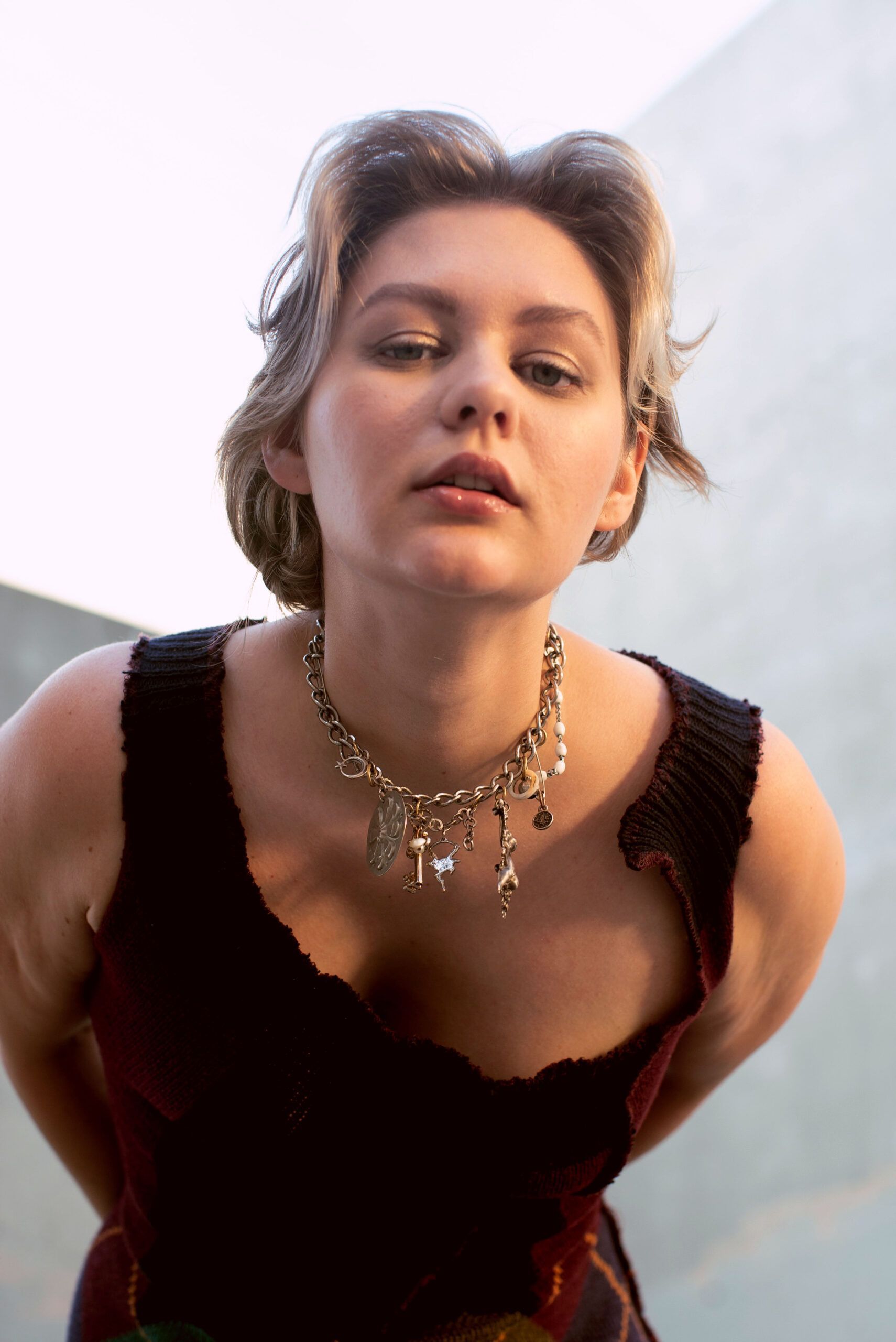 Ryan Simpkins
Ryan Simpkins is an actor on the rise.
Having cut their teeth in the creative industry at a young age as a model and actor, Ryan Simpkins has grown up with a talent for the arts. Throughout the years, Simpkins has acted alongside Kate Winslet, Leonardo DiCaprio and Maggie Gyllenhaal to name a few. But what makes Simpkins standout is their passion for the arts and their positive stance on challenging outdated gender/societal norms. Not only is Simpkins a gifted actor, they also enjoy writing and directing their own short films. So there's a lot to look forward to from this versatile thespian.
Now, Ryan Simpkins is starring as 'Alice' in Netflix's Fear Street Part 2: 1978. It's the second instalment in the ambitious three-part horror trilogy which is based on the popular books by R.L. Stine. Speaking with 1883, Simpkins told us all about Fear Street Part 2, working with Russell Crowe, and what narratives and themes inspire them when working on their own projects.
Hi Ryan, you're starring as 'Alice' in Netflix's Fear Street Part 2: 1978. Can you tell us what lead you to the role?
For sure, I have been friends with a few of the Fear Street cast members for years now, like Olivia Welch and Gillian Jacobs. So I was aware of the project just through them talking about it but I didn't know exactly what it was. I then finally got the audition, I was in college at the time, and I put myself on tape in my tiny college bedroom and my camera died half way through filming the tape. I was like 'oh my god, this isn't good enough' but I still sent it to them. Three days later, I was on a plane to Atlanta, it was very lucky and super bizarre. The character 'Alice' didn't actually exist until the month before we started filming, she was a really last minute addition and so was my casting.
It was just really exciting and lucky because I then got to work with a bunch of my friends.
Some people might not know that Fear Street is an ambitious three-part trilogy. It's quite refreshing as each film is being released on Netflix in quick succession rather than typically having to wait a year or two before the next film in the trilogy. What would you say your personal highlights were from working on Fear Street?
That's a good question. Yeah, the quick succession thing was always planned and that was one of the things that made me really excited for the project when I first heard about it. It's so innovative, cool and that's just one of the many great things about our trilogy. I think Netflix is such a good space for it because you're tapping into that binge culture, you get to rewatch them and put all the easter eggs together while you're watching the films.
But also at the same time you get three complete stories, with TV you have to watch an entire season before you get the full arc. But here, you get three full narratives which is really cool. Speaking of personal highlights, it was all just really fun. Getting to build 'Alice', she's this proto-punk, chaotic, teenage girl and so it was really fun to explore what would a chaotic teenage girl be into in the late 70s. I made this huge playlist full of 70s punk songs, I watched a load of Joan Jett and Debbie Harry performances and interviews, just tapping into that culture was so fun.
Everyday before filming, I would put on my playlist super loud in my trailer and just dance as hard as I could to get into that energy, she was just a blast to play. It was also amazing to work with our director, Leigh Janiak. She's the coolest person in the whole world, she is just so chill and so down to earth. She knows exactly what she wants. There are so many highlights haha! Working with the cast members like Emily Rudd, McCabe Slye, Sadie Sink and Chiara Aurelia… we all just become such a close group of friends. It was just so exciting to get to see that friendship come through the work that we did as well, you know. It was just a blast to fucking make! Happy that people are going to see the films.
Entering the film industry at a very young age must have been a surreal and interesting experience, how did you first discover that you have a talent for the arts?
My older brother, David, was a model when I was growing up. I was born in New Jersey and we were going into New York City everyday for auditions and shoots. I just got really accustomed to being on set and I loved that energy of a team of people coming together to make a beautiful thing. Then again, sitting around on someone else's set is so boring, so I decided to get into it myself and it just worked out. So I started modelling and moved into acting and it was just something that I really enjoyed. My younger brother then got into it the same way, my older brother doesn't do it anymore but it was really amazing having a sibling in that with you because you were so close to someone who could understand exactly what you are going through. And that is so rare, in one, having such a bizarre job like acting but also just having that really close relationship. It was super helpful in both just surviving in the industry but also like building out your own craft.
That's really great to hear you could turn to your brother when needed, the film and TV industry must potentially be so isolating at times.
Yeah, it can feel so lonely and it was just amazing that we could be each others's support system, especially at such a young age. When you were on set you would be surrounded by adults, it was so rare that I would get the opportunity to work with anyone my own age. So I would always go to my brother's sets and he would always come to mine, so we always had that support system within each other, so I was very fortunate, yeah.
So far, you've acted alongside Kate Winslet, Leonardo DiCaprio, Colin Farrell, Maggie Gyllenhaal, Will Ferrell, and Amy Poehler to name a few. Are there any particular lessons you've picked up from working with other actors?
Totally, the actors that are so down to earth and humble, it's really exciting to see that. Especially as it's a reminder for what this is all about and what it's all for. Recognising people like Leo, just feels so fortunate and excited to be on a set, that was a huge lesson I took in life. I was really fortunate to be able to work with these huge creatives in our industry who are still excited about the work. My younger brother worked with Russel Crowe when I was twelve and he's always been a family friend through that experience. I got to work with him a year or two ago on forthcoming project…
We're going to talk about that later in the interview!
Oh we are?! Cool! I learnt so much from Russell. How could you not by just being with him, he's just like a machine. He completely understands how the factory of a film works. Some actors just fall into it, but Russell is just a moving part of it. He understands exactly what needs to be done and when but it's not robotic and he keeps it fresh every time. I learned so much from him, just about pacing, the company that you keep, how to have fun on a set, Russell was truly such a teacher and I'm so fortunate that I've had him in my life for so long but also got to work with him so closely. He was such a giving scene partner. Russell is fantastic.
You studied Gender Studies and English at the University of California, Berkeley, how would you say that your studies have impacted your acting career? And if you weren't in the film industry, what do you think you would be doing career-wise?
I think my studies definitely impacted my career but also the way I work, both in that what I learned in the classroom but also the experience of being at a university and being surrounded by a ton of kids who were all in the same boat as you, I had never really gotten that before. I grew a lot as a person which I'm fortunate for but my main focus in college was Roland Barthes's semiotics and understanding the way images impact our understanding of culture, social constructions and how to build that. So it made me so much more aware of the content that I was putting out into the world and how to impact that. 
I think film is a really important tool in impacting culture and our political zeitgeist as well. I always want to make films that have an important, impactful and progressive message. Without my studies, I don't know if I would be as capable as doing that. But also so much of getting an English degree is analysing and breaking down metaphors and meaning which I find so fun but it's also handy for working through scripts. So I think it was super impactful, I also watched a bunch of movies, like Berkeley is a research institution, so I was constantly writing research papers and would always make them about gender and film. I watched so many movies in college which was obviously helpful for my career. 
A friend of mine once asked me a while ago, 'if movies didn't exist, what would you do for work?' And I thought: 'that is such an impossible question' haha! I would love to be an old woman who runs an animal sanctuary for senior dogs and cats or even senior goats, I would love to do that, that's a goal. At Berkeley I was really fortunate as I got to work closely with The Berkeley Art Museum & Pacific Film Archive up in the city. I was able to work closely with their film curators and I think that i such a cool career and just the whole archival world is so cool, I would love to be a film curator at a museum. But  for that job to exist, movies need to exist, so either that or an old animal lady, I guess haha.
Talking a bit more about your acting career, the next two films you are a part of are: The Georgetown Project opposite Russell Crowe, and Please Baby Please opposite Demi Moore. Can you tell us anything about your involvement in these films?
Yeah, we filmed Georgetown a little bit after Fear Street which is being produced by Kevin Williamson who's an incredible queer horror film maker. It stars me, Russel Crowe, Chloe Bailey who I love so much, she's one of the coolest girls I've met. It also stars David Hyde Pierce who is such a legend, we had a really fantastic cast on that one. And that's another film which works to push the envelope on queer representations in horror films. It was a blast to be a part of and I'm excited to see what happens with that. We shot it in Willington, South Carolina which is such a lovely beautiful little place.
Please Baby Please is a movie I've been passionate about for years. It's a gender bent West Side Story thriller, it was so fun. It's a 50s greaser piece where gender is totally fucked with as gender roles during that era were so defined and rigid. So our amazing writer and director, Amanda Kramer, who I've worked with before and known her for years, was like "let's take these gender roles and absolutely explode them". It was another film with an incredible cast, Demi Moore is so cool and so sweet, just a joy to work with. The cast also includes Andrea Riseborough who I so admire, Harry Melling who I adore; I'm such a huge Harry Potter fan I was like 'oh my god, it's Dudley' but more than that he's also an incredibly talented actor.
The film also has Karl Glusman who is now one of my dearest friends, I adore him so much, Jaz Sinclair plays my girlfriend in the film and I love her, we just had this really amazing cast of people. We shot the film in Butte, Montana which is a really cool little mining town and we were doing night shoots the entire time, so we were able to walk the streets, when no one was awake, it really felt like the city was ours! It was incredible. I got to play a boy for that film, I was a male greaser which was so cool and I've always been interested in playing a guy, I felt really lucky that I was able to do it in this film. So I think my studies definitely impacted my performance. I just felt like one of the boys and I studied drag artists for the role, I studied Trixie Mattel pretty heavily, Trixie's boyfriend produced our movie which is so cool. It was just a dream project to work on, I'm very excited for people to see that film!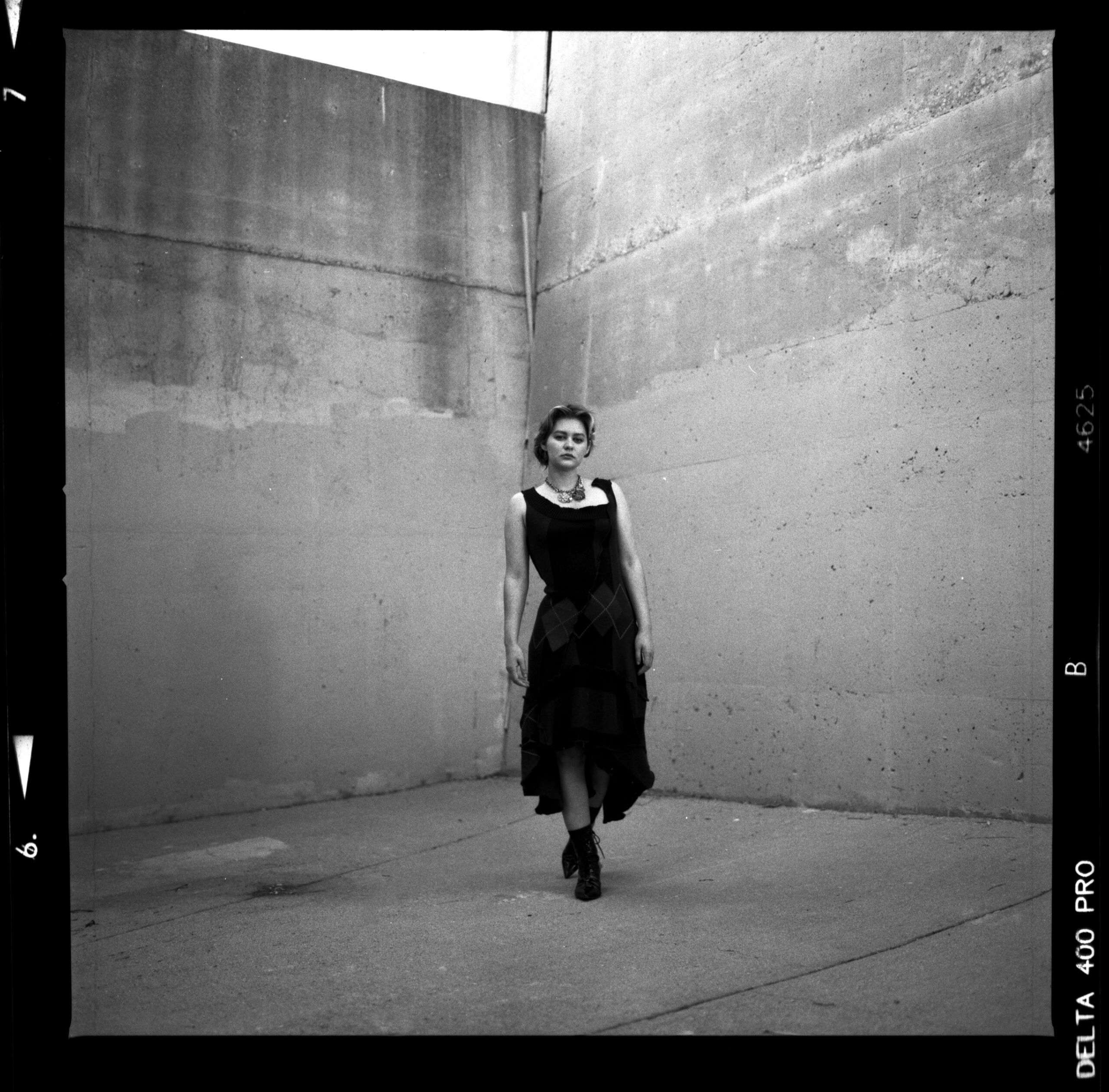 Not only do you star in films, you also write and direct your own films, right? What sort of narratives and themes inspire you when working on your own projects? And do you have any ambitious plans for the future when it comes to writing and directing?
I've always been passionate about behind the scenes work as well, since I can remember. But it's something that as I've grown, I've been able to delve into more, in recent years which I'm so happy and excited about. I take a lot of inspiration from film in general and from my peers and directors who I love and adore. I also really like to take stories from that past, like films and genres that I feel are misrepresenting certain parts of society, whether it's women or their relationships with men or gender in general and then work to create a new story which I feels correct that. It wouldn't be a remake of a film but it's sort of the same themes but through my own vision.
It's just a really fun thing to do and I like messy characters and I like unlikeable characters and messy little movies, I hope to make more of those. I have a few things that I'm working on right now, I'm working on adapting my short film called Nineteen On Fire and making it into a feature film which will be exciting. I have a few other features but I don't want to say too much about them. But it's some fun queer genre stuff. Some music videos are underway with people that I'm excited about so that will be fun. As an actor, you can get so sick of waiting around to make the project you want to be a part of, so I was just like 'I'm just going to do it myself', just so I can see the characters that I want to see on screen.
I also love putting my friends in things, taking people I love and admire and getting the opportunity to work closely with them is such a joy, so I hope to do more of that in the future as well.
That all sounds great. You're right, there has been a lot of films in the past that misrepresent certain parts of society. So making films that shine a true and more positive light on identity/gender and those sort of topics is important. This conversation also needs to continue in real life, for example, when growing up, you may have been told you can only play with certain toys based on your assigned gender which is ridiculous. There are so many outdated gender roles/norms which need to be tackled.
I so agree, when I was a kid, I struggled a lot with that, I never identified with assigned feminine things. I worked so hard to be into like Care Bears or My Little Pony or whatever and it was like against my body, it felt inhuman to fall into that. And it is also really exciting to recognise that you don't have to fall into those assigned norms and you can forge your own path. As a queer, gender-angry, human, we're all just flesh bodies, all that shit is just made up and it doesn't have to have any meaning on our lives, so why should we let it? Especially in the work we do and the art we create.
When it comes to films, It's like we're creating new worlds that have never existed before, so we just have the opportunity to do whatever the fuck we want which is really exiting.
Going back to Fear Street, why should people check out the trilogy?
I would encourage people to check out our trilogy… if you're a fan of horror you're going to see a lot of troupes that you know and love broken down into what makes them tick which is really exciting. But even if you're not a fan of horror movies, it's a totally innovative project, R.L. Stine is so iconic because he introduced so many young people to this beautiful genre with his books and this trilogy could be a great introduction to the genre for you. But also, it's so much more, I love horror films so I don't mean this in negative way but it's so much more than horror. There is romance, they are really funny movies and the second film feels like to me more than anything like an action adventure film which is so exciting. 
We get to play a lot with genres, so if horror isn't your thing, I think you will be a big fan. And if horror is your thing, we pay homage to so many great horror films, all those huge classics and anyone who is familiar with them will be excited to see them.
Finally, what is one thing in the film industry that you would like to see change for the better and why?
That is a great question, a maybe less intelligent answer would be: I hate in-person auditions, I love self-taped ones so much. I never want to go back to in-person auditions again. They are inhuman, awkward, weird, and it's so great to be able to do them from the comfort of your own room. I really hope casting offices never come back haha! But also obviously representation on screen matters so much but it also matters greatly off screen as well. It's great that we are working to tell these really diverse stories but to make real change we need to give the people who we are working to represent the opportunity to tell it themselves.
I think it is amazing we have a female director and a queer writer on Fear Street and I think within our producing teams and studios, we need to open to the doors more to people of colour, queer people and women who are able to green-light the right types of projects and really change the way our whole system functions. I think that is the only way that real decent change can happen and luckily we're already on that path which is really exciting and Fear Street is a great example of that happening. We have the amazing producer, Kori Anderson, who is a really fucking cool lady and we have Leigh directing, we just need more of that.
Interview by Cameron Poole
Fear Street Part 2: 1978 is out now. Follow Ryan Simpkins @Ryan_The_Ryan
Credits