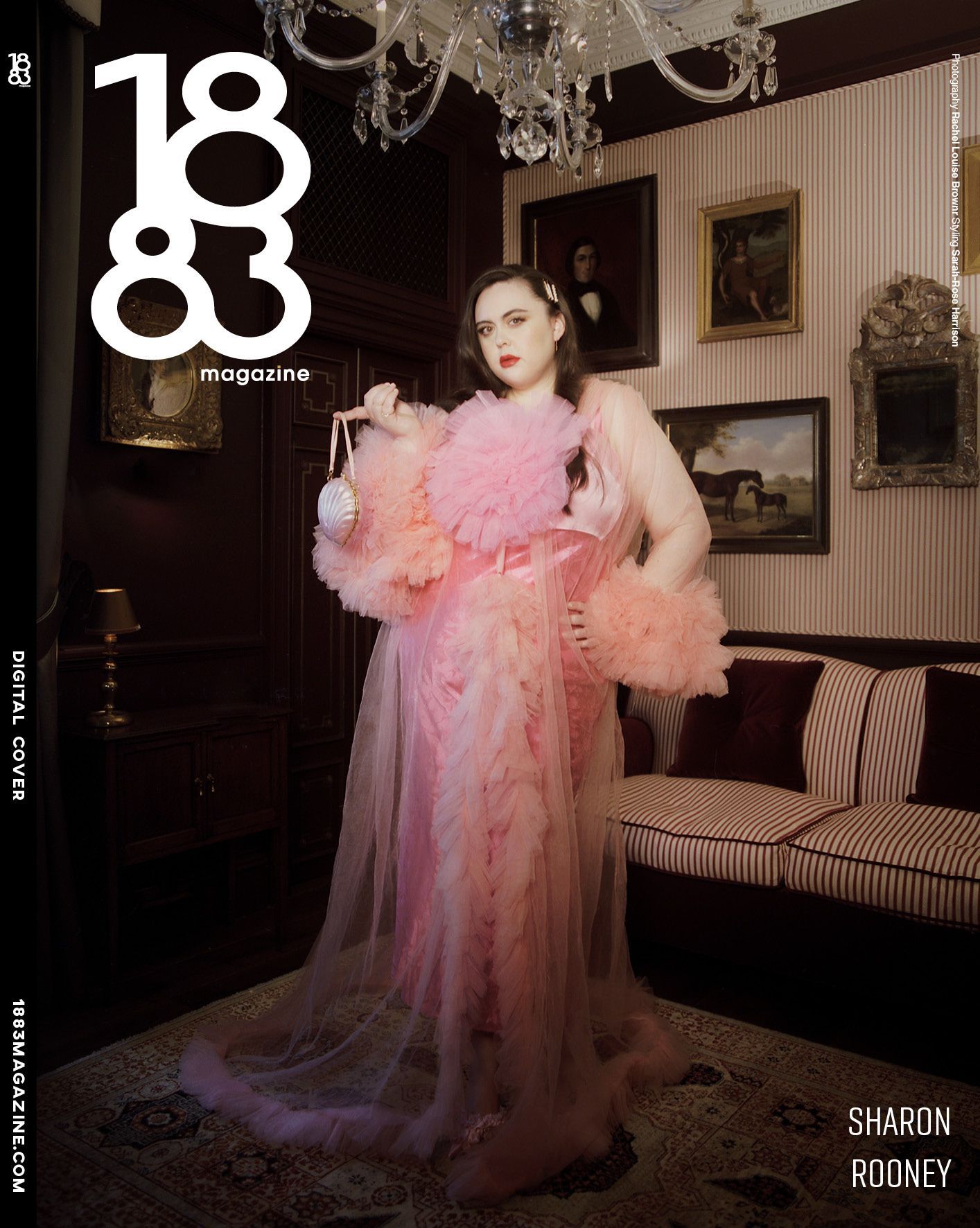 Sharon Rooney
It's been ten years since Sharon Rooney first graced TV screens and she's been going from strength to strength ever since.
Sharon Rooney knows a thing or two about portraying dynamic and determined characters. Her first big role playing Rae Earl in My Mad Fat Diary was a bit of happenstance — something that was, at the time, unfathomable for Rooney to comprehend, even more so when she reminds you that she was about to quit pursuing acting to become a nurse. Portraying Rae Earl, a coming-of-age story about a girl who leaves a psychiatric hospital after four months due to struggling with mental health and body image problems, garnered acclaim for Rooney — earning her a BAFTA Scotland award.
It's been a decade since the release of My Mad Fat Diary and Sharon Rooney has ably racked up a filmography full of characters that showcases her breadth as an actress. Whether the role requires a bit of glamour or grit, Rooney is able to approach each persona with a distinct appreciation for the complexities within them. In turn, every performance is as powerful and playful as the last.
Despite not being able to discuss current projects due to the SAG-AFTRA strike, Sharon Rooney talks to 1883's Editor Kelsey Barnes for her cover story and discusses representation in Hollywood, the women that inspire her, the cultural impact of her past projects, and more.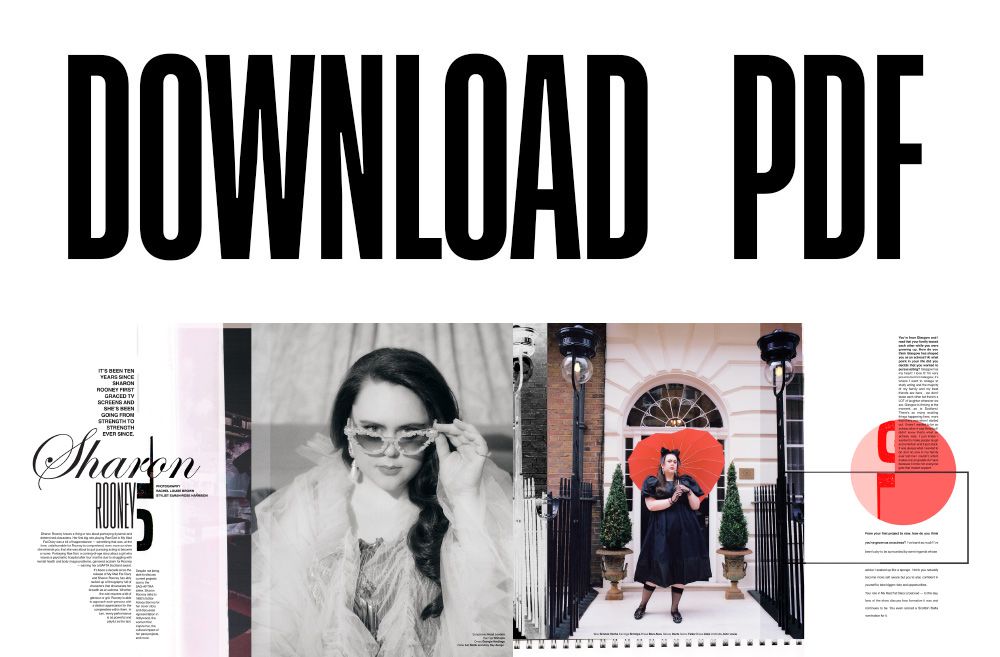 You're from Glasgow and I read that your family teased each other while you were growing up. How do you think Glasgow has shaped you as an actress? At what point in your life did you decide that you wanted to pursue acting?
Glasgow has my heart! I love it! I'm very proud to be from Glasgow, it's where I went to college to study acting and the majority of my family and my best friends are here – we don't tease each other but there's a LOT of laughter wherever we are. Glasgow is thriving at the moment… so is Scotland. There are so many exciting things happening here, more than there were when I started. I knew I wanted to be an actress when I was three but I didn't know that's what an actress was. I just knew I wanted to make people laugh and entertain and it just stuck. It was always what I wanted to do and no one in my family ever told me I couldn't, which makes me so grateful to have because I know not everyone gets that instant support.
From your first project to now, how do you think you've grown as an actress?
I've learnt so much! I've been lucky to be surrounded by some legends whose advice I soaked up like a sponge. I think you naturally become more self-aware but you're also confident in yourself to take bigger risks and opportunities.
Your role in My Mad Fat Diary is beloved — to this day, fans of the show discuss how formative it was and continues to be. You even scored a Scottish BAFTA for it. When you look back at the time when you got the role, did you feel like it was going to be seen as one of the great coming-of-age stories for teen audiences?
I was lucky enough to win a Scottish BAFTA for Rae which was so amazing! At the beginning not at all, which I think was for the best because the pressure would have been way too much. It was my first big job and I just threw myself into it and wanted to do the best job I could. I wanted people to like it and didn't think further than just hoping that one person would see it and feel less alone. That was all I wanted. We did that for more than one person which I think will always be my greatest achievement.
Before you got My Mad Fat Diary, you were planning on quitting acting. If you could go back and tell that version of Sharon what you know now… What advice would you give to her?
I was! I was going to train as a nurse. I mean, I'd have loved to have been a nurse but my heart belonged to acting. I would tell her, just wait and buckle in for this wild adventure you're about to go on. She would have eye-rolled at me for sure!
I read that you did lots of research into mental health issues for My Mad Fat Diary. For any role and character that you portray, what is your typical research and development process like?
I did because it was something I had to get right. I took a lot of care with Rae because you're representing something so serious and giving a voice where a voice hasn't been given before, so it was a huge honour. It depends on the role, some need more than others. I mean, I researched online a lot and I have a little notepad for each job that I'll work through and write things down and I ALWAYS make a playlist of songs. I also like to write what I think their favourite things are; from quotes to what they order for a takeaway on a Saturday night. It's for no one else, just for me. I always give them a scent too. I love the process of making a character. Even when I've played real people, who there's not much about them to research, I find myself making little notes about them and creating their life outside the scenes you see. It's really fun!
To address the elephant in the room — the strike that is currently happening is causing needed upheaval for the industry for actors and writers alike. What kind of changes are you hoping are made in the coming weeks?
The changes are needed and I just hope that the outcomes are positive.
I read that, after feeling so empowered and supported on past projects, you're looking to be brave and write your work. How has your mindset shifted from being an actress and feeling like you can only do one thing to writing something of your own?
Yes, it's something I'm excited about. I think being lucky enough to see people on jobs I look up to and respect over the past few years doing both, producing and having their voices heard, made something shift for me. It's something I'm passionate about and have been for a long time but it feels like I'm ready now to take that little leap and go for it. You don't just have to be one thing, no one does. And I don't believe anyone truly is just one thing, we're all lots of things and that's what makes us unique.
Sexism is still a huge issue women face in the entertainment industry. How important is it for you to be involved in projects that empower women?
I think it's really important. If I can make someone else feel seen and heard then that's just amazing. I've worked with some incredible women DOPs, sound producers, directors, producers, boom ops, ADs, medics, costume, hair and makeup…. The list is endless and while we might be on the screen hopefully empowering women, there's a whole other team empowering us and it's a little bit of magic.
Has there been a time in your career when you've had to stand up for yourself against sexism on a job?
There's been a few little moments where I've felt it and I've said I've felt it, nicely, because that's just me and it was met with an apology. I've never been afraid to stick up for myself or do what's right.
When do you think of the term "feminist icon," who immediately comes to mind?
My agent Ellie, she's my feminist icon because she always fights for what's right and makes sure I'm looked after and seen and, most importantly, heard. She does so much in the industry! She's never afraid to speak up and neither am I. If I ever forget, Ellie reminds me of my worth, reminds me my voice is important and I just know she does that for all her clients. She empowers me so much and knowing and having her as my agent, fighting my corner, is the best thing. I look up to her a lot. She's everything. A supermum, epic agent and an all-around excellent woman!
What women did you look up to growing up?
My mum, my grandmas and the rest of the women in my family because they are some outrageously brilliant people who've continually supported me, been at every show and also worked incredibly hard. They raised strong women too! I looked up to a lot of women in the industry too, Victoria Wood – who I was lucky enough to meet via the BAFTA breakthrough mentorship, that meant so much to me. Siobhan Redmond and Elaine C Smith were my Scottish icons. I mean the Spice Girls – that goes without saying right?!
When you were first starting to act, was there anyone particular on set that made you feel seen or empowered?
Claire Rushbrook and Ian Hart took me under their wings and taught me so much about everything. Acting, how things work, how to use your voice and just the general set etiquette. I really, really relished the days with them because they always treated me as an equal even though I was brand new. They were so good to me and I adore them both.
In recent years, the entertainment industry has taken huge steps forward to be more inclusive when it comes to race, body positivity etc, but the industry is still nowhere near where it needs to be. Where do you think is the biggest area we could improve?
There's still a way to go but it's moving. I think all of the areas you mention. I don't think one is more than another and feel across-the-board inclusion is vital and there can never be TOO much of it. There's room for everyone.
There are so many women in entertainment actively fighting for body inclusivity in the industry– from Lizzo to Melissa McCarthy to models like Tess Holliday and Ashley Graham. How does it feel to be one of those women that little girls will see on screen and look up to?
I find that the most surreal thing, I mean what an honour. A true honour. Since My Mad Fat Diary I've had a lot of beautiful messages from people feeling seen and represented and it means so much to me.
If you were to create a playlist that made you feel empowered, what songs would be on it?
Lizzo – Special/Good as hell for sure. Cass Elliott – Make Your Own Kind of Music, Lucy Spraggan – Bodies/Choices, Pink – F***** Perfect, Florence and the Machine – Shake it Off, Gerry Cinnamon – Belter, Colbie Caillat – Try… I mean I could do this all day! [Laughs]
It's typically for us to attach our worth and value to our careers, but we'd love to know what one quality you think makes you unique and special that has nothing to do with your acting work.
This is a good question and I don't know the answer. I'm just me. I don't know if that makes me special but it does make me unique because I'm the only one and that's quite cool. We all have that in common, we're just us. A unique soul just doing our best and when you think about it, I guess that does make us special. We're all leaving a little footprint on the world in some way so let's make it count.
What are some of the pieces of media that have shaped you as both an actress and a person? So many things! You don't always realise it at the time but you look back and go, oh yeah. Some are really personal to me and niche so I'll keep them because explaining would take a book. In terms of work, I think from the first time I heard the Brandi Carlile album – The Story, it's been instrumental in me taking my first steps into writing – there was just something about it that inspired me so much.
You're currently filming Nightsleeper which is very different from anything you've done in the past. What is something that enticed you about the project and your role in particular?
As silly as it sounds, the fact that it was a night train got me excited straight away because anyone that knows me can tell you I'm ALWAYS on a train, especially the night sleeper, so I was really intrigued straight away. It's also written by the brilliant Nick Leather who I was lucky enough to work with before on Control Room, so I knew the scripts would be brilliant and they are! The minute I got the brief I loved the character I would eventually get to play so it just all felt right! It was a hard job though, the trains themselves are a difficult environment to work in – absolutely incredible sets but tough to work in. A lot of us had bad motion sickness and it's claustrophobic but it just added to the experience as it all felt very real and very high stakes. I also got to work with some amazing actors and crew so it's a job I'm already really proud of.
So many of your roles subvert stereotypes and embrace every facet of who the character is. When someone watches one of your projects, what do you hope they feel or think?
Well I always hope they see them as a real person, and by that, I mean like them, hate them, feel for them – I love playing REAL people who you don't always like all the time because no one is perfect. Humans make mistakes and I love that I've got to play characters who are flawed because to me, that makes them real. If someone sees a bit of themselves in you and that makes them feel represented then that's a win for me. I also think anyone who sees me and thinks "I can do it too" then that's also a major bonus. To feel seen and represented is something everyone should have.
Lastly, if you could manifest something for yourself this year, what would it be?
Oh, for myself? I'm usually manifesting for other people…. I mean, there is something but I can't tell you just in case it's bad luck!
This cover story was shot prior to the SAG-AFTRA strike.
Interview Kelsey Barnes
Photography Rachel Louise Brown
Stylist Sarah-Rose Harrison
Hair Adam Cooke
Photo Assistant Petros Poyiatgi
Prop Styling Ayesha Linton-Whittle
Location Henry's Townhouse, Marylebone, London
Cover credits
Hairclips Orelia  Earrings Alex Monroe
Dress Vintage Ruffled robe  TheBridalShopLDN
Rings,Chupi Shell bag Lulu Guinness Shoes Mach & Mach