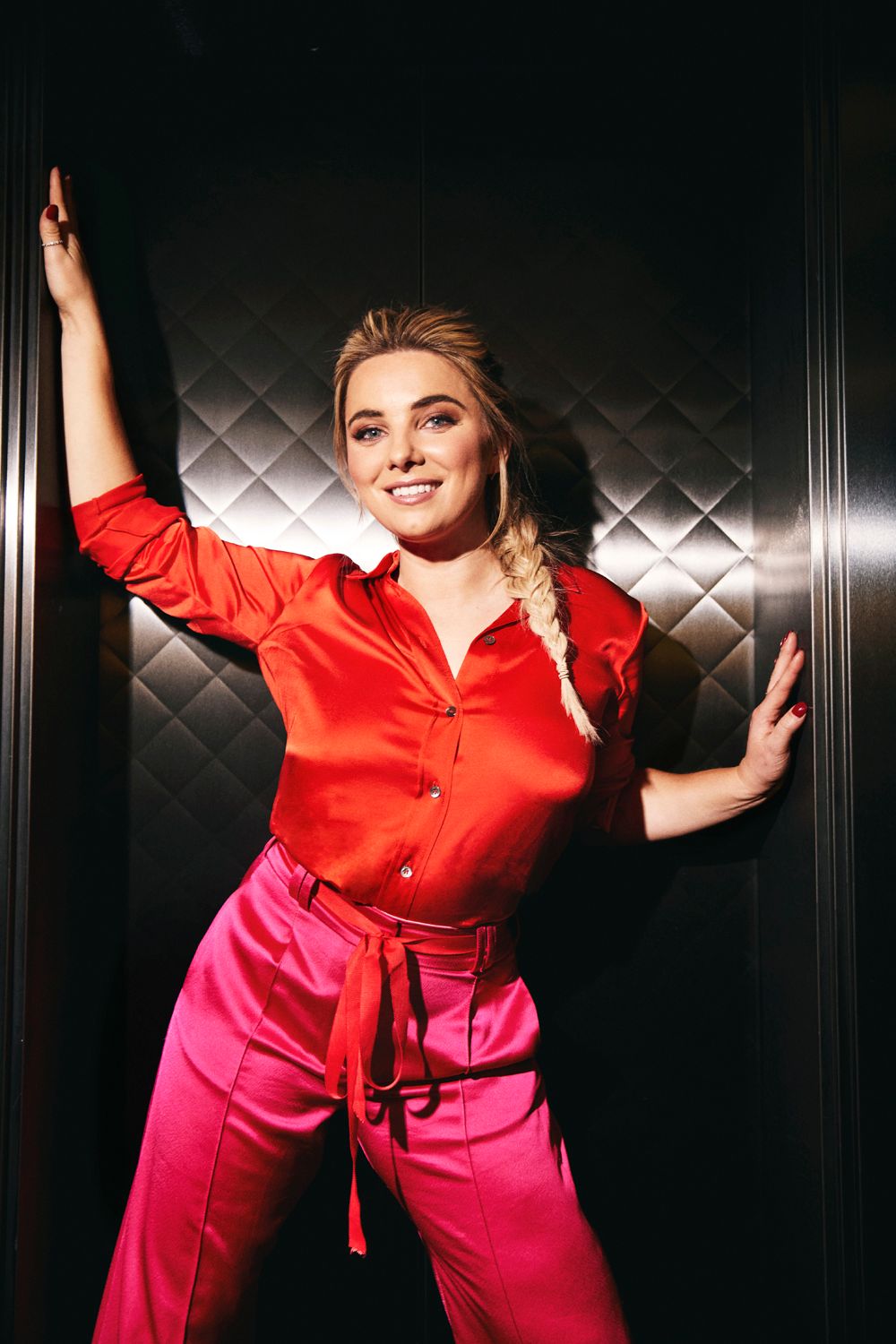 Sian Welby
Get to know Sian Welby: the TV and radio host who is warming up the nation each morning on Capital Breakfast. Known for her shrewd laid-back humour, the polished presenter has interviewed some of the industry's biggest stars, and is now looking to expand her resume by appearing on prime-time television.
You might recognise Welby from her Channel 5 days, where she became known as the quick-witted weather girl: cramming in as many Star Wars puns and genius gags to entertain her team and unbeknown to her at the time, the nation. The comical appearances soon went viral: with one video racking up over 10 million views on YouTube, and prompting news outlets from around the world to reach out for an interview.
Yet days later she was made redundant from her job at Channel 5, only to be snapped up the same day and given her very own evening radio show on Heart FM. Six years on from her weather girl fame and the thirty-four-year-old has become an established radio presenter, interviewing A-list stars from PINK to Ed Sheeran.
More recently, Welby joined one of the most listened to radio shows in the UK, Capital Breakfast. Co-hosting with I'm a Celebrity Star Roman Kemp and presenter Sonny Jay, Welby's comicality and whimsical attitude successfully completes the group dynamic. Their mischievous antics and nonchalant behaviour has attracted an extensive audience, keeping listeners entertained through an unprecedented year. As radio hosts were deemed essential workers, they soon took on the role of being a familiar, comforting voice for the country.
1883 spoke with the charismatic host about how she got into presenting, the highs and lows of entertaining the nation over lockdown, and how timing for a career in radio is everything.
You went through a period of working from home like the rest of the nation and even presented the breakfast show from your kitchen! How did you adapt to this new set up?
Honestly, I don't know how people are doing it. I'm fidgety and I really struggle even in the studio, I always need to walk around when we're doing stuff. I was so uncomfortable and didn't have the right sort of chair. I was also facing the fridge which was a total error because I couldn't stop eating. I was making endless cups of teas and then I'd forget that I was doing a National English Breakfast Show: so, I'd be boiling the kettle and then I song would finish! So, it was hard to adjust to. When there's three of you, you rely on eye contact and body language a lot more then I realised. So, when we were doing it from home, it was just a little bit off. We always joked that it was like having a slight delay when you're on the phone. No one's jokes were landing and it was just a bit awkward.
How long were you presenting from home for? 
I did it for a week. At the time, it was a bit of a test to see if we could do it from home if we had to. Then broadcasters were deemed to be essential workers so we could go in. Thankfully it was just a week stint at a time.
That must have been great that you were able to leave and go to a different location for work!
I feel very, very grateful and lucky that we could do that. It's been that sanity of seeing different faces. Plus, having a commute: we all hated and moaned about the commute before, but now we miss it!
Before working on radio, you were a weather presenter for Channel 5. How did this role come about?
Honestly, it was so random. I'll never forget that phone call. I'll give you a backstory to where I got to that place. I was working in a clothes shop but trying to be a presenter, and I was doing auditions left right and centre. I took one Saturday off work to go to London and audition, where I was sat there all day waiting to do this advert for New Magazine. I kept panicking that my boss from New Look was going to call and ask where I was, because at the time it was the busiest shift! It got to about five o'clock and I thought, they must be wrapping up, but they used me at the last minute. I'd been watching people do it all day, so I thought; sod it, I'm just going to go for it. The director ended up giving me everyone's lines as I was having a laugh with it. Years later, I found out that because of that, I was used in every single advert and that advert would play in a loop in the Channel 5 bosses office, because they also owned New Magazine.
Two weeks after doing the advert, I was back in New Look when I got a phone call saying that the boss at Channel 5 was trying to get hold of me. I ended up speaking to the commissioner of Channel 5 at the time and we had a quick meeting. Then I left and went back up to Nottingham and the week after that, I got a call that they wanted me to be their new weather girl! I went what: I don't know anything about the weather! So, it all came off the back of being on that advert. I remember saying, are they sure! I wasn't even good at geography. I didn't even do geography GCSE! I was sent off to the Met Office for a week's intensive course and went from living in the East Midlands and working for New Look, to having about four weeks to find a place in London. It was crazy.
Wow, what a story! How many years were you a weather girl for?
I think it was six years.
You had several videos go viral whilst you were at Channel 5, what were your first impressions when this happened? Did you go for it because you knew that the bosses liked your humour?
One thing that I think has always helped me in my jobs is that I've always had a bit of a laugh. When I look back, it helped me with getting that advert. When I did the weather, because in all honesty it wasn't my passion, I just wanted to do comedy, I used to slip in words to make the crew laugh. It started as a dare and it got to a point where people were liking it in the office and telling me to do more. It was the Star Wars one that was the right timing, where I managed to cram about 23 (puns) into 40 seconds. I remember thinking it was a good one and I was proud of how many I got in, but it was a last-minute idea. Like some of the best ideas, not overly planned. I think I put it out in the afternoon on Twitter, then the next days I was getting calls from Fox News and I was on Good Morning America and then Australia called and New York. It was weird.
Amazing! Then was it off the back of this that you moved into radio?
Yeah. I honestly think that doing that really helped, because it broke me out of the mould of being just another weather presenter. People thought oh, she's up for a laugh. I remember ironically it was Capital that got me on their breakfast show and got me to do a Harry Potter forecast. I think that then got the attention of the bosses at Global.
I also actually got made redundant when I was at Channel 5, because The Met Office took over, and wanted to have their own forecasters. So, no word of a lie, I had all these videos go viral, and then they told me they had a new contract with new presenters. That very same morning that I got made redundant, I got a call in the afternoon from a producer at Heart saying that the bosses wanted me to come in and then I got an evening show! So, it was the exact same crazy, stars aligning moment. It's so bizarre, it would sound untrue even if it was a movie. From Heart to Capital, it's been my dream job.
Was radio something you eventually wanted to get into?
Oh absolutely! I had done a demo for Heart two years before, but like I said, it was all about timing. At the time, they couldn't really place me: I think I sounded a bit too young for Heart, but then they changed their vibe. But it's just all about timing. That's what I'd say to anyone if they're feeling a bit like; when's my moment. It's just a case of waiting. But I'd always wanted to do radio, I just didn't know how I was going to get there. I even bought decks and thought maybe I needed to learn how to DJ and get in that way. So, I had this plan to get into radio, but it just all fell into place.
You moved to Capital just as the pandemic hit in March last year. How was it starting with a brand-new team at this stage?
At the beginning, I thought it was a shame that I was starting this new job that couldn't get going, because we couldn't do any of the usual things – there was no Summer Time Ball or Jingle Bell Ball. There were always these big stunts and I envied Capital doing such cool things: like going out to Love Island in Mallorca. But, it was a blessing in disguise. I think because there were so many people indoors relying on entertainment – like telly and radio – it was an opportunity for the audience to really get to know me and used to us three as a team. The lads have commented that it's felt different. We've gained such a loyal… I don't want to say fan base, but following and I think they've got used to tuning into us since lockdown. We were that little bit of relief and comedy. In a strange way, it's been good and because it's been quite intense, I quickly bonded with Sonny and Roman.
At Heart, you were hosting on your own show. How have you found that difference now that you're in a team?
At the beginning, it was quite weird because I was used to having to really think about everything. When I first came into radio, it was like trying to learn to drive whilst singing a song. Your brain is doing a million things: my hands were moving; my mouth was saying something and my brain was trying to time it and back time it. It's so much harder than telly, so when I started on Heart, it was a real shock to the system. There were times when I would just burst into tears and think, it's just too complicated. I'm glad I did it this way round because I learnt how to do stuff; like re-tell stories with no one's reaction. I think I came in and learnt the hard way. I remember really craving someone to bounce off, and there were times when I wanted to put the producer on, so I had someone I could have a laugh with and a bit of back and forth. I've never wanted to have a solo show on anything, I love having a co-host.
As soon as I did a demo with Roman and Sonny I just knew. These felt like my lad mates from home and we all clicked. You also feel quite responsible to be entertaining and when it's a four-hour show, there is a lot of pressure.
Have you felt even more pressure than usual presenting over the last year? 
There's been times when we've just not known what to say. We don't want to ignore what's going on and we don't want to get political, but we also want to reflect what the nation's thinking. We're all young and we're trying to be as grown up as possible, but at the same time, not be all doom and gloom. That balance was so difficult. I don't think we did always get it right, occasionally we may have focused on one angle of lockdown or certain key workers over others. Because this pandemic has been such a personal thing, you can very quickly alienate a listener.
Do you get a lot of listeners writing and texting into the show, telling you what's been going on or how they've found it?
Yeah and that's been so nice, we get a lot of texts. In general, it's so positive, with people saying how we've got them through lockdown, or from nurses who listen every morning. We've really shifted the focus because previously it was very celeb-focused, but now the listeners really are the stars. We want to get people on as much as we can: let's get real people with real stories. We do a feature where we get listeners on Facetime, just to join us in the studio so they feel like they've had different company each day.
Definitely. You've also interviewed some big industry names whilst being a presenter. Do you have a standout favourite?
Let me think. I remember Ed Sheeran was the first person I had to interview on Heart and I was so nervous. I'd done interviews on the odd red carpet, but this was so intense because you're the only person in a room and they're sat opposite you. There are cameras but they're all hidden, so there's no camera crew around you. I think that's the nice thing about radio. When they're in the studio, the guests relax because it's not quite as intense as telly: there's no camera or sound guy.
Ed Sheeran stands out because he was my first and then three months later he came back in, when he was doing his album Divide. He not only remembered me, but he remembered this Lego that I'd given him and he was telling me how he'd kept it. I just remember thinking, he can't be faking that, and he just remembered everything. I thought, what a nice guy.
It's so nice when people you admire turn out to be so nice
So, true. Because you're so worried aren't you!
You don't need to name names if you can't, but have you had any interviews that were disappointing with people you admire?
It's weird, without naming names, I'll say that the more A-list they are, and as an interviewer you're more nervous because they are so big, the nicer they are. I don't know if it's the confidence or that they've been around the block, but they make it easy and you forget how big they are. Then you get someone that's not quite as big and they can be the worst! The biggest divas, who won't do this or can't do that and shut down ideas before you've managed to do it. To give you an example, someone like PINK, I remember I asked her if she wanted to try some British food. I'd not even ok'd this with the team: it was such early days I didn't even know you needed to ok these things. I made her try a cracker covered in marmite and she just did it. She was so funny about it and so game.
Is there anyone that you'd love to speak to who you haven't yet?
I think there's loads of actors I'd love to speak to, like The Rock. When all this is over, I'd love to have a big bear hug with someone like him. Or I'd love to meet like Britney or Cristina, they're up there.
What would you like to do next in your career?
I do honestly think that radio has made me a better presenter. Weirdly, when you first start doing telly, no one really tells you how to do it so you start putting on a weird voice and everything you say is very scripted. Radio has taught me to just tone it down. Be you, be chatty, all that other stuff just goes. Now I've done hours of live radio and live TV in the past, but nothing primetime. I feel like I'm ready for a big TV challenge. I'd love to do an entertainment show, maybe even with Roman and Sonny. We have such a laugh together. I'd love to do Saturday night and just have a lot of fun, not taking yourself too seriously, dressing up, getting gunged, whatever. I'm game. That would be the next thing I'd like to do. A bit more TV and just get in there.
Your co-presenter Roman was on I'm a Celebrity last year. Would you ever consider doing a show like that? 
You know what, that is always one that I've wanted to do. Even before I was a remotely famous or whatever you call it, I remember thinking; one day, I want to do I'm a Celeb. I've just got to be a celeb first! There's something about it, I do think you come out a different person. When Roman describes it, it sounds so fun. He genuinely keeps in touch with people from the show, so you do make real friendships. It's like a lot of things, you go through tough times and somehow, come out of it closer. I particularly would like to go to the actual Australian jungle, if there's a choice!
Finally, do you have any advice for aspiring presenters reading this?
Quite often I get asked: how do you do this, how do you become a presenter? I think the honest answer is, I don't think any presenter would give you the same story. You've just got to do you and don't worry if you see people leapfrogging you. The hardest thing to do is to be patient, and you'll constantly feel like you're failing because you're not where you want to be but I swear, just work hard and keep going. Don't give up on yourself, because the opportunities will come. I remember seeing friends getting jobs at Heart and I thought, oh I would love that. Then three years later, it was my turn. It's hard, it's painstaking at times, but if you know you enjoy it and you at least have a flair for it in some way, stick at it. Keep saying yes to everything. Agree to something and work out how you're going to do it later. Even if it means upping sticks and having to move to Scotland! You've just got to be a bit of a yes man for a while.
Sian Welby can be heard on Capital Breakfast with Roman Kemp and Sonny Jay every weekday, from 6AM. Follow Sian via @sianwelby
Interview Miranda Bunnis
Photography David Reiss
Styling Ella Gaskell
HMUA Katie Mahon using Chanel, Nars, Charlotte Tilbury (make up) / GHD styling tools and Unite products (hair)
Location The Wellesley Knightsbridge London Hotel