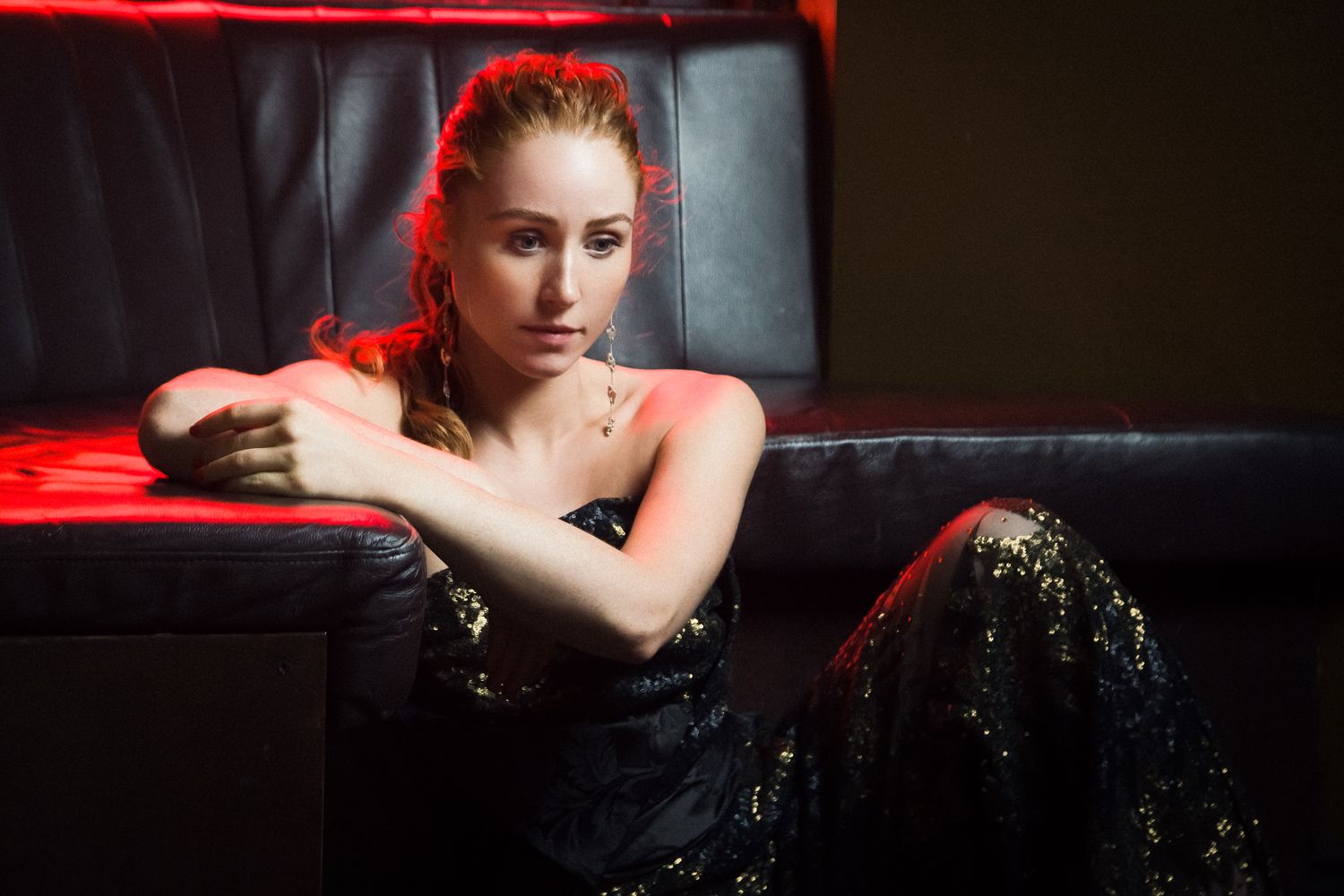 Sophia La Porta
After having roles in Stan Lee's Lucky Man and BBC's Ripper Street, rising actress Sophia La Porta is making a name for herself as an impressive actress who can morph herself into any role.
For La Porta acting began as a love of being watched and applauded, but that desire quickly turned to a love of the art of acting and how imaginative it is for the actor. Although she's still in the beginning stages of her career, it's clear La Porta is using her imagination in many of the unique and special roles she has played so far.
Her latest project is playing the role of Zara, the sassy heiress to a clothing label on the television adaption of Richard Curtis's beloved feature Four Weddings and a Funeral. The show, which was created by rom-com aficionado Mindy Kaling and Matt Warburton, follows the storylines of four friends who reunite for a wedding and navigate the various mishaps and mistakes made by each of the characters. La Porta's character Zara is everything you think of when you hear the word socialite, but La Porta brings softness and vulnerability to the character that makes audiences empathize with her rather than roll their eyes at her antics.
1883 had a chat with Sophia La Porta about her career so far, what it was like to star in a reimagined version of Four Weddings and a Funeral, and what she really thought of her character Zara.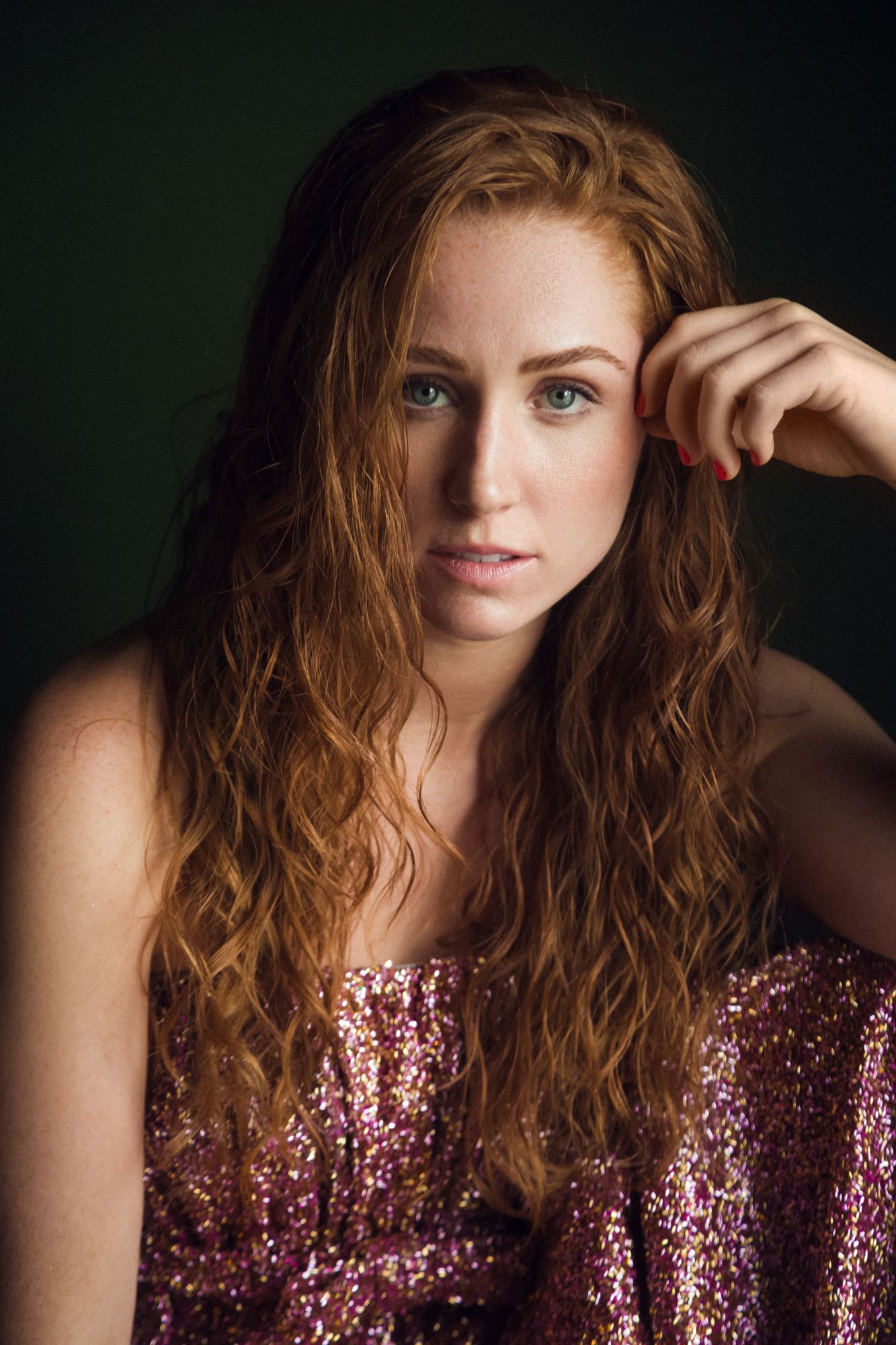 Sequined Empire Dress Malan Breton
You star as the hilarious Zara in Hulu's Four Weddings and a Funeral. What can you tell us about her, is she based on any of the original characters from the classic British rom-com from the 90's ?
There's more than meets the eye with Zara, on the surface she may seem slightly vacuous but she knows precisely what she's doing and gets exactly what she wants, when she wants it. I wouldn't want to be on Zara's bad side, but saying that she forgives quickly and even though she's easy to jump to conclusions and make assumptions, she is a real sweetheart and sometimes just gets the wrong end of the stick. She's full of fire, love and loyalty. Like the other characters in the show, she isn't based on any of the characters from the original.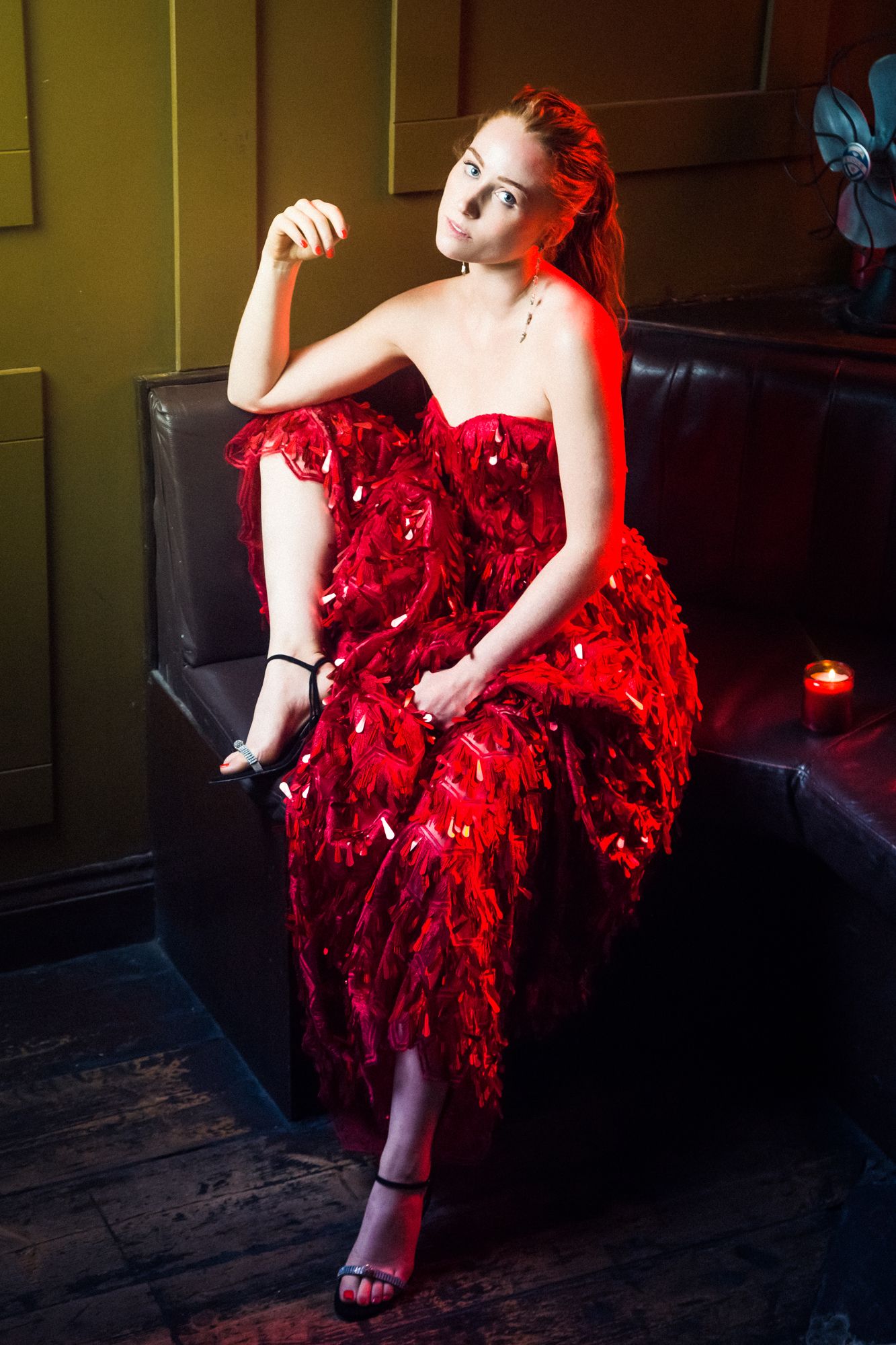 Sequined Dress Malan Breton
Silver Earrings by Francesca Marotta Imogen Belfield
Swarovski Crystals Heels Blue Velvet
How closely is the new show related the Hugh Grant original and how does it move the story forward? 
The series is more of a re-imagining of the original. It takes the essence of it and brings it into 2019. There are various homages to Richard Curtis, who is exec producing, making it feel more a celebration of the original and his other classic rom-coms, moving it forward by the integration of different cultures, use of social media, the reality series aspect, with the trials and tribulations of love and relationships staying the same.
The show was a passion project for Mindy Kaling, who is a huge rom-com lover. What was it like working with someone like her?
I have always admired Mindy, so to get to work on this, well, I'm still pinching myself. She and the whole team are amazing.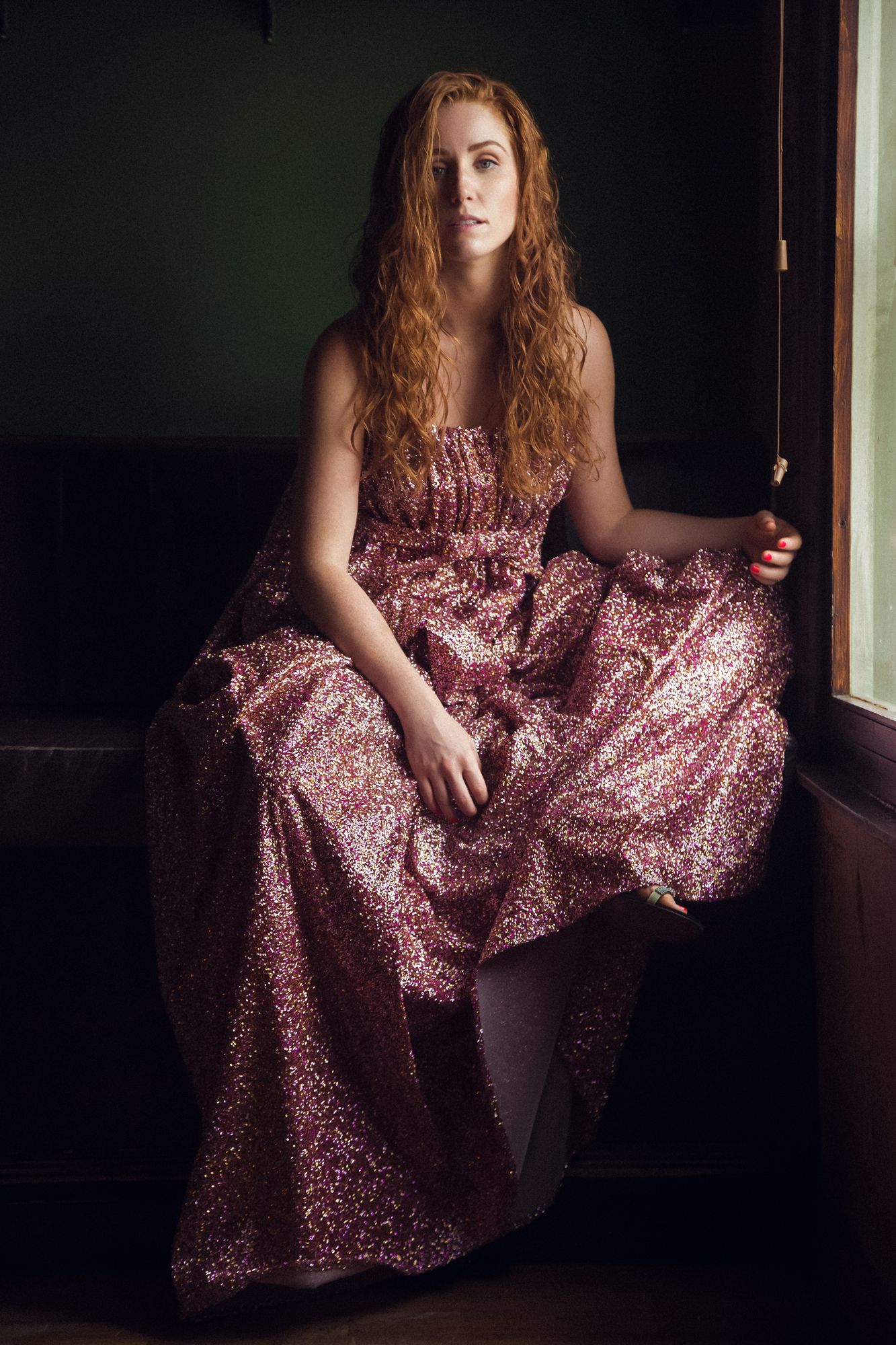 Sequined Empire Dress by Malan Breton
Although people would assume Zara is a bit of a ditz, I really love the direction Mindy took with her; she might be a British socialite but she doesn't let people (like Craig!) take advantage of her and is really in charge of her own life. How did you prepare for a role like this?
I watched a lot of reality TV shows. Became quite addicted to TOWIE, was already addicted to Love Island but any excuse to watch it all again, no complaints here…Tried to find deeper aspects of Zara that weren't surface value. Yes, she always has her nails and fake tan done, and wouldn't leave the house without a full face of make up on, but she's real and honest. No, she might not know how to spell, but she possesses an intelligence that is way more important than that. I learnt a lot from Zara.
The show pokes at some Britishisms, like making the Love Chalet television show as a spin on Love Island. What was it like being on your own little (fake) version of the infamous reality tv show? As a Brit, how did you feel about the British references used in the show?
It was so the most fun I've ever had on a job. I laughed so much, everyone was so brilliant. Love Island In the Alps? I think they're missing a trick there. We got to do little bits of improvisation around the scenes which was my favourite part of it, I love improvising. It was my first onscreen kiss whilst filming too! And as for the British references, I feel very much humoured by them, which is the point, it's a comedy!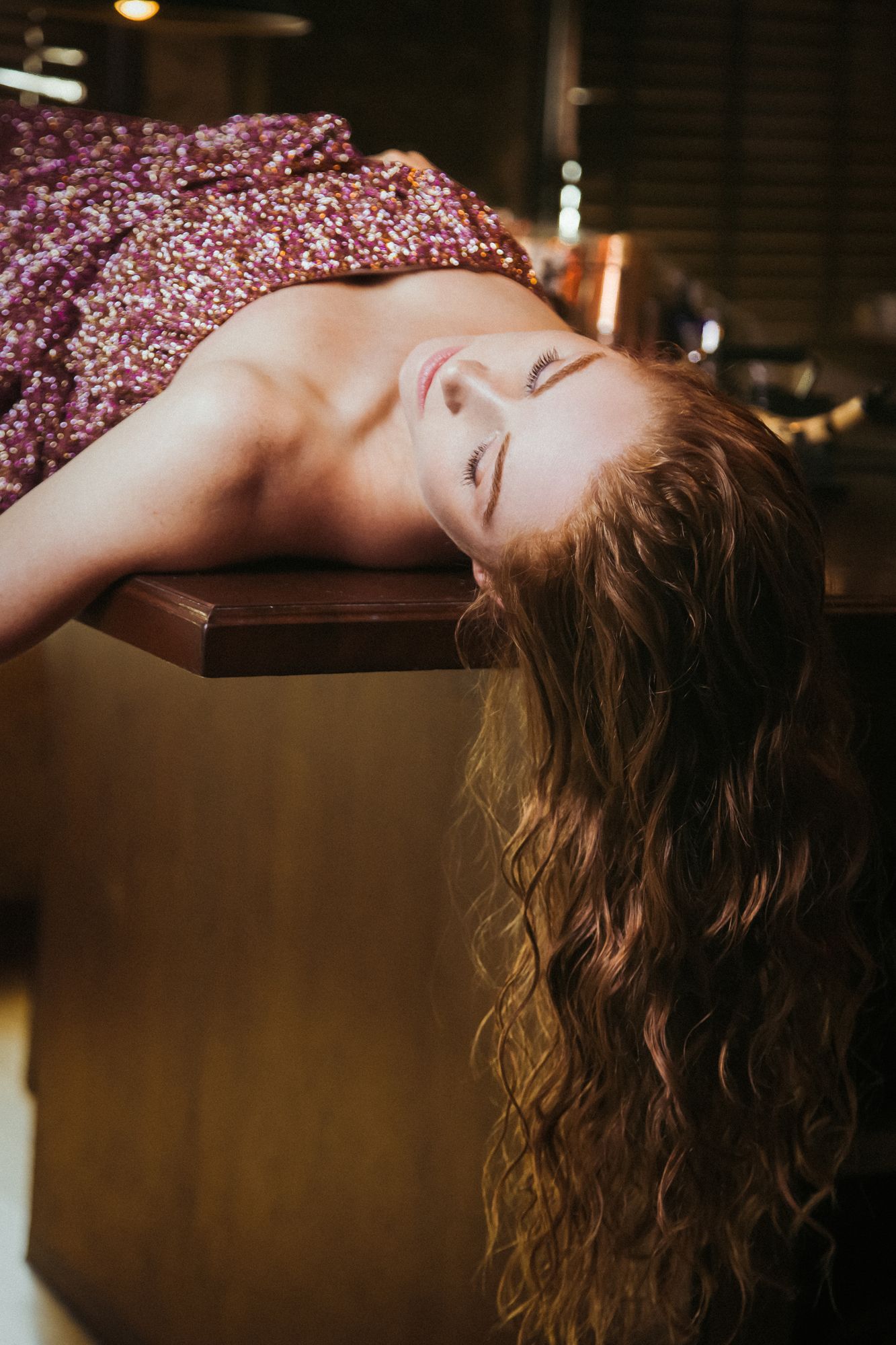 Sequined Empire Dress by Malan Breton
I hear you are writing your own comedy series, what can you tell us about this project? 
It's something I've been working on for a while now, at one point I will have to stop re-writing it and maybe, just maybe let someone else read it?! I don't consider myself a writer, so it's a bit daunting, but it's funny…I think?! No, it's definitely funny…I hope?!
What was it about acting that made you want to pursue it as a career? What path did you take to get you to where you are today?
Growing up I think I just liked the idea of being watched and applauded, it made me feel special. But as I got older I realised that it was more than that to me. It was making people feel something I craved, not the applause. The concept of being able to connect with people through imagination. I'm no happier than with a script in hand, and the responsibility of bringing a character to life. The idea that people put their trust in me to do that, will never get old, I don't think I'll ever not feel extremely lucky. The path, was a somewhat arduous one, but exactly how it should have been. In this industry, if I can hold on to anything, it's to have faith that everything is exactly how it should be.
What else is coming up for you?
Imminently, a holiday! I've just finished shooting for a brilliant comedy series called Flack, (new obsession in the form of Anna Paquin). Then onto something very different next month, an untitled horror film. New territory for me which is always exciting, then who knows…watch this space.
Four Weddings and a Funeral is airing Wednesdays on Hulu!
Interview Kelsey Barnes www.kelseyjbarnes.com
Photographer Yoshi Kono www.yoshitakakono.com
Styling Francesca Marotta represented by the Agency.Productions www.francescamarotta.com
Make Up Jade Bird www.jadebirdmakeup.com
Hair Christopher Gatt www.christophergatt.com
Location Opium China Town www.opiumchinatown.com
Opening image credits:
Sequined Jumpsuit by Nico Didonna
Silver Earrings by Francesca Marotta by Imogen Belfield