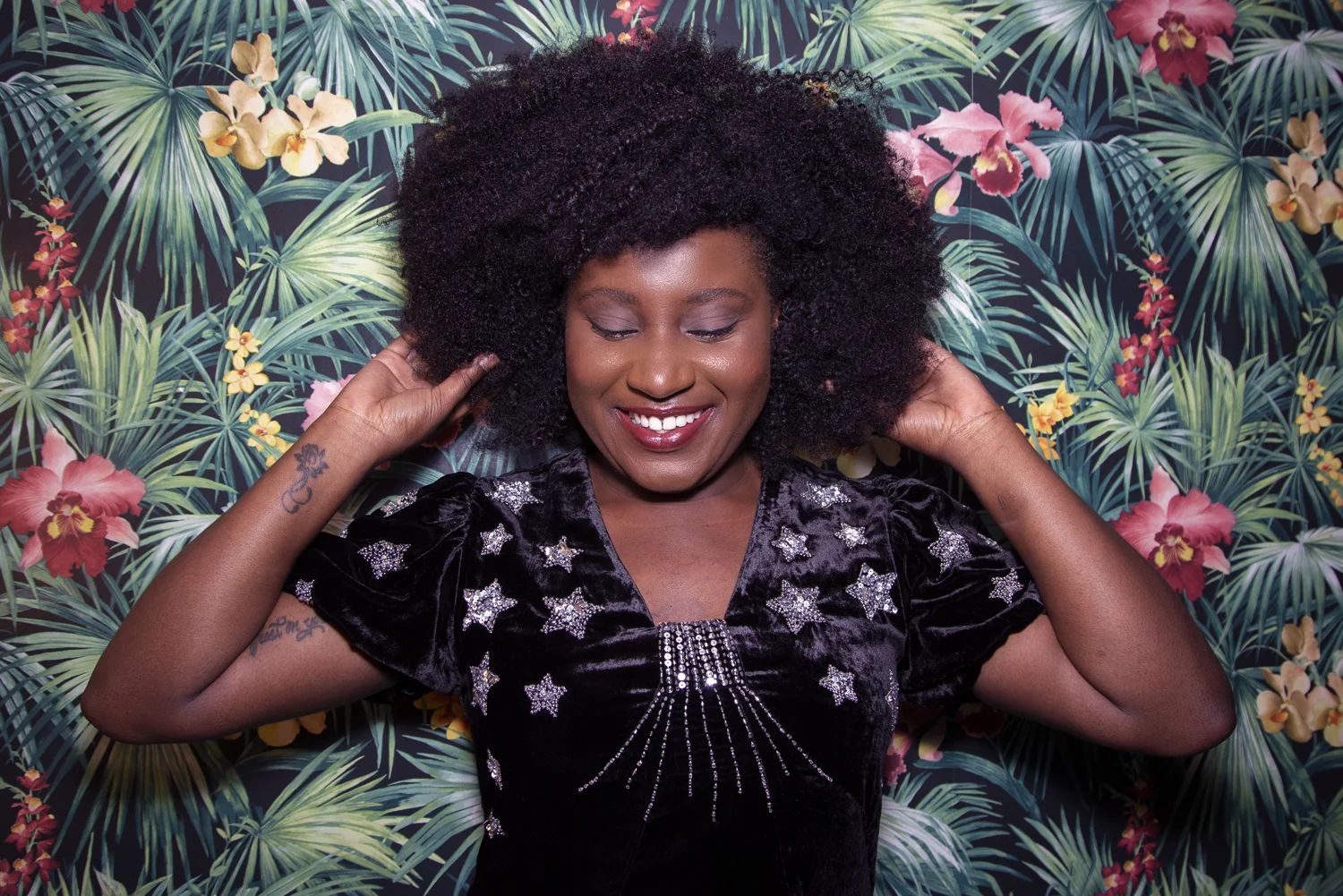 Susan Wokoma
As someone who has watched all of E4's Chewing Gum twice, I jumped at the chance to meet dynamic actress Susan Wokoma, who played the sidesplittingly brilliant Cynthia.
I sit in anticipation at Regents Park Theatre Bar, waiting for the arrival of Susan, when suddenly in a whirlwind I am met with "Sorry! I've been writing all day and running round dressed as a donkey all night!" It is immediately apparent we are going to have a fun session…
Susan, you are currently playing Bottom in A Midsummers Night Dream at the Regents Park Open Air Theatre. After so long on the screen how does it feel to be treading the boards again?
Ooooooo initially I was terrified to be honest. I hadn't been near Shakespeare in so long. But I really wanted to break out of the previous pattern I had been in. There is always such a gulf from when something is filmed and when it is on. But there is something incredible about rehearsing and putting on a play – such a team effort! I wanted to tap into the playfulness of the show because TV can be really serious. But with theatre it's us and the audience and that's so fun. It's like medicine! The other night I was doing this bit in the play where I lie down on a mattress and just then the wind blew through the trees and I could literally hear the birds in the trees while I performed. I just thought this is ridiculous! But what a good decision.

You currently star in Dark Mon£y, a television drama about the struggle faced by a couple (Babou Cesay and Jill Halfpenny) following the molestation of their son by a famous Hollywood producer. How have you found the transition from comedy to drama?
It's weird because I didn't study comedy or set out to only do comedy. When I was training at drama school we always did everything, so actually me working in comedy has been a really happy mistake, which I really enjoy! So going into Dark Mon£y was a bit of an anomaly. Lewis Arnold, the director is the only director who thought "She's an actress" as opposed to a comedian. I knew Babou and Jill from previous jobs so instantly fell in love with this project. It was a really joyful and playful set and I think Lewis wanted to create this because the show deals with a very dark subject matter. It wasn't too much of a gear change because he created a safe, happy place to come and work each day.
Last year you wrote and starred in your SKY Comedy short Love the Sinner directed by Jennifer Sheridan, which won 'Best Short Form Comedy' at the Broadcast Digital Awards. What advice might you have for creatives hoping to make their own work?
There's a lot of pressure to create your own stuff now. Reject that pressure. Only write what you want to write and when it is your time. A lot of people might ask "Where is your thing?" but I know how much work it takes to create your own TV show. I only believe it is worth it if you have the right team and right people so find who you want to work with. It just makes all the difficult parts of putting something together easier if you're fond of the people involved. Also download The Final Draft App! On set Alun Armstrong was like, "You're always on your phone!" I had to show him and say "I am trying to write a script with my thumbs!"
Recently you shot a comedy pilot for CBS' Super Simple Love Story in LA! What was it like working over the pond? How different is the industry over there?
Well, the biggest difference is money. We were filming in Sony studios and it is absolutely HUGE. It's a military operation… it's like theatre! They had built multiple sets and the detail that goes into it is crazy. It felt like promenade theatre – we would go from set to set and perform for the bosses of CBS. It was tremendous fun but really I landed on my feet in terms of the people. Also being in the sun in Beverly Hills is no a bad thing! You can literally smell the old Hollywood system – it's good being on those sets. You genuinely feel that's where all the good stuff gets made. LA is a great place to be if you're working, but to be honest I never had a clear ambition to go and work there. You always go where the job is. So if I got a job in Bucharest, I would go there for 3 months and that's what happened – I got a job in the US and there I went. You've got to be nomadic.
You're a busy lady! Talk us through an average day in the life of Susan Wokoma.
A typical day changes every week and a half! But I like to go for a run in the morning and I always meditate. I tend to do positive affirmations and show gratefulness, particularly if things are going well work wise. That sounds very peace and love but I think it is important! Also BBC Films have commissioned my film, "Three Weeks" and my deadline is pretty soon so I've been writing! When I need to take a break I go down to Portobello Market, maybe to feel closer to Richard Curtis, hah! Then more writing, then the show but that is about to change in two weeks! I would normally write at night, starting at midnight and finishing at 6am. I'm such a night owl!
And finally, what's next for you?!
Oh yay, I can finally announce this! My next project is a new film called Enola Homes, adapted by Jack Thorne and directed by Harry Bradbeer, who directed Fleabag and Killing Eve. Enola Holmes is based on the novels about Sherlock Holmes' sister, played by Millie Bobby Brown. Henry Cavill plays Sherlock and Helena Bonham Carter also stars. I've known about it for ages but couldn't say. I start shooting once we finish the play. It's going to be fun!
Susan Wokoma plays the role of Bottom in A Midsummer Night's Dream at Regent's Park Open Air Theatre until 27 July 2019. Tickets and more information at www.openairtheatre.com
Dark Money is available on BBC iPlayer
Interview Sarah Agha @sarahaghaacting
Photographer Anna Urik @anna.urik
Styling Katy Bennett www.katybennnett.com
Hair Jennie Roberts at Frank Agency using Cantu @jennierobertshair
Make Up Jade Bird @jadebirdmakeup
Location www.thelittlebluedoor.co.uk