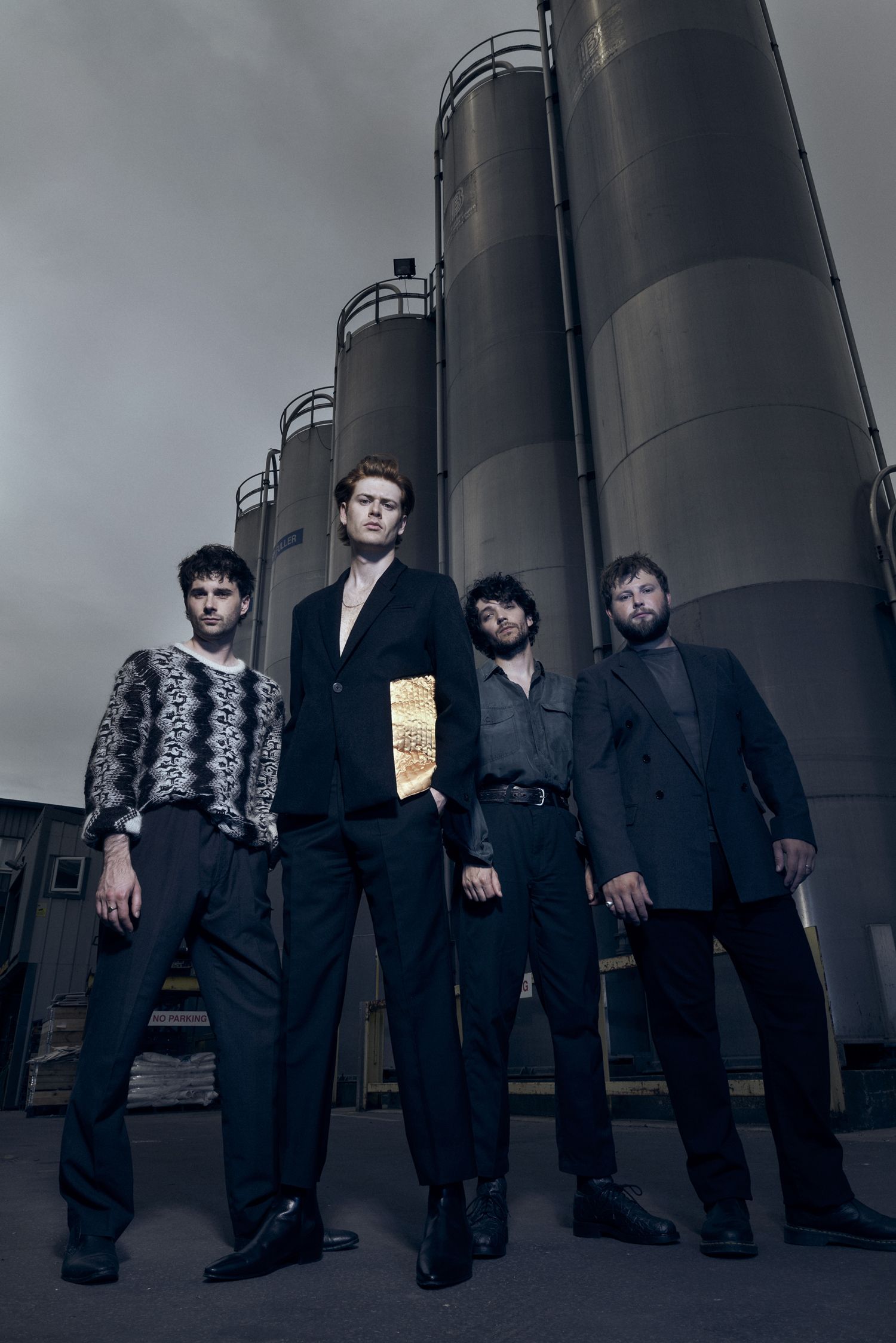 The Amazons
Reading's second sons, The Amazons, are poised to release their best album to date with their third LP, How Will I Know If Heaven Will Find Me?
Comprised of vocalist/guitarist Matt Thomson, guitarist Chris Alderton, bassist Elliot Briggs and drummer Joe Emmett, the band have earned their place as one of the UK's hardest working bands ever since they dropped their debut  2015 EP Don't You Wanna which contained the infectious track Junk Food Forever. Over the span of the last eight years, the rockers have played numerous shows, released two exceptional records (the self-titled 2017 debut album & 2019's moody follow-up Future Dust), and gained a loyal fanbase. Their guitar-driven sound and unique lyricism saw them gain traction with their biggest hit so far 2017's Black Magic, a tune they still use as a set closer.  But The Amazons aren't ones to focus on their past achievements, the four-piece are constantly striving to make their next project their best work yet and How Will I Know If Heaven Will Find Me? might just be their magnum opus. The album itself is expansive and more of an uplifting listen compared to the two previous projects, and it was produced by Jim Abbiss (Bombay Bicycle Club, Arctic Monkeys, Adele), and features co-writing collaborations with the likes of Maggie Rogers & Jamie Hartman. All you have to do is listen to the anthemic and fierce single Ready For Something to realise that the band are now on another level.
The Amazons have always seemed like an arena headlining band but for someone bizarre reason the opportunity has alluded them, they got their first taste of playing arenas when they supported Royal Blood on a UK arena tour earlier this year. When the band's third record drops on September 9th via Fiction Records, the status of being an 'arena headlining band' might just be theirs. 1883 Magazine's Cameron Poole sat down with front person Matt Thomson to discuss the forthcoming new record, working with Maggie Rogers, headlining London's iconic Roundhouse in Camden and more.
The third Amazons LP How Will I Know If Heaven Will Find Me? Is out September 9th via Fiction Records. A lot has happened in the world since the release of Future Dust back in 2019. I know you've described this album as a more hopeful and focused experience than the previous two records, so how did you tackle the writing process with this mind when you started making album three?
When you write an album over a couple of years, it goes through these phases and chapters. When we started the record in 2020, we were apart a lot, so many of the songs came from extremely stripped and raw places. The last record, Future Dust, was almost entirely written as a band in a rehearsal room in terms of having instrumentals that I would then sing over and make melodies to. Going into this new record, we wanted to put in a rule that if the song didn't move or excite you within its most fundamental form–my voice over an acoustic guitar or piano for example–then we wouldn't push on with it. That ethos was cemented with lockdown stuff happening because we weren't able to be playing as a band so that's how a lot of the songs are written, in my bedroom.
I recently moved to Brighton and I have this kind of attic, I would call it the penthouse but it's an attic near the station in Brighton. It has a great view of the sea and the city so that's where a huge amount of songs were written and then they'd be sent to the guys who would put parts on it so it was an incremental process of putting things together. At the time [2020] I didn't know I was going to be apart from my girlfriend–who lives in the States–for up to seven months so wasn't something I was originally going to talk about but by the time we got to the end of the year, it was something I couldn't stop talking about so it ended up in the music, lyrically. The whole record turned into an attempt at squeezing something positive out of a fairly negative situation. 
There were some co-writing collaborations with Artist Maggie Rogers & songwriter Jamie Hartman for the new album, why did the band decide to work with them and how do you think it's positively impacted the new record? 
From the second record onwards, I've always been happy to collaborate and just play music with friends and other musicians, which is what you get into as those opportunities can be really special. With Maggie, it was pretty damn organic, it wasn't planned or anything like that. We were just hanging out and the nature of our friendship was so built on music. We met at Glastonbury and then really started hanging out at Fuji Rock Festival in 2017. It's a friendship that's built on mutual love and respect for discovering new things, my notes app is filled with "You should watch this film" or "You should listen to that", all that kind of stuff. I was at her house and I had had this idea for so long which was basically a verse and an acoustic guitar part which I played to her and I said, "What would you do next?" And she started singing this really beautiful, emotive melody that opened up a whole new room of ideas for the song. 
Sometimes with songwriting, you can find yourself at a dead end and it's not really about people giving you the answer, it's almost them giving you a little bit of inspiration. That's the beauty of it, I've said to the guys in the band, "The door is open now" and I really don't want to close it on being able to play music with other people because it's been a really great part of the process with this record. 
Collaboration can always be fruitful to pursue. If there were ever to be any more collaborations in the future, as I know you guys love him, you've got to get Kevin Parker on board. I know in some interviews you guys have said how much you love him so eventually, you have to make it happen!
I would love for that to happen. I would love to hear our music through his ears, that would be fun. 
With each album so far, the artwork has always been visually striking and in a way quite dramatic: your burnt van on the self-titled, Future Dust's dark photo at Three Cliffs Bay (Wales) and now the starry night sky and bedroom window on LP three. Have the visuals always been an important aspect to the group? And tell us about the new artwork….
It was a long process. Sometimes it comes really fucking easily and other times it's like banging your head against the wall. Sometimes you can put too much pressure on yourself about finding an image that sums up a whole record but it doesn't work like that. It's just about finding an image that moves you and I think we found that image through our creative director early. I was bouncing references online of stuff that I felt illustrated songs, the themes of the record, loneliness, and also the sense of possibility that those things represented.
We found this image, I don't know where the hell we found it, but we were like "Yes that's it" because the image, to me, was like "It's night-time. Yes, the person in the bedroom is potentially lonely" but the light coming from the bedroom kind of represented life and hope and, as I said, possibility. It felt like it was me in that bedroom, writing, plotting, and scheming about the future. That's how it felt. 
You're currently out in LA, right? What have you been up to?
Honestly just visiting the area, I've been going out with my girlfriend as it's where she lives so I've been back and forth for the last three years. This is kind of my second home but maybe it'll be my first home at some point. I find it a really inspiring place. I write on my own here, I've got a little space where I can write and create music so it's nice, I like it out here. Obviously, being with someone I love helps but just, exploring a new city, warts and all, has been a real thrill.
Exploring a new city might inspire you for other songs down the line… 
Yeah, a lot of this record was written here, I can hear the influences of the times. You just spit chords out differently, your decision-making is slightly different when it comes to lyrics and things like that when you're over here, that's for sure. I can hear those songs on the record, it makes me think of here [The States].
My favourite song from How Will I Know If Heaven Will Find Me? Is Northern Star – it's beautiful. I know your favourites are Say It Again and Northern Star but what tracks do you think Chris, Elliot and Josef would pick as their top choices?
Chris really likes Wait For Me, which surprised me. He's the prince of darkness. But Wait For Me is kind of not that dark, it's quite beautiful and upbeat. I know Elliot's favourite is Northern Star he's said it many times, collectively we all love Say It Again. That one is a different one for us as well, I just love the vibe of it. I think Chris and Elliot also love One By One.
We need to mention the UK headline October tour, It's your first time playing the iconic London venue, The Roundhouse. How are you feeling about it? Surely now the band has finally played The O2 Arena after supporting Royal Blood earlier this year, any venue is now a cakewalk? 
Sometimes you can harness that daunting feeling. Sometimes you can harness that "Whoa, we've never played something this big before" but sometimes it can be a distraction. You're right, now we have done the O2 Arena and we've played Brixton and bigger venues it definitely helps. With the Roundhouse we can be like "Cool, we can make this place our own", we don't have to warm up to it. It's at the end of the tour as well so hopefully, it will be real hot by then. The Roundhouse is somewhere we have never played and it is bucket list territory so with the number of legendary gigs there, why wouldn't we want to be a part of that history? I'm super excited for it and the rest of the UK as well. I feel like being from Reading actually holds a little bit of freedom because we're just open and enjoy playing to all of these different crowds. I'd say if there is a second home for the Amazons, it is probably Manchester. That city has always greeted the Amazons with open arms. From playing the Deaf Institute which has around a 200 capacity and was a real "Wow what the fuck, things aren't usually like this, this is amazing", right up to playing the academy, we just love the city and spend as much time as possible there. Same with Glasgow and Dublin. I'm excited to go to Dublin, the Ireland part of the tour, and Belfast. I just love going to those countries.
As the band has been going for quite some time now, what do you admire about your bandmates?
Sometimes it can be easy to look past each other's stuff. I love how much everyone has grown from when we first started. I'm trying to really limit the cliche but we are just a bunch of boys from Reading. Not from any kind of scene where people were like pushing each other too much. I mean, there were a couple of bands already, shout out to Sundara Karma, but what I'm trying to say is there was no reason for us to go on and be successful. I think the reason why it happened is the boys in the band have grown and challenged themselves and grown into incredible artists in their own right. I think Chris is a brilliant guitarist, he's a great musician as well. What is interesting about the band dynamic is there are elements of the dynamic which are pretty much set in stone and are really difficult to change from when you first start. It's an interesting thing when you start that dynamic as early teenagers. We didn't come together as men. We started as boys.
I just want to take a moment to appreciate how far The Amazons have come since the band's inception in 2014, with two top 10 UK albums, numerous touring and festival dates, and a continuously growing fanbase. It's no easy feat trying to constantly make progress within the music industry. Arguably it feels like so many incredible bands that also came out in the early to mid-2010s aren't as active anymore and there are always some new industry trends that you have to try and conquer such as TikTok or streaming figures. So how have you and the band found navigating the industry over the last eight years and what keeps you all driven?
A key thing is to not get emotionally attached to the format you are communicating to your band. All that really matters is the music and the audience having that music shared with them, really there's nothing else to it. It's easy to kick back against TikTok or whatever new trend there is but really it's just tools to share and that's all there is. I think you can weather and not worry about that stuff if you concentrate on what matters which is the music and people. It's an opportunity, I actually much prefer TikTok to Twitter, I resent having a Twitter. I just don't know what our place on the App is. I don't have enough opinions to keep Twitter going, I  would need to feel like my inner thoughts are 10 times more important than they actually are to be able to maintain a proper Twitter account. 
I don't really see that platform as particularly productive, I see it as more destructive. With TikTok, its behind-the-scenes stuff may be a little bit dubious but at least it demands certain creativity even if that scares people. When you're not familiar with the app I guess it does scare you, but once you start doom scrolling, it's easy, man [laughs]. There are some things you miss and some things you really don't miss. Even in the eight years, we have been a band, a lot has changed. Some for the good and some not so good.
What I love about the music industry is that you can meet so many wonderful fellow creatives and bond over your shared passion, this doesn't just apply to other bands you are friendly with, it also applies to the photographers, graphic designers and radio DJs you meet whilst simply being a band. Are there any creatives you adore and feel more people should see their work? I know you're friends with the talented photographer Phoebe Fox, Radio 1's Jack Saunders, and many more.
Jess Greaves is a photographer we have out on tour. She's fucking awesome, a really talented photographer. We have really great crew members on our tour, Callum is an incredible monitors engineer, without him all of our gigs would sound like crap in our ears. We've had a tour manager who's been with us the entire time called Callum. I know there are two Callums there but there are a lot of callings in this world, unfortunately [laughs].
What I love about it is that: say if I want to make music or something, it's more than likely you have a friend who's a graphic designer and then you just link up and you create something together and I just think it's so cool. And you meet so many interesting people via doing music.
You hit the nail on the head on what is really fucking awesome about music. I've echoed what you said in other conversations, it's just like, everyone up to this point, has had a story to get here and everyone wants to be here which is a really powerful thing.
Finally, what do you hope people take from How Will I Know If Heaven Will Find Me? When it drops in September?
What you want people to do is connect with the story of the record and the lyrics that's it essentially. What I find interesting is something as raw as Northern Star which is very specifically about someone I love and someone could appropriate those lyrics and apply them to their own life which is cool, it's really powerful. You don't have any control over it so when that stuff does happen, it's awesome. 
The Amazon's new LP How Will I Know If Heaven Will Find Me? is out September 9th. Follow The Amazons @theamazons
Interview by Cameron Poole
Photography by Joseph Sinclair @ John Parkinson Agency using Leica and Profoto.
Styling by Emily Evans @ The ONLY Agency
Hair by Kieron Webb
Make up by Anna Inglis Hall @ Stella Creative Artists
Top featured image credit: Left to right: Chris: Black and white sweater JUNLI // Grey trousers DIOR // Shoes Apotheke 104 by Cristiana Alagna Matt: Black jacket with orange padding JUNLI // Black trousers DIOR // Boots CELINE Elliot: Silk shirt PIN DENIM // Trousers EDWIN // Shoes SHEK LEUNG Joe: JACKET DIOR // T shirt R13 // Jeans EDWIN // Boots Dr Martens