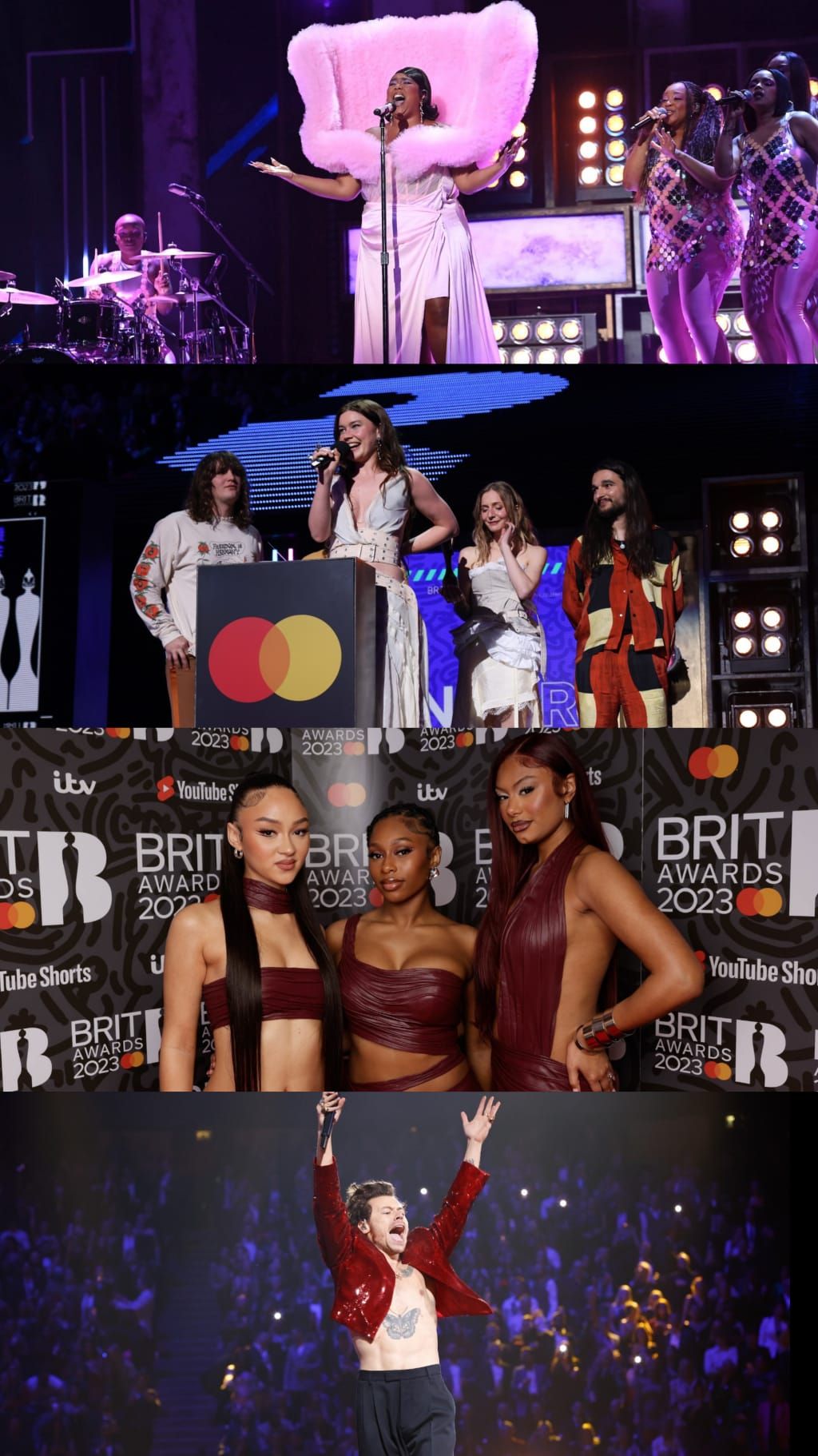 The BRIT Awards 2023
When it comes to UK-based annual music events, there are few as glamorous or as integral to the industry as The Brit Awards.
Since its first awards ceremony 46 years ago when it was previously named The British Record Industry Britannia Awards, the yearly event has always been used as a platform to celebrate popular and commercially successful artists and bands of the time. As it's been ongoing for a long time, The Brit Awards (also commonly known as The Brits) have become ingrained into the lexicon of any UK-based music fan or industry worker. Even if you don't personally watch the star-studded event, you're bound to have heard of it. After all, the live television event has seen some hugely controversial and iconic moments occur due to its eclectic guest list of national and international artists. If you think of the awards ceremony, you'll conjure up images of Geri Halliwell's legendary union jack dress during The Spice Girls' performance in 1997, Jarvis Cocker gatecrashing Michael Jackson's performance of Earth Song the year before or numerous egos clashing such as Robbie Williams vs Liam Gallagher.
There are literally too many moments to account for, Amy Winehouse's sublime 2008 performance of Valerie with Mark Ronson, Adele's 2011 performance was flawless, Madonna had a fall on stage and quickly recovered back in 2015, Stormzy gave an important and much-needed performance in 2018 which called out the Tory government and the lack of support of the previous year's Grenfell Tower tragedy. There is an endless list of both incredible and wild moments that have all stemmed from the renowned awards evening. When it comes to The Brits, you can bet that there will be some unexpected and spontaneous moments that occur and that's why people love it. What's not to like about a boozy night out featuring a wide range of musicians, celebs, and music industry workers?
As someone who has watched the televised event year after year, it was quite a surreal experience attending the award ceremony on behalf of 1883 Magazine for its 2023 edition, which took place on Saturday 11th February. As I headed towards London's 02 Arena, the venue that has hosted The Brits since 2011, there was a clear feeling of excitement in the air. There was a small cluster of fans outside the O2 hoping to be able to peek into the well-cordoned-off red carpet, there was general access in the venue for anyone attending the lower tiered seating of the arena and the crowds were dressed impeccably. As I stepped into the venue and before entering the arena, I realised that I should have dressed a bit more smartly but was determined to speak with a few different people attending the event.
After plucking up the courage and ignoring my social anxiety, I went up and chatted briefly with a few attendees. I spoke with Joanna and Temo, who were attending the evening as their daughters are both in the emerging R&B group, Flo (Flo is pictured above in the main image). The act that won this year's rising star Brit Award. I also bumped into fans that were excited to watch Harry Styles, the TikTok UK music team, and the Blonde Vibrations podcast team. Everyone that I spoke to was anticipating a fun night ahead and that is exactly what transpired. After stepping into the lower-tiered seating area above the celeb-filled tables where the nominees and VIPs sat, I was located in a seating area full of industry workers, journalists and influencers. After initially sitting in the wrong seat behind a connoisseur of railway trains, Francis Bourgeois, and after moving to my correct seat, I realised how lucky enough I was to have a brilliant view of the night's proceedings. The adrenaline was pumping as the purple hues from various lights around the venue lit up the room.
As we all know by now, Harry Styles absolutely swept the board with four wins – Mastercard Album of the Year, Artist of the Year, Song of the Year & Pop/R&B Act. All for arguably his magnum opus, the 2022 LP Harry's House. The beloved indie newcomers Wet Leg won the Group Of the Year and Best New Artist award categories for their fantastic 2022 self-titled LP. Manchester's Aitch won best Hip Hop/Grime/Rap Act, pop superstar Beyoncé was honoured as International Artist Of The Year and also won International Song Of The Year for the track, Break My Soul. Irish heroes Fontaines D.C. won International Group Of The Year, Becky Hill won Best Dance Act, The 1975 won Best Rock/Alternative act, and David Guetta won the Producer Of The Year Brit award. It was intriguing to see each of the aforementioned artists pick up their awards in real-time (except Beyoncé who recorded a video message for the event) with very few hiccups, as a whole the evening seemed to run smoothly apart from a few technical issues and some awkward blunders made by the award hosts. But that's all to be expected when it comes to The Brits, it keeps things interesting.
When it comes to my personal favourite moments from the awards ceremony, it was incredible to watch Harry Styles, Lizzo, Lewis Capaldi, Sam Smith & Kim Petras, Stormzy, Cat Burns, and Wet Leg perform. It's rare that you can see such a varied and world-class line-up like that on one night, only can an event like The Brit Awards pack a venue with such talent. I do feel that some artists like Rina Sawayama and Nova Twins deserved some wins but regardless it was thrilling to see a band like the alt-rock duo made up of Amy Love & Georgia South finally be recognised on a larger industry level via a Brits nomination. You can read our previous interview with Nova Twins by clicking here and our review of Sawayama's recent Brits/War Child acoustic show by clicking here.
After the night came to a close, I left the O2 on a complete high and eagerly looking forward to the next instalment in 2024.
To see more photos taken from the night, head to The Brit Awards website by clicking here.
Words by Cameron Poole
Special thanks to DawBell
Photography by JMEnternational