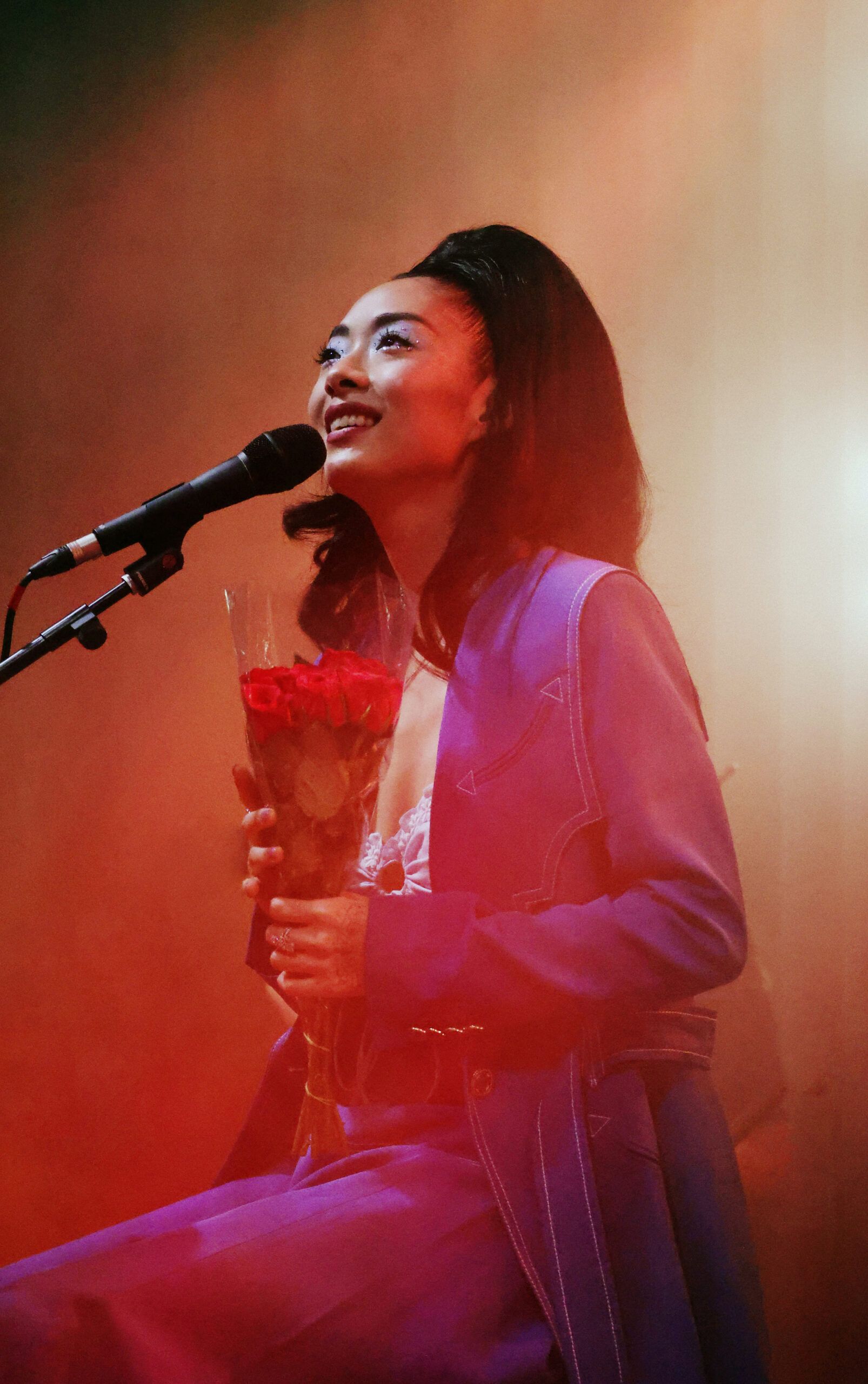 Rina Sawayama live at Lafayette, London
The inimitable Rina Sawayama put on a fabulous acoustic performance last Friday in aid of War Child.
Sawayama has proven to be one of the most brilliant artists to emerge in recent years. An astounding vocalist and performer that blurs the line for pop music in the 21st century. Her 2020 debut LP entitled SAWAYAMA combined heavy nu-metal guitar riffs, emotive electronic production elements, pop hooks, and soaring vocals. It was a triumph and the forward-thinking artist continued to strike gold on last year's sophomore record, Hold The Girl. The pop-hit purveyor's live show is intrinsically linked with big production values. Think: big band set-up, well-choreographed dance routines, backup dancers, and theatrics. So when it was announced that the singer-songwriter was going to be performing a one-off intimate acoustic set at London's Lafayette during Brits week in aid of War Child, 1883 was curious to see how it would go down.
Taking to the tiny stage with her talented live band members, Emily Rosenfield on guitar, Ciara O'Connor on backing vocals, and drummer Simone Odaranile, undoubtedly the Brit-nominated musician nailed her stripped-back set. Rina & co were well-dressed and gave off big Shania Twain vibes, it was very fitting as there were a few country covers thrown into the set. From the get-go, the 600 crowd attendees lit up the room with eruptive applause as Rina kicked off the show with Hold The Girl. With the venue being so small, it felt like you could hear everyone's innermost thoughts, if an excited fan made a comment to Rina, she'd converse with the crowd. Already by this point, it was clear to see that she doesn't need big theatrics to command a room. Sawayama's conversational nature during the set was a joy to watch. During the set the Comme Des Garçons singer wanted the crowd to be her "accountability partner" as her new year's resolution is to drink more, particularly tequila. Or when a crowd member asked if they could buy her a drink, Rina would nonchalantly reply "later" with perfect comedic timing. Admirably, apart from crowd chatter between songs, the songstress ensured she highlighted how "super important" War Child is and urged the crowd to pick up merch or donate where possible.
The set was well-paced and featured a mix of tracks from Hold The Girl, Sawayama, and a slew of covers, including the likes of Avril Lavigne, Shania Twain, Brandi Carlile, and Dolly Parton. There were many key moments throughout the performance. It was emotional to hear Sawayama talk about being bullied at university and how she found friendship and solace with a group of queer uni students and how it's important to '"be yourself". This led to a sublime acoustic version of fan-favourite, Chosen Family, with a pride flag draped over her shoulders. There was even a point where Eurovision was brought up by the crowd as a member of the audience was keen to know if the alleged rumour that Rina could be representing the UK in this year's contest is true. A rumour that has been floating about on the internet for a little while now. In a humorous fashion, the pop star refused to comment on such rumours which only added more fuel to the fire. The standout moments of the entire evening came from the last two songs on the set, an excellent version of a beloved Rina tune, XS, and a frenzied crowd sing-along during the bridge of set closer, This Hell. 
Rina Sawayama delivered the goods for this acoustic performance during Brits Week and it truly made for an atmospheric and feel-good experience.
Review by Cameron Poole
Photography by ANCLA