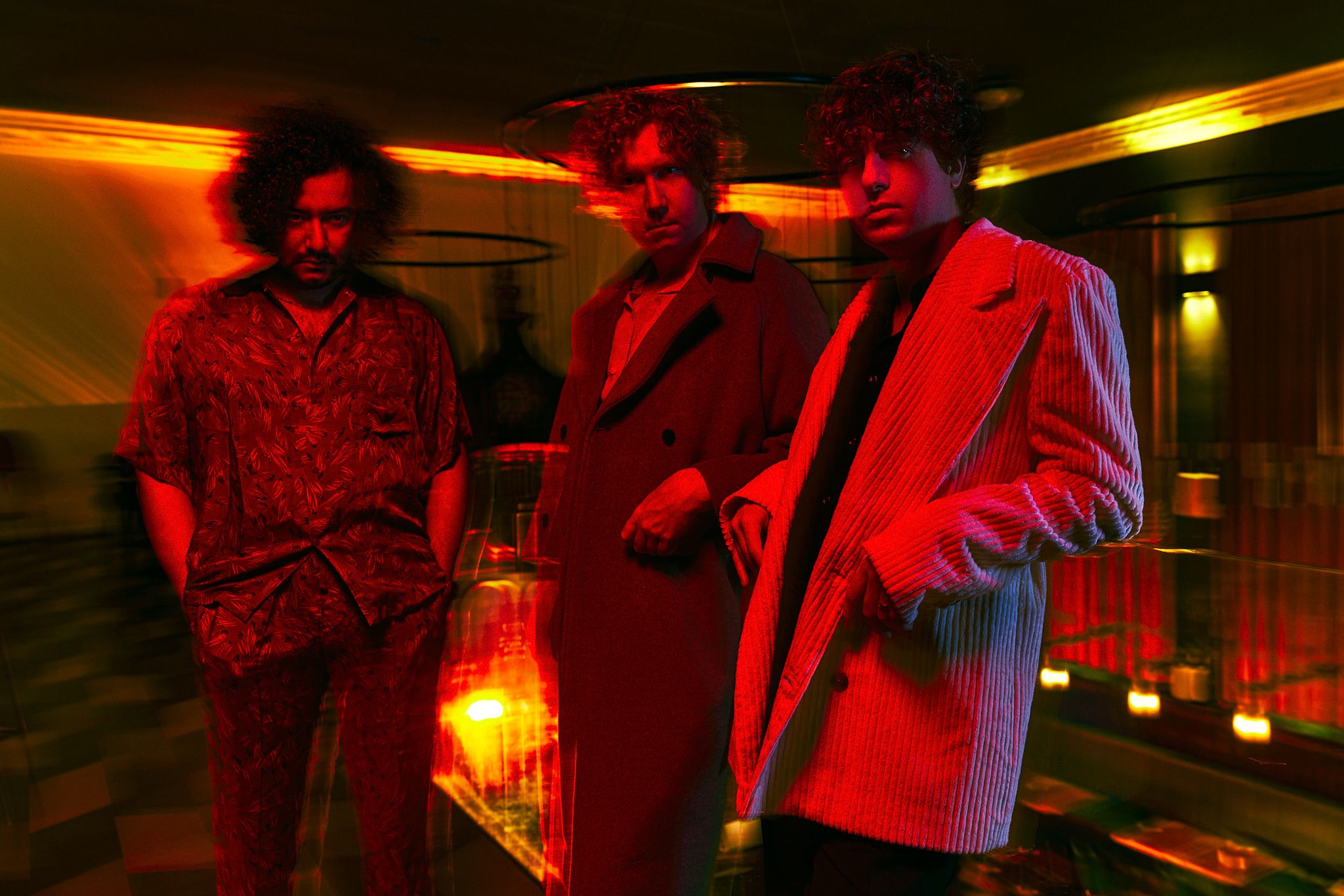 The Kooks
Over their nearly 20-year career, The Kooks have embedded themselves as an institution of British music.
They found themselves releasing music at a time that will be long remembered and forever championed by fans old and new. The band has released 5 albums since their iconic Inside In, Inside Out debut and now lead singer Luke Pritchard chats to 1883 to discuss the process behind releasing their 6th album 10 Tracks to Echo In The Dark, what it's like to be a touring musician and a new dad, plus his take on what it feels like being part of being such an iconic time in music.
Hi Luke, Thanks for taking the time to speak to 1883 today. I don't know if you remember but you actually spoke to us back in 2020. How has life been for the last couple of years since we spoke?
It's been great! I mean quite a different situation since the last time we spoke. Right now. It's currently festival season and yeah, that's like our spiritual home so it's amazing to get back to doing that. And also, the new album dropped and that's going really well. It's been a great summer so far!
Congrats on the new album, 10 Tracks to Echo In The Dark. What made you want to release the album as two EPs first then a full body of work? I've actually never seen a band do that before and it was really intriguing.
I think it's important to be disruptive sometimes and I think in life you get pigeonholed quite easily. The way people receive music and discover music is so different now and we do have a lot of fans who are younger so we just thought it would be creatively exciting to do more "content stuff" which was really fun. We had the same filmmaker who did all the artwork and all the videos and we've never done that before. It felt pretty good to stitch that altogether over lots of different releases rather than just like here's a whole album. I was also looking at what some of the pop worlds are doing while making this album and thinking it's quite cool to be able to put out more bite-sized pieces of music. I mean an album will always be the perfect amount of time for music for me personally, I grew up on it. But it was fun to try something different.
Would you say this younger generation of fans who've discovered your music via streaming made you rethink how to approach a body of work?
Yeah, in a sense. I see the relationship between us and these new fans as symbiotic. People back in the day asked if we really focused on MySpace but it wasn't the case; it wasn't this clinical decision. I think I speak for the label at the time as well, it was just something that was new and it's how young people discovered new music and the same goes for streaming today. It's important to listen to and keep an eye on trends. I'm not really about chart positions and stuff like that, I think it's more about making music that lasts for a long time and that doesn't mean you have to do things in a traditional or particular way.
I would definitely say you're part of that generation of bands that around 15-20 years ago, created timeless bodies of music. How does it feel to be a part of that where you can go to any indie night in the country, and you'll still hear Naive, for example.
They're very kind words! It's pretty exceptional how our band is stitched into that era but I think it's just the benefit of time. And the fact that those songs have kept growing is great, but we also were part of a real musical movement. It was such an exciting time, the live scene was electric and everyone was playing at every bar they could, every pub they could. Having started in Brighton, there were only so many places to play but we played them all. The whole scene got kicked off by The Strokes who wanted to do this Britpop-style thing but were also influenced by the likes of The B52s and Lou Reed. Ultimately, they were a band and subconsciously a lot of British musicians thought this is what we do best, we're the best at the whole band thing and that created this resurgence of everyone wanting to do that and be a part of that. Then your music becomes a part of the time because you're a part of it — I mean, there were tons of us!
I enjoyed the positive outlook of the new album 10 Tracks to Echo In The Dark. Did that come naturally when writing it, especially when a lot of your peers around you were creating art from a bleaker place?
I just think I'm the kind of person, I have to work quite hard to be happy. In general, my normal state is to be a little bit negative and cynical. So conversely, when I write music I find that I end up pushing more on that kind of positive and joyous side and I find it slightly therapeutic. That's our thing as The Kooks to be cutesy, danceable, to be able to sing along and be hooky. It's searching to be joyous and bouncy for The Kooks and to find that element of humour too. I often find taking influence from The Kinks and The Beatles as well as that Britpop humour, that's all definitely on the new record. I did, ironically to what was going on with the rest of the world, found myself in probably the most stable place I've been in my life. I got married and had a child on the way so that definitely came out on the record too. When I was taking it from that place, it felt pure and not forcing it at all.
This album sees a few more features like Milky Chance and NEIKID. Is this something we'll be able to see more of in the future?
Yeah, I did really enjoy it. And I guess it is running in parallel with how we released the music and it seems to be quite a hit. It also came down to me being less closed. Thinking about the past again, I think it was more tribal and you'd stick to your own band and be very us and them. But that's something I like about the modern music industry, the walls have really come down. You see people like Mark Ronson sharing how he produces and mixes and it's kinda cool! Everyone's into this sharing philosophy now and I'm the same. In the past 5 or 6 years, I've really started working with other songwriters and producers and I found it kept me really inspired and kept things fresh. It stems from doing the 4th record with Inflo. He pretty much joined the band when he came to produce the record! It was his first production and for me, it set me on a path which was a bit different; I started to feel really comfortable and quite enjoyed bringing new influences from other artists into the band.
Working with Milky Chance was great. I love those guys and we were friends first, you know? It goes back to sharing, I'd written this song and it had this kind of Milky Chance bottom end in there with the bass and thought should I ask them to be on the record? I did, they loved it and just resonated with the track. I think it's definitely something we'll do more of.
I guess the inevitable question that comes after talking about collaborations is whether there is anyone you'd want to collaborate with in the future, whether they be friends or idols or anything like that?
I mean, there are a lot of people already on my list! But it's hard to know what will work as you might love someone's music but it just hasn't worked out that well. I did some stuff with Mark Foster (Foster The People) who's a good friend of mine. We did one song together and it felt like we kind of took up each other's space because we do the same thing. I'm thinking of some older artists like Jane Birkin would be my number one at the moment as well as Francoise Hardy. There are also loads of acts I respect like Jungle, Josh from the band is a mate of mine. There are lots of people I'd like to work with but you just have to wait for the right time and who I respect at the moment. Selena Gomez in the pop world, I think she's amazing as well as Lennon Stella and it's good to work with people who are in a different spot to you, it makes things interesting.
I would pay good money to see a Jungle x The Kooks collab, by the way. That would be brilliant. You mentioned back in 2018 after your arena tour that you found it "gruelling". Is that still true now or are you able to create a timetable that is better suited to you now that you're a dad and have a family?
It does to a degree. We've just done a long UK tour and it felt different, I'd say. I party a lot less on tour now. On that arena tour in 2018, we were hitting it hard. I've found it's tiring in a different way now. You get home and you don't really stop, my wife Ellie doesn't really give a shit, she's just 'whatever, you're back now, you need to help!' So it's different for sure! But, honestly, I feel like I've got more energy, more energy than I ever have. I feel really good. And I think, yes, the touring has changed a bit and we're doing maybe less gruelling schedules and the US is a big one. I'm hitting that point that a lot of British bands get to with the US where it's just like, it's quite tiring. And we do very well in the US but it's like there's a lot of places you have to go. So I think we start to take a look at and think well, do I want to really be on tour for four or five weeks? Probably not. So you know, it does change a bit.
What's it like being an active musician while also being a new father and raising a family?
Ellie's amazing, she's so, so great. She's a musician too as you know, we have a band together, Duo, so she gets it entirely so that really helps a lot. We don't do nannies or anything like that so it can be quite gruelling, but honestly, it's easy enough most of the time. I feel very grateful. I get to play my music and then I come home and people want me to come home. I used to come off tour and I'd come back to an empty, cold flat. Maybe, I'd let someone stay there while I was away or something but it's a nice change now, I feel really good about it. Ultimately, it's bringing in a new focus, a different kind of focus. I think in life you can make anything work if you have the right attitude, I really do believe that. I'm also not the only dad in the band, Alexis and Hugh both have kids. But we're dealing with it pretty well, even though it's knackering but I'm used to a lack of sleep!
Having other dads in the band must be really cool! Do you often swap dad tips and openly chat about dad stuff? I guess the conversations you used to have 10-15 years ago look a lot different from now!
That's true! There's a lot of chat about gardening and food now. But ultimately, we come together for music so that hasn't changed. Most of our chat is still about music, gear, guitars and synths and stuff like that. I'm actually the last one in the band to become a dad so it's pretty helpful for me.
Inside In, Inside Out celebrated its 15th-anniversary last year. Did you enjoy the process of looking back and exploring what it was like to be a band back then and how much of an impact an album like that has had throughout the last 15 years?
Well, you can't do that too much because you then just live in the past and I think you have to be pushing forward. Having said that, I did enjoy doing the 15th anniversary. It was quite cool looking back over old demos and tapes; we actually had the tapes of conversations we had when we were 18, it was super nostalgic! With the pandemic and having that forced sabbatical, we all had to realise what a special time that was and the special partnership that was created. I spoke a lot to Max and Paul who were in the band at that point and it was really nice to speak so positively about that moment and acknowledge that it was something so special. I still think it was pretty crazy to have an album like that, especially so early on in my career. I'm still amazed kids are picking it up for the first time now and I can see all the covers on TikTok and Instagram and it blows my mind! I really didn't think that would be the way the album would be perceived. But it's a bit of luck and a bit of perseverance too.
The second and third albums felt like failures because we had such a massive first album. Then you look back on it, our second album went to number one, sold like a million copies, you know, and you're like, okay, how is that a failure, you know, but you just because you've had such a huge commercial success. But those songs went beyond commercial success and ended up being part of that time in music, like a bit of a time capsule. It's still fucking crazy to me.
When you were going back through the tapes and listening back to the demos and conversations, were there any memories that came back through really strongly?
Probably being in the Bread Factory and the smell of bread! We had the studio in the bread factory that was owned by Arthur Conan Doyle's grandson and that was wild. We were doing pre-production with Tony Hoffer and we'd just go and steal loaves of bread! It was proper weird but that smell of bread really brings me back.
You've got shows booked in for the rest of 2022 and into 2023 and it's also coming up to The Kooks' 20th anniversary! Have you got any plans around that yet?
I don't really know at the moment. We try to celebrate every year in a way because every time you make an album, your goal is to make another album. But I'd love to get a full reunion of the team with Tony Hoffer, Max and Paul and something around that. Maybe not for 20 years, maybe for something weird like 23 years or something!
Being able to tour a new album must be such a great feeling. Is there a song that fans have connected with already?
I think it's a bit too early to tell right now but it could be Cold Heart. We had an amazing experience playing the album in full at The Bauhaus in Dessau in Germany. It's been great to get out of the 15th-anniversary stuff and play the new stuff and it just sounds great. Without A Doubt goes down quite well with it being an acoustic track. Actually, at festivals, Beautiful World has been going crazy!
Luke, it's been a pleasure talking to you, thanks so much for taking the time to chat. Good luck with the rest of the shows for 2022!
Thank you so much, man!
New album 10 Tracks to Echo in the Dark is out now. Follow the Kooks via @thekooksmusic
Interview Sean Mackey
Photographer Yoshi Kono 
Stylist Jaime Jarvis
Groomer Megan Mcphilemy
Photo Assistant Emily Lavarello
Location Amazing Grace, 9A St. Thomas St, London Bridge, SE1 9RY
Top image credits
From left to right
Shirt and trousers Toga Shoes Duke and Dexter 
Coat and Shirt American Vintage Trousers and shoes His Own
Jacket King & Tuckfield Shirt His own Trousers and shoes Duke and Dexter