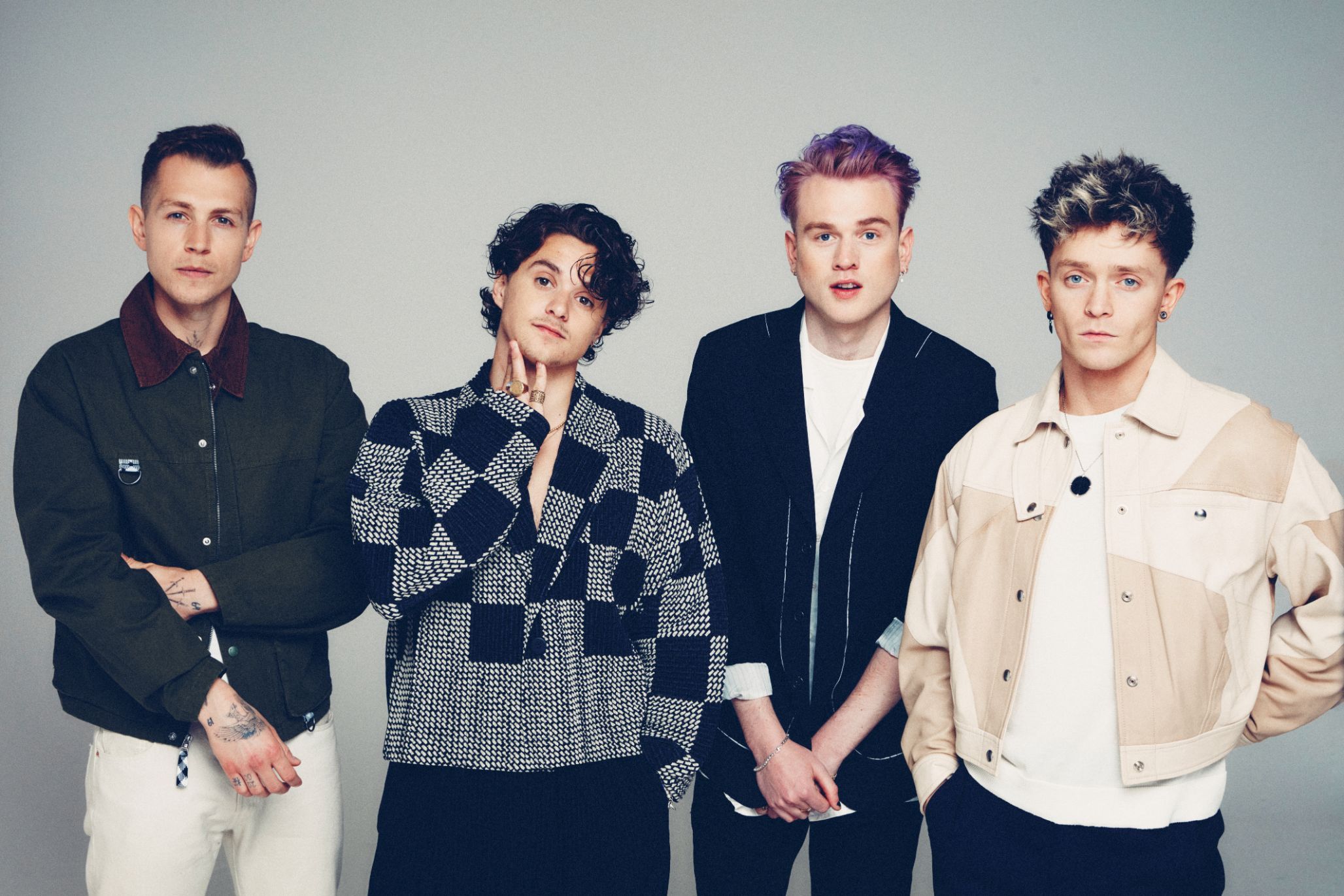 The Vamps
After a decade of making music, The Vamps are bringing fans new and old together to celebrate with their 10 Years of The Vamps tour kicking off this winter
. 
For the average person, attending a "greatest hits" tour would likely mean a chance to see Elton John, Diana Ross, Fleetwood Mac, Kylie Minogue, or the like. Legends of the '70s and '80s or maybe, a '90s era reunion a la the Spice World – 2019 tour. One may not expect to find themselves part of an audience for a band whose members weren't even born when most of the aforementioned acts were in their prime. Yet, for British pop-rock band The Vamps, hitting the road under this banner is exactly the right decision. 
 If you have had an ear to the popular music scene during the last 10 years, you likely know at least one song by or a song that features The Vamps. Since their start in 2012, Bradley Simpson, Tristan Evans, Connor Ball, and James McVey have gone from practicing in garages to headlining arenas. They made the jump across the pond, appearing on The Ellen Degeneres Show and Late Night with Seth Meyers, created their festival, and amassed a loyal and loving fanbase of over 6 million on social media. Now, they have 5 albums out in the world, which have generated over six billion streams and two billion views on their YouTube channel, with a promise of more to come.
The longevity of the band comes not only from their ability to mature their sound – and thus, successfully make the coveted transition from "boyband" into adulthood- but also from the unwavering friendship evident even in our brief discussion. The band formed naturally, on a basis of talent and musical chemistry that has allowed the four men to form both professional and personal relationships with each other over the past decade. Their Greatest Hits Tour is promised to be a celebration of that friendship and all they have already accomplished, a show curated for both those that have loved them since their YouTube cover days and those who may have just read about them now.
1883's Sydney Bolen and The Vamps recently chatted about how they have grown during the last decade, whether or not they have any regrets, what fans can expect from their upcoming tour, and more. 
You've been a band now for 10 years which is incredible! In what ways do you think you have grown in the last decade?
Tristan: Through life experiences, we've changed as people. There's a lot more body hair now.
All: [laugh]
Brad: I would say that we've grown as musicians and as songwriters over 10 years. Most importantly, we have become closer as friends and we've grown closer as a band, which I think is our biggest achievement. The fact that we have stayed friends and built on that friendship over 10 years is great.
James: I was thinking about that this week. I think the reason we are still together and have this longevity is that we met slightly later. A lot of bands grow up together and start as school bands. When we met I think we were old enough to appreciate the opportunity we got as The Vamps. We met online. I saw a video of Brad doing a cover and reached out to him. That's kind of how it happened with Tristan and Connor as well. The very first thing we did publicly was put stuff on YouTube. It built from there, which was nice because we didn't have like a leg up from anyone in the industry or we didn't do a TV show – we don't have an issue with people doing TV shows – but we did build this band in a semi-organic, original way. Albeit, it was online, we still put ourselves together.
I always think it helps with a band's longevity when you have a say in how the band is formed and who's in it. 
James: Yeah, absolutely. 
What is a moment from the past 10 years that you're proud of?
Tristan: Lots of moments. I think the friendship we've created is a big achievement as it is. A couple of shows come to mind: Wembley Stadium and places like that.
Brad: Con and I grew up in a place called Birmingham. I grew up going to shows and watching a lot of bands in a lot of the venues throughout the city. Those venues are still such a big part of who I am to this day. There's something about playing the small-town venues that you've seen bands come to. I think over the years, getting to headline those places, in your hometown, in the venues that have had a huge impact on you as a musician and as a person, getting to go back and play your own show, is really special. Those have always been moments that really hit home.
With the longevity, you've achieved comes a very loyal and dedicated fan base. What are some memorable moments that feature the fans?
James: I always remember the first time we went to Japan. When we arrived there were 300-400 fans at the airport. I think moments when The Vamps got to a country before we did as people stand out.
Brad: It'll take like one or two really organized fans to do this, but I always like it when they either speak online or meet people outside the venue and hand out certain things, whether it's a certain poster or for us, it was the fans made a lot of paper hearts because we have a song called Paper Hearts. They'd obviously gone around and been like, "when they play Paper Hearts, we're all gonna hold these paper hearts." We had no idea. They kept it very low-key online, so we didn't see anything. There's been a couple of moments when the fans will do that for you and want to surprise you. It feels like they're giving it back. It's really nice.
I've never been a part of one of those, but I've always wanted to. I always see them in artist documentaries. 
All: [chuckle]
Brad: There's still time.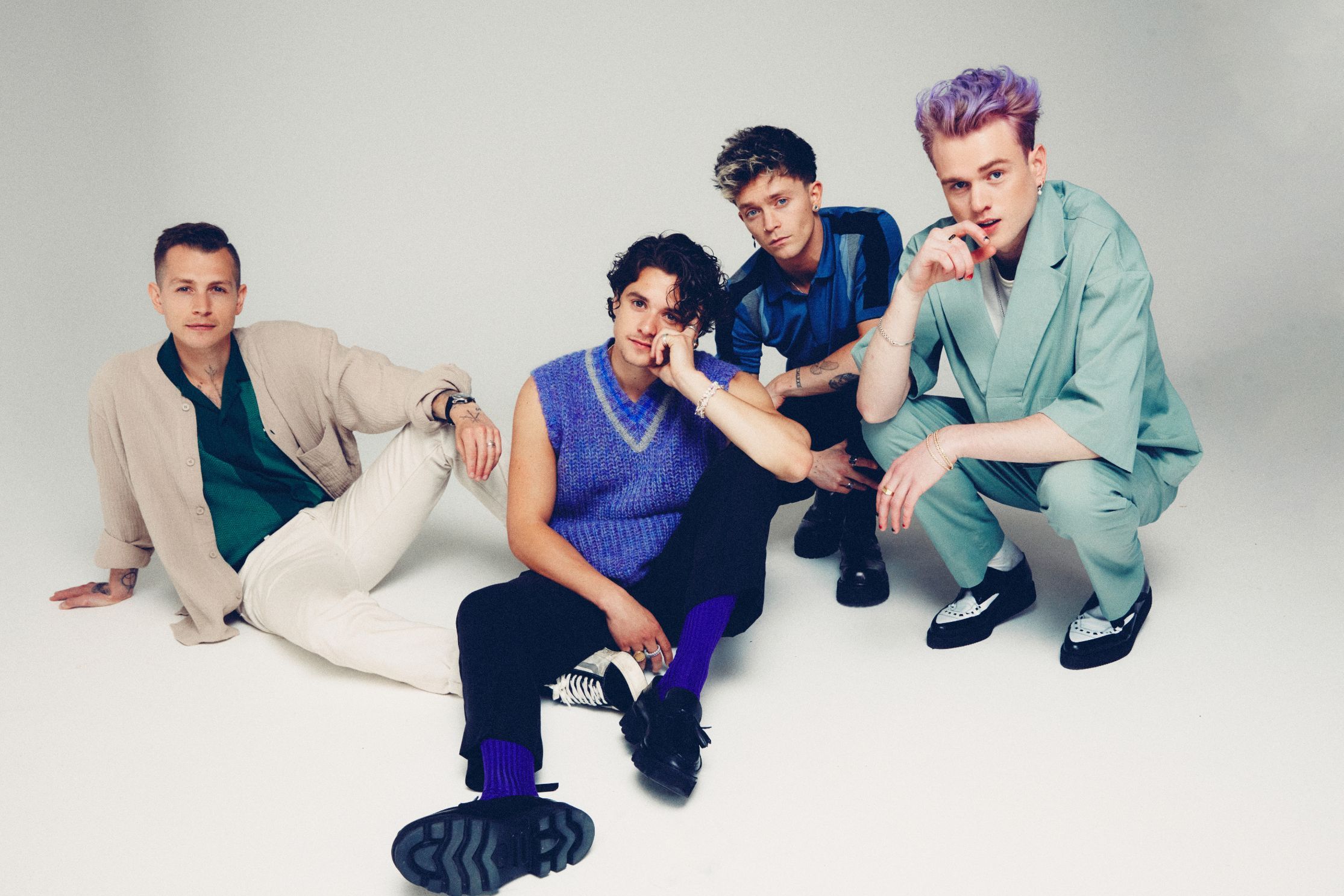 I think it is so fun that you guys are doing The Greatest Hits Tour because, while you have been a band for a decade, you are all relatively young. Usually, these types of tours happen for artists who are further down the line. What about this tour is going to be different from the others?
Tristan: Looking to the future, it's more of a "greatest hits so far." We've got so much more to give. But this show is going to be the best show we've done. We're going to have loads of different stuff involved. It's the first opportunity to actually celebrate the whole catalogue of The Vamps, from the first album to the fifth. Usually, we're trying to tell the story of the album we've just released. For this one, it's all five albums, so that's special for us. We'll be playing all the singles and songs that people know and vibe with. We're going to be putting on the best show that we can for the fans. It's going to be so exciting.
It's a really cool concept. How did it come about? What made you guys say, "I think we want to do a tour where we get to go back and play things from different albums and not just focus on one?"
Brad: I remember we had a conversation with our manager, and we've had the same manager from day one. He's actually from Los Angeles as well, but I'm not going to do the accent. Three years ago, he was like, "I think it would be cool to start thinking about doing a 'greatest hits.'" At the time, we were like, "absolutely not, no chance." I think some of us had just turned 24 or 25. We were like, "It's way too soon. We've still got another album in us." Then we did Cherry Blossom. Now, we've had three years, obviously post-pandemic and post-the release of Cherry Blossom and tour and all that. The conversation naturally arose again between the four of us. With the 10th anniversary on like the horizon, it felt right. A lot of the decisions that have been made throughout the band's life have just been based on feelings. It just makes sense now and feels like a really nice time to do it. Also, it's a lovely celebration after two years of not really being able to do anything properly. It was just perfect timing.
This tour is going to be really special for your longtime fans. What do you think it offers for people who maybe haven't been fans of The Vamps for as long or are maybe just discovering the band?
Tristan: If you like a song by The Vamps, you will probably like some more, so this could be an opportunity for you to hear a lot more songs. Touring is about the songs. It is about the music, but you can listen to an album at home. For us, it's about putting on a show. For us, it's about bringing people together. Especially after the weird three years, we've had. This tour is more of a story. As important as liking the music is, I think giving the audience the best overall experience is what The Vamps is all about.
Looking back, what advice do you wish you could give your younger selves?
Tristan: Oh, I love this one.
Connor: Enjoy every moment at that moment. I think we didn't do that well when we were younger. We were just thinking about the next thing and what was coming. You forget that the stuff you're doing at that moment is actually amazing. Some of the shows we've done were incredible, but I personally didn't enjoy them as much as I could have. Just enjoy the moment for how awesome it is.
James: I think it sounds cliche and bullshit, but believing in yourself is a big one. When we started we didn't really know the industry. We hadn't grown up in famous families or anything like that. Being 17-year-old boys, it was quite easy for us to get pushed from pillar to post by big execs in the music industry. If we were to do it again, I think the four of us know when something's good. Sadly, throughout periods, a lot of artists maybe don't get the respect they should because they get viewed as young and naive. I think going with your gut on a lot of things is important. I wish that I had had the strength to challenge a few things that I didn't agree with in the early days. I think believing in what we have is an important one.
Is there anything you wish you maybe hadn't done or regret?
Tristan: Nah! I don't regret a thing.
Brad: I'm gonna say no. I think there is a lesson even in what feels like your biggest mistakes at the time. I think letting time pass presents the lesson that should have been learned from that opportunity. It sounds very philosophical, but it is true. Over 10 years, those things that might feel like, "oh, I wish I didn't do that at the time or a year after or two years after" can become the reason you didn't make even more detrimental mistakes three or four years down the line. I think the reality is, that it's hard to live with regrets. I think regret is a really weird thing. Rather than viewing them as regrets, we should just be lessons.
Connor: It's like in movies when they time travel and they're like, "Don't change this part because it'll unravel everything." That's probably true for a lot of things.
Tristan: It could make dinosaurs come back.
Brad: The Butterfly effect.
Connor: Yes, that!
That's a good way to look at it.
Brad: You're like, "I've got one that you shouldn't have done." Yeah, that's cool. 
All: [laugh]
No! I don't. I swear. I got the question from the Jonas Brothers documentary. I remember Nick said that he regretted the second season of their TV show, which is one of my favourite things and I was so sad. So, it's probably good you didn't give me specific moments.
Brad: But that's exactly it. What we might call a mistake or regret could be someone's favourite thing.
Tristan: What got you into Jonas Brothers?
I went to the Hannah Montana tour they were the opening act on when I was 12. My mom always says, "I went to a Hannah Montana concert, but I came back from a Jonas Brothers concert." 
All: [laugh] 
Talk to me about the fanzine coming out in October. What gave you the idea?
Brad: I think all of us have got in our parents' houses or a dusty attic, a magazine or a live album or some form of limited edition memorabilia from our favourite bands. I think it's so nice having those things when everything's so digital now. There's something really lovely about having a tangible, limited run of this magazine that we've curated and put a lot of love into. There are fans involved in it. There are loads of exclusive photos. It's one of those things that hopefully the fans who get it will pull out of a drawer when they're moving house in like five years and always hold on to it. It'll be a really lovely thing to have.
What bands would you guys get fanzines for or go to a greatest hits tour for?
Tristan: Green Day or Slipknot
James: Taylor Swift
Connor: Panic! At The Disco
Brad: Foo Fighters 
When you were creating the CD in fanzine, was it hard to decide what songs to put on the tracklist, or was it pretty obvious?
Tristan: It's a collection of what we vibe with, plus some live songs, and then some of the hits. It's what The Vamps is all about.
Would you say it's a good introductory album for anyone that might have never heard your music?
James: I think so, yeah.
Finally, what do you hope the next decade holds for you as musicians?
Brad: I hope at some point, either of you two get one of those double guitars. The one that's got a six-string on top and then another below and next to it.
Tristan: Well, we've got to play it live as well. We can't just have it.
Tickets for The Vamps 10 Year Anniversary Tour are on sale now.
Interview by Sydney Bolen