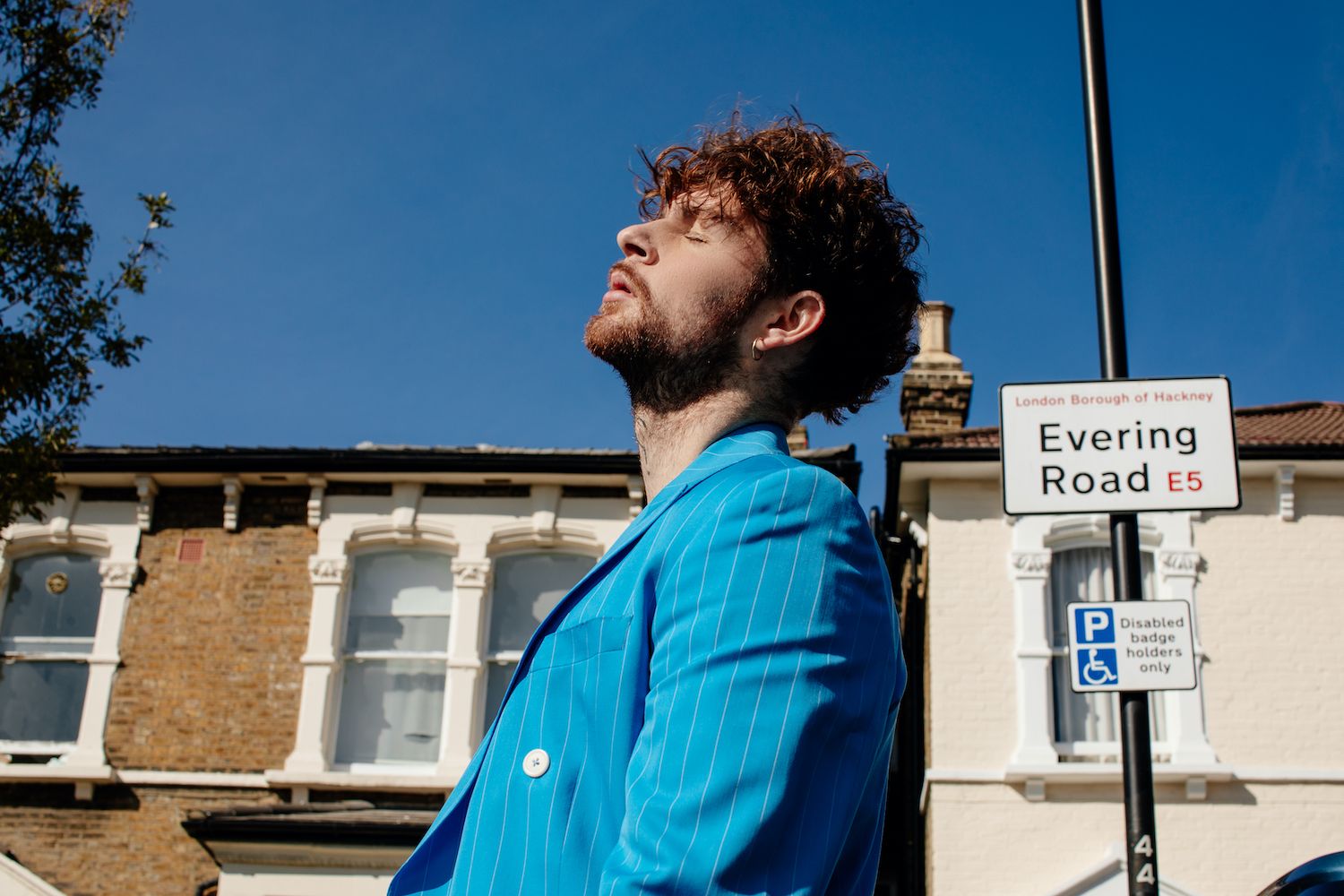 Tom Grennan
Three years after his debut record Tom Grennan returns with 'Evering Road', an album that weaves in & out of Grennan's romantic relationship, break-up, and his struggles with mental health.
When artists have a huge debut record there is always the fear they could fall into what the industry calls the 'sophomore slump', a jinx when the second album fails to live up to the first. For Tom Grennan, he doesn't need to worry about that with 'Evering Road'. Equal parts confessional and affecting, 'Evering Road' is an insight into the mind of a man who has seen and been through some pretty intense stuff. Where a lot of male singer/songwriters opt to spin narratives throughout their music about heartbreak and pain, Tom Grennan takes it one step further and acknowledges his faults and contributions to the demise of his relationship.
The 14-track album is a masterclass in vulnerable, honest songwriting; pulling at Grennan's struggles with mental health and toxic masculinity, stories of friends spreading rumours about him, and, of course, the guilt he feels stemming from mistakes made in a past relationship. For Tom, it feels like a debut record — the first body of work that he feels has a thread tying every song together rather than just several songs with no connection.
1883 spoke with Tom about his new record, mental health and toxic masculinity, and why 'Evering Road' feels like a debut record.
It's been 3 years since your debut record, 'Lighting Matches'. How would you describe how you've grown as a songwriter and as a person between then and now with 'Evering Road'?
With my first record, I was thrown in the deep end. I'll be honest with you, my record did so, so good and I will always be grateful for it but I was writing those songs and I didn't know what I was even writing about. I was young and I was learning. Evering Road, for me, is all about a break-up and me holding my hands up and saying I messed up, I was the toxic one. I let a lot of things get in the way of me being a good partner, like my ego and past issues. It's me saying sorry and me saying thank you to her. It's an album about love, heartbreak, and redemption. I've grown up massively since writing Evering Road and since my debut record as well. I'm a young man now and my songwriting is so much more honest and so 'me'. My first record was a collection of songs, but this is a real journey; this is what happened on Evering Road. 
I read that you said this felt like something of a debut record for you — is that something that you wholeheartedly stand behind?
Yeah, I do. It feels like my debut record. It feels like I've finally stepped into the shoes of the artist that I want to be. When I was writing this album I just kept thinking about how this is what it feels like to make a record. My blood, sweat, and tears have gone into this. Don't get me wrong, they went into my first one too, but I hunkered down and went in on this record and put it all out on the table. I'm proud of it.
I know the title comes from a road in London, but can you tell me a bit about the album title?
It's a road in East London in Clapton where I lived while in this relationship. It's the story of love and heartbreak, and it just felt right and fitting to name the album after it. It's where everything happened. I hope it'll be the new Abbey Road! [Laughs]
'Make My Mind Up' is a really powerful track. It sounds like you're taking listeners on a journey through something personal. Was writing that song in particular therapeutic? 
Definitely. I had loads of different people telling me what I should and shouldn't do and it was messing with my head. I had too many voices going on, trying to tell me different things. It got to the point where I realized the only person that could solve the problem was me. Writing that song was a eureka moment for me; I realized how badly I just need to listen to myself. At that time, I didn't love myself and I felt I needed to learn how to love myself a bit more before I was able to show and give love to anyone else. I listen to this song now and it makes me tearful, it makes me sit back and think about how much of myself and my experiences and my honesty went into it. It's a pretty classic song, I think it will hit a lot of people because it's a pretty universal experience. I wanted to be as honest and sincere as possible.
Was there ever a time when writing this record that you were hesitant to discuss a lot of the things you talk about? Admitting you were toxic is a really big deal.
Yeah, of course. I felt this was the only way to own up to my faults and flaws and find the ability to move on. You know when you go to the therapist and they say the only way you're going to get over something is by ringing the person and apologizing? That's what this is, in a way. For me, it was putting it on an album, releasing it into the world, starting to mend some wounds that I've had and get over a lot of guilt. 
When listening to the record the song 'It Hurts' really stood out to me. I love the lyrics 'Jealousy ain't going to make a man out of you/teach yourself some lessons and go back to school'. Can you tell me a bit about that track and the inspiration behind it?
I had a call with my friend and, at that point, I was trying to work on myself. I hadn't spoken to this person in a while because I distanced myself from everyone to try to work on myself as much as possible. My friend started saying there are rumours around that I've gone to rehab to get help for something. It was just crazy to me that even when I was stepping back to work on myself, all of that was going on in my friendship group. The song is about people just chatting loads of shit really and not knowing I'm going through loads of stuff in my head. It was hurtful to me. It hurt me to hear people were talking badly, my mum heard that shit! She doesn't need to be hearing that. 
You would expect your friends would reach out and check in on you rather than saying stuff behind your back.
Exactly. I felt like I didn't have people around me who loved me and I was wrong because I did, but I was wrong and just angry and hurt. I didn't love myself and I didn't think I had supportive people in my life but I do. That's the first time I've ever told anybody that. 
Well thank you for sharing it with me, I know it must've been difficult to work through and figure out. 
It was, but I'm in a much better place now with the people I have around me.
I love how you've incorporated some pop-gospel moments on this record, like songs like 'Amen' and 'Sweeter Then'. I feel like I hear a bit of influence from Amy Whinehouse and how expressive she is on this record. Who are some of the artists you listened to that influenced and inspired you and 'Evering Road'? 
Amy Winehouse is a massive inspiration for me and the record. I listened to loads of gospel music and a bit of the Blues as well. I love how the stories you hear in the Blues genre are always so honest and raw. I was listening to lots of Robert Johnson as well. 
You've been outspoken about mental health and I know you spent some time in lockdown helping people and walking their dogs around Hackney and Shoreditch. Why is it so important for you to be open about a topic like mental health?
For me, especially in these times right now, mental health is the most important thing. I struggled with my mental health before the pandemic and I saw it was impacting my life. I stopped drinking and smoking and did what I could to clear my mind. Talking, talking, talking is what helped me. As soon as you can start talking about it, you start to feel lighter.
You also haven't shied away from trying to tackle toxic masculinity, which you focus on in your video for 'Little Bit Of Love', and that's not a topic many male artists are talking about right now. Why did you want to focus on that in the video?
When I was going through this break-up and other stuff that I've been through and when I started talking about my struggles, I didn't want people to think I'm weak or scared… which is a load of rubbish. Talking about it is the best thing. For men, we always struggle to talk about things and seeming 'soft'. It's important to talk about our feelings and what we are going through because it encourages other people to do the same. When I opened up to my friends and family about the way I was feeling, it took a weight off my chest. It brought me a sense of peace. Those topics—mental health and toxic masculinity—go hand in hand for men. If you're struggling with toxic masculinity, your mental health is impacted.
I know you have a little brother and there was a brother figure in that music video which must've been nice for you to do.
Yeah, the little brother in the video represented me going home after feeling the way I felt. When I went back to my mum & dad's house and I had my brother around me and I had the support of my family, it hit home for me. That is what matters, having that support is what matters, and not hiding away and being open is how I found myself again and helped me restart. 
You've touched on how writing this album was something of a therapeutic experience for you. If you can describe it, what does this body of work mean or represent to you?
It represents the journey of me becoming a young man. It's me owning up to my guilt and confession that I've made a lot of mistakes. It's a representation of self-love and unconditional love and knowing that it's okay to make mistakes. It's all right to have moments where you messed up because every human messes up. It's knowing the right thing to do is to own up to the things you've done that might've hurt someone and asking for forgiveness. After people listen to the record I hope if they are struggling with their mental health or their past decisions, they can feel comforted and know that it's okay—you can find forgiveness and heal from your mistakes. 
Interview by Kelsey Barnes
Photography by Ashley Verse & Mark Mattock
Check out Tom Grennan's new album 'Evering Road' now!