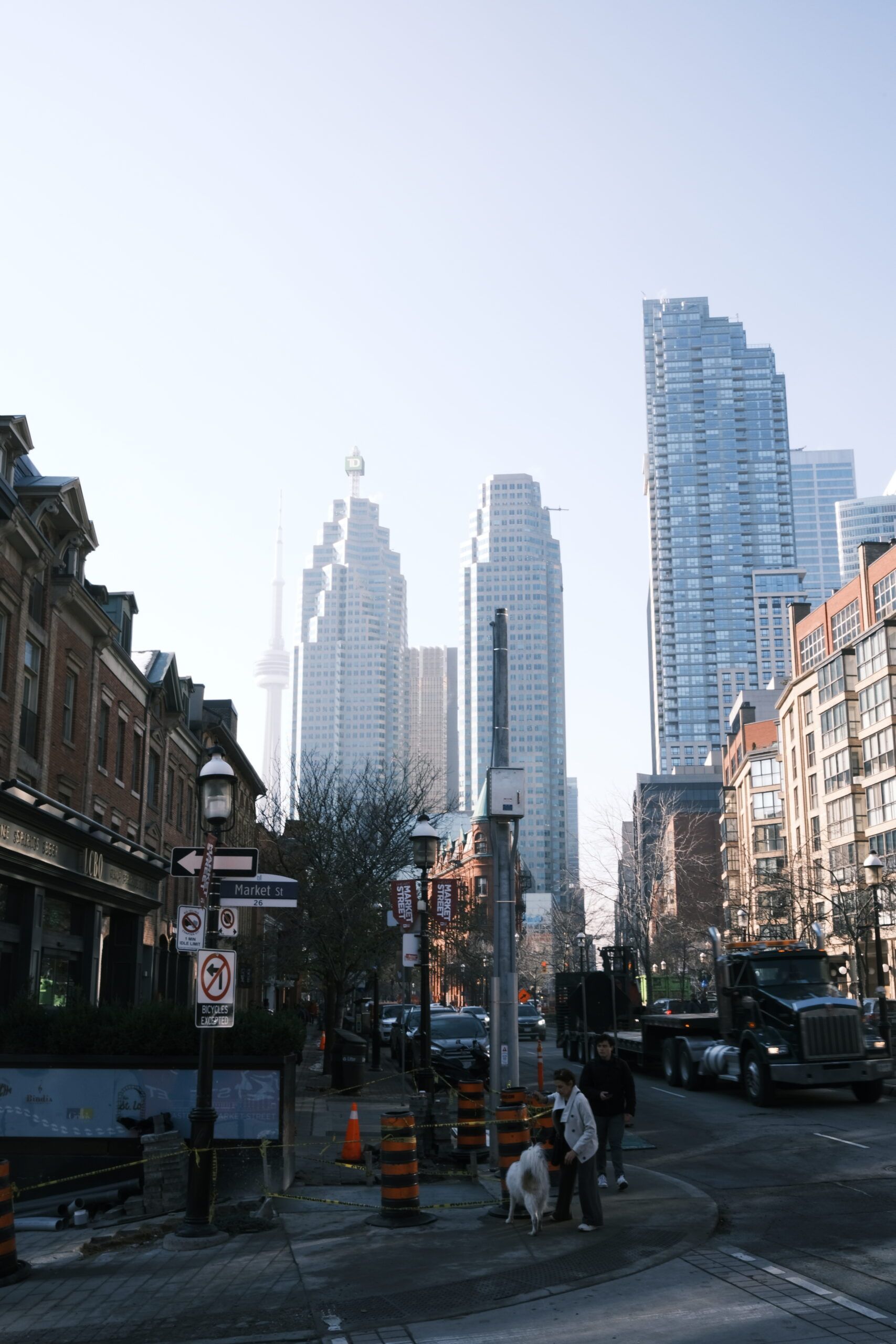 1883 Travels to Toronto
Toronto is the capital city of the Ontario Canadian province. A city steeped in a
rich

history, filled with various fun activities, and imbued with a sense of cultural freedom unlike any other, making it a must-visit destination in 2023.

Toronto itself may have originally started out as the Town Of York in 1793 but since then there have been numerous shifts throughout its past with the end result leading to what we know the city to be today. A progressive and welcoming metropolis that is easily one of the most multicultural cities in the world. According to data collected by the BBC, the city has over 230 different nationalities and 140 different languages spoken. Sometimes facts and figures aren't enough, they're just words on a piece of paper, you need to visit an area to really get a feel for it. You need to experience the lay of the land, the food, the landmarks, the entertainment, and most importantly its people, to get a real perspective on the location.

1883 Magazine's Cameron Poole made the eight-hour Air Canada flight from Heathrow airport to Pearson International Airport to visit Toronto and what it had to offer over the course of a chilly week back in November.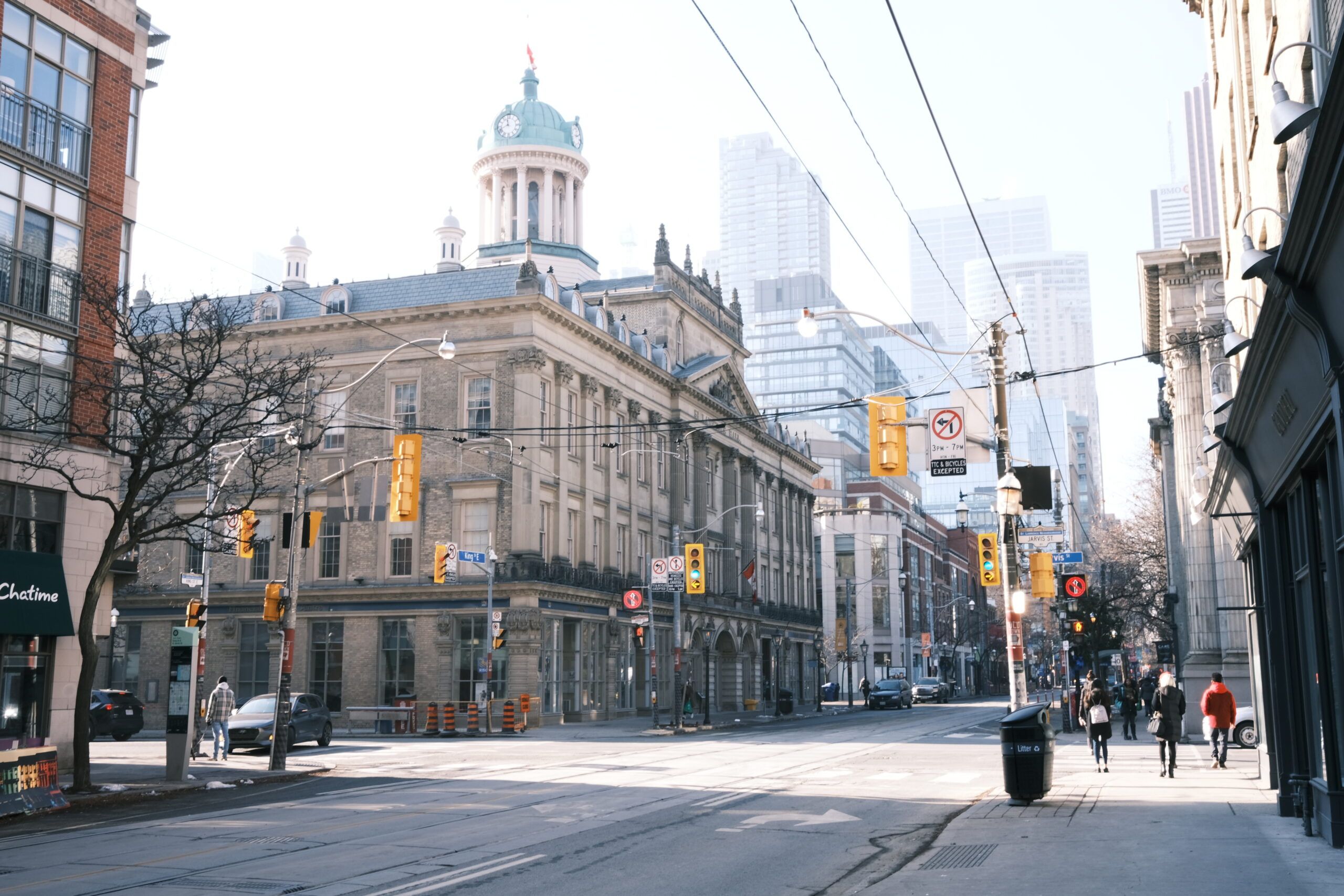 When you first arrive in the city and as you continue to explore it, you may come to notice an abundance of different things. A multitude of different languages being spoken, businesses/buildings draped in LGBTQ+ pride flags and cutesy little neon hearts in a manner of different colours darted across the city in windows. These hearts are a "tribute to health-care workers first and foremost" according to the Toronto-based light maker and founder of this communal movement, Jeffrey Moss. You'll also notice a fair bit of construction work taking place. These are some of the small details that signify how, already on the cuff of having never been to Canada nor the city, you can tell what an accepting, welcoming, and thankful community it is. As well as being a city that is constantly expanding to meet the demand of its growing population.
To grow and expand at the very least you need a modicum of ambition and throughout my approximately 96 hours spent in the city and Ontario, I saw ambition in its businesses and people. I saw this in action once we arrived at 90 Bloor Street East, the address of the up-market and reputable hotel, W Toronto, where we resided for the trip. Previously the site was already used as a hotel but it's been transformed into a stylish and well thought-out brand with numerous levels for guests to enjoy. There's the ground level which is the home of Public School, the cafe where I consumed breakfast every morning, dining on a selection of vegan and non-vegan specialities. The smoked salmon croissant, sweet sourdough toast with cashew butter and maple walnuts, and the 'saved by the bowl' chicken sausage, sweet potato, black beans, avocado, egg and tortilla, were some of my favourite dishes. 
The next floor was the Living Room, a sophisticated spot with tasteful decoration that you can use to check in, have a drink at the bar, some food or if you're feeling very indulgent, you can pay to use the Moet champagne bottle dispenser. Undoubtedly it's a very cosy area and the orange hue of the bar or floral-drooped fireplace are my personal favourite elements of the space. As a music lover, it was also interesting to learn that this space has a quaint 'Sound Suite' which the hotel hopes to launch in the near future, a place where guests can record vocals and more for a rental fee. Finally, the highest level and potentially the crowning gem of the hotel is the Skylight Rooftop. A restaurant and bar with a brilliant view of Bloor Street. The space is kitted out with various plants and greenery whilst having a mediterranean feel to it thanks to its furnishings. The people behind W Toronto have made a hotel which they feel represents the city itself, it's also a place where they want guests to feel they can experience the city without even leaving the hotel. Out of the 254 rooms and a slew of suites, I stayed in a well-accommodated studio suite which overlooked the building's courtyard. After having each day packed with activities, you best believe it was a god send jumping onto the suite's comfy bed.
W Toronto is a must-stay if in the area, not only for its amenities or closeness to the extravagant designer stores on Bloor Street but also because of the staff there. When I set out on this trip, I had already made my mind up about speaking to some of the locals whilst on my journey in effort to get a clearer picture of what it is like to live here, rather than the romanticised and rose-tinted view I was outwardly looking through. Out of the small group of different people I did find time to chat with, two of the people I spoke with work at the hotel. Every morning whilst I sat down in Public School bleary eyed and tired from the previous day's active schedule, I would be greeted by one cheerful gent called Mesfin. A father of two that holds a tourism & travelling degree that settled in Canada back in 1984. He's been a Server at the W and its predecessor for 33 years. Although he was on the clock and graciously attending various customers, by the end of the week I felt we had built up a rapport. It was always a pleasure to speak to him, no request was too much and he genuinely was interested in conversing. I asked what his favourite thing about Toronto is (the main question I asked everyone I spoke to) he simply stated that it's the city's diverse population: "you feel at home here. It's a blend of the world." 
Every morning I'd take the lift from the eighth floor and visit the lobby to speak with Caro-Lynn, a bubbly and helpful Welcome Desk Agent. She kindly obtained plasters (or bandaids as they are called out there) for me every morning as I had made a bad wardrobe decision and only had a pair of uncomfortable boots to wear throughout my stay in Canada. Caro-Lynn was born and raised in the city. She's worked for W and its predecessor for 25 years and has a daughter, two dogs and two rescued cats from the Toronto Humane Society. This self-proclaimed "people person" was a delight every time we spoke and once I asked the same question I had asked Mesfin, she was quick off the mark to say she loves the city's "multiculturalism, the food, the events, the markets and parades". Both Mesfin and Caro-Lynn were extremely attentive and only two of the interesting characters that I met on this adventure.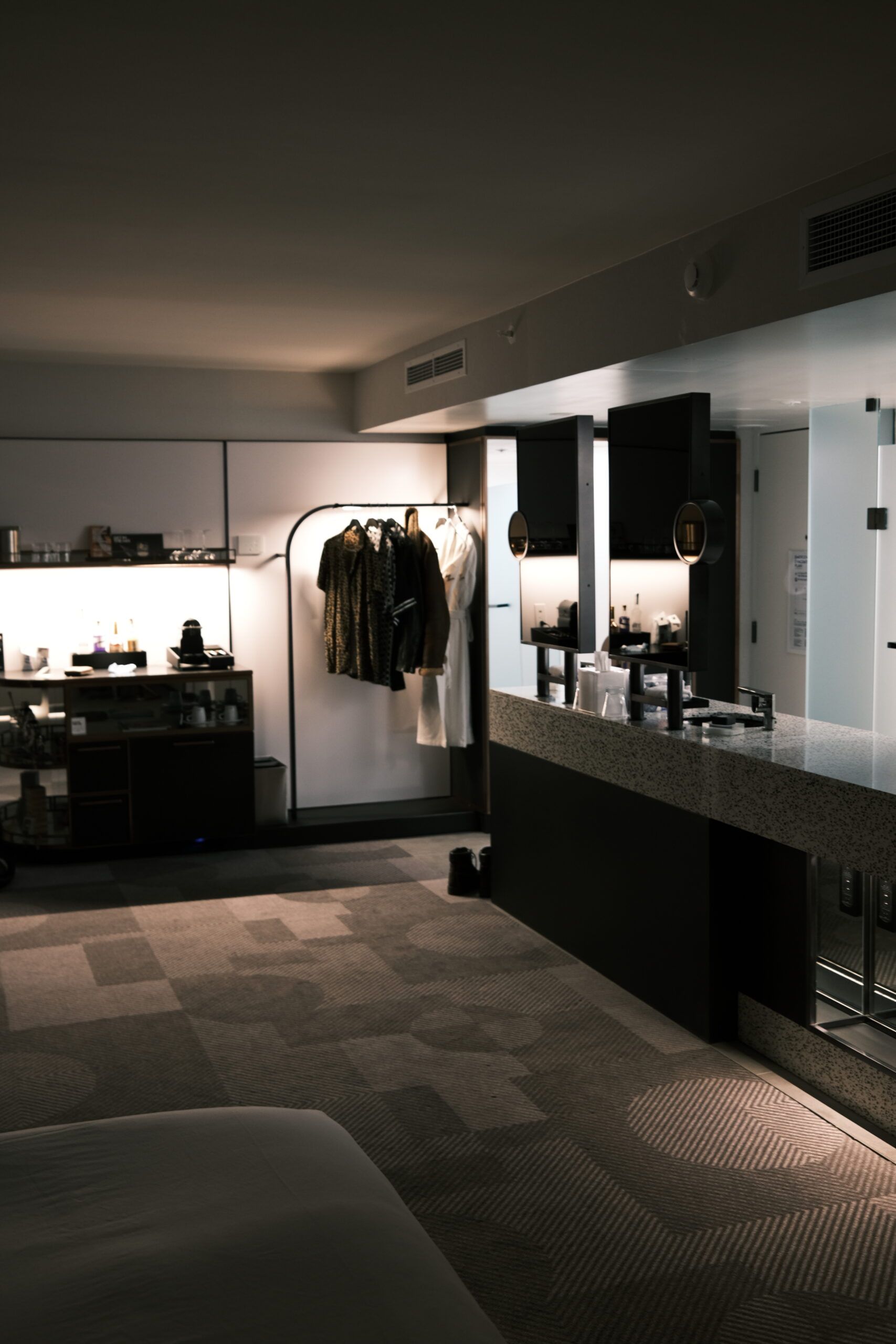 Throughout this trip, White Tiger PR and Destination Toronto had planned for myself and fellow journalists Zana Wilberforce & Jessica Rawnsley (I implore you to take the time to check out both of their work after reading this article, they are both exceptional writers) to experience a broad range of activities. Out of all the things we did, the following are my personal favourites and in my opinion imperative when it comes to planning a trip to the city in 2023. Starting off, if you want to soak in some of the history behind the city and peruse through a wide selection of mouthwatering foods, drinks, and trinkets, then you must go on a walking tour of St Lawrence Market with guide, Bruce Bell. The market itself is a beloved part of the city's history and originally was home to Toronto's first permanent city hall and jailhouse in 1845 and it was built upon Lake Ontario. Years passed and in 1902 it was adapted into a market and then subsequently in 1972 the market was renovated. Whilst you walk through the two levels of the building, remarkably you can still see the remaining foundations from both the town hall and the jailhouse. The market is a huge open space and on a busy Saturday can see up to 20,000 people pass through its doors according to our guide. Each of the 120 vendors, merchants and artisans that have their businesses here are family owned.
If anything, one of the best parts of the tour is exploring the building with the tour guide himself. Mr Bell is a larger than life and warm individual that previously grew up acting and writing, first moving to Toronto 50 years ago. Originally from Northern Ontario and with family roots in Yorkshire, UK, Bruce has thoroughly earned his place as a well-respected historian that has built-up an extensive knowledge about all things related to the market and key historic locations in Toronto. Once we ventured down the lower level of the market, you can find a lovely mural dedicated to the area's growth and diversity which was crafted back in 2002. If you can visit in person, make sure to look out for Bruce's sneaky cameo in the mural. You can also find various plaques darted around different locations in the city which offer up historic insight, plaques that Bruce Bell tiresomely worked to get installed as part of The Bruce Bell History Project. After the 90-minute tour, as Bruce had already made a positive impression on myself, I made sure to ask him the same question and he also gave a similar answer to the others, saying that he loves that "Toronto is a city that accepts others and is multicultural". Before parting ways, I made sure to check out Bruce's favourite food vendor in the market, St Lawrence Pizza & Pasta and I'm so glad I did. I devoured a couple of slices of gorgeous handmade pizza before leaving the historic venue.
If you want to fit in another interesting historic area which has been renovated within your trip, the locals rave about The Distillery district of the city. Over 20 years ago, this area was the site of derelict victorian buildings that previously used to be the home of a whiskey distillery entitled Gooderham & Worts Distillery. Now, they've been turned into a complex full of one-of-a-kind stores, galleries, studios, restaurants, cafes, theatres and more, whilst also keeping the history of the distillery alive. Throughout the year, The Distillery also holds numerous events one in particular every winter is the Christmas market. You can walk around take in the remarkable 19th-century architecture whilst getting into the festive spirit. When we went in November, the Christmas market was taking place and for someone who doesn't find it the easiest to get into the spirit of Christmas, visiting The Distillery district certainly helped. Top tip: if you do want to visit during this busy time, try to go on a weekday as the weekends will be rammed!
Currently in Toronto and moving into 2023, wellness is a very hot trend that is being embraced. With this in mind, myself, Jessica, Zana, and Sarah (an absolutely lovely Consultant working with White Tiger PR) hopped in a Uber to 425 Adelaide Street. The home of an emotional wellness organisation called Othership. To sum it up in their own words, the business is a "otherwordly bathhouse experience that creates a new form of wellness entertainment through sauna, ice baths, and breathwork". From reading these words alone it may be difficult to get a real grasp of the experience that Othership offers but after taking part in a 75-minute 'free flow' session, it's an experience which is energising, calming and pushes your boundaries. Prior to this trip, I had never been in a sauna or an ice bath. Once you walk through the front door, get changed into swimwear and enter the tranquil space, you're greeted by one of the staff guides. If you're like me, the thought of being in your swimwear surrounded by a bunch of strangers is absolutely terrifying. To my surprise and giving credit where credit is due, Othership have made a positive and serene safe space that has a real communal spirit. Some people go with friends, some go alone, either way the atmosphere is ambient, friendly and gently encouraging.
The wellness organisation offers multiple different classes where you can utilise the sauna or the available ice baths, even offering up a fun alternative to a Saturday night out with its 'evening social' events. With our 'free flow' class, you're allowed to use the space as you please, our guide Shane offering pearls of wisdom when needed. What I learnt from the session is that breathing and how you control your breath is integral and being in a space like this makes you switch off from any thoughts or worries in your mind as you're busy reconnecting with your body. As I entered the hot sauna and found a place to sit down, I felt myself just being present and taking note of what my body needs as I sweated out any bad stuff. After taking breaks from the sauna to have a shower, I soon realised that I was psyching myself up for the part which any newcomer might be fearing in the session, the ice bath.
Athletes often use ice baths as a form of physical therapy to help recover from strenuous exercise. Immersing your body in freezing cold water provides a shock to the system and puts your body in a state of stress but after a feeling of reluctance and some motivational words from Shane, I made the metaphorical leap. As soon as you place your feet in the bath, your brain is telling you to not go any further but that's beauty of this activity. Not only does it push your body physically as once you're fully immersed above the shoulders in bitterly cold conditions, it's also pushing you mentally. After two-minutes of having the breath knocked out of myself, once you hop out of the bath you feel like you're in a state of euphoria. Firstly because of the achievement that you remained in the bath for that long but also because you proved you could do it. As I went to warm myself up after the bath, I felt wide-awake, upbeat, and reinvigorated. I left the session feeling positive and ready to take on the rest of the day. You must visit Othership, it was one of my favourite moments from the trip.
Moving from one calming atmosphere to another, we ventured to Kandl for a 'KANDL Lab Experience'. They're a luxurious and artisan candle makers business based at 88 Avenue Road. The experience is held four times a day where you can craft your very own bespoke candle. This was another new experience for myself and I found it be a rewarding and enjoyable activity. Once you're introduced to the instructor, you're sat at a large table with the tools of the trade in front of you. First things first, you have to put your senses to the test by picking your own unique fragrance. This is done via identifying what scents you want to choose for the base note, mid note, and top note. Shortly after, you have to insert the wick into the candle vessle, pour the wax and carefully stir it before leaving it to set. Finally, you can pick your title and the font for the candle's label. Naturally, I named mine '1883' and feel it has quite a distinguishable scent.
The workshop typically lasts between 60 to 90 minutes and there's a myriad of different notes to pick when choosing your fragrance. Specifically there is 125 combinations you can make from the different scents available to use. Whilst you're waiting for your candle to be finalised, you can pass an eye over all the other goodies they have in store available to purchase.
As previously mentioned, wellness is a key trend but it's not the only thing that the people of Toronto are embracing. The city also has a growing music scene. Yes, they already have the Scotiabank Arena for sport events and world-dominating artists to perform at, yet in terms of grassroots music venues for new talent to hone their skills at, there are very few venues available. Thankfully, Sean Pascalle, the owner of the Poetry Jazz Cafe is helping change the Toronto music scene for the better. The entrepreneur originally grew up in a religious household in Trinidad before moving away from religion and seeking refuge in jazz music. This ultimately led him to discover his love for the art. After moving to Toronto roughly 25 years ago and working in the financial industry, the businessman pursued his dream and established the venue in 2010. Twelve years later and with a location change from Kensington Market to 1078 Queen Street West, Sean has expertly created a lively and dynamic space to showcase the next generation of jazz, blues, soul, rock and poetry artists in the city.
We stepped into the venue on a weekday night to soak up the incredible musical talent as well as the array of drinks on offer and the night was a complete blast. You'd be forgiven for thinking that their new space in Queen Street West is finalised. When you walk through the door you're greeted with a cosy area featuring a stage, bar, and DJ decks. However after meeting the personable owner, Sean made it clear that he has some grand ambitions in store for his venue. The venue also has a second far larger space which is currently not open to customers and he's hoping to transform it into a secret speakeasy hidden behind a book cabinet. The music lover is also hoping to further curate a welcoming and unique atmosphere for creatives whilst also paying homage to the roots of rock & blues (e.g the legends that are Chuck Berry, Little Richard, Sister Rosetta Tharpe). Sean also wants The Poetry Jazz Cafe to be a celebration of human connection. All in which he hopes to achieve by making a 'no cellphone' area for members, putting on constant live music, burlesque events, and by providing an intimate venue for people to come together in.
After spending some time with him and seeing the community he's built up surrounding The Poetry Jazz Cafe, it's easy to imagine that the venue will continue to go from strength to strength as his plans come to fruition.
One huge perk of visiting Toronto is that the city acts as a gateway to Ontario and all of its natural splendours. So if an excursion outside of the city is what you desire, you'll be happy to know you don't have to drive for hours on end to make it to the likes of Niagara. It only takes roughly two hours via car journey, ergo our group decided to venture outside the city and past the urban sprawl to experience another side of Canada. Our first stop? The iconic Niagara Falls. For myself, I feel the waterfalls is such a universally known thing, even if you've never been to Canada or America, you're aware of this landmark. So towards the end of our car journey and with the falls on the horizon; when looking out the window you'd potentially think: 'I've heard about it and seen loads of photos online, it can't be that impressive' but even from a distance it's a sight to behold. Before we got a more up close view of the huge cascade of water, we ventured into the Niagara Power Station as part of the Niagara Parks experience. It's a new museum that recently opened in July. The power station was originally built in 1905 and after being decommissioned in 2006, they recently restored it as a family friendly, fully accessible, experience.
It's a self-guided tour and quite the educational trip. Through the museum you can also now enjoy 'The Tunnel' experience where you descend 180 feet via a glass-walled elevator as it takes you underground. Leading you to a 2,200 feet tunnel that was remarkably excavated in 1901. A tunnel that was originally used to expel the building's spent waters back into the base of the falls. Now as part of the experience once you reach the end you can enjoy a superb panoramic view of the falls. Niagrara Parks offers so many different ways to see the falls, it's mind boggling. There's the classic boat trip on the Lady In The Mist, the Power Station, by zipline, or even go behind the falls itself. Ultimately, we decided to go behind the falls for our second look and once you get into the tunnels, the roaring crashes of the water really drive home how powerful it is. As we made our way through the tunnels to find one more viewing platform, you could read about the unbelievable real life stories of different people who have gone over the falls. Such as Annie Edson Taylor, who was the first person to ride a barrel over the falls back on October 24th 1901. Thankfully, she survived with only a few cuts and bruises. If you're visiting Toronto then you need to make the journey to Niagra Falls.
In this part of Ontario, there's plenty of greenery and vineyards (over 33 in the area), so after checking out the falls in the morning, we headed on another car journey to the Peller Estates Winery for lunch and then a private wine tasting tour. The Andrew Peller founded winery is a high-end and grand establishment. Its restaurant is the epitome of fine dining, not only for its ritzy decor but for its delicious foods and wines of course. As someone who's not a big drinker nor a wine fan, I found the tour to be quite engrossing. You start out in the estate's backyard with a glass of sparkling wine before making your way closer to the vineyard. As you walk on, you stop at designated stations to taste some of the vinyard's produce, learning more and more as the tour guide fills you in on everything related to the estate. One interesting fact for the uninitiated is that in this vineyard they keep roses between the vineyards as essentially a disease alarm. Roses are susceptible to maladies and other problems so if they start to die, the winemakers will know something is wrong with their vineyard and work to fix it before it starts effecting their produce.
Continuing on the tour, you also get to head down to the underground barrel cellar for another tasting. Finally, ending the tour in "Niagara's only igloo-like lounge", the 10Below Icewine Lounge, where you'll get the chance to taste their super sweet icewine. Don't worry, before entering the frosty environment you're also given a nice warm coat to wear. Once the tour ends, you may find it difficult to leave the gift shop as you'll want to buy all the wines you tried out. 
To finish off the day we spent outside the city, we had to end it at the picturesque town of Niagara-On-The-Lake. As I found myself exploring its high street and taking in the atmosphere, it felt like a location taken right out of a movie set. It was a quaint and adorable little town and I've never really seen anywhere like it in the UK. 
For any foodies reading this article, Toronto was announced as the first Canadian MICHELIN Guide destination in May and the sixth in North America. So yes, there are a ton of wonderful spots to hit up for some good food. Too many to choose from if you're staying in the city for only a short break. When you're on your trip over here and do find yourself with very limited time, you can make the most of it by getting yourself on a walking tour with The Culinary Adventure Company. The organisation was founded in 2010 and provides themed tours of different neighbourhoods in the city. Showcasing and championing the best of the independent cafes, restaurants and stores in each neighbourhood. All food, drinks, trinkets and products shown on the tour are Canadian made and 85% are local to Toronto. For our 'Sugar + Spice' tour in the neighbourhood of Queen Street West, we met the company's Owner, Kevin Durkee, for the two-hour-and-thirty-minute event. Straight off the bat from meeting him, Kevin comes across as a likeable, funny and knowledgeable, foodie. As we left Trinity Bellwoods Park with orange gift bags in hand (Kevin kindly gave these to us and were full of local goodies for us to try out) and made our way through the trendy neighbourhood, we learned about the history behind the cafes, delis, restaurants, and boutique stores we toured. I also made sure to learn more about Kevin.
Before joining The Culinary Adventure Company and becoming its owner and 'big cheese', Kevin previously built-up and ran a restaurant solely dedicated to cheese aptly named, Cheese Works. He's made it integral to the walking tour that each customer gets to appreciate the local foods and drinks we consume whilst on the walk. When we strolled into each establishment, Kevin kindly gave us an in-depth history, informed us how the foods are made, told us about the favourite choices and really dug deep. For example, when it came to trying out some artisan cheese, the guide provided us with some really interesting facts. Up until that point, I didn't know that you weren't meant to bite into cheese, you're actually meant to suck on it like a sweet to really get a feel of all the different flavours. We also learned about some of the incredible stories behind companies that make these foods. Remember that orange bag of goodies I mentioned earlier? One of the products in it was from Comeback Snacks. The company was founded by Emily O'Brien, an individual that was previously in a toxic relationship and was forced to smuggle drugs leading her to be arrested and put in prison. Once in jail, O'Brien became aware of the issues that other women in prison were facing and therefore decided to start Comeback Snacks as a way of helping support and provide second chances to women incarcerated. What a truly awe-inspiring business that helps others and their snacks are delicious.
You'll hear plenty of stories and eat some delectable treats on a tour with The Culinary Adventure Company. You'll also be glad to know that the tour company pay full retail price for the foods they showcase as they want to help support and build relationships with their vendor partners. From experiencing the tour first hand, my favourite tasting was at North Of Brooklyn Pizzeria where we all happily devoured a slice or two of their signature Soppressata Hot Honey Pizza. It was to die for. Before parting ways, Kevin shared his favourite thing about the city: "I Haven't found a city with as much diversity in a blended way. Toronto is a salad, we're all in the bowl together. You see the radish, salad, all individually but it's all in there together".
Transitioning from day to night, if you're feeling peckish and want to chow down on some food in the evenings, then there are two outstanding places you need to visit. Firstly, Superfresh Night Market is an authentic Asian food experience that opened in May this year. The space itself is effortlessly cool and was built in mind to share "the best of Asian culture, food, drink, arts and programming for the community". There's vibrant neon lights, a wall of Maneki Neko cat ornaments, and much more. Within the cosy space, there's numerous restaurant vendors to purchase traditional dishes from. Everything is made from scratch, everything is divine. During our visit, I was able to enjoy some Taiwanese Fried Chicken, fresh bao buns and dumplings. There are so many delectable foods and drinks on offer at Superfresh that you could go multiple times on your trip and still not get bored. 
My second main recommendation is for the most special of occasions, a first class restaurant named, Canoe. This was the final eatery we visited on our trip and it's based in the financial district. Specifically on the 54th floor of the TD Bank tower. Being on the 54th floor means that you'll bear witness to some absolutely stunning views of the city and the well-known CNN Tower whilst tucking in on some spectacular meals. 
One of my personal favourite things from exploring the city was being able to use the small amount of down time we had to go off the beaten path. I found it intriguing to go do unplanned activities or speak with the locals because it gives you more of a picture of the city and its people. For instance, after we had finished the previously mentioned food tour with Kevin, we had some spare time and were able to ramble around Queen Street West at our own leisure. This in itself was a vastly pleasant experience as it's such a bustling and chic neighbourhood. Whilst walking about I stumbled upon Cosmos Records, an independent record store with two different shops in the area. One on the main strip of the neighbourhood, dedicated to rock, soul, pop and more mainstream genres, and Cosmos West Records. A second location which is solely devoted to selling and playing Jazz, Latin, and Brazilian music. The latter is what I came across as I was exploring my surroundings, it's a store tucked away discreetly on a side street off the main strip. As a music enthusiast myself, I went in and spoke to the record store's founder and owner, Aki Abe. 
Having worked in the music industry since his first record store job in 1991, the charming record purveyor started his own business and has collected almost 30,000 records and has in the region of 15,000 records for each store. The calm and collected individual has built Cosmos Records into a well-respected establishment. You know this is true when Nardwuar The Human Serviette follows the record store on Instagram. To my interest, he agreed that the Toronto music scene doesn't have many grassroot venues. Yet he loves the city and praises it for supporting "new cultural developments" and for "embracing the arts". After looking at the array of vinyls on offer and having a chat, I said goodbye to Aki and his adorable pet Goldendoodle, Levi, as the journey back to the airport awaited.
Once boarding my return flight to the UK, I looked back on my trip and thought about what I made of Toronto. On first impressions after weaving through the different neighbourhoods and experiencing only a slither of what the city has to offer, Toronto certainly cemented itself as a key travel destination to visit in 2023. Thanks to its friendly and welcoming atmosphere, interesting people, and wide range of leisure pursuits. I already know that as soon as I get the next available opportunity, I'll be back over there in a hot minute.
Words and photography by Cameron Poole
Special thanks to White Tiger PR & Destination Toronto.
Destination Toronto For further information on holidays in Toronto, please visit www.destinationtoronto.com 
Air Canada offers more daily flights from the UK to Canada than any other airline. From London Heathrow, the airline is operating three daily non-stop services to Toronto, with Economy fares starting from £533.06 inclusive of all taxes and 1 x checked bag (subject to change). Find out more at www.aircanada.com