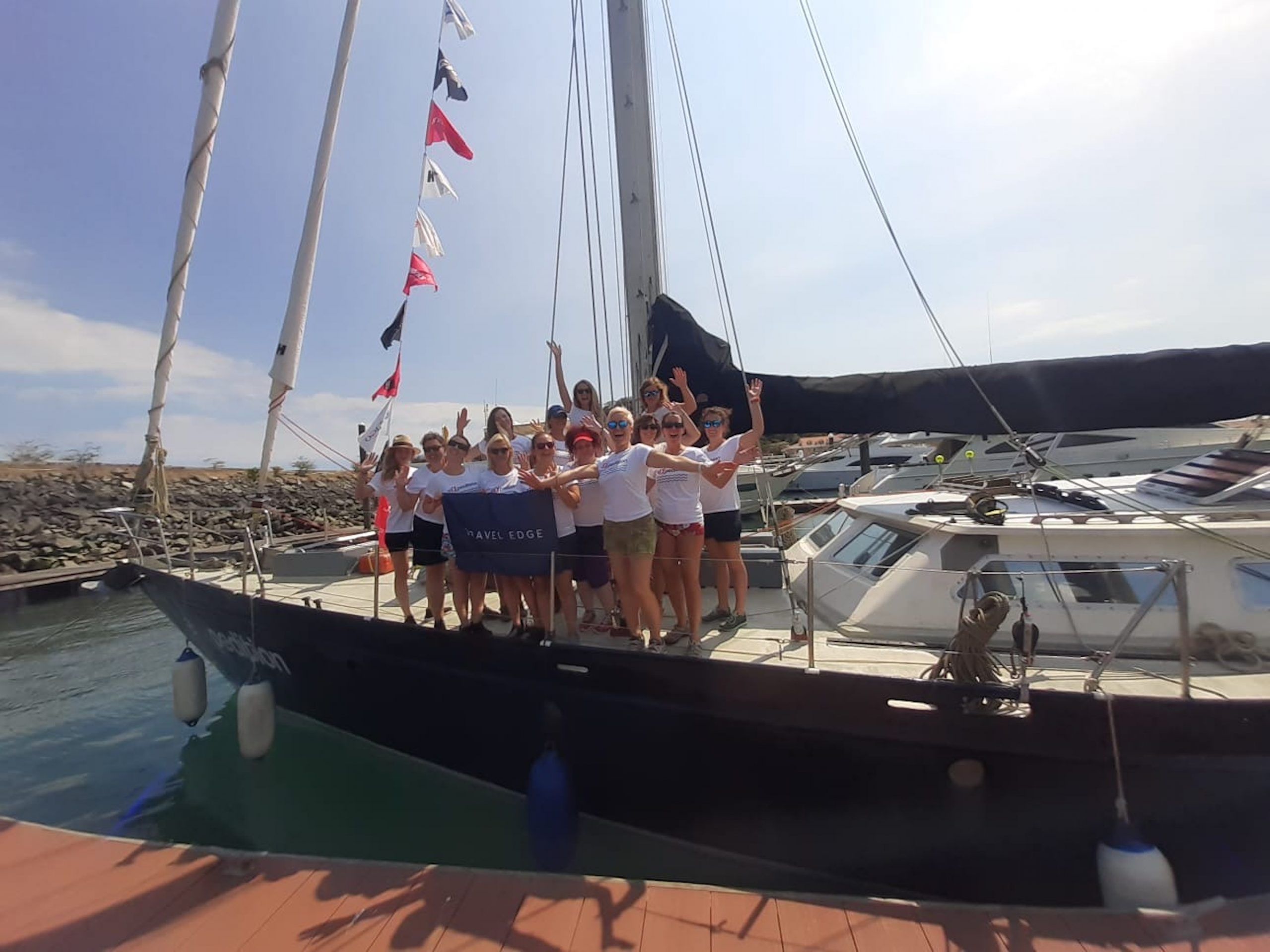 Women-led War on Plastic
A staggering 8 million tons of plastic enter the ocean each year; marine biologists predict that by 2050 the sea will be more saturated with plastic than fish.
Such careless contamination of pollutants not only decimate the natural beauty of our waters, but it also threatens the lifespan of marine mammals, birds and other seafaring wildlife. Moreover, microplastic wastes have been found in human excrement, and particles are small enough to be transferred from an expecting mother to her unborn child.
Concern for the spiraling effects of plastic wastes on our ecosystem propelled ocean advocate and skipper Emily Penn to launch eXXpedition, a global network of multidisciplinary women who spearhead scientific studies and explore sustainable solutions that curb plastic pollution. Much of the success of their work hinges on the community outreach programs that they implement in the distant regions to which they travel. While some of the women involved have science-based backgrounds, the diversity of their skillsets and interests are anchored in the collective goal of diminishing marine pollution and its destructive consequences.
The all-female sailing crew has completed twelve voyages since its founding in 2014, with the most recent trip transporting them to the Galápagos Islands. Post traveling, 1883 had the unique privilege of conversing with eXXpedition founder Emily Penn, along with two women from the eleven-member crew: Candy Medusa, a marine biologist and artist, as well as Jessica Patterson, a London-based publicist and owner of PR agency JPR Media Group.
EMILY PENN
As one of the founders of eXXpedition, what inspired you to make this platform an entirely female-fronted mission?
eXXpedition began as an all-women venture when I was learning about the potential toxic implications of chemicals used in the production of plastic, and other pollutants in our environment. These chemicals are endocrine disruptors which can disrupt hormones during pregnancy and can be passed to our children in the womb or through breastfeeding. Women are also underrepresented in sailing and science, which we are passionate to readdress by promoting positive female role models. But since the first voyage, I have also been blown away by how key the 'all women' aspect of these voyages has become. There is something unique about taking a passionate group of women to sea. Boundaries are let down, as we overcome challenges together. Bonds form fast and last for life.
With all of the successes that the expedition has achieved, what have been some of the greatest challenges faced by the organization?
Offshore sailing expeditions are, by their nature, extremely challenging feats to pull off! The combination of remote ocean sailing, scientific research at sea and bringing together crews of international multidisciplinary women with mixed levels of sailing experiences is a delicate formula to get right. Happily, we seem to have found the right balance over the years! For us, no doubt, the greatest challenge we've faced is what we're facing right now with the global pandemic of COVID-19.
What do you believe is the greatest asset that women have in tackling this cause and generating meaningful lasting awareness?
Individuals who spend time in or near the sea tend to be the most sensitive to the plastic pollution in our ocean because they experience it first-hand. This is why we started eXXpedition, to take people who do not normally have the opportunity to see the impact on the middle of our oceans, on our coastlines and in remote communities, out to see the challenges we face; and inspire them to take action.
Having seen the real challenge of microplastics, it makes it easier for the women who sail with us to talk about the urgency of the problem. Having been there, on the boat — it gives the participants on our missions the authority, confidence and deep sense of motivation to take action back on land. They can't unsee what they've seen, instead, they head home and create positive change on the issue.
Your most recent voyage was to the Galápagos Islands in January 2020. What factors from that trip distinguished it from previous voyages?
The chance to sail and explore the Galápagos while contributing to ocean plastics research was a huge and rare opportunity for our crew. With its seas under the protection of a marine nature reserve and the island part of the Galápagos National Park with strict ecotourism guidelines, it provided a really interesting insight for our research.
How has the COVID-19 pandemic affected activism work against marine plastic pollution? 
Like everyone around the world, we're working hard to adapt to these changing times and to set out our actions for a Year of Virtual Impact. There is still a huge amount that can be done remotely and without physical meetups and we're seeing a lot of energy and enthusiasm from our community who are collaborating on projects from all corners of the world. While many convenience-driven actions that have contributed to ocean plastics [like disposable coffee cups and water bottles] are likely to be reduced during these times of social isolation, there's a huge amount of single-use plastic used in the medical sector so only time will tell what impact COVID-19 will ultimately have on the state of our oceans.
What advice would you give to the general public on how we can assist in this fight and minimize the perils of plastic pollution on an individual level?
The more time I spend at sea, the more I realise that the solutions to ocean plastic are on land. Every bottle and toothbrush polluting the ocean once belonged to someone. It's billions of micro-actions that have led us to this situation and its billions of micro-actions that will get us out. Firstly, avoid as much single-use plastic as possible, but also take a look at your skillset and work out how you can apply it to the problem. We all have a unique set of skills that can be put to use, you just need to explore where you can make the biggest impact. This might be as a teacher in schools or a sailor at sea, but it also might be as an accountant for a non-profit or as an events organiser, setting up a community clean-up.
CANDY MEDUSA
No novice to the war on plastic, Candy Medusa first sailed the Caribbean three years ago with the eXXpedition crew, serving as a resident artist. The success of this voyage is evident in the environmental reforms that were implemented after the mission's completion: single-use plastics are now banned in Jamaica, Dominica, Turks and Caicos, Haiti, St. Vincent, Grenada, the Bahamas, with Trinidad and Tobago as well as Belize expected to follow suit, banning the manufacturing, importing and distribution of plastic bags, straws, Styrofoam cups and food containers. The impact of this visit inspired Candy to rejoin the crew this past January for the Galápagos mission, and her activism doesn't end there. This multimedia artist continues to generate awareness through her engaging artistic creations.
When were you first inclined to join the fight against marine plastic pollution?
Growing up by the sea, I've always been aware of marine plastic pollution and I've been fighting it since I was a child — it's not a new problem, it's just that it's recently come into the public eye.
What inspired the decision to harness your art medium as a platform for this fight?
For myself, it gave me a wonderful opportunity to combine two things I'm passionate about. For everyone else, it's such a good way to engage. People get to look at something beautiful and learn a vital message at the same time.
How receptive did you find community groups and government officials to be in acknowledging an environmental mission, particularly one that is female-led?
Government officials have a varied response, but in my personal experience, it's all been positive. On eXXpedition Caribbean we had a fantastic response from officials, who were very keen to get involved, and likewise, when I worked with the London shore team for eXXpedition Round Britain, the Mayor of London [Sadiq Khan] was great. Community groups are always wonderful because they are made up of like-minded, equally passionate people; environmental volunteers are usually the best people you could hope to meet.
Much as sexism is a massive issue, especially in science, I haven't encountered a huge amount of sexism regarding the eXXpedition mission. Of course, people were always saying things like 'but you have a male captain, right?' [translation: there must be a man who looks after you] and I've certainly encountered plenty of internet trolls who have an issue with us being 'a bunch of girls', but in real life dealings with people making a difference I haven't seen much of a problem.
In what way has your travel to the Caribbean enhance your knowledge of marine plastic pollution?
The Caribbean was really educational because it's so much easier to see the problem on a small island scale. Until relatively recently, the Caribbean Islands had no single-use plastics, no non-biodegradable waste, and they just threw leftovers on the ground for the chickens. Then goods in single-use plastic packaging started being imported, and they had no infrastructure to deal with it, no refuse collection or recycling, and so when single-use plastic arrived they mostly continued to throw it on the ground, where it washed into the sea.
In places like the UK, it's easy to throw stuff away, and not wonder about where 'away' is or what happens to it; it's very much a case of out of sight, out of mind. On a tiny island, there is no away, the single-use plastic is all right there in ditches and waterways and on the beach and floating in the surf, so there's much more pressure to do something.
When we arrived in the Caribbean Islands, they had a refuse collection, landfill, and exported recyclables, but it was very evident that this was not enough, and government officials and community groups were very keen to make big changes. Since eXXpedition Caribbean, the majority of islands have now banned the use, import and manufacture of many single-use plastics, so it clearly can be done.
Since the international shutdown period, there have been notable environmental changes. For instance, the waters of La Meuse River in Belgium — which is normally grey/green in color — have gone blue for the first time in nearly 40 years. As a marine biologist, what benefits, if any, do you believe this pandemic will have on the global waters?
The first thing I would say about this is don't believe everything you read — many stories on the internet of wildlife reclaiming the streets and waterways are misleading at best — but we are definitely seeing huge reductions in pollution and great benefits for water and air quality. I think something good that can come of this is that people can see real change, real data, that's a result of staying home and maybe that will encourage a change in the way we do things. So many people have campaigned for years to be allowed to work from home, and for many jobs, there's simply no reason that they can't other than that bosses want to keep an eye on them or feel that if the boss has to come into work so does everyone else; the pandemic has shown just how many people can work from home, and hopefully, they'll be allowed to continue to do so and we'll see a permanent reduction in the pollution caused by daily commutes and unnecessary air travel.
JESSICA PATTERSON
An indelible impression was left on London-based publicist Jessica Patterson upon learning of eXXpedition's proactive environmentalism. Equally influential on her interest in the group was the fact that these efforts were female-fronted. As the founder and owner of JPR Media Group — one of London's pre-eminent lifestyle PR firms — Jessica is a staunch advocate for women's empowerment, and her enthusiasm when discussing the crew's transformative journey to the Galápagos is all the more inspiring.
What inspired you to become a crew member of the January 2020 mission of eXXpedition?
I saw on my friend's Facebook timeline an article about an incredible skipper, Emily Penn, and her announcement that she was accepting applicants from diverse backgrounds to join her on a 2-year all-female sailing mission to fight the plastic in the ocean. 10 different women on 30 different legs sailing around the world meant 300 women would get the opportunity to go on this important voyage.
That means that, without being a marine biologist or microplastics scientist, I had a tiny chance to be a part of something that was helping save the planet. It was super exciting! I am usually quiet on my timeline when it comes to shouting about issues such as politics, religion and environmental problems as it's a social media minefield with differences of opinion.
The problem of plastics is a huge one and I had been watching the terrible photographs of the ocean's floating garbage patch as well as pictures of whales and turtles filled with plastic lying dead on the beach. I had to do something, and this was my opportunity to actually physically go out, clean the ocean, pick up plastics to send back to a lab, and do beach clean-ups.
Women's Empowerment is at the forefront of your own personal and professional trajectory. In what ways do you believe the group's activism against marine plastic pollution empowers women in the communities that you visited?
Women in science and environmental activism are both so important for women to witness because gender inequality exists in so many fields all over the world.
Women should look up to women who are pursuing careers and life choices that help the planet. Women should have women role models to look up to who are doing positive actions that better our planet's future.
Marine biology, senior positions in science and medicine, STEM research, and even sailing are not currently populated or even open to women worldwide. eXXpedition changes this fact and gives women, who normally might not have the option, the opportunity to explore these sectors.
What would you credit as the most rewarding aspect of your experience as a crew member on this voyage?
I really loved bonding with other women from different backgrounds. On board leg 6 Panama to Galápagos, I was put into a team [team 3] with Anja Roennfeldt, a Germany-based Senior VP of a Global Freight Trade Management Company, Alexandra Schindel, a New York-based science teacher, and Daniela Alarcon Ruales, a Galápagos-based Marine Biologist and Researcher who tracks turtles and wildlife.
These women are amazing, and we became a close-knit team immediately. I can truly say these are women who I will stay close with forever. We bonded in a very difficult environment. It was 30 degrees C [86 F] outside, and probably 40 degrees C [104 F] inside a very crammed rocking boat with limited food options, a shared toilet for 14 people, no privacy and lots of people suffering from anything from seasickness to an enlarged infected spider bite!
As one of London's preeminent publicists, how do you intend to harness your platform to generate greater awareness for this cause? 
I promised my leg 6 that I would get their voices heard and I have. I am continuing to promote these amazing women to editors so that they can share their individual unique stories in magazines. These articles will get their mission heard by people all over the world.
I am also reaching out to my clients and people in power to get them to alter their ways — whether it's through their packaging practices or simply the amount of plastics consumption within their respective industries whether that's fashion or hospitality.
I benefit from my clients being connected with me on Facebook as a few have already remarked about things they would do or are doing to change and increase sustainability within their businesses. [Whether this mission influenced them or not, the fact that they told me about the sustainable things they were doing is a great indication of how people are generally wanting to help save the planet].
Crew members of the eXXpedition have wonderfully diverse backgrounds and unique affiliations with this cause. What aspects of your PR skillset were most helpful to you and the team in serving this cause? 
On board, I conducted all of the crew video interviews and got to know each of them to understand what made them unique, impressive, and stand out. Every single one of the women was special in their own way which got them on board. Less than 3% of global applicants got accepted and I could see why [more than 10,000 women applied from over 100 different nationalities for only 300 places].
I'm curious to understand what motivates people, what makes them tick, and how they got to where they are today. At my PR agency JPR Media Group, we do a lot of profile press. Getting to know individuals and their personal backgrounds is needed to create a PR story. Their unique stories help me sell them to journalists.
I was also a coxswain for the number 1 rowing team in America in two different divisions. I think this past skill helped me work well with different personalities on the water and get to know what I could do to accommodate my teammates — whether that meant giving them motivation, space, humour or simply doing quiet hard work and supporting them in tasks.
interviews by Constance Victory
featured photo credit by Paul Nash
Follow news and updates via #eXXpedition / @exxpedition on Facebook, Instagram & Twitter.