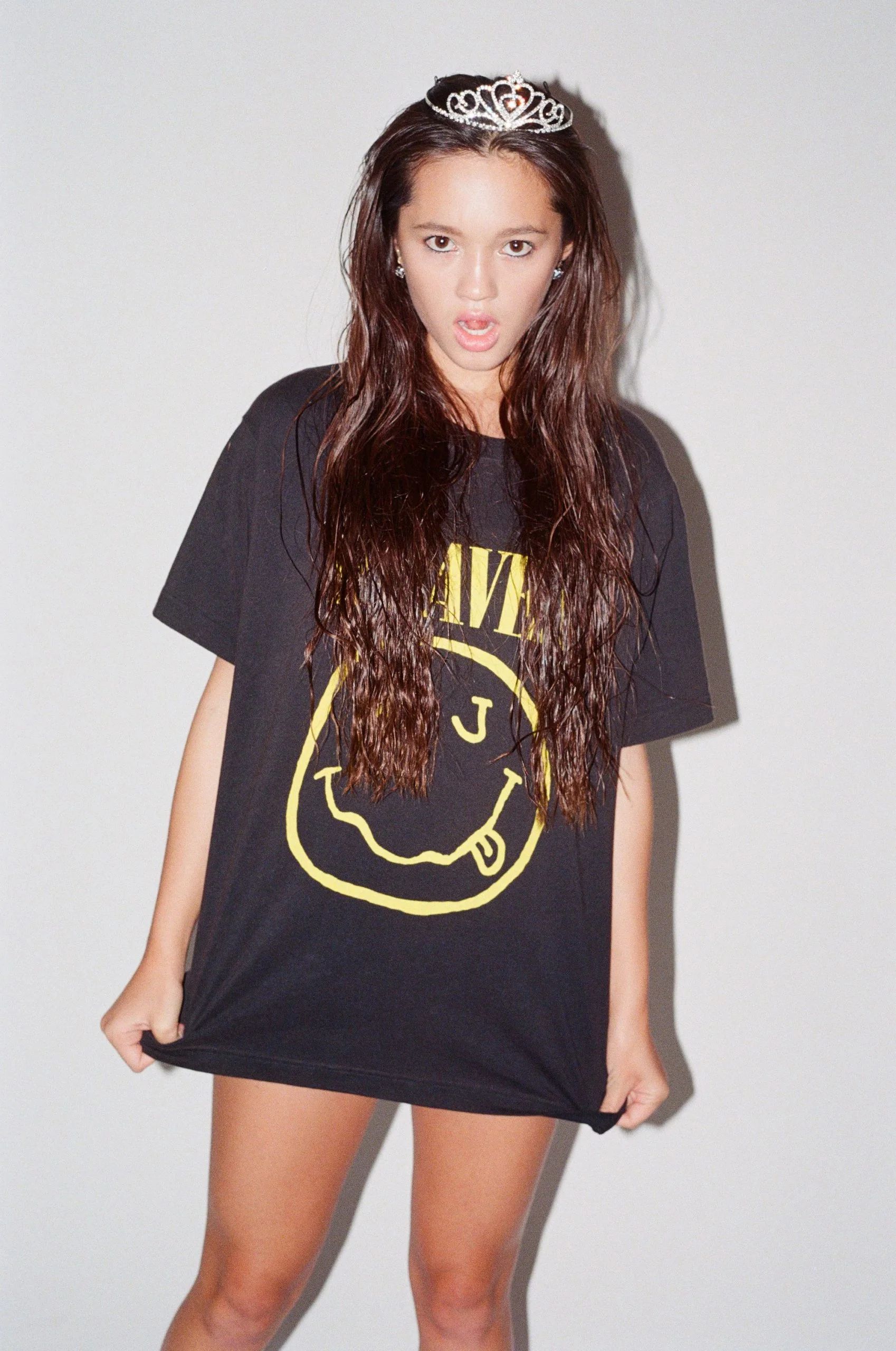 Lily Chee
Asian-American personality Lily Chee lives her life to the fullest, taking every opportunity that comes her way as an experience and every rejection as a lesson.
Seamlessly blending a polished persona with her true self, Lily's a breakout social media star for all the right reasons. Actress, model, social media influencer — these are some parts of Lily Chee's identity — but above all, she's just a normal 16-year-old teenager in New York. With a massive following on Instagram and YouTube, Lily doesn't think of herself as famous, and that could very well be the reason she's gained such widespread support.
Whether it's teaching her followers to take pride in their heritage — as she does — or inspiring them to follow their dreams, Lily is a role model with wisdom beyond her years. Her career as an actress catapulted into 'Action!' at the age of nine and Chee has been able to maintain a gritty work ethic ever since. Lily's life may seem set, but she reminds people that she's only human with her honest, no-frills attached approach to sharing her life online — she's a breakout social media star for all the right reasons.
1883 speaks with Lily about her current life in quarantine, the effect on her work and future plans, dealing with the pressure of content creation and the true measure of 'fame'. Making it a point to discuss topics such as creative burnout, coping with stress, mental health issues and imperfections, Lily's social media presence is a breath of fresh air in a world that has gotten itself a bad reputation for being fake and toxic.
What was your most recent project pre-quarantine? And what have you got planned for post-lockdown?
The most recent thing I did was a guest star role on this NBC show called New Amsterdam. I'd just finished filming just as the quarantine began, but aside from that, I've managed to do a lot of work even during this period of quarantine in terms of social media and brand deals are concerned. A lot of brands are using the pandemic as a way to reach people so that's been good for me.
As for the future, I actually don't know. I hope to book a similar role on television or maybe even something bigger.
What kind of trajectory do you hope for your career and life to take?
In the future, I want to book a lead role in a television show or feature film while still growing on social media. But outside my career, I want to work towards going to college; my dream school is the Gallatin School at NYU.  This year, my focus has been on getting into college my junior year rather than working.
On your YouTube channel, you post a lot of videos on travel and makeup. Are there any particular types of videos that you really want to try that you haven't had the chance or time to film?
Something I've been wanting to do for a few years is a storytime video on how I got to where I am today. That's something a lot of people have asked me about so I'd love to talk about how I got started because maybe it can help inspire someone else who might want to take up modelling, acting, or social media. One of my dream video ideas would be to go to Asia and do a nice Vlog there.
How do strike the balance between doing your job and also focusing on studies?
I am lucky enough to be going to a school that's very supportive of me and my career. I have been in the industry since I was nine years old, so I've learned to balance things out of sheer experience. But I think the way I'm treated by my school and my peers really helps me keep that balance. I don't feel any different from anyone else in my school. Having supportive friends has really helped me stay grounded. They're accepting of what my job is and aren't jealous of my 'fame'. In fact, it's actually one of my biggest pet peeves when people say 'I'm famous' or 'I'm a celebrity', because I don't think of myself like that and neither do my friends at school. I might have a lot of supporters and followers — but that's not a measure of fame.
What's been the biggest learning curve and the hardest challenge to overcome in your career?
Through acting and auditioning for roles I've become really good at handling rejection. Sometimes you make it all the way to the end of an audition process but not get the role. I've learned from a very young age to pick myself up and move on from it without getting hung up on things.
On the social media side of things, what has always bothered me are the negative assumptions people have about you. Just because I'm a social media personality who shares a lot of my life doesn't mean you know everything about me. For example, I've hung out with a couple of boys who are quite popular on TikTok and a lot of people began assuming that I'm dating them. It caused a lot of drama and I learned the hard way that if I respond to negativity, people will immediately assume you're lying, and it'll make things even more messy. So, I've learned to never respond to negativity. What matters is that you know yourself. I have also learned to respond to the positive, supportive comments instead.
Speaking of positive comments, what are some comments in your recent memory that have made you smile/feel good?
I love looking through my DMs a lot and I've had people reach out and say that watching me has helped them through their depression and mental health issues just by talking about my own, showing people that I'm not a perfect person. For some reason, they look up to me and think of me as inspiring, and this makes me so happy and makes me feel like whatever I'm doing with my life is worth something.
On the flip side, does knowing that so many people look up to you and feel better because of your social media posts make you feel pressured to keep posting?
Yes, I always think that I need to keep posting because people will end up losing interest otherwise. Sometimes I feel I want to throw my Instagram away. I tend to post when I want most of the time, but I also need to post in order to keep myself engaged with my followers and it becomes hard to come up with content particularly in quarantine. But I think it also forces you to become quite creative with your content, like I just did a FaceTime photoshoot recently which was really cool.
So how do you deal with creative burnout and the anxiety of running out of ideas? What are your outlets when stressed?
It might sound silly to people because it'll seem like 'Oh, this girl is stressed about her social media' but it really is so stressful. I feel like crying because I get anxious about whether I'm doing a good job. How I cope is simply by taking a break and resetting. I take a step back so that when I'm back, I'm posting because I want to share my life with people rather than post just for the sake of it. One of the things I love doing is making videos and editing as well. It's not only part of my job, but a hobby that destresses me as well. Other things I love doing is simply listening to music or reading; it's so calming.
Why do you think your followers look up to you?
I think it's just interesting to know about other people and their life, so it might just be that intrigue. Another thing I've noticed is that there aren't many teens in New York who have a persona online so that might be something that draws people to me. There's also that factor of relatability. I'm a normal girl who goes to school and has friends; I'm not up on any pedestal and I treat everyone the same.
Speaking of your following and your presence online as an Asian-American, have you felt any ill effects of the unwarranted hate crime brought about by the COVID-19 pandemic?
I started getting a lot of comments way back in January. I posted a picture in Chinatown and a lot of the comments were 'CORONA' and 'CORONATOWN'. I get a lot of messages, DMs and backlash because people are racist, ignorant and stupid. Just because I or anyone else looks Asian doesn't mean we are automatically carrying the coronavirus.
What kind of message would you like to give people of Asian heritage who might be getting racial hate?
Just remember to be proud of your ethnicity and heritage. Don't let anyone — particularly random strangers who know nothing about you — tell you how to feel about your race.
You have Canadian, Chinese, Malaysian, Irish and Scottish heritage. Pick one of these countries for each of  the following options and a reason why.
To work… For modelling, Europe would be perfect for high-fashion opportunities. Out of the options, maybe Ireland.
To live… Canada would be pretty nice to live in.
For a holiday… Any part of Asia would be amazing, so Malaysia out of the options.
For high school… I'd love to go to school in China. I would love to learn to speak Mandarin.
For university… Well, I mentioned already my dream college is in New York so America to be honest.
How much control do your parents have over the content you put out?
I usually have a lot of freedom. I know my limitations and my audience, knowing what's appropriate. I had to learn this, of course; my friends were able to post whatever they wanted, and I wanted to do the same but it wasn't matching my demographic. However, my mom trained me, showing me how to still post the cool things I want while being professional. Now I choose whatever I post and don't particularly seek out approval. I still ask for her opinion on which picture is the best one though.
You have two younger sisters. If they wanted to, would you encourage them to go down a similar career path? What advice would you have for them?
I would definitely encourage them if that's what they wanted. What I'd say is just be yourself because people are interested in your genuine personality and identity. I also think when it comes to confidence 'fake it till you make it' really works. If you keep acting confident, one day you really will be.
What has been the most memorable moment of your career so far?
The first time I ever did a screen test, which is the final step before a network decides to book you. I remember I'd just started acting, and I did this screen test from my grandfather's basement doing all this stuff I don't usually do like singing — I'm not a singer — and they ended up flying us out to LA which was memorable because I'd never done anything like that before. I was proud that I'd put myself out there and being confident.
Have you discovered any new artists or read any new books lately?
My favourite artist is Lana Del Rey, and I think I've listened to all [of] her records all the way through at least five times during this quarantine. I haven't discovered any new artists, but I've more in love with the artists I already listen to. I'm currently reading a book for school called 'Bel-Ami' [by Guy de Maupassant], which is a French story that's really interesting. As soon as I'm done with this one, I'm going to start reading 'Wuthering Heights' [by Emily Brontë]. I also love watching solved true crime videos. There's a YouTube channel called Criminally Listed, and I've watched over half of their videos. [But] I only like the solved mysteries, not the unsolved; I don't need that stress, I need resolution!
Finally, what's one question no one asks you in an interview you wish you were asked?
'How do I deal with depression and anxiety?' We've already touched on how I cope, but the reason I would like to be asked this question is because I think so many people, specifically teenagers, have a lot of mental health issues. Social media, while fun, can be really toxic because it all seems picture perfect. I want people to know that I'm far from perfect. I cry a lot; I fight and get frustrated too. In spite of taking 'perfect' Instagram pictures, I am not perfect; I'm just a normal human being.
Stay updated by following Lily on her YouTube channel and Instagram @lilychee.
Team Credits
interview by Malvika Padin
photography Jared Kocka
styling Rocco Valentine
hair Sergio Estrada
makeup Jo Franco
casting director Angeliki Sofronas