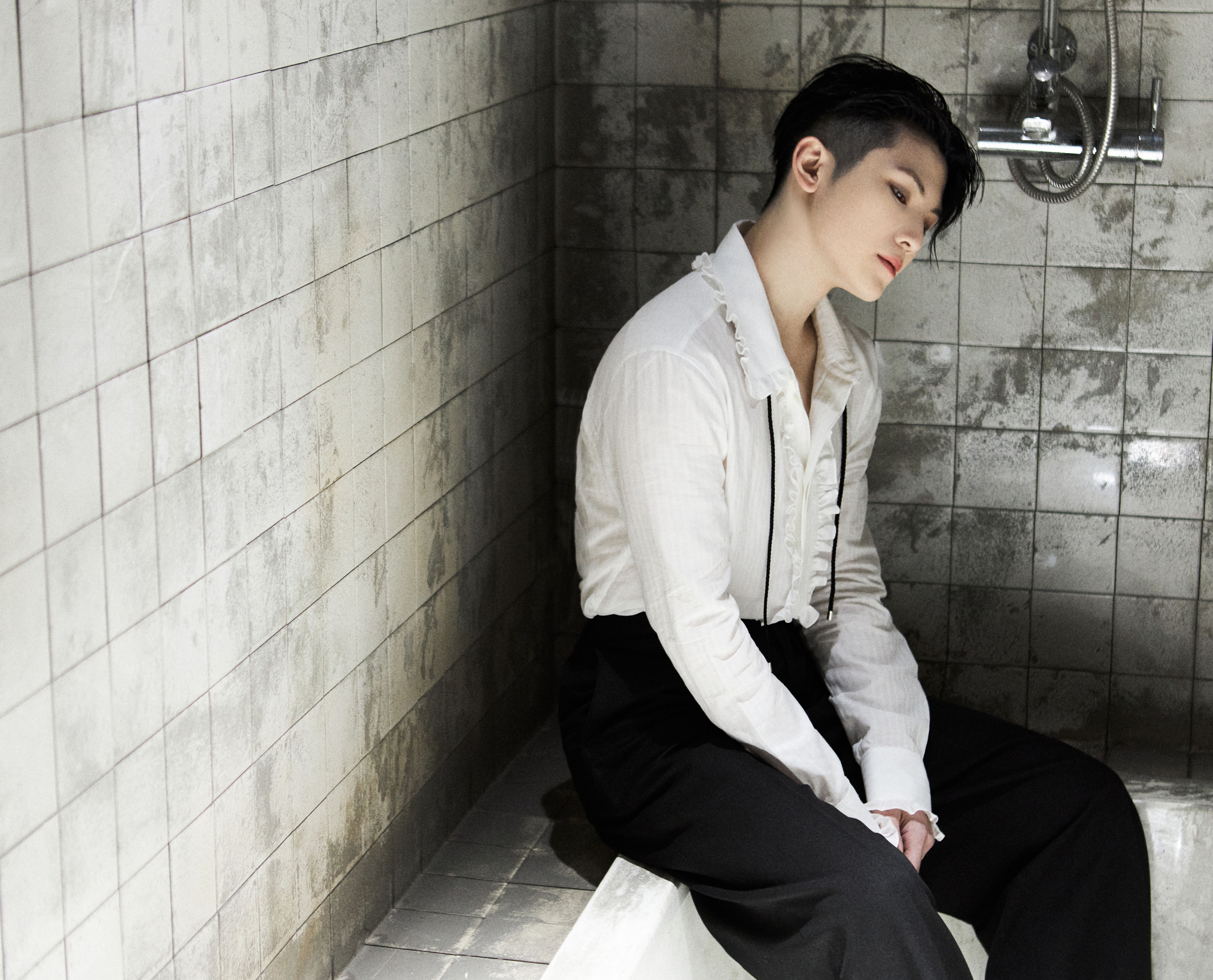 WOOZI
It's not every day you see SEVENTEEN's laconic Woozi cry. Introverted by nature, the songwriter, main producer, and vocal leader—all rolled into one—tends to play the straight man to the K-pop group's more boisterous personalities, making the odd flashes of vulnerability all the more poignant.
One moment immediately comes to mind from 2015's Sisyphean Seventeen Project, in which the thirteen boys cut their teeth on self-produced songs and stages in hopes of debut. The judges' sharp critiques weighed heavily on Woozi, who bore responsibility for the team's compositions. "I feel like I'm the one who'll determine all 13 members' futures," he confessed at the time. When SEVENTEEN clinched their first win on a music show one year later for "Pretty U," written, composed, and arranged by the twenty-year-old, bandmate Jun delicately wiped tears from Woozi's eyes. The singer spent the rest of their encore bowed over in disbelief—and, perhaps, relief. Because if he felt SEVENTEEN's fate rested wholly on his shoulders, so did the possibility of failure.
Yet SEVENTEEN's triumphs are Woozi's, too. Since their debut album, 17 Carat, he's worked on every SEVENTEEN project, alongside his mentor through the years, Bumzu, a producer and solo artist under Pledis Entertainment. His artistic identity flourished side by side with SEVENTEEN's musical identity as a group, and the two have grown with each other over time. His new mixtape "Ruby," out January 3rd, presented the challenge of how to disentangle these entities, after so long of them being one and the same.
"Since SEVENTEEN's debut, I think I placed much heavier focus on [its] musical aesthetic over my own," Woozi tells 1883 over e-mail, ahead of the mixtape's release. "While working on SEVENTEEN's sound or another artist's, I think it was easier to determine what the better decision is every step of the way. With 'Ruby'…there was much less clarity with where I should be headed."
The distinction could only be fleshed out with deliberate reflection and intentionality. "'Ruby' is not a song that came to be from a sudden spur of inspiration," he says. "It was more of a result of an extended amount of time I dedicated recently to panning in on the kind of music I want to pursue as a solo artist."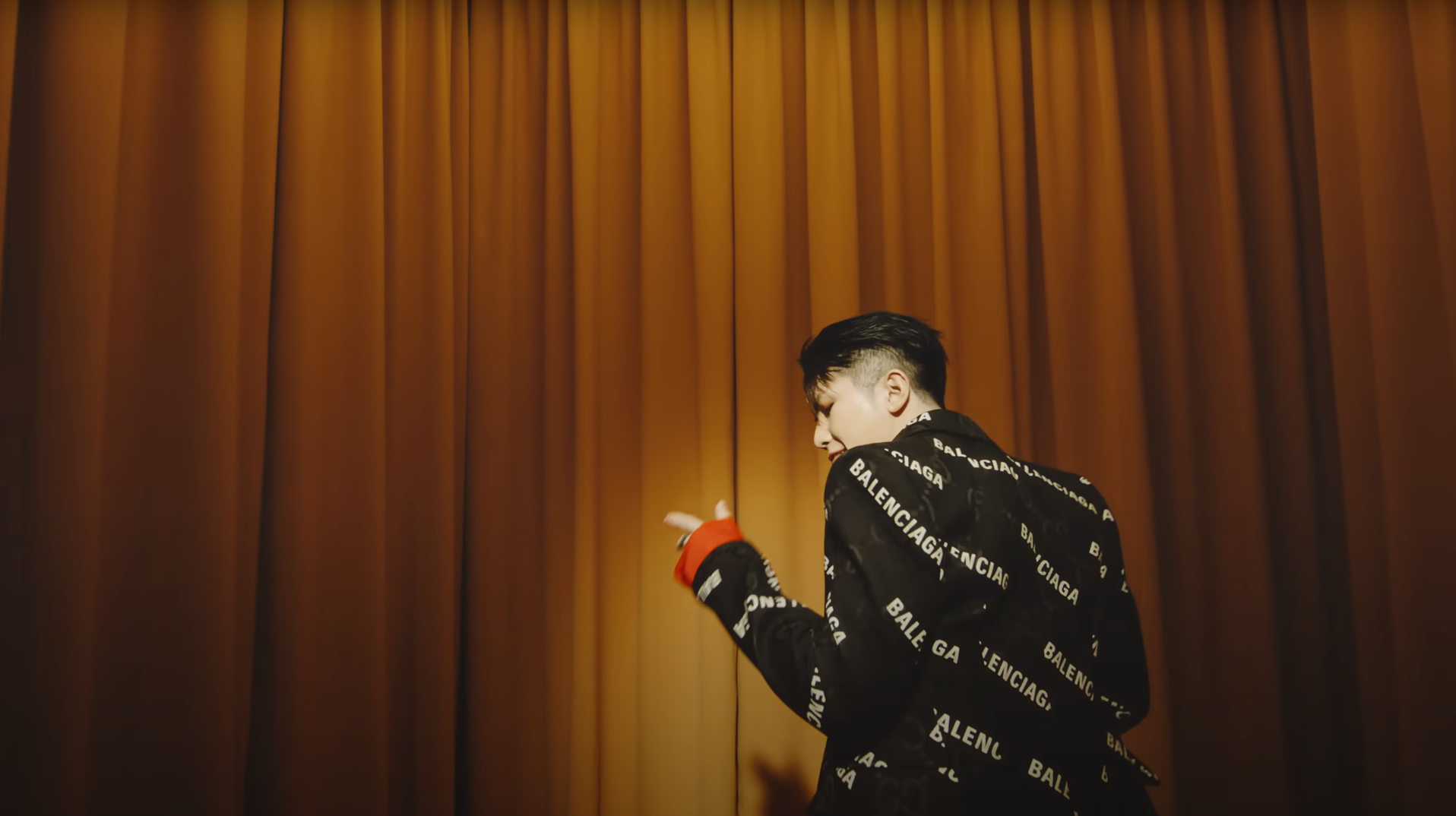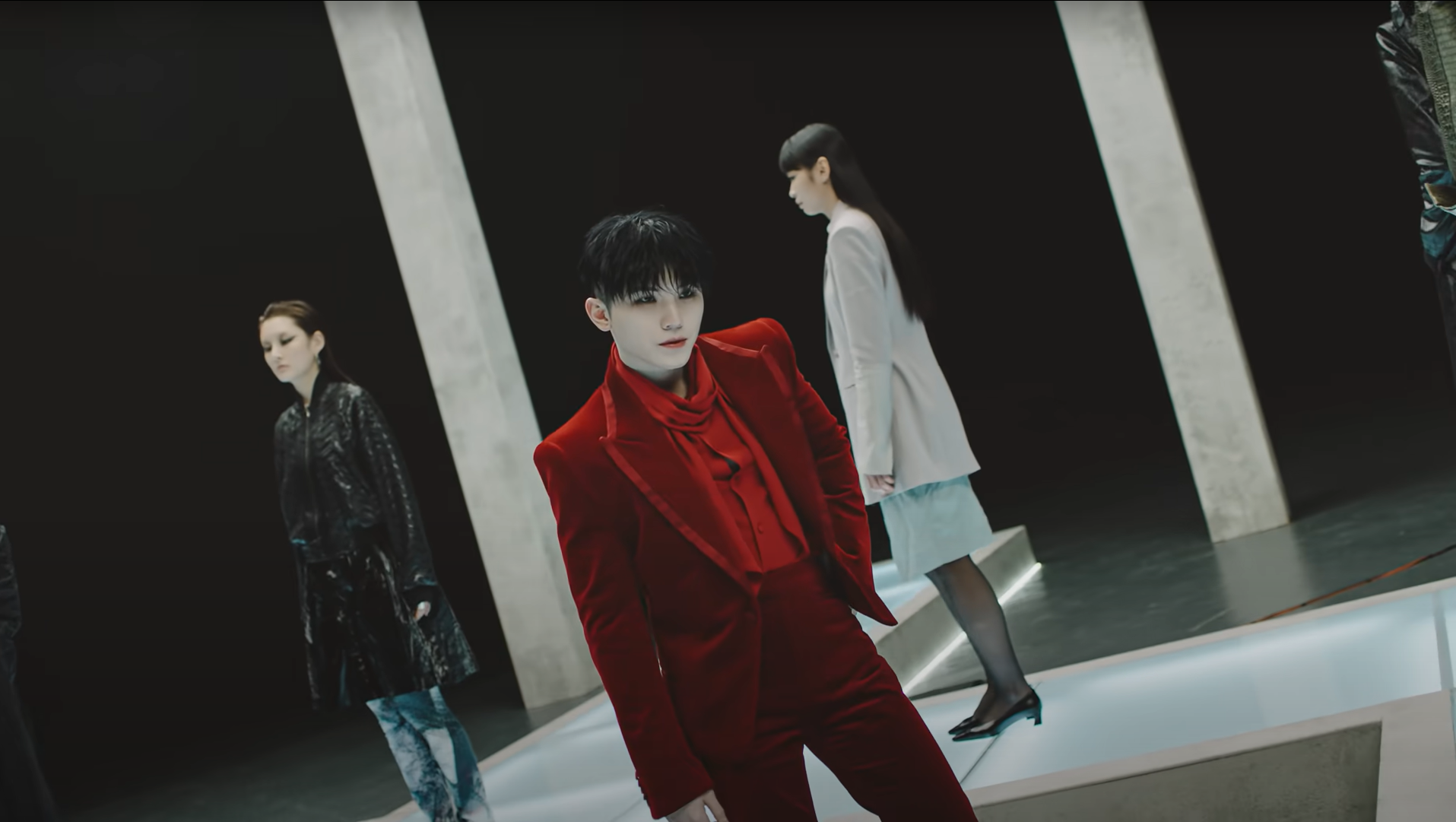 Though "Ruby" is the first official solo single for Woozi, it's not his first time gracing the stage alone. "Simple," a song off 2016's Love & Letter repackage, and "What Kind of Future," an unrecorded song performed live during 2018's Ideal Cut tour, show off his chops as a balladeer, as the ringleader of SEVENTEEN's vocal unit. Their vocal gymnastics convey how Woozi fits into the larger puzzle of SEVENTEEN: in unit stages, he whips out a falsetto so bittersweet it'll break your heart; in full company songs, he fills out sonic layers with runs and adlibs. 
"Ruby" isn't that. Instead, it imagines what soloist Woozi might look like. "I wanted it to be a clear, striking deviation from Woozi as a part of SEVENTEEN," he writes. The mixtape has clear continuities from SEVENTEEN's recent single "Rock With You," but where the pop-rock release was tempered with soft flourishes—its wonderstruck lyrics tinged with their indelible brand of innocence—"Ruby" embraces sharp edges. Visually, it's an inverted image of everything SEVENTEEN music videos were in their rookie days, though have since outgrown: a posse of thirteen gangly boys all pining after a singular girl (see: "Mansae," "Aju Nice"). Here, Woozi is the lone man amongst a throng of female models strutting the catwalk, a magnetic presence in and of himself. 
Channeling Woozi's vocal intensity into fiery rock flair, "Ruby" finds its home mid-infatuation, at the stage where anything and everything invokes a certain someone. "Think I'm out of my mind, pass me a Coke Zero to calm down / Shit, this is red too," he speak-sings in English, a quick yet playful (fans will recognize the reference to Woozi's soft drink of choice) respite from the track's ferocity. "Ruby" smolders with its rich textures, from the song's opening lush, cinematic orchestral strings to the electric guitar solo over the bridge, which pairs itself with waterlogged distortions of human voice. It comes as a departure from Woozi's usual clear-cut vocals, emotive and potent as an instrument of their own. 
In SEVENTEEN's infancy, they gravitated toward diamonds as an apt metaphor for the circumstances that brought them about (not to mention their relationship with fans, called Carats). Since then, the motif has taken on fresh layers of relevance: formed and shaped through intense industry pressure, unwaveringly reliable, yet prismatic in sound and concept. "Ruby" is that idea lit aflame. Woozi tells 1883 that he chose rubies for "[their] aesthetics overall—the mature and yet vibrant color, the intricacies and glamour of the gemstone," which "felt like an eloquent, sensory addition to the song." It's a picture of maturity—of passion, sensuality, and raw emotion—unrecognizable from the bright boyish fare SEVENTEEN debuted with. 
In his ten years writing songs—he began in middle school, with nothing but his guitar and his voice, before moving on to GarageBand in high school—Woozi's philosophy has evolved to encompass what music should do, as much as how it should sound. "At first, there wasn't a clear objective or a set of standards I was working towards," he says, referring to his work during SEVENTEEN's early career. "What mattered was what sounded good." The way SEVENTEEN's discography resonated with their audience made him reconsider. "I started noticing comments from our fans which read that our songs are a source of strength for them, and then it became clear. I want our songs and performances to bring happiness and strength to our listeners."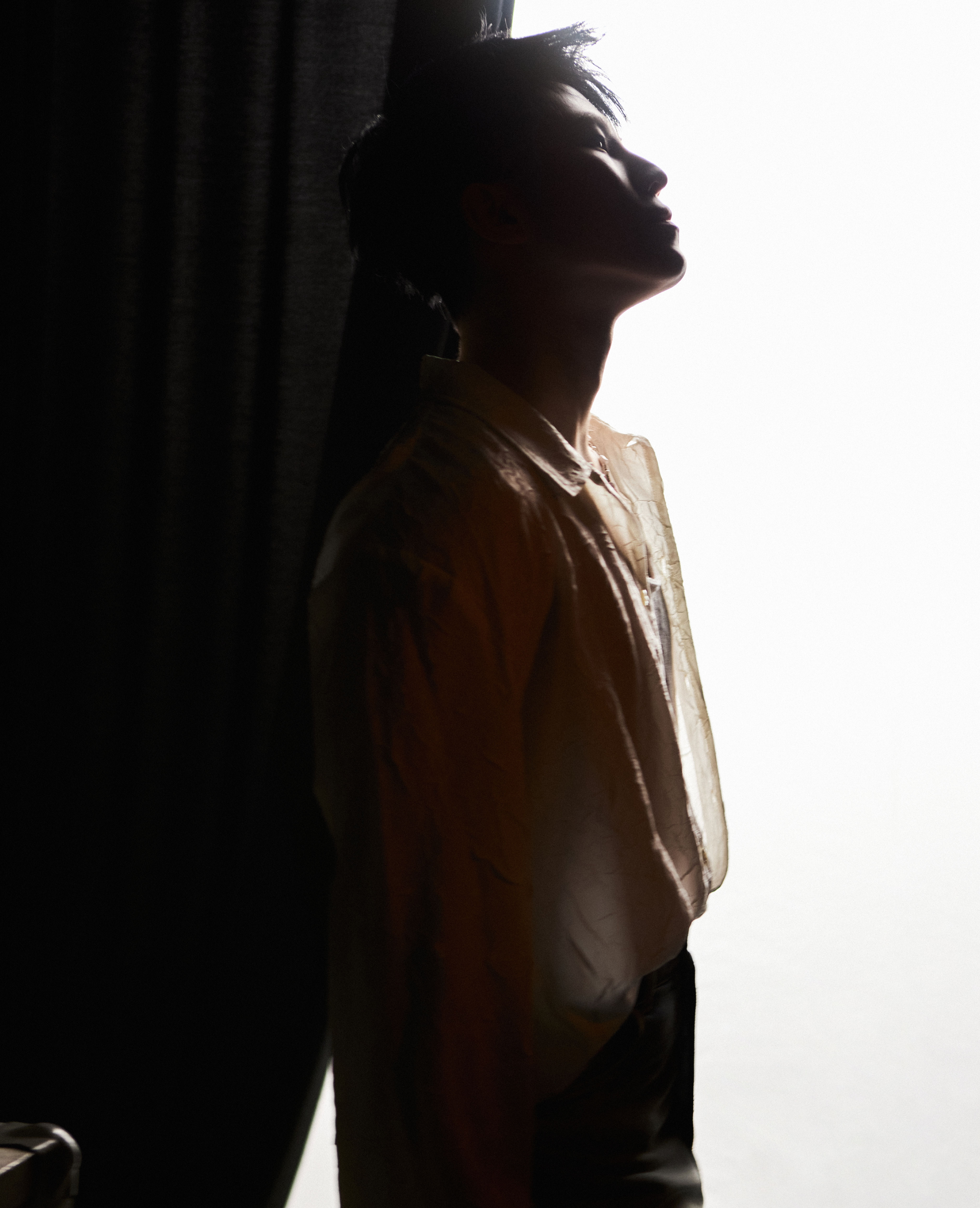 A soothing balm, an extended hand, a parable of youth—all ways to describe SEVENTEEN's music, both sincere in approach and keenly compassionate to the growing pains of the band's audience. Its pathos is defined by its desire to offer consolation and, just maybe, a way forward. "Do your best, but maybe not sometimes," the group graffiti toward the end of the music video for "Left & Right"—the single off Heng:garæ, which basked in the little victories. ; [Semicolon], from later the same year, acted as a coda to the June EP, extolling the virtues of pressing pause every now and again. 
It's a sentiment Woozi could do with taking to heart. He ended 2021 with an impressive list of achievements, including taking home an Asian Artist Award for 'Best Producer,' becoming the youngest person to do so. SEVENTEEN's two EPs from the year, both of which sold over a million copies within their first week, brought the tally of copyrighted songs under Woozi's name up to 120. Hundreds more, he's offhandedly said, live on a hard drive or in his mind but will likely never see the light of day. "We are always working on new songs and thankfully, a lot of them are an improvement from our previous work," Woozi says. "This is not to say I am in any way regretful about the unreleased songs that were put aside. On the contrary, I am grateful for them because they are all precursors to SEVENTEEN's songs that make the final cut. They lay the groundwork for our albums."
In behind-the-scenes clips for previous albums, Woozi directs his bandmates in the recording studio, tweaking their inflections and pitch until he's satisfied. It's a small window into the long hours he spends there, and the level of scrutiny it takes to write and produce for one of K-pop's biggest bands. (He doesn't just think about music, Woozi often jokes—he sleeps and eats, as well.) But SEVENTEEN began as a collaborative effort, and grows increasingly so over the years. Rappers Mingyu and Wonwoo have directed and edited music videos; performance leader Hoshi choreographs; a handful of members consistently topline. 
Striking out on his own meant putting a hold on this easy synergy. "The members have always been one of the biggest influences on me and the most supportive force," Woozi says. "This time around, however, I was keen on getting through it on my own." Still, as much as the mixtapes pose the chance for individual members to try on and play with new sounds as soloists, as Hoshi did with "Spider" last April, this splitting off is anything but permanent. Over the summer, SEVENTEEN unanimously renewed their contracts with Pledis—and, as Woozi as eloquently puts it: "[SEVENTEEN's] strength lies in teamwork." 
It's too soon to say anything concrete, but there may be more solo mixtapes in the works, Woozi teases. SEVENTEEN have stories yet they want to tell—separately, and, as always, together.
Ruby is out now. Follow SEVENTEEN at @pledis_17
Interview by Abby Webster