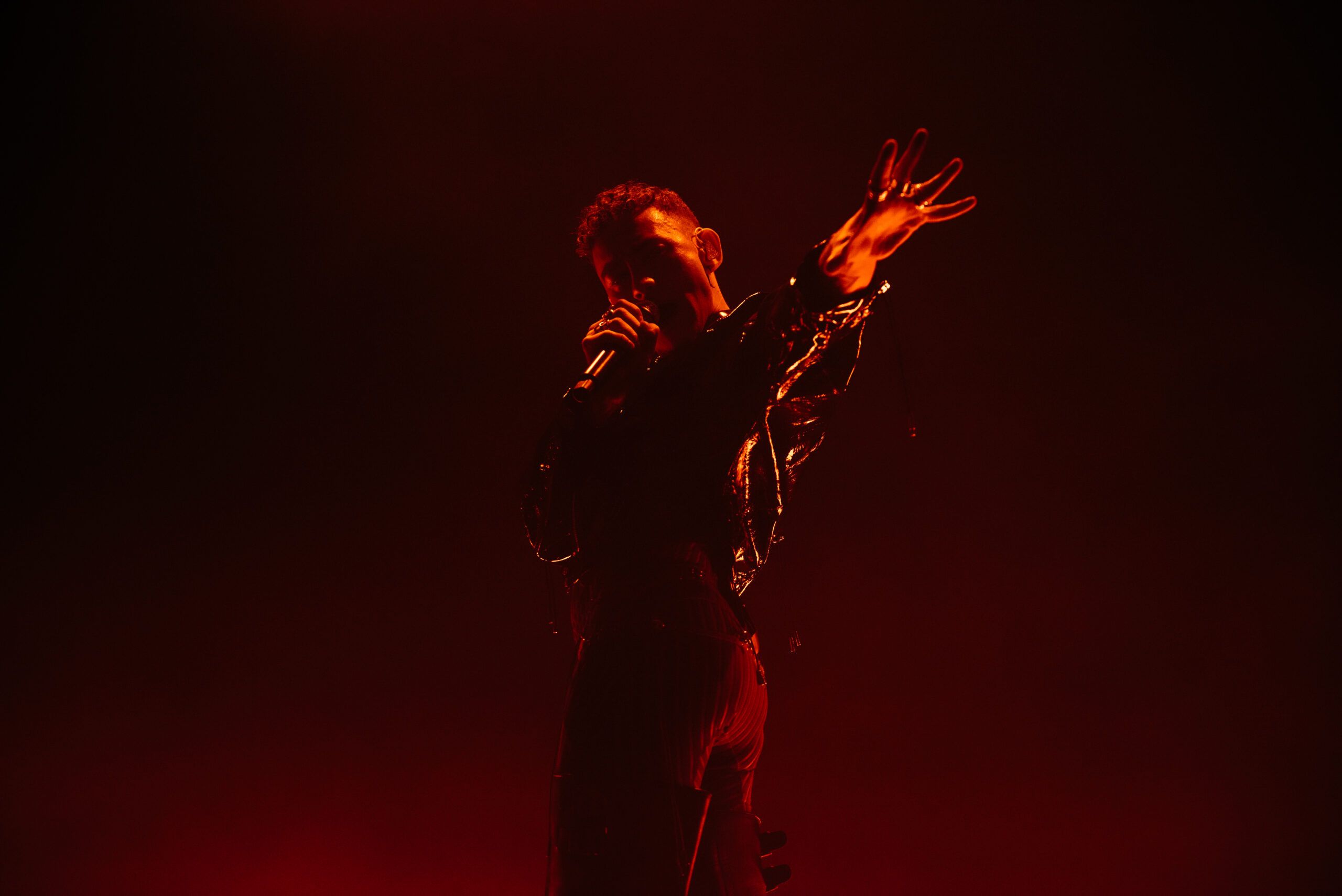 Years & Years live at HERE Outernet, London
Here in the UK the music industry has been celebrating BRITs week, several days of big artists playing one-off shows in various intimate venues in aid of War Child, an organisation which stands up for children's rights in conflict areas around the globe.
To date, they have raised over five million pounds for the cause but now the need is greater than ever with 1 in 6 children being affected by armed conflict across the world. This year's string of shows saw artists such as Rina Sawayama, Easy Life, Louis Dunford, The Sugababes, and The 1975 head one-off performances to help raise money. Tonight was the turn of the disco-pop outfit, Years & Years. After beginning as a three-piece band in 2010 the trio gained great success within the industry before announcing in 2021 that after growing apart musically, the three would go their separate ways and continue primarily as a solo project by frontman Olly Alexander. Upon arrival at the swanky new venue located at the intersection of Tottenham Court Road and Charing Cross, I was met with a vibrant auditorium and a buzzing crowd eager for the night ahead. After taking in a short video about War Child and their vital work on the huge screen behind the stage and being offered opportunities to donate, it was time for Olly and co to take the floor for what was their first show of 2023.
 The night begins with a shortened version of the title track from their 2022 album, Night Call before going into the upbeat Sweet Talker from the same album. Alexander entered the stage wearing a striking bodysuit paired with statement thigh-high boots and a patent leather jacket. Olly is known to make an entrance and that's exactly what he did tonight, every element of the show from the outfit to choreography makes a Years & Years performance something you won't forget in a hurry. Alexander was joined onstage by former member and current touring musician, Mikey Goldsworthy, drummer Paris Jeffree, and backing singers/dancers Joell Fender and Tehillah Daniel. The chemistry between Olly and his crew is captivating and lures you in so that you hang on to every word. The choreography was sensual and daring with Olly taking a seat upon Joell at one point during the show.  Having seen Years & Years perform previously, something I love about the productions is the use of pre-recorded video on screens behind Olly whilst he's performing which add immensely to the overall experience.  Whilst this evening was a slightly stripped-back version of what a normal Years & Years show would be–props including telephone boxes, upright beds, and even more dancing–it just goes to show that Olly's personality is the shining star here and he could quite literally perform anywhere and still put on a dazzling show. Leaving the patent jacket behind as things started to heat up, Alexander and co swing into the incredibly catchy, synth-pop track Shine during which a fan throws a miniature doll version of Olly onstage. "It's weird singing to myself," laughs Olly as he begins the track looking into the doll's eyes.
Further upbeat tracks in the form of Sanctify and Desire followed suit with the high-energy evening. The visuals really were something and with Olly "Writhing" for his life–his own words–it was difficult to not join in. After a lot of non-stop dancing, a welcome lull in the evening came in the form of the track Eyes Shut for which Olly took to the piano and was adorned by a single spotlight. The next track was a cover of The Pet Shop Boys' hit It's A Sin which also opened with Alexander playing the piano. A personal favourite of mine, the song was used in the Russel T Davies drama of the same name in which Olly plays Ritchie Tozer and received rave reviews. With a few songs left the energy was back up to its height for tracks Starstruck and If You're Over Me. The evening ended with one of Years & Years' biggest hits and most memorable tracks, King. Olly took us through several choruses then thanked everyone for being there before the rest of the group joined in a bow and left the stage with the crowd begging for more. The evening was high-octane and visually stunning, a night I won't forget. Olly Alexander is a once-in-a-generation performer and has such an infectious personality it would be extremely difficult to not enjoy your night. As the band announced this was one of the very few shows they had lined up for 2023, I'm left wondering when I may be able to catch them again. 
Review by Gabi Oates
Photography by Patrick Gunning