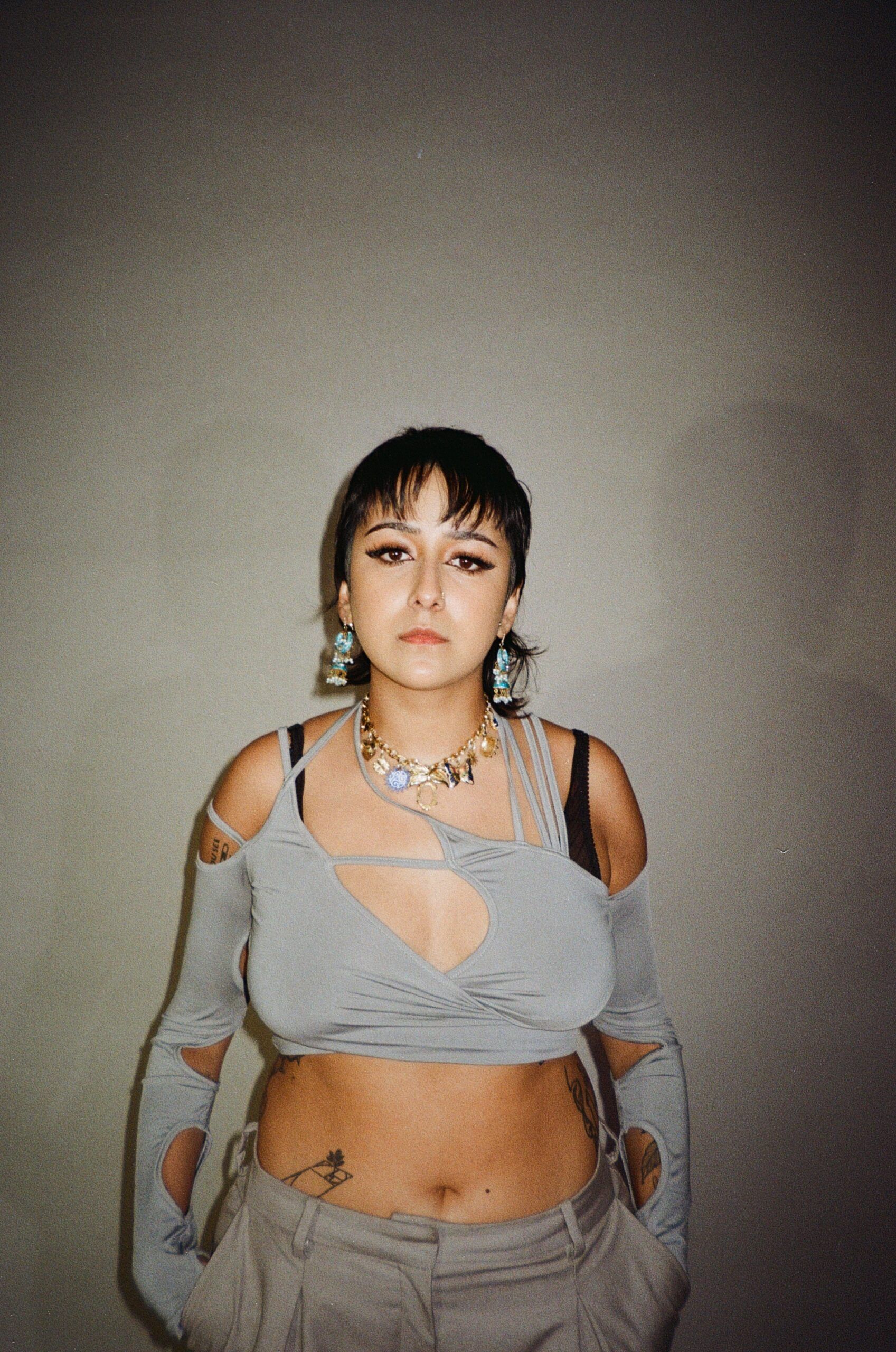 18 Questions with Mixtress
18 Questions With introduces 1883 readers to the brightest young artists, actors, creatives and beyond. From childhood memories and guilty pleasures to their latest ventures and upcoming projects, our goal is to bring you closer to the people who inspire and entertain us. 
---
Electronic artist Mixtress is a DJ that's already cementing herself as one to watch. The rising artist spent her childhood living in India, her formative teen years in Amsterdam, and now as an adult she's based in the UK. All three of these locations have in one way or the other inspired her unique sound. If you're a fan of electronic music then you may have already spotted that Mixtress is a Rinse FM Resident, she's smashed a boiler room session, played at numerous festivals, and even had her very own BBC Radio 1 dance special show. Now, the artist has most recently remixed The Streets' classic hit, Blinded By The Lights. The jungle-techno remix was also given the seal of approval from Mr Mike Skinner himself.
Mixtress sits down with 1883 Magazine to discuss the remix of Blinded By The Lights, DJ'ing, and more.
What was your initial reaction to being told you were able to remix The Streets' iconic track Blinded By The Lights and how did you decide on how you were going to put the Mixtress spin on it?
My initial reaction was just disbelief – I couldn't really believe it. The fact that Mike Skinner liked it and approved it (considering he hardly ever does this with his material), made me think it must be semi-decent. And the idea of Mike Skinner listening to jungle-techno is a pretty sick idea in my head.
Pete and I worked on it together. For me, I was thinking about how I could make a jungle-techno, happy hardcore kinda vibe tune into something that your average person who watches Love Island would want to listen to it – I mean that in the least derogatory was possible. None of this was planned; me and Pete never thought it would see the light of day. I think the Mixtress spin was making the original into this emotive, DnB, hyper kind of tune that people could resonate with – especially those familiar with the original.
What is one exciting thing that has happened to you this week?
I found out I'm going on tour across India, Australia and NZ. I also found out that my next tune will be coming out soon, which is exciting.
When did you first discover your passion for music and DJ'ing?
Music was very early on for me. I think when I was around eight-years-old, my sister had this iPod Classic which I later used. She's ten years older than me and all of her music was still on there. I was listening to a whole range of stuff, but particularly dance music from the age of 10 or 11. With DJ'ing, this when I was around 18 and at uni.
What was the last book you read?
Remixology: Tracing the Dub Diaspora, by Paul Sullivan.
Favourite memory growing up?
Being on my nana's balcony in India, listening to all the chaotic noise of the traffic. We lived in a really busy area in Calcutta and I used to love people watching.
Who inspires you musically?
DJRUM, Al Wootton…
When was your last 'pinch-me' moment from your career so far?
Today when I found out I was playing a this big festival in India!
Why did you name your musical project Mixtress?
It's quite stupid actually. I find the whole idea of having a DJ name cringes me up. I learned how to mix quite early on in my career, but I didn't put anything up on my SoundCloud page because I was too scared that the music sucked. I had a Google Drive folder with lots of mixes and the names of them just happened to have lots of s's at the end of them. Anyways, I sent a few out to a friend to listen to and they replied saying 'that's such a cool artist name, Mixtress'. I was like 'I'll take that'. So, it was really just a typo which brought about the name.
Favourite quote from a film or TV show?
"More is lost by indecision, than the wrong decision" (The Sopranos).
What is one fun fact that people wouldn't know about you?
I'm a classically trained violinist.
What is your favourite and least favourite thing about being a DJ?
Oh, I could write a book about the latter part! My favourite thing about DJ'ing is travelling to so many different places, meeting new people and discovering the landscapes and cultures of different countries. My least favourite thing about DJ'ing is giving up my social life across the weekends from the peak of my mid-to-late twenties.
How has growing up in India and living in Amsterdam influenced you as an artist?
I don't like using the term world music, but we did listen to a lot of that growing up in India. There was lots of free jazz records that my dad liked which I would listen to and hardly anything that had the English language at its forefront. Because of that, I have a soft spot for analogue instruments. I choose not to listen to any dance music before 1pm on weekdays, as a strict rule. 
In terms of Amsterdam influences, when I was a teenager there was a big DnB scene there. I was really lucky to be able to go to lots of gigs there, saving up any money I had to go to watch bands, DJ sets or any type of live music that I could get my hands on.
What is one golden rule you live by?
Stick to your guns and your morals, no matter how much it might f*ck you up.
Favourite item in your wardrobe?
It's got to be my Arsenal top, obviously. My Sega, 2002 Dreamcast Arsenal top. I always get nods from people passing by whenever I wear it.
When you're preparing to play sessions at The Boiler Room, Rinse FM, or play at festivals, do you have any pre-show rituals? 
For Rinse FM, I usually get myself a beer beforehand because it's always boiling in that studio. With Boiler Room, I was having a mental breakdown beforehand. I don't really like being on camera, so the whole livestream thing was a big deal for me. But before gigs, I'm always usually very zen, no matter how big or small it might be. Overall, it might sound pretty boring, but my main pre-show ritual is to have good walk if I can. 
What are the essentials on your rider?
Magnums, kombucha and vodka, and a pack of Marlboro Gold.
If money wasn't a worry and you could spend an insane amount on some DJ equipment, what would you buy and why?
For a live set, it'd be great to have an Ableton Push. That'd be fun.
Finally, what's next for Mixtress over the next few months and beyond?
Gigging tirelessly for the rest of the year, touring and making music. That's probably it!