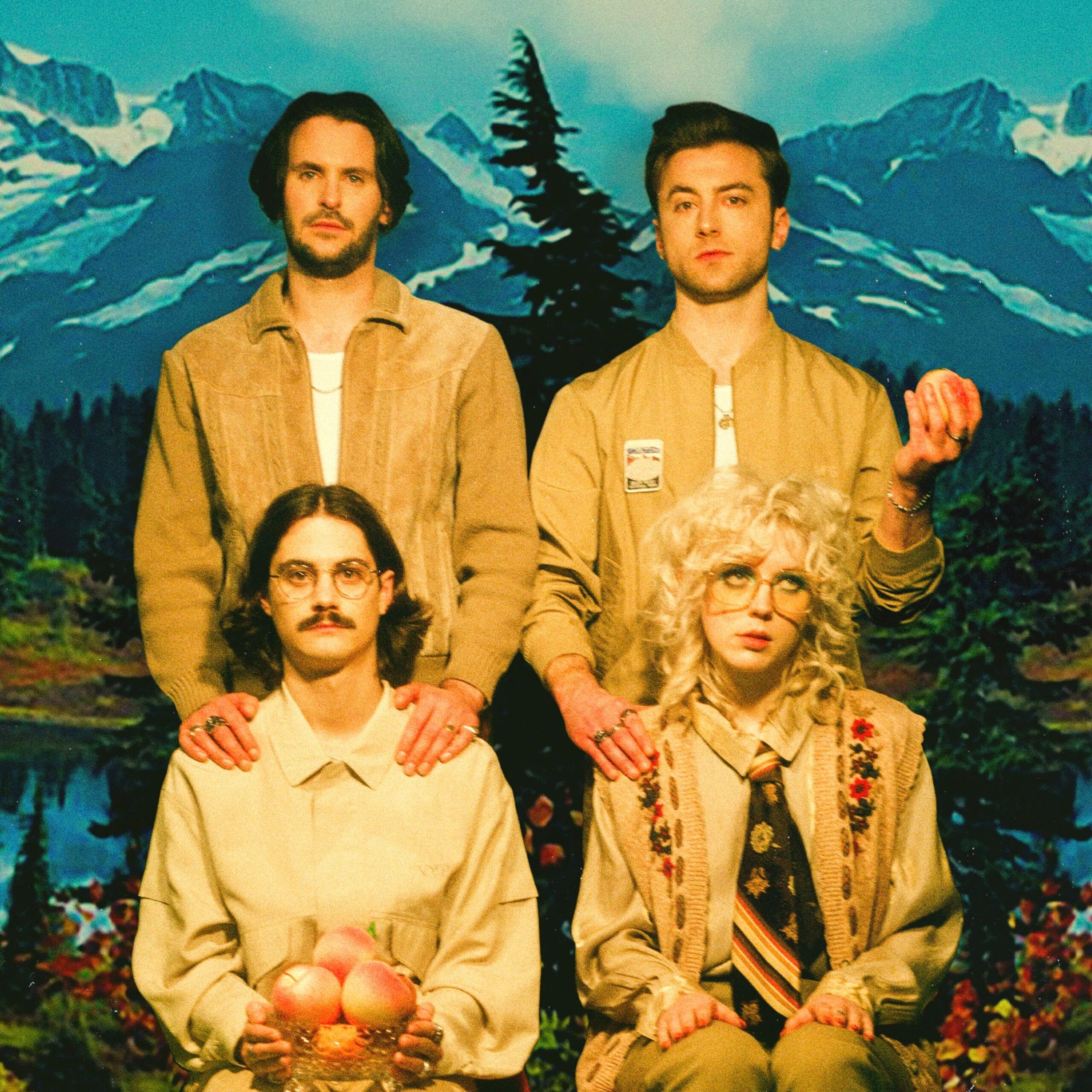 1883 On Rotation: The Black Honey Playlist Takeover
To celebrate their third studio album A Fistful Of Peaches releasing today, Black Honey's frontperson Izzy Bee Phillips takes over this week's 1883 On Rotation playlist.
Black Honey are undoubtedly an important main staple in the UK's current musical climate. Since forming in 2014 the band has built up a committed fanbase and developed a reputation for being an exciting, stylistically distinctive, and hard-working indie-rock band. Led by frontperson Izzy Bee Phillips, their last two albums have been sonically diverse, emotive, and cinematic in scope. The band's sophomore 2020 record entitled Written & Directed gained Izzy, Chris, Tommy and Alex their first top-ten charting LP in the UK charts. An incredibly impressive feat for a band that is DIY and independent. 1883 Magazine caught up with Izzy and Tommy last year, you can read the interview by clicking here. At the time of the conversation, the Brighton-based group were yet to announce their hotly anticipated third studio album, A Fistful Of Peaches. Today, after months of build-up the record is now out in the world for everyone to enjoy. A Fistful Of Peaches is already proving to be their most raw and expansive work to date.
To tie in with the album's release today, Izzy Bee Phillips has curated this week's On Rotation playlist and filled it with some of her favourite songs.
The Pixies – Debaser
I'll probably kick things off with one of my favourite songs of all time. I relate to Frank's psycho-energy and pop sensibilities here. 
Lana Del Rey – Doin' Time
I love this version of this song and the transitions this song have gone through over the different versions. Lana sounds so delicious with a hip-hop rhythm in her vocal. 
Lil Nas X – That's What I Want
I have no further comment other than I literally can't explain the grip this song had on me last year when we were on tour. 
Cage The Elephant – Trouble
It would be rude not to mention touring without talking about how much this song has been sung when pissed in the van with my band. If being in a band is like being in a marriage, then this is our wedding song.
Jess Winter – Psycho
I've written with Jess a bit, and I'm so in love with everything she does. She's a genius producer and theys are gonna go feral for her this year.
Dick Dale – Misirlou
Misirlou, the Dick Dale version, changed my life and the way I listened to music. So I tattooed this title on my heart and loved discovering that it means Egyptian girl and is a Turkish folk law kinda tune, and these OG versions slap even harder than the surf rock ones I fell in love with. It's so wild that songs trace back so much further than my point of reference will ever get my head around.
Black Honey – Rock Bottom
This is my favourite song I wrote on our new album A Fistful of Peaches which came out today. It's about depression and I feel like I got a big feeling off my chest with this one.
Queens of the Stone Age – First It Giveth
I'm a QOTSA stan. I don't think I'll ever get over how iconic some of their songs are. This one is a bit of a curve ball, I love the mad rhythms. If I was a stripper I think this would be fun to get my tiny treats out to. 
Nancy Sinatra – These Boots Are Made for Walkin
Getting into my obsession territory now. This song is in the DNA of everything I make in Black Honey land.
IDLES –  The Beachland Ballroom
I really believe Joe Talbot when he screams. It was sick to see this song live when we supported them at The Eden Project last year. 
Phoebe Green – Reinvent
On touring with great artists, I loved touring with Phoebe. She's an insane writer and I find her so interesting – it's like she's doing studies on herself through songs.
Listen to the playlist below.
Black Honey's new album A Fistful Of Peaches is out now, click here to buy the album. Catch Black Honey on tour by clicking here. Follow Black Honey @blackhoneyuk
Intro by Cameron Poole