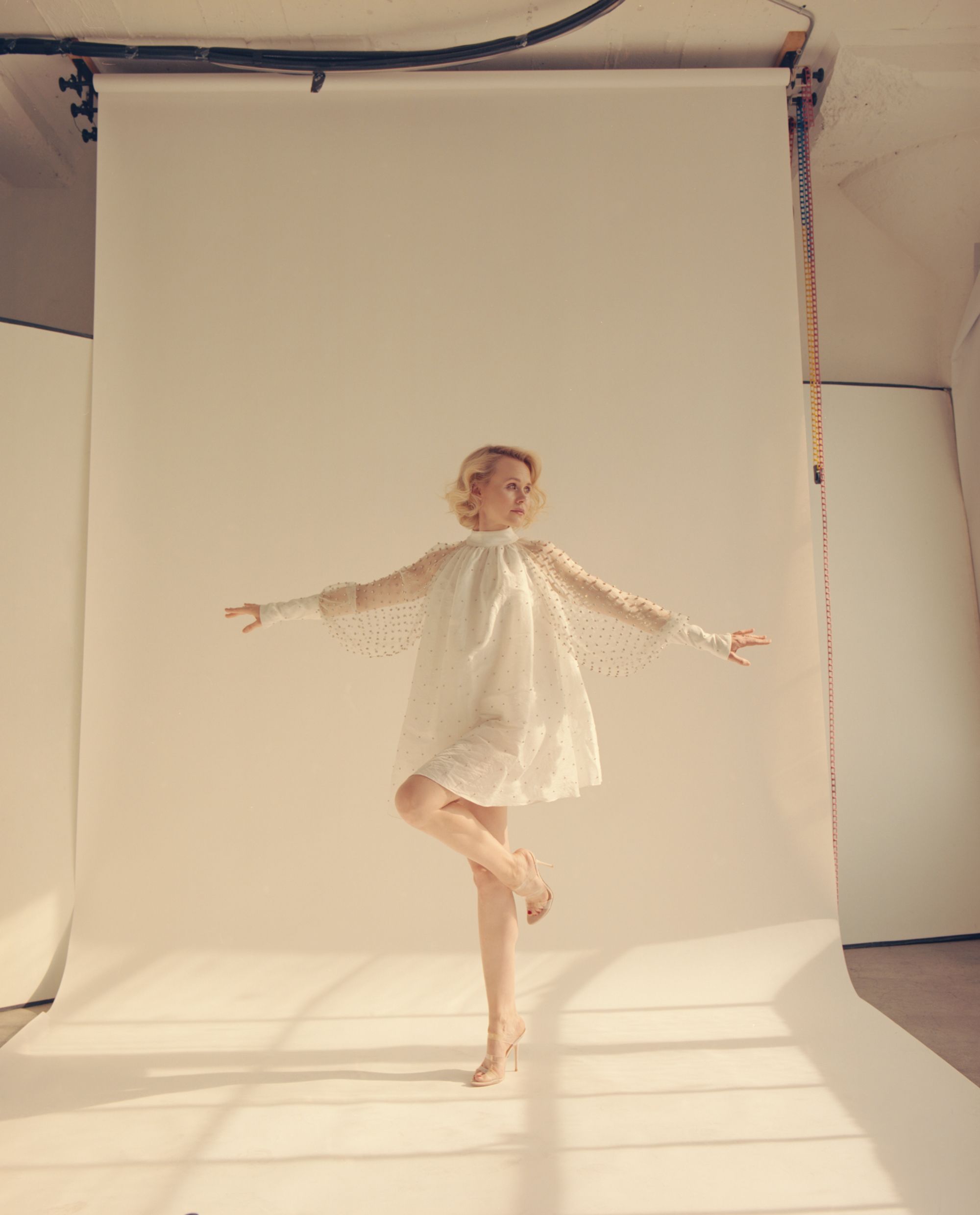 Alison Pill
Alison Pill is a name that returns to our screens time and time again — and it's no surprise why: the Tony, Outer Critics Circle, Lucille Lortel and Drama League awards nominee moves effortlessly between the film, the stage, and of course, the small screen.
This year alone, Pill is set to star in a host of widely-anticipated shows including the psychological physics-thriller Devs, as well as the months-in-advance, DVR pre-recorded return of the Starship Enterprise, Star Trek: Picard. Amidst the release, we chatted with Alison after our photoshoot at FD Photo Studio to discuss everything from Sci-Fi optimism to politics in performance, as well finding out a little more about what the future — both in Pill's career and on earth — may look like.
Your new TV series, Star Trek: Picard has recently been released. For those who haven't seen it yet, what can you tell us?
So, it picks up with Picard eighteen years after we've last seen him — the actual number of years since the last movie — which is really exciting. It's there that we get to see a character age and see what they might do in their older years, and it's an entirely different feeling to Star Trek: The Next Generation. So wonderfully, it can be your first Star Trek with no problem; although if you know the Star Trek lure, it does add another layer.
What was it like working on such a loved and seemingly timeless show/franchise like Star Trek?
I think the really wonderful thing about Star Trek is its optimism. It's always used to explore really big philosophical questions, like how the first episode put humanity on trial. That's such a ballsy move. Like, 'We're gonna discuss the pros and cons of humanity, generally' [laughs]. So, I think the show has continued with those same philosophical questions.
So many Sci-Fi programmes like Black Mirror have this really cynical view of the future. But with Star Trek, we have this antidote to say, 'You know what? No, things might actually be better.' We may not only survive, but we might also find greater peace than we've ever had. We may figure out money; we may be more equal; we may be socially integrated. And at the same time, there's still a fear of what's out there in Star Trek, and it is always met with the message, 'You should reach out your hand and try to understand the other better, rather than being fearful.'
So, I think this new show continues that legacy.
Do you think Sci-Fi, in general, is a good way to see positive representations of humanity that are hard to see in the real world right now?
Yeah, I think every generation gets the Star Trek it needs. I think there's a lot in our show about the desire for trustworthy leadership. It's also interesting how having that be just an old white man feels really mistaken, but it's also looking at Picard as an amazing leader who can be fallible and who needs help. I think that's the difference. He's not this unstoppable force. So, it's this interesting line to walk and a really modern take on that.
Was there any element of intimidation that comes with working on such a historic show, having had so many films and TV shows already out and lots of waiting fans?
Ummm… Yes. My job is relatively easy, 'cause the show is called Picard. The die-hard fans are coming for Jean-Luc. So hopefully I don't disappoint them, but I think the brunt of the pressure fell on Patrick's shoulders.
Yeah, let's talk about Patrick Stewart. Was there anything you took from working with him in terms of the show as well as more personally?
Yeah, I think it's really inspiring to work with somebody who's seventy-nine and still as gracious and generous as any person could be. You know, the man could just stop [laughs]… and nobody could fault him. But it brings him joy, and he's such a generous presence on set. Funny. So full of heart and it's just a gift to work with somebody like that. And if I'm that active, kind and open-minded at seventy-nine, I feel like I'll have a life well-lived.
You're also in Devs, a miniseries coming out this month on Hulu. What can you tell us about that?
I'd say it's a physics thriller by Alex Garland [Ex Machina, Annihilation] who wrote some of my favourite screenplays of the last… [pauses] I don't even know how many years. He's just the most amazing collaborator I've ever had the luck to work with. To get that kind of challenging material on every single level with wonderful themes between people talking about really significant issues, combined with the research I got to do with quantum physics and the questions that we're asking about determinism, about incoherence, about the state of the world and what it means to allow these vast corporations to oversee their own projects… It's just an amazing thing to be a part of.
What's your character like and how does she fit into the show?
Katie works for the tech company run by Nick Offerman's character. She's incredibly enigmatic off the top. So, it'll be interesting to see people's take on her. I think the wonderful nature of Alex's writing is as things are revealed, your simplistic view of who's a villain and who's the protagonist gets mixed up.
I also wanted to ask about your film, Vice, which came at the end of 2018, starring alongside Christian Bale, Steve Carell and Amy Adams. What was it like making a film about American politics at such a turbulent time?
So Vice follows the story of Dick Cheney and his twists and turns into becoming the political animal that he became, and how much he fought for impenetrable presidential power. It also looks at I think, the bigger problem of political animals with little belief in what issues they stand for — as with the problem with a lot of politicians — to just be in it for the game.
In terms of being part of a political movie, it's interesting because I was also in Milk right when Proposition 8 came out in California, and in terms of gay marriage, those issues were happening at the same time. So, I think that's why we make art. But overall, I think art is political whether it's overt or not.  I think the messages you're sending have power. Even if they're kind of silly, fluffy messages, the underlying things stay with people. I think it's false to say that being in Vice was a political movie versus anything else that I've done because I do see those messages in everything that I've ever done.
Yeah, I see what you mean. Do you find yourself often thinking about that influence you have as an actor?
Erm… all I can do is my part of it. I have to be able to feel like I agree with the messages I put forward in the world. You know, I've been in the position when I was younger to say, 'Huh… the way that turned out doesn't exactly vibe with the way I'd like the world to see itself.' And that feeling is just awful. So, I try to make sure that there's clarity for me and my own agreement with the lessons put forward. I'm very happy to make what I see as moral work. Even if the morality is grey, it doesn't have to be some moral crusade. But I think that I have to be able to look at myself and go, 'Yeah, I feel okay about this message.'
Do you think you're able to prevent that with the script or are you sometimes only able to see the message when you see the final product?
Well, it's hard. I mean you have to take into account who you're working with, how much you trust their view and how they're going to put it forth. Sometimes you can read a script and sometimes things get shifted in production. On TV shows, you often don't have the script and by the end, you find the message might've shifted. But if you trust the people you're working with — which I have been incredibly lucky with — you can trust that what they're putting forth will be the thing they make.
Moving away from film, you've also spent a fair bit of time on stage starring in The House of Blue Leaves opposite Ben Stiller in addition to Broadway's The Miracle Worker, just to name a few. How does the experience on stage compare to that behind the camera?
I will always love the stage the most. It's harder and harder to make it work with my schedule but I'm hoping to get back on stage as soon as I possibly can, as soon as my schedule allows. I learn the most on stage. I've learned to do the work on the text that I think has made me a much better actor and a much better collaborator. We spend the week or so of rehearsals just around a table peeling apart at a script. The stage is the only place where the actor has final say. I don't have final say on my performances for any film or television work. I do takes and they make a pastiche of choices that I make. I agree with some of them and with some of them it's like, 'Hmm… I don't think I meant that' [laughs]. And so the editor has one of the most important jobs in crafting a performance, honestly. And I love editors, I'm very grateful to them for making me look better than I sometimes am [laughs]. But at the same time, it's something really freeing to be on stage.
Do you think that acting on stage teaches you things that you take with you when acting before the camera?
Yeah, I mean… [pauses] I didn't grow up doing stage. I really started doing stage at seventeen, and the biggest difference is the body. You know, you don't do much with your body as a TV actor. With TV, you're just trying to stay still for the camera and making sure that your actions match each and every time, so you don't have a lot of freedom necessarily to move. The more you move, the more scenes you'll take. So, it's really helpful to be reminded that the people we play actually have bodies.   
So far, you've had a truly full and varied career. Is there anything you haven't worked on yet that you'd really like to?
Yeah, they're all theatre. I have a lot to catch up on. I've never done Chekhov and I've never done Shakespeare. I've done workshops but never full productions, and I'd love to have a chance to do those. I've been really interested in doing Hedda Gabler, just because I think it's such a really interesting time for her to have a moment [laughs]. Especially now. She's just such a fascinating character who I'd like to spend some time getting to know. And thankfully Chekhov wrote some of his best roles for older women, so I've got time [laughs].
Lastly, what else is coming up?
I'm doing another television show [laughs]. I've shot so many television shows in one year, so there's another one! I'm not sure exactly when it will be out, maybe sometime potentially in the next year. But it's an Amazon show called Them: Covenant, and it's about a black family that moves into the very white Compton in the fifties. It looks at white supremacy, at institutional racism, and also brings that forward into contemporary times. It's fully a show of horror tropes and has a kind of Hitchcockey vibe. And it's an incredible mashup, but I think it's also incredibly effective at looking at the horrors of race and America. I'm really excited about it. It's a very bold take and very full of oddity.
Team Credits
interview by Ellie Jackson
photography Sasha Samsonova
styling Jessica Paster @ Crosby Carter Management
hair Darine Sengseevong @ Art Department using Oribe
makeup Lilly Keys @ SWA Agency
casting + production Angeliki Sofronas
location FD Photo Studio, Los Angeles
Star Trek: Picard airs every Thursday on CBS All Access!
Devs premieres 5th March on FX on Hulu!