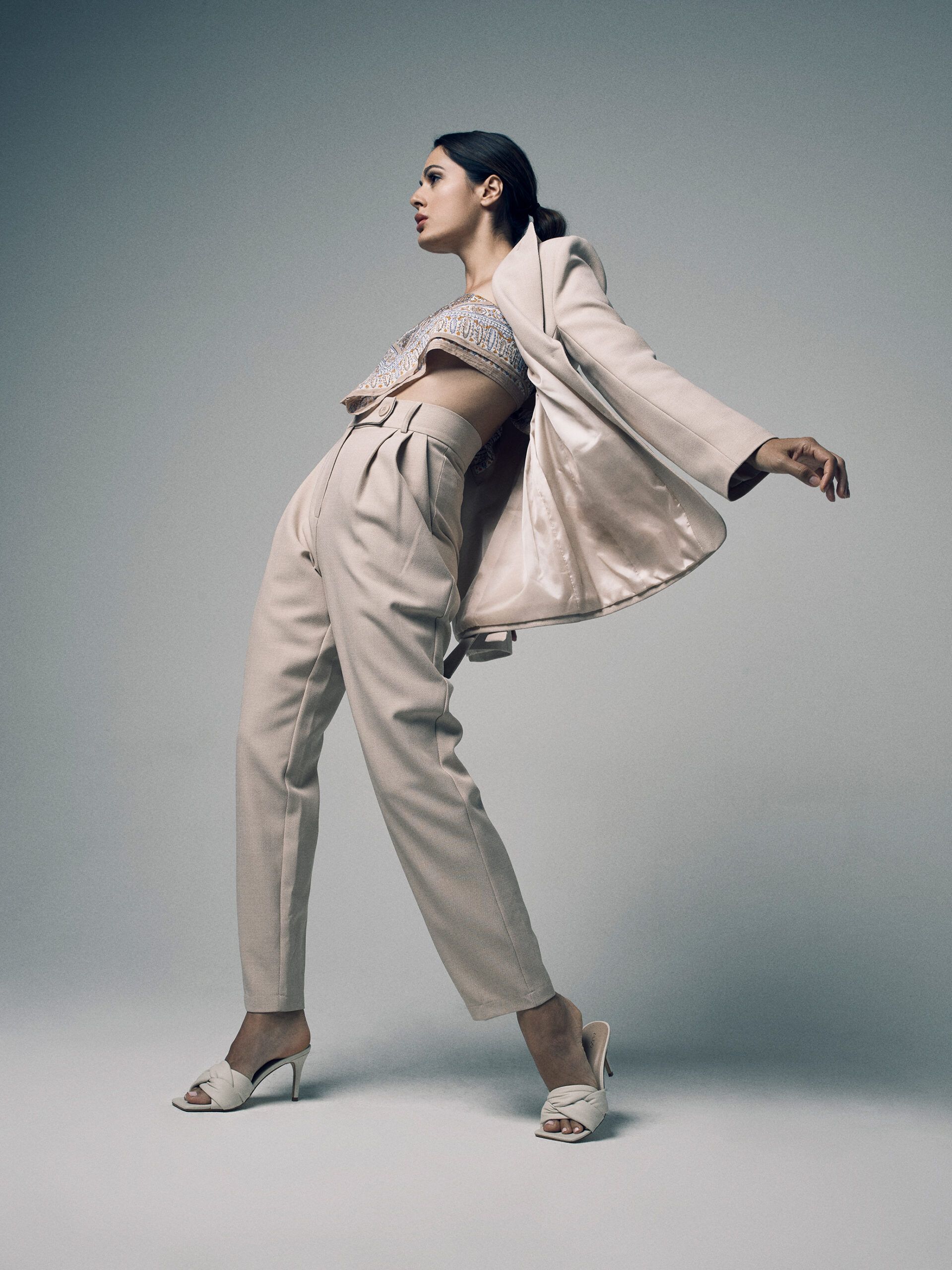 Amy Maghera
After gracing both big and small screens around the globe, British actress Amy (Amrit) Maghera has proved she is a true talent. 
Amy Maghera didn't expect she would be an actress. Growing up dance was her passion and singing was, and still is her hobby. While she enjoyed drama, she felt she lacked the confidence to shine. It wasn't until her late 20s, while shooting a commercial in India, that Maghera released just how freeing acting could be. Since then, Amy's career has transcended borders. She can be seen in the Bollywood feature film Time To Dance, was a series regular on popular UK soap series, Hollyoaks and played a lead role in Pan Nalin's female-centric, critically acclaimed feature, Angry Indian Goddesses, which received the first runner up at the 'People's Choice Awards' at Toronto International Film Festival and won 'The People's Choice' at Rome International Film Festival.
Most recently Maghera's star shown out in Netflix's feature film Skater Girl. In the coming-of-age tale, Amy plays Jessica, a strong and independent woman who sets out to empower Prerna's, the teen protagonist, dream of skateboarding at the national level. Filmed in Rajasthan, in a remote village called Khempu, the movie was different from anything she had ever experienced. 
1883 spoke with Amy about her path to acting, what she's currently reading and what it was like being a part of Skater Girl.
Congratulations on Skater Girl! I thought it was a really lovely film. What drew you to it?
When I got the audition, I loved the stuff that they initially gave me. I could tell that Jessica, my character, was really strong and compassionate which I was excited about. One thing led to another and I did a chemistry read with John [Readwin], who plays Erick. Next, I had a meeting with the director and really vibed with her. I absolutely loved her and thought that it would be amazing to work with her. To be honest, it all happened really quickly. The next thing I knew, I was on a plane and in the village. I went to the skatepark on the very first day. I remember being completely floored by the fact that the filmmakers had actually built this amazing skatepark. It wasn't just a set. I couldn't believe how much work had gone into prepping for this film.
So the skatepark was permanent? They didn't tear it down once filming was over?
Yeah, it's there for the community. It's been such an amazing outlet for all of the children there. They absolutely love it. Some of them have even gone on to compete at the National Championships. it's become part of their daily life. 
That's so cool. 
Yeah! It's exciting. This film has changed some of those children's lives.
It's amazing that the film was adequate to impact the community like that.
Yeah, it's incredible.
Tell me a little bit more about your character in the film.
Like I said before, Jessica is strong but also very compassionate. Vinati [Makijany] and Manjari [Makijany], the director and the writer of the movie, are sisters and were the ones who constructed the skatepark and whose idea it was to do it in the first place. Because my character goes through that in film, she's the one that decides to build the skatepark, she designs it, she gets the team together, I listened to the stories Vinati and Manjari would tell about what they went through in real life while creating it. I took to heart all the challenges they had to face and the people they had to face, like those political figures who ask, "Well, is there a man involved? Are you really doing this by yourself?" I really took inspiration from them because it's great to see that a woman can be so independent and be the leader of this whole idea.
Oh, how awesome! Knowing that, did you learn anything from playing Jessica?
I think I took away so much. It honestly taught me to firstly to live in the moment. Coming from the hustle and bustle of London or LA and going to a rural tiny village in the middle of Rajasthan and seeing the lifestyle, seeing how they're not completely preoccupied with their phones was really impactful. There's no rat race. It was a real pleasure to be amongst that environment with so much agriculture and nature and animals everywhere. Also doing a movie with a bunch of kids was incredible. They don't take it seriously. They love it. There was so much joy both on and off set. 
Do you have a favourite coming-of-age tale? From your Instagram, it seems like you're a pretty avid reader and film watcher.
Oh my god. I am. I think one of my favourites is Boyhood. I thought about that film recently. Yeah, it's so good.
it's such an interesting way to make a movie as well. 
I know, for years and years. I'm currently reading, Normal People by Sally Rooney. That's kind of coming-of-age in a way.
[Gasp] Oh my gosh! Normal People is one of my favorite books.
Is it?! [laughs]
Have you watched the TV show adaptation?
Yeah, I loved the TV show. 
The TV show did a really good job with the book, so if you liked the TV show you'll like the book. 
Okay. Did you read the book first?
I did. My friend was like "you have to read this book." I went into it blind. I had no idea what it was about and, in the best way, it just kind of broke me. It's so good. Sally Rooney is such a compelling writer.
Oh my god. I'm already completely hooked. I mean, having seen the show I do know what it's about, but I feel like the book is going to be even better.
Since you watched the show this isn't a spoiler, but when I finished the book I was so frustrated I threw it across the room.
[laughs] I got so emotional watching that as well, so I can imagine.
In Skater Girl, skating is the outlet that Prerna uses to come into her own. You were an avid dancer growing up, would you say dance shaped you in the same way?
I really would. It was definitely a form of expression for me. As a child, you don't really know how you feel about certain things. You haven't really developed that part of your brain. I just remember putting on my parents' old records and just letting my body go and expressing whatever I was feeling. That was my outlet for sure. It got me out of trouble.
Did you ever think you would be an actress or were you set on strictly being a dancer?
When I was younger, I really loved dancing and that was what I was known for in school. "Amy, she's a dancer." But I also really did like acting as well. I think I just wasn't that confident with acting. I was confident with expressing myself through my body and movement, but not necessarily through dialogue. It took me a while to kind of grow in that confidence. I was interested in it. My dad is in a folk band so there was always music and singing in my house. I used to love to sing while he'd play the guitar. That's still what I love to do with my family and as a hobby. I think acting came around a little bit later. In my 20s I started doing some commercials when I was living in India. I remember a particular director saying to me, "you know you don't have to do exactly what your instructions are. You can make it your own and improvise a little bit." That's when acting clicked for me and became fun.
Now, in your career, you've experienced both Bollywood and filmmaking in the UK. How are the processes different?
Oh my gosh. I feel like that's a difficult question to answer because honestly, I feel like every single thing I do, whether it's a TV show or a movie, it doesn't even matter which country it's in or which industry it's for, every single experience is so unbelievably different. I'd say what I've done in the UK, with something like Hollyoaks, because it's such a fast-moving train, there are many many episodes being shot at one time, that it's like a well-oiled machine. Everything was so scheduled. Whereas some of the things I've done in India have been a bit more lenient with the schedule. That's the main thing in my particular experience.
I also wanted to give you space to talk about Angry Indian Goddesses. I know the film came out a few years ago, but it seemed to kind of come back into the spotlight during the last year, so I was wondering why this particular project is so near and dear to your heart.
I really like that question. I think it's so near and dear to my heart because of what it did both for me as an actress and also personally. First of all, as an actress: It was amazing because we started with almost like a retreat. All of us were together. We would do acting exercises with each other during the day. We would do these meditations together. It sounds really cliche, but we would do a lot of trust exercises.
No that sounds awesome. 
[giggles] It honestly was. There was a lot of crying and displays of emotion over things that we've been through as women. The creator of the film, Pan Nalin, was very much like, "we want you to bring your experiences of being a woman to the table." Obviously, he's a man. So, he wanted us to almost create our own dialogue. We were really used to each other by the time we started filming and they just very slowly introduced the camera into what we were doing and improvising. The film was shot chronologically, so they took us on this journey as our characters. It was an extremely organic way of making a film.
Yeah, that sounds like an absolute joy of a movie to make.
We were given so much freedom. Personally: I think what it was about was just so powerful. It was about the injustice between women and men. There are a lot of awful incidences happening all over the world, but especially in India, with gang rapes and things like that, like what my character goes through. It's about women sticking up for women, joining forces to create a movement, and showing society that it isn't going to be put up with anymore. It was a really powerful thing to be a part of. Because we did all those bonding exercises beforehand, it's really remained with me. Does that make sense?
That makes total sense. What an experience.
It was truly amazing.
You've said previously that you are inspired by Audrey Hepburn. How so?
She's just very quirky and brought something different to the screen. I think I identify with her because she's not like the stereotypical sex bomb. She made every role her own. I can't imagine anybody else doing what she did. She was so graceful and classy as well. I find her relatable.
Audrey is also well known for her charity work. Tell me a little bit about your past work with The Prince's Trust.
I'm not working with them right now because I'm not in the UK at the moment. I would love to work with them again in the future. When I was doing Hollyoaks, I decided that I was going to set my mind to doing something physical that scared me. So I did the half marathon, which for me is like crazy. I used to hate running as a child, especially long-distance running. I found out The Prince's trust had a campaign called 'Give A Girl A Future.' I raised money for that with my run. It became my reason for doing it. Even when I found it hard, I was like, "No. I'm doing this for a charity that I really believe in." It spurred me on.
How lovely. Congrats on completing a half marathon. That's a big deal!
[laughs] Thank you.
Finally, what is your dream role, and why?
I have a lot of things that I'd absolutely love to do. I'm kind of a big believer in just letting things flow or just letting things happen without putting too much emphasis on what I really want to do and like making that specific thing happen. That being said, I'd love to play an action role because then I get to bring in dance and learn choreography. That would be so so fun. A villain would be a fun character to play. Also, I love Shakespeare. Any of the women that are in Shakespeare's plays, I'd love to have a go at.
Skater Girl can been seen on Netflix
Interview Sydney Bolen
Photography Ariana Dixon
Makeup by Karina Moore for Art Department using Chanel Beauty
Top image credits
Nocturne Pleated Pants, Buttons On Waistband, Beige, Nocturne.
Nocturne Long Sleeve Coat With Belt, Beige, Nocturne.