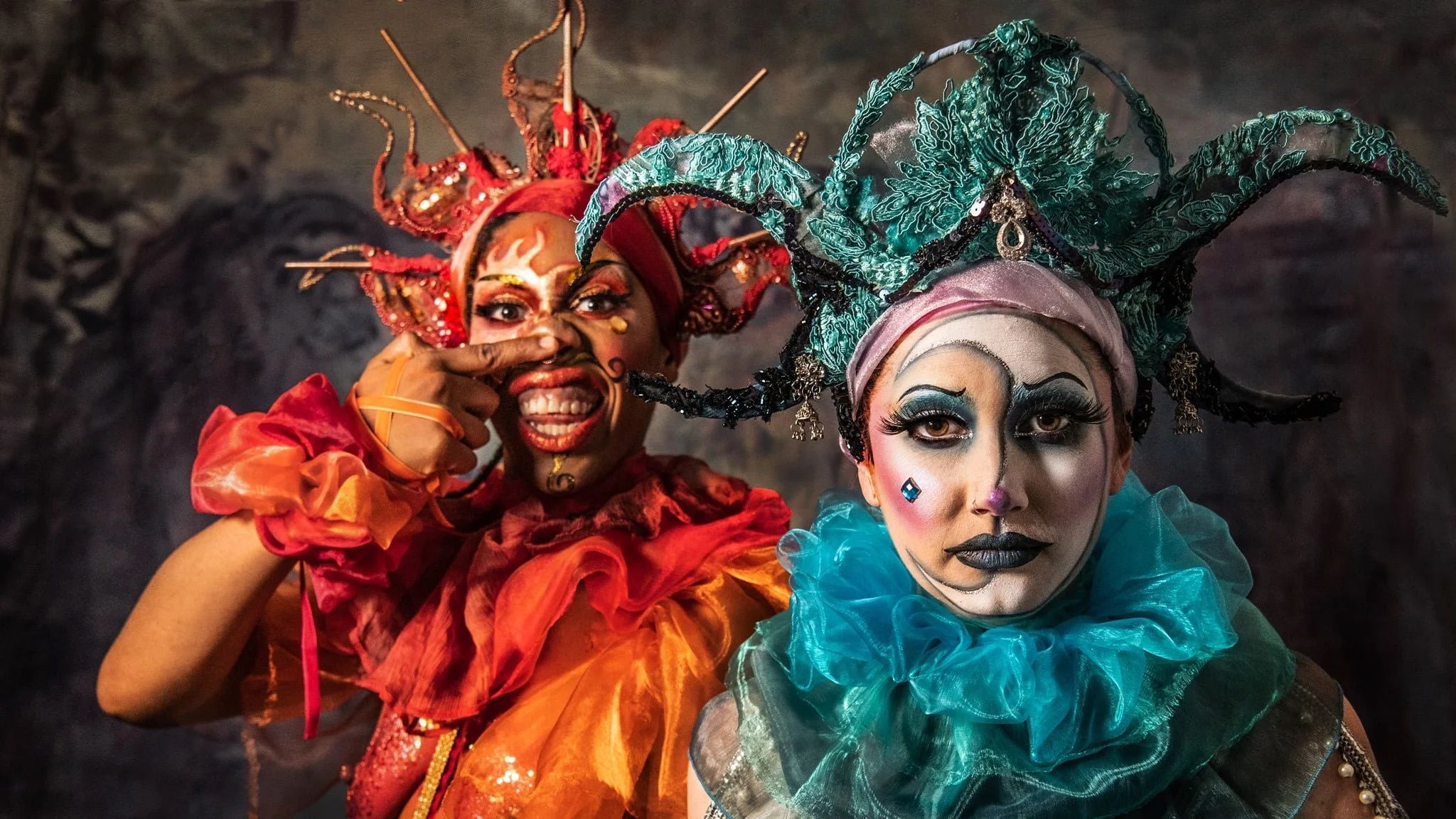 Brother Sun & Sister Moon
Brother Sun & Sister Moon make their debut performance at Edinburgh Fringe this summer!!
Their set is a sensual storytelling cabaret encompassing sense of self, identity, creating a space for a sense of freedom, as your rose-tinted blanket evaporates throughout the show.
Catch them at 18:45 each night, at The Space Tent, Symposium Hall, the show runs until August 24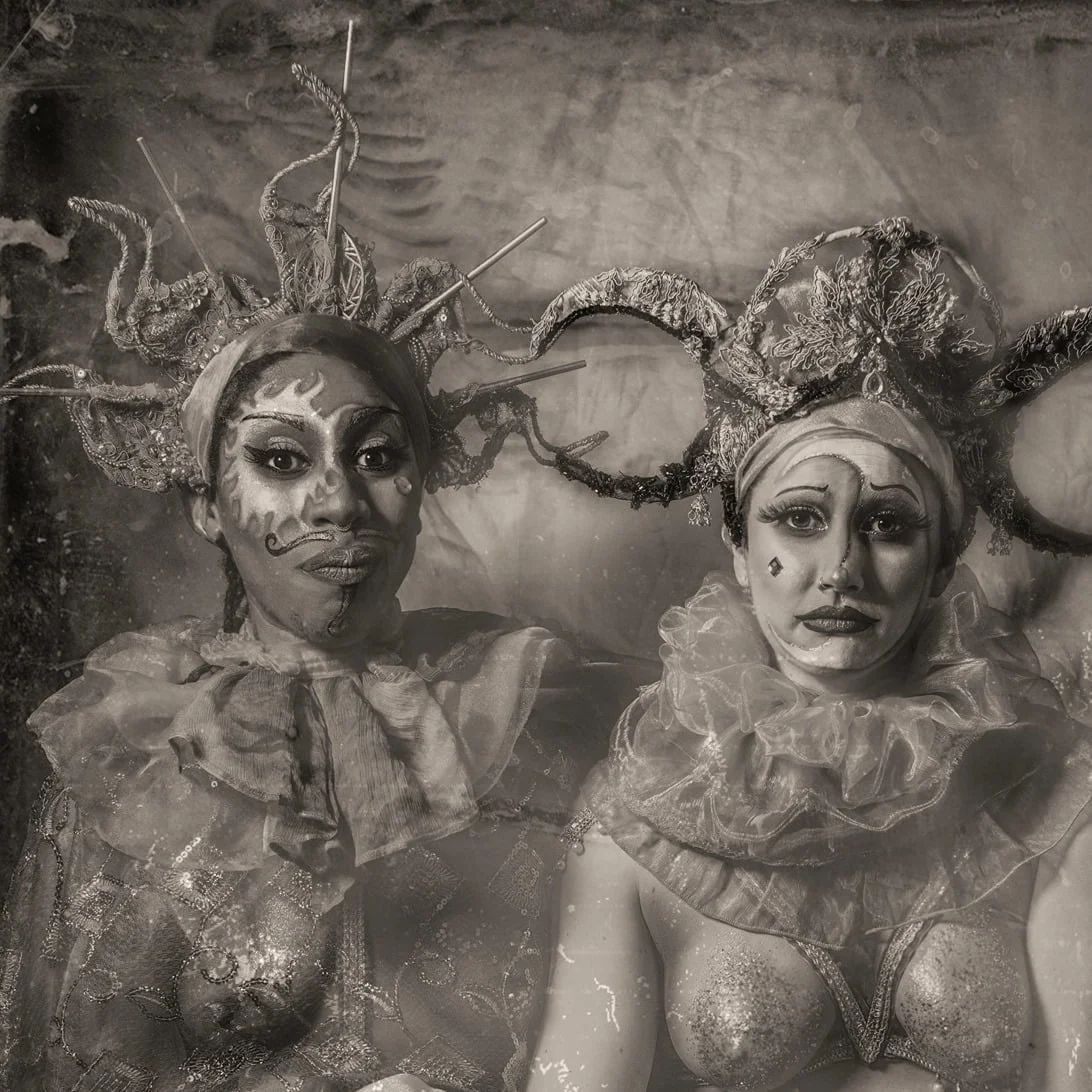 Give us a brief outline of your show- what's it all about?
Brother Sun & Sister Moon is a sensual storytelling cabaret about sense of self, identity and playing on our opposing childlike natures.
What was it about The Brothers Grimm tales that attracted you to interpret and use them in your show?
Natalie brought the full Grimm tales back from Slovenia which was our starting point. We loved the dark folklore but also the humour in the tales, which we took so literally back when we were children. There's something scary, but also beautiful in the darkness of those tales.
You also mention that you tackle issues surrounding queerness, LGBT rights race and nudity within the show – why were these issues important for you both to highlight? 
As two queer performers we are drawn to these subjects as they are naturally part of our ethos and work practice. These conversations are really important, and we've taken from childhood trauma and experience to highlight the importance of openly loving and respecting ourselves.
We've had lots of intrigue around the nudity, which surpassed our expectations. We assumed it would be a talking point. We've had a couple of negative comments about people feeling uncomfortable – even within our own circles. This only empowers us more! Female bodies – especially a queer FOC body – are always under scrutiny and therefore we are using our bodies to embrace ourselves and each other with encouragement towards open spaces for everyone.
Why did you choose to focus your show around fairy stories that are written by a man when you are both female performers/writers?
Good question! And one we constantly asked ourselves. We wanted to take the stories we grew up with. We can't change our history, but with the re-telling, we can move forward. The show progresses in our expansion of narratives, mirroring our own discoveries of stories and authorship and who's tales we tell and for what measure?
Drag Queen or Drag King – tell us the difference (for those of us that don't know) and what do you both identify as?
Or drag things! Drag has expanded beyond the binaries of King & Queen. King being a male character and Queen being a female. We tote the line between drag and clown. We simply identify as Drag Brother and Drag Sister. Make of that what you will. We're still processing this for ourselves. That's the beauty of drag – it's powerful, bold and abstract and turns things on its head.
How does putting together a show for the Edinburgh Fringe differ from things you've worked on previously?Tell us about the artistic process you went through, and how did you find working on it as a pair as oppose to individually/as part of a big team (as you've worked on things previously before). 
We've been friends for a long time so fundamentally, that respect and love comes first. Adapting into this format didn't come without its challenges, we're both very different artists and have realised that in order to work together we must see and honour these differences. And this is not the first time we've worked together 😉
What do you find the positives are about performing a show at The Edinburgh Festival? How does it compare to performing at other festivals throughout the country? 
The positives of being at such a large arts festival is great! So many people to connect with. The comparison we would make is that Edinburgh is more strict. Porscha has experience of a more care-free vibe at festivals that she has performed at. There is definitely an elitist quality up at Edinburgh and this is a conversation we are immersed in every day.
The pictures of your costumes are fabulous and flamboyant and seem to have a real carnival quality to them – can you tell us what inspired them and how they fit it in with the story of your show?
Thankyou! They are crafted by our Porscha and the entire aesthetic is down to some very talented queer collaborators. With some guidance from Adam Martin, Ruby Bird made our glorious head-dresses and Luke Harris designed the makeup. A beautiful array of artists came together for our look. We were inspired by the look of Vaudeville performers and 'round the campfire' storytelling and bringing our vivid imaginations to life. The fabulous and flamboyant nature of the costumes help us embody that childish sparkle we feel from our inner child. That imagination, that freeness, that rose-tinted protective blanket that you see fall away during the show…
Name five other shows/acts that you are excited about checking-out at Edinburgh and would suggest other people go and see and tell us why?
We just got here so we are excited to check out some people but off the bat we can definitely recommend. Alfie Ordinary: Help! I Think I Might be Fabulous and Len Blanco: Firing Blancs. They are both wickedly talented. Go, go, go see them! Also check out Fringe of Colour which has a scheme for POC performers and visitors this year: @FringeofColour
For more info visit:
www.facebook.com/brothersunandsismoon
@brosunsismoon

For tickets click here