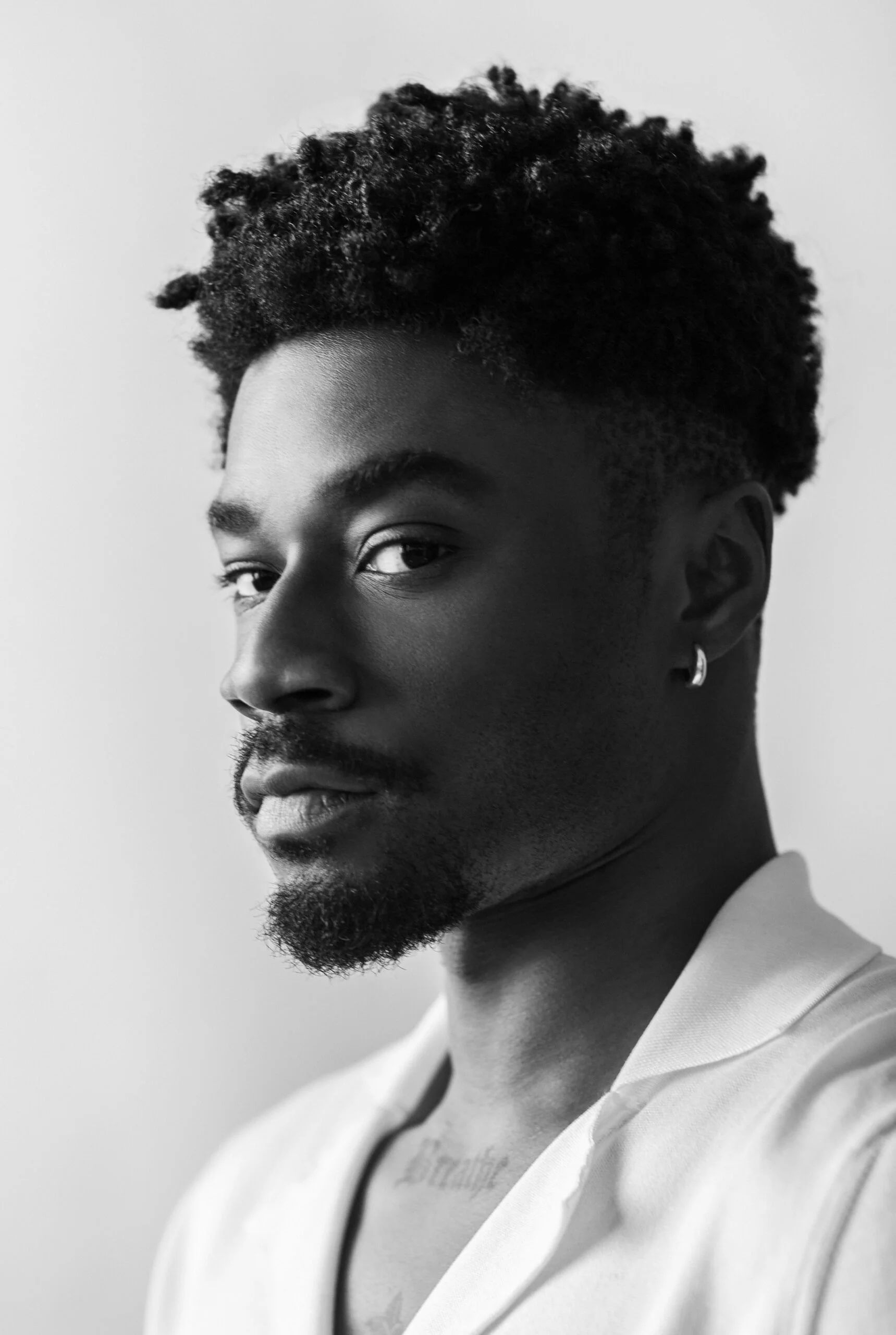 Charles Babalola
In the new Comedy/Thriller 
The Outlaws
, Charles Babalola's exceptional skill proves that there is more to both him and his character than meets the eye.
Charles Babalola is about to have a very busy year. With his new show The Outlaws currently airing on BBC One, set to begin airing in the United States in 2022, and already in production for season 2, it's hard to believe he has time for anything else. Yet, the young actor's rise is sure to continue to gain traction with the highly anticipated release of Eli Roth's Borderlands, in which Charles stars alongside a plethora of household names. Luckily, he is no stranger to holding his own among more seasoned co-stars, as fans of The Outlaws can attest.     
The Stephen Merchant and Christopher Walken led show finds seven strangers from different walks of life forced together to complete a Community Payback sentence in Bristol. For Babalola, the project was not one to be taken lightly. Yes, at its core The Outlaws is a comedy, but Charles saw it as an opportunity for more. In the show, he plays Malaki, a member of one of the local criminal gangs and an antagonist within the tale. With the role, Babalola does what few can do by bringing to light the complexities within his character so that the audience sees not just a "villain" but also a person. 
Charles sat down with 1883's Sydney Bolen to talk about why this character is important to him, the advice he wishes he could give Malaki, his other upcoming project, and more. 
Congratulations on The Outlaws! How are you feeling since the show started to air?
You know what. I haven't watched it.
Really?!
Yeah! [laughs] I don't usually watch things I'm in during the original transmission. Maybe it's a weird actor thing. I usually end up overanalyzing shit, so I want to let everybody enjoy it right now.
So, you will watch it eventually?
When the dust is settled, I will watch it. I've seen the first episode. It played at the premiere. The first episode was dope. I loved it. I was really happy with what I saw and I think it's been received quite well.
The show got a second season before it even aired, so that says something.
I know. It's great. Stephen [Merchant] has that power. The powers that be trust him.
Did the knowledge that you were coming back for a second season change how you approached the character?
In a way. I always had an idea of what I wanted to do with the character, but I was able to also prepare for what's to come in the second season. For instance, some choices I could have made, I didn't because I knew more about the story from the beginning. Without giving anything away, I know certain things are going to shift or change in the story, so I was able to cater my performance to that. As an actor, it was nice to know there's more story to build upon and more of a character to develop with a second season on the horizon.
It must have been great especially since this show is extremely character-driven. Each character in the ensemble cast plays an important role in the bigger picture. What was the audition process like for this series?
It was fun because the show is fun. I self-taped for it initially and then I met Steven and I did a few scenes with him. I played around with the role and gave it my own spin. We improved a bunch of stuff. It was fun. It wasn't an audition that had four or five rounds. This wasn't that route. This one was nice. I wouldn't say nice and easy, but it was nice. [chuckles]
Since you got to improv in the audition process, is there a lot of improvisation in the show, or are the scripts pretty rounded out?
Stephen comes from that world. So naturally, he is quite open to interpretation and playing around which is great. As an actor, it's great to have a director who is open to those things. We weren't completely improvising scenes. The show is very much script-driven, but you could play in and around inside a given scene.
Tell me about Malaki. What drew you to the role?
What drew me to the role is the character is from "the ends." That's a very British way of saying "the hood." Malaki is a product of his environment. He is what he knows. He is what he's grown up around which are all the things that your parents told you not to do. initially, I was cautious about doing a role like this because I feel these characters can be portrayed as quite one-dimensional. The audience doesn't really find out the backstory to these characters and what makes them tick. You just see the bad guy and nothing else. Not all dramas are like that, but that's a common perception. It wasn't until I spoke to Stephen about his views on the character and spoke about my ideas for the character that I was drawn to playing him. Once I did that it was important for me to step into this character and not make it one-dimensional. I had to take the opportunity to flesh out a character from the ends and find out what makes his mind tick and why he does what he does.
I think anytime an actor does that it helps audience members grow emotionally. I think some actors are so good at playing "villain characters" because they're able to get into their heads in a way that makes the audience sympathetic or empathetic to the character. 
That's the word. I love the word empathy. You have to have empathy in everything you do. When I was trying to tackle this character I wanted to find the humanity in him. I knew I needed to expose the human elements of this character so the audience doesn't just see the bad guy, but a person as well. 
It makes for a much more compelling character and then by extension, a much more compelling show or film. Without giving anything away, knowing what you do about his arc, what is one piece of advice you wish you could give him?
That's a really good question. I would say that's probably one of the best questions I've been asked on this press run.
Oh, thank you! It's one of my favorites to ask, especially of actors that really love their characters.
It's a tough one. I would say think twice and consider the future. That sounds quite generic but Malaki's future is so much more important and valuable than how he's living in this present moment. I feel like with characters like him who choose that path, they always think about the present and the now. It's all about quick money, quick gains. But sometimes life is a bit of a marathon.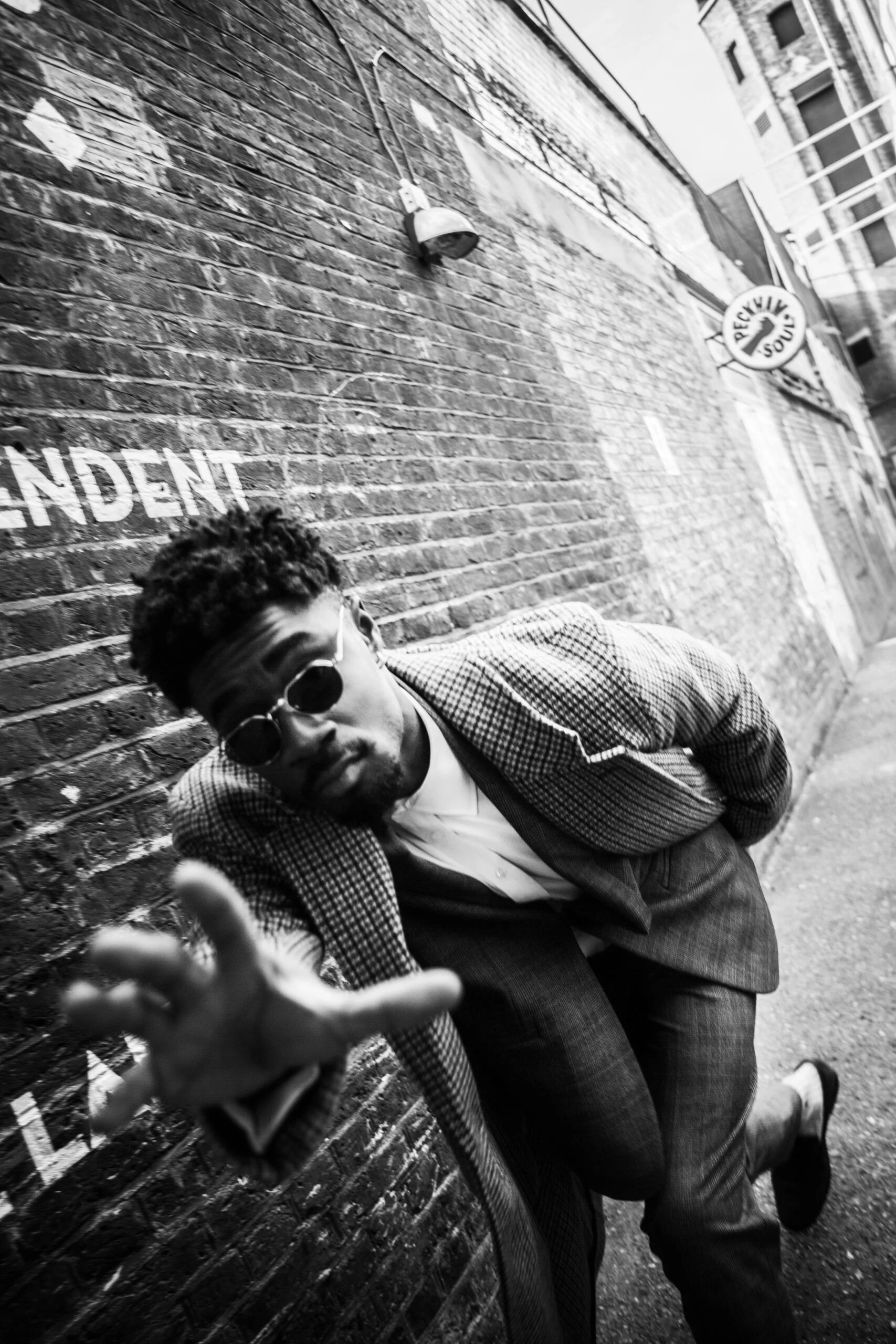 I read that you are engaged with helping combat gang/knife culture which relates a bit to this character. Philanthropy is something near to my heart so I wanted to give you space to speak about the work you have done or are looking forward to doing in this field.
As the years go on, it's something that I've felt become more prominent in my work as well as my life. I grew up around a lot of that stuff. I saw a lot of stuff. So being in the fortunate position that I'm in now, I can look back and understand why people go down a certain route and when moments come up to make those crucial decisions. Jay Z said it best in the lyric. It's from Drake's song Talk Up which features Jay-Z. The lyric is "Y'all killed X and let Zimmerman live. Streets is done." He's referring to XXXTentacion who was a rapper from Florida who got shot by a hood guy who was trying to steal something from him, and Zimmerman is the guy who killed Trayvon Martin. What he means is 'you're killing your own and somehow the guy who's racist and against us is his living free. How the fuck does this shit work? How does that add up?" So, I say to all young people nowadays, "get off the streets. Man, the streets are just a quick fix. The streets are not a long-term goal. I know the money and the status feels good at that moment, but it's never a long-term fix. You're eventually going to get bagged. You're going to go to prison. You're going to spend your time and you're going to come out at like 30-35 and be done. Is that really worth it?" I feel like the hood will always be the hood. It will always be there. It's just a part of life and our construct. But with more people like me and more people who are understanding, we can do a lot and get the kids off the streets. It's so important because I feel like the streets are crazier than ever. Not even just in the UK, but also in America. These kids don't give a fuck. They don't care.
We're living in a world where a lot of people are finally trying to fix things that have needed attention for a while. I think whenever people have people that they can look up to who understand what they're going through instead of somebody who is just empathizing with the situation or someone with a savior complex, it makes it so much more likely for the advice to take root. 
I agree.
I also wanted to chat a bit about Borderlands as 2022 is fast approaching. Video Games are having their moment right now in film and TV. Did you play through the game(s) before or after landing the role?
Actually, I wanted to play through Borderlands when I got the role [laughs] When you get a role you research it. If you are going to play a detective, you may go down to the police station and sit with a bunch of detectives. If you are playing a priest, you may go to a church. So when I got the Borderlands role, I was like, "how fun would it be if I just bought Borderlands and played the game and lived in that world." But I didn't do that. I didn't play the game before and I haven't played it afterward. I will say Borderlands' construct is not really my type of game. I've kind of fallen off playing games. I used to be a much bigger gamer than I am now. Maybe I'll play them in the future. I probably should play them, to be honest.
As somebody who's not a gamer at all, tell me about the film.
The games the film is based on are really popular- like the most popular video games in the world. It's wild, man. I refer to it as the Borderlands universe. It's set in a post-apocalyptic world with bright colors and larger-than-life, surreal-looking characters. It reminded me a bit of Mad Max. There was a lot of that stuff going on. [laughs] I was there and I saw it. But, I don't know what it's going to end up like. 
[laughs] Well then it sounds like it's going to be crazy. I'm sure as it gets closer to the release date, everyone will learn more about it. I do know it stars Cate Blanchett, Kevin Hart, Jamie Lee Curtis, and Jack Black. In the same vein, The Outlaws sees you sharing a screen with Stephen Merchant and Christopher Walken. As you are relatively new to the scene – were you able to learn anything from your more seasoned co-stars?
Yeah. I think one of the best things about being a young actor is working with those kinds of people. It's a great opportunity to learn and watch and feel their presence and look out for their etiquette on set. Cate Blanchett is one of my favorite actors. I admire her and her career and her artistry so much. I told her this. [both chuckle] She was lovely. I learned when you spend time with those people, whether you are acting opposite them or sharing a space with them the best thing to do is just watch them. To soak up how they are in these professional situations- how they speak to people, how they are in a scene- and learn from that. 
I interviewed with Gamba Cole recently [Christian in The Outlaws]. He said the same thing about soaking in how these more seasoned actors handle themselves.
Yeah, you really do though! Sometimes you meet your heroes or people you admire in your field and they just exude what they do. If you're receptive to it, it'll seep into you.
I agree! Lastly, your Instagram bio is Artist // Sneakerhead. For it to make your bio, it must be pretty intense. Which brands are your favorite and why? 
Definitely Jordans. I'm a "Jordanhead." I feel like since the Michael Jordan documentary Jordans have had a massive upturn in sales. I have Jordan 1s, Jordan 2s, Jordan 3s & Jordan 4s. I've been collecting Jordans for like 10 years. I love my Jordans. I love my SB Dunks.
How many pairs do you have?
Probably like 25 or 26. [laughs]
Wow. Do you wear them or do they sit on the shelf?
There are around 10 pairs that I wear, but some I don't that often. I've got these yellow and blue Michigan off-white Dunks. I don't wear them a lot because you can't wear them with everything. They're pretty loud. They come out maybe twice a year. I have some Spider-Man Jordan 1s. They're the ones Miles Morales wears in Into the Spiderverse.
Oh, cool! I love Spider-Man.
Yeah! They were specifically made for that film. I've never worn them. I love Spider-Man, so they're special to me. Maybe I'll give them to my future offspring or my godson, I don't know.
The Outlaws airs Mondays at 9pm on BBC One. Catch up on episodes on BBC iPlayer
Interview Sydney Bolen
photographer Lee Malone 
Stylist Holly Macnaghten
assisted by Marriane Taouk
Grooming Alexis Day – using Fenty Beauty & Christophe Robin haircare
shot at sunset studio peckham
Top image credit
Knitted camp collar shirt and Grey wool trousers both by Boss by Hugo Boss at www.hugoboss.com
[embedyt] https://www.youtube.com/watch?v=k_-6-hYP7Dk[/embedyt]