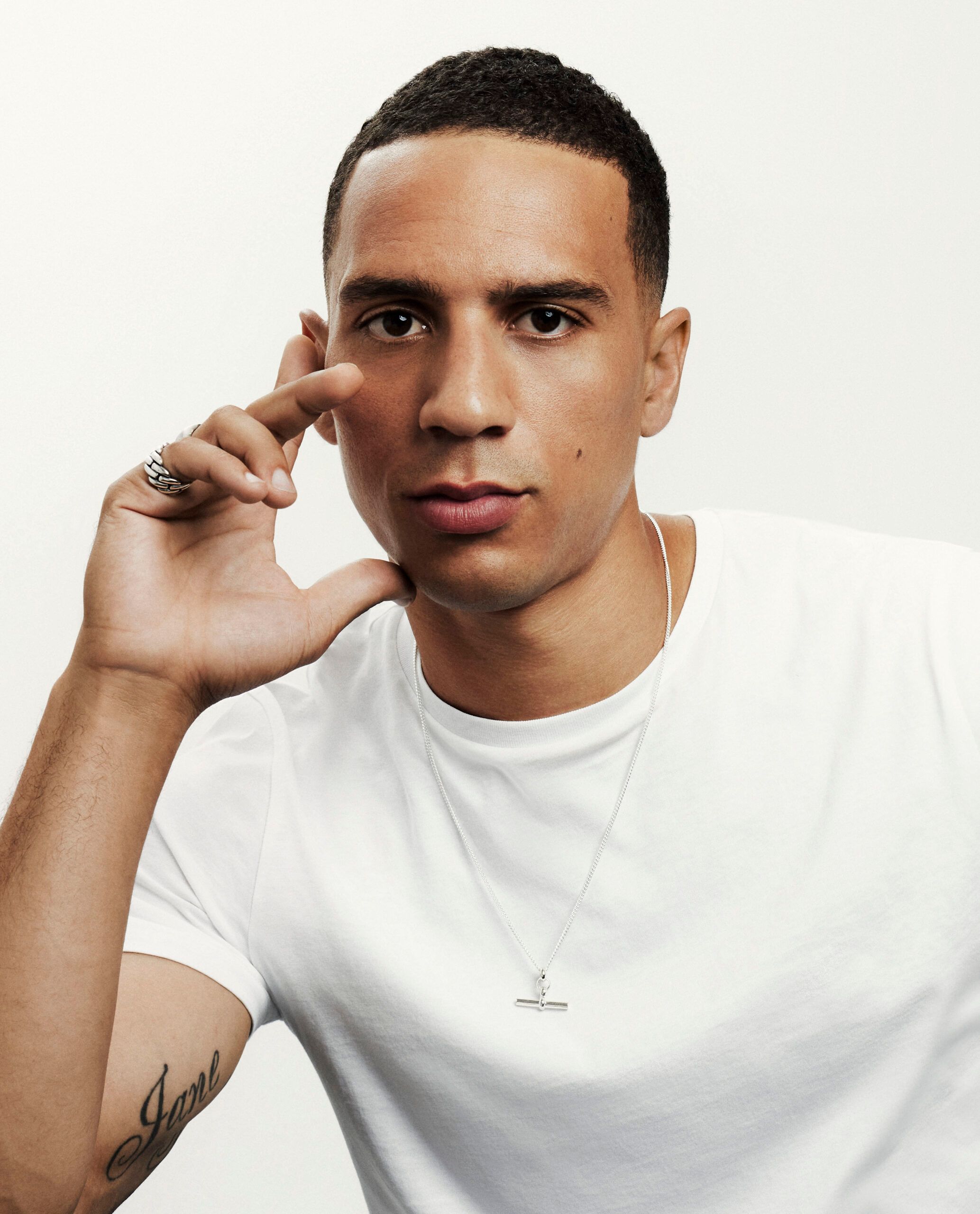 Gabriel Akuwudike
Rising actor Gabriel Akuwudike is just getting started.
Despite his first acting credit only being a few years ago, actor Gabriel Akuwudike already has been involved in a number of incredible projects, from 1917 to Amazon's Hanna. Now, with his latest project Ridley Road, he's bringing a personal connection to his role. The show follows Vivien Epstein (played by Agnes O'Casey) as she follows her love Jack Morris (played by Tom Varey) after refusing to be betrothed to another in an arranged business deal for her father.
Vivien eventually discovers that Jack is actually working undercover in a  fascist organization. Gabriel portrays Stevie, an ally to the group trying to tackle the oppression of Jewish people. The themes that flicker throughout the show are some that are, unfortunately, still prevalent today. For Gabriel, he hopes the show will open their eyes and look inwards to see the work they need to do to tackle systemic racism and oppression.
1883 spoke with Gabriel Akuwudike about his role on Ridley Road, his favourite spots in Hackney, his career so far, and more.
You're incredibly multi-dimensional in regards to your work — you've starred in everything from 1917 to Hanna and stage productions as well. Is there something that typically draws you to a project, whether it's the script, the character, who is attached, or something else?
The chance to have different experiences from project to project is one of the privileges in doing what we do! Maybe I haven't been pigeonholed quite yet!? Ha! I think the appeal of a project is always a combination of these things: for me, it's the character and whether I feel I can do something interesting with them stands out above all else. I've been really lucky with the people I've worked with so far on my journey, that always helps. More than anything, I want to keep learning and growing in what I'm bringing to the table.
You have done a lot of theatre work. For you, what are the main differences between theatre and film?
For me, the principles remain the same; am I connected to what I'm saying – what my character wants? Am I alive to the actor in front of me? Do I know my lines? [Laughs] The main difference I find is the rehearsal time you get in theatre – finding a story together over a number of weeks. By the time the show goes up, there's a structure in place for us to go out and show the story to a live audience! Fresh and new each evening. Terrifying! Exhilarating!
With filming, the preparation is more often than not an individual quest and then it's about being really open and receptive to the needs of the people I'm working with. Things can change abruptly and I find that incredibly exciting as an actor. The camera has the ability to capture such intimate moments!
Tell me a bit about Ridley Road! What is the show about?
It's set in 1962 Britain and follows the story of a young Jewish woman from a sleepy community in Manchester, who comes to London to find her childhood sweetheart and is instead thrust into the centre of the 62 Group, a Jewish anti-fascist organization headed up by her uncle & aunt in the east end of London.
I think it's a great show. It tells a little-known but vital part of British history and says so much about what it takes to actively fight against racism, the self-sacrifice and the personal responsibility that takes. It also beautifully shows the fragility of the minds and emotions that the political racist tries to exploit. That all feels really familiar to me. I think people will find it's a really dynamic and entertaining watch
Did you read the book prior? What was it like to do research on the time period and the 62 Group?
I didn't actually read the book, I'd like to one day! I watched lots of archive footage on the time period. The 62 group are an inspiration – the bravery, the responsibility and the ownership they took over defending themselves and their community from physical and psychological aggression. I think they are heroes to be celebrated and talked about!
You play Stevie, a biracial man who is an ally to the group trying to tackle the oppression of Jewish people. What was it about Stevie that attracted you to the role?
Stevie is someone that's had to live his life as an inherently political human being. Being a biracial twenty-something in 1960's Britain wasn't commonplace. People had very loose and racist tongues. I imagine it was a lonely place and he had to be strong. It felt to me like Sarah got this in her writing of Stevie. There's a quality of pathos about him, he's often on his own but importantly I feel he's very active. He can recognize the struggle of others and wants to make a difference.
Was there any scene in particular that you found moving to shoot?
The synagogue scene and the following scenes in the police cells. Stevie's story was held in those scenes and I particularly enjoyed filming them.
Screenwriter Sarah Solemani said that she hopes it'll bring awareness to the threat of fascism in the UK today because the themes in this story are just as prevalent today as they were back then. What was it like to explore those themes?
I think I found that it's really important for people to do the work themselves. They check in with who they really are. Try and stand in the next man's shoes, even if you disagree with them. We're fragile as humans and we can get into pretty rotten belief systems. There's a lesson in what the 62 group did; we all need to be vigilant and take personal responsibility for fighting against the oppression of people.
I read that for your stage role in Dealing With Clair back in 2018, you had to play three different characters and sometimes it was hard to switch between them. For a role like Stevie, a character that you had to hold onto during lockdown, is it hard for you to switch 'on' and 'off,' or even let a character go after you're done the project?
I built up a lot of love for Stevie but you know, we move! I'm in a different place now than I was then, I have very fond memories from previous jobs I've done but the reality is that the next thing comes along and takes my energy in a new direction. There's such a strong thread of allyship in Ridley Road that is definitely needed for people to see on-screen. What do you hope people take away after watching the show?
Ridley Road is in Hackney, a place where you actually grew up! What are some of your favourite spots in the borough?
Hackney has a special place in my heart; it's home. Some of my fave spots are: The Adam & Eve Pub in Homerton is an establishment! A fabled hang out of the Kray twins (I don't know if it's actually true). They do a great roast, great selection of alcoholic and non-alcoholic beer, a really interesting cross-section of people and good vibes. Also, shout out to Pivaz – a Mediterranean place on Chatsworth road. Really lovely people that run it and great food!
Would be remiss of me to not mention Ridley Road! I love that market. I remember spending lots of time following my dad from shop to shop picking up different foods… you can probably tell we're led by our stomachs in the Akuwudike house.
You just wrapped on Netflix's The Beautiful Game, loosely inspired by the work by the Homeless World Cup Foundation. I'm sure you can't tell me too much about it, but what was it like, as a football lover, to merge your love of football and acting and to be part of such a powerful project?
I love football, I go and see my boys in the Emirates as much as I can! It was so great to be a part of this film. My character is a bit of a football know-it-all so I slipped into that like a glove! In seriousness, the set was a wonderful place to be, the cast is fantastic and Thea created a brilliant atmosphere to be around. It's another story that needs to be told! The Homeless World Cup needs to be in the limelight and does so much to help people get their lives back on track. Hopefully, this film can go some way to helping that happen!
Lastly, if you could manifest something for yourself this year, what would it be?
I'd love to be in a Wes Anderson film. I'm also a big fan of the Cohen Brothers and I'd love to work with Barry Jenkins. I've got a long bucket list. For this year, my targets are set on getting onto a series over multiple seasons. I'd love the experience of revisiting a character over a longer period of time.
Interview by Kelsey Barnes
All episodes of Ridley Road are available now on BBC iPlayer.