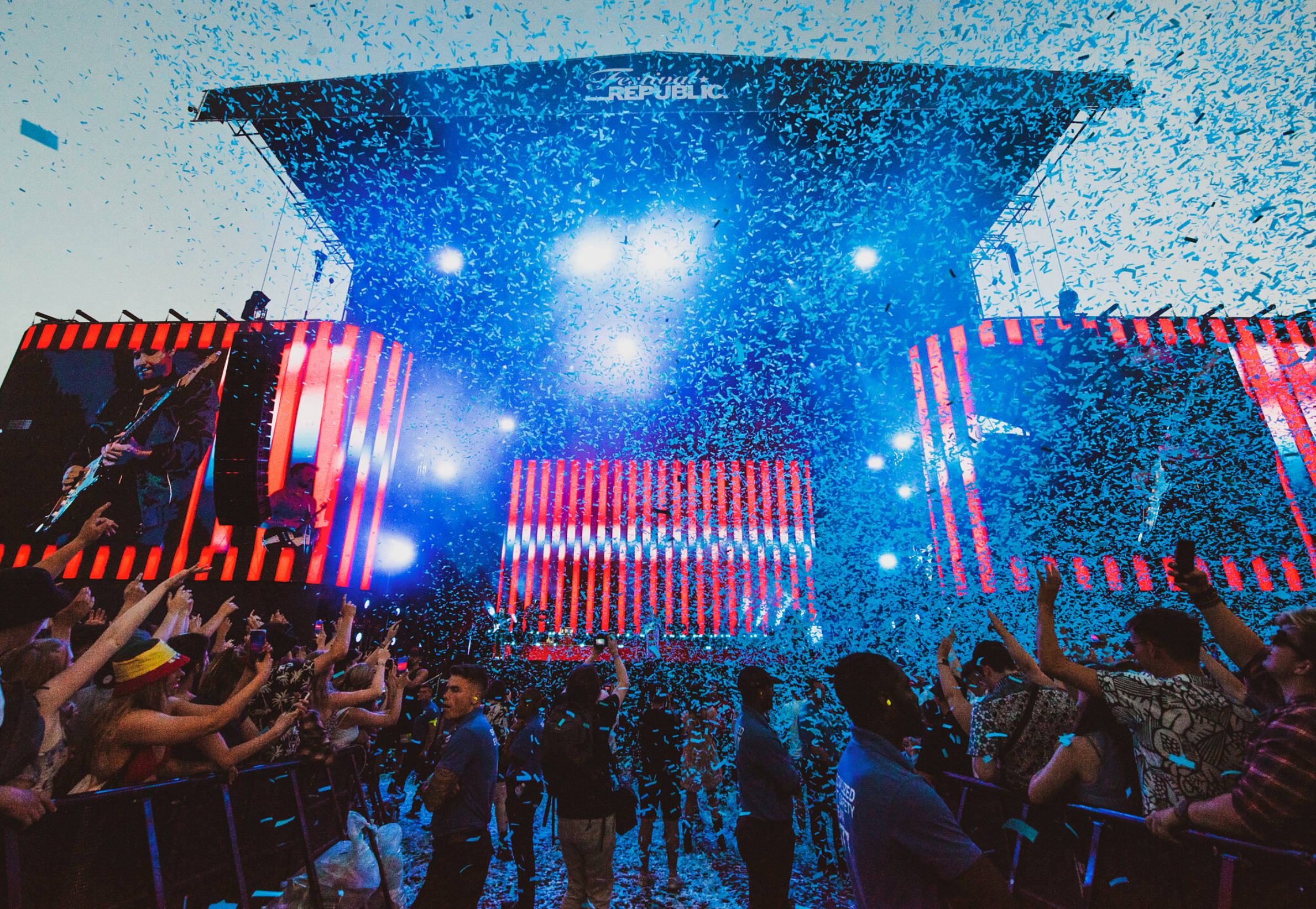 Community Festival
On one of the hottest weekends in the UK, 1883 braved the heat to attend the fifth-annual Community Festival in Finsbury Park, London.
It's Saturday the 17th of July, we've just made the reasonably short drive from Essex to London. Parking the car in Newbury Park, we then suffered an uncomfortable and hot Underground trip to the festival site. We didn't need to study directions as all we had to do was follow the seasoned, bucket hat-wearing festival goers to Finsbury Tube Station where the more than helpful security guided everyone to the Festival entrance.
We arrived at Finsbury Park at around 11.30 AM, quickly realising we were early birds despite the gates opening at 11 AM. After locating the VIP area we made it through to the press area to decide on a plan for the day. We headed out to see what the festival had to offer. There was a multitude of different food stalls; everything from Caribbean to Asian cuisine. You could even snag a made-to-order pizza (impressively ready in as little as two minutes apparently). Deciding it was far too early and far too hot to embark on a culinary adventure, ice cream was a first and fitting choice, a single cone with flake hit the spot just right.
Now time to catch some music, heading down to the main stage to watch Courting, an energetic Liverpool four-piece displaying a total disregard for the tropic type heat we observers had the nerve to be complaining about. They opened their set with current single, Tennis.  A catchy, sardonic commentary about "Two lovers' back and forth, bound by cricket, bodybuilding, and money" they recently described it as. They played a good mixture of old and new songs including the unreleased track Famous, taken from their debut album Guitar Music set to be released later this year. Singer-songwriter and fellow Community festival act, Alfie Templeman joined them on stage to play guitar for their set. Frontman Sean Murphy-O'Neill impressively played the crowd which got a great audience reception despite it being such an early slot. 
Sustainability is extremely important to the organisers of Community Festival. Every bin on site is its own recycling centre with separate sections for cardboard, food waste, plastic etc. They are committed to implementing a closed-loop waste management system at their event meaning waste is collected, recycled and produced to make something new, effectively meaning it does a full circle without having any negative impact on the environment. 
Near the top of the festival field, there was a double-decker bus from Climate Live. An organisation that highlights the importance of taking action against climate change through music. They hold a series of annual concerts in over 40 countries, aiming to use "The universal language of music" to engage and educate new audiences whilst also pressuring world leaders to take action in combatting the current climate crisis. They held panel discussions and live music aboard the top deck of the bus throughout the day. 
By now we were itching for more main-stage action so caught a couple of songs from the Alt-rock band, Crawlers. A Liverpool four-piece again bringing up the energy and shrugging off the 28 Degree temperature. They played their TikTok-viral track, Come Over (again) which went down extremely well with the audience having people as far back as the food trucks screaming the lyrics at the top of their lungs.
Running low on water, we made our way to one of the many water bottle refilling sites situated all around the field then headed to the smaller N4 stage situated at the top of the festival ground to catch the fantastic, Molly Burman. You can read our previous interview with Burman by clicking here. She opened her set with the track Debt – a catchy song about her experience on a night out when a man insisted on buying her a drink and then had the nouse to think he had some entitlement to her body, continuing to harass her throughout the evening. "Just because you bought me a drink, doesn't mean I owe you a thing" she sings in the chorus. Throughout her groovy set, people danced and seemed to be having such a great time.  Molly's energy on stage is so infectious and it is hard not to join in as she dances her way through her songs. It's clear to see Molly Burman is one to watch.
Time to grab some lunch, walking around looking at all there was to offer, we ended up deciding on a Bratwurst hot dog for me and a Crispy Duck wrap from 'So Ducking Good' for my partner. There was such a great selection with many enticing vegan options also on offer. We ate under the welcome shade of the impressive trees near the top side of the site before again braving the sweltering sun to return to the Main stage to watch some of Pale Waves set and they never disappoint having seen them perform numerous times before. They played their single, Lies, before we headed back to the press area to plan what we should do next. 
Only halfway through the day and the sun was so draining. We quickly located some beanbags to relax for 5 minutes and grabbed a drink before heading back to the main area to catch the first of three headline acts, guilt-ridden for even thinking of complaining about the unusually warm weather when most of the bands were plying their trade with the usual gusto.
I can't say I have ever listened to much from The Wombats, bar their catchy and iconic singles, but with a career spanning over 10 years, the trio have made a name for themselves as indie-pop icons always sure to put on a great show. Opening their set with Moving To New York from their 2007 debut album, A Guide To Love, Loss & Desperation, the crowd went crazy. A few songs in, they brought an element of fun to the Festival with the band's mascot, a wombat, joining them on stage. 
Time for the penultimate act and my personal favourite, Nothing But Thieves. The Southend five-piece are renowned for their unique sound and incredible live shows. I have attended a few of their shows at numerous venues and have never been disappointed, today was no different. Opening with their 2020 single, Futureproof, they grabbed the crowd's attention as soon as the first note hit. The alt-rock group are definitely a band to see live, lead singer Conor's almost operatic vocals fill the air alongside the distorted guitars and driving drumbeat. They chose their most upbeat, punchy songs with servings from each of their three albums but of course, primarily their newest release, Moral Panic. Halfway through their set they played their new single, Life's Coming In Slow which was written for and features on the video game Gran Turismo 7– a song which hadn't yet been released the last time I saw the band live, so it was exciting to hear it. Before I knew it, they were performing their final track of the set, Impossible, a beautiful, deliciously romantic track serving as the perfect ending to a stunning set and the confetti raining down was a lovely touch.
It was a short 30-minute wait before the festival's headliners' Two Door Cinema Club took to the stage. Opening with their 2009 single, I Can Talk, the crowd around me cheered and those who had taken the time in between sets to take a seat on the sun-scorched grass, quickly leapt up to start dancing. The band are wonderful live and it's clear to see why they have had such a long and successful career in the industry so far.
All in all, we both had a wonderful–albeit very sweaty–day and would do it again in a heartbeat. Community Festival is definitely one for the calendar.
Review by Gabi Oates