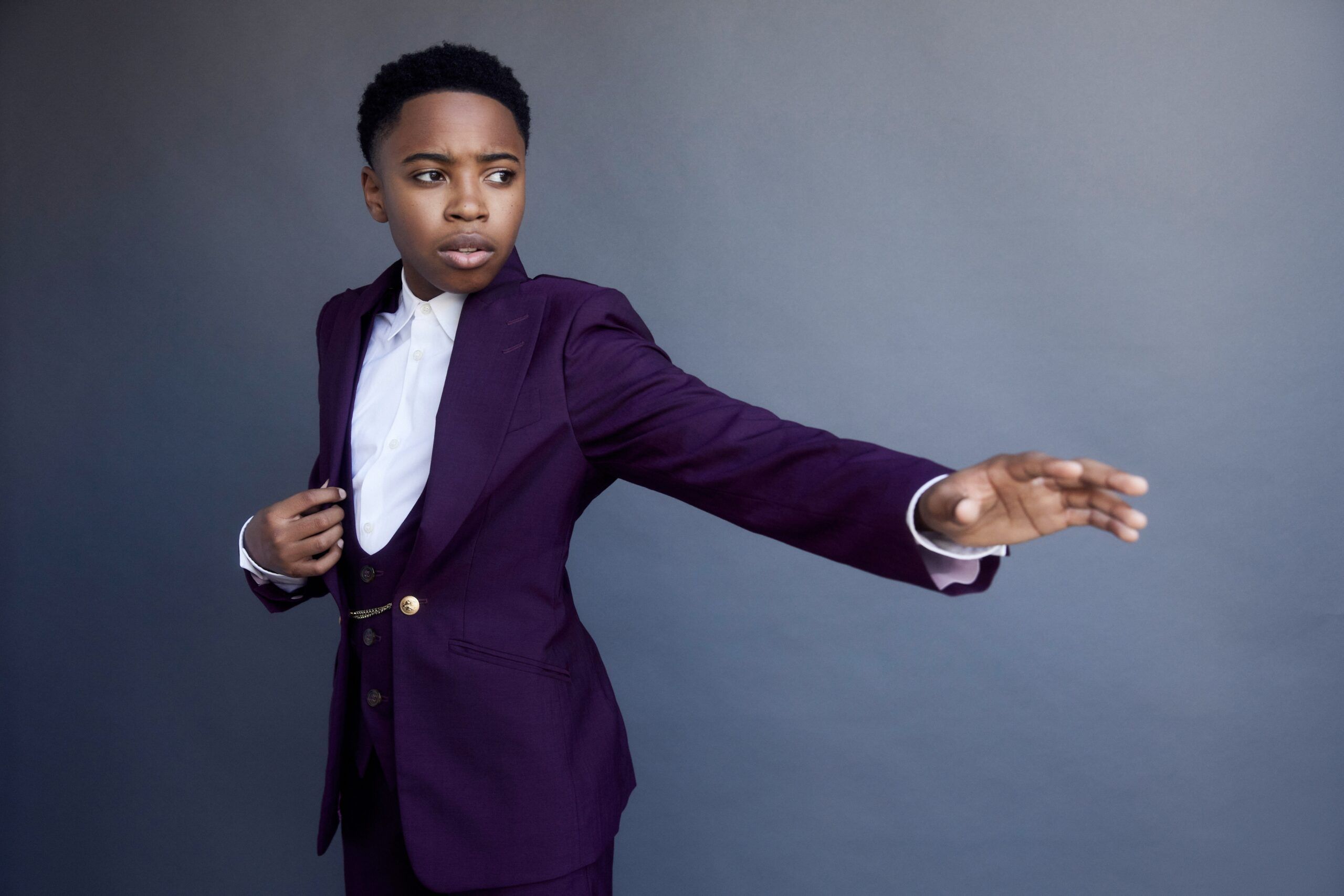 Dallas Dupree Young
Dallas Dupree Young is one of the brightest upcoming stars of the next generation and his work ethic speaks for itself.
With varying appearances in Steven Spielberg's Ready Player One, ABC's Mixed-ish, and NBC's The Good Place, Young shows no signs of slowing down—I mean, he's quite literally only getting started. Five years in, the young phenom has managed to snag three new projects, one being Netflix's insanely popular Cobra Kai where he shines as Kenny, a kid who finds solace in karate after being relentlessly bullied by classmates, and the indie films 1-800-Hot-Nite and The Royal, with both films being slightly shrouded in mystery. 
Although Young is well…young, he's a well-spoken talent with ambitious energy that spreads at a contagion level. With every new gig he takes on, he's looking for a challenge; with every new role he possesses, his mind absorbs cinematic knowledge ranging from the Spielbergs behind the lens to the Denzel Washingtons in front of it. And he doesn't take any of it for granted either. "With everything that I do, I want to make sure that I always remember to have fun and remain grateful," Dallas says as he adjusts his glasses during our Zoom interview. "This is such a great opportunity that I have, and I want to give my best every time while remembering what I have."
With season four of the Karate Kid spinoff making its grand entrance on December 31st, Marc Griffin was given a chance to speak with the young actor for 1883 Magazine to discuss his experiences on the set of Cobra Kai and beyond. 
I know you're playing Kenny in the upcoming season of Cobra Kai—which has roots dating back to the 1980s with Karate Kid—walk me through how that experience has been for you in joining the cast and getting straight to work.
This experience has been surreal to me. I was welcomed with open arms from each of the cast members, and all of them were so nice and respectful of all of our crafts. They also encourage me to work harder and be better every day. But being a part of this iconic franchise, it's crazy to me, and I'm trying to elevate my game to stay with them because they're so talented and so great at what they do. 
What can you tell me about your character Kenny? And why did this specific character resonate with you?
Kenny is a bullied new kid in school who is dealing with a rough home life; he turns to karate to defend himself and gain confidence through the teachings of his dojo. He resonates so much with me due to the fact that his storyline is so strong from the beginning to the end; his background, his story, where he came from, and how he's bullied where so many people in our reality could relate to being bullied, and his story can teach us how we can prepare for all of that heartbreak and how Kenny adjusted to all of that heartbreak—it really stood with me. I love the way his character develops from beginning to end and becomes a stronger person who starts to get away from the bullies and stands up for himself. 
Thank you for that role of Kenny; a lot of little kids will be able to look at that role and see a bit of themselves within it and find the strength to stand up to their bullies as well. Along with Cobra Kai, you have managed to star in other Blockbusters as well, such as Ready Player One. What did you learn in Ready Player One, and how did you transfer these learned skills to your role in Cobra Kai?
Yeah, thank you, I had so much fun doing it! And as you know, I didn't have a big role in Ready Player One as one of the elementary kids, of course, but being in that environment around Steven Spielberg and watching the way he works was important to learning the level of professionalism that I needed to have on the set of Cobra Kai. Making sure that I'm focused, on point, got my lines, using the realism of our bodies and being natural—I took that from Ready Player One and used that when working on Cobra Kai. Steven Spielberg had a conversation with me, and he said, "you can go far places if you focus, hone in on your craft and just don't do anything dumb that could damage your career for the rest of your life, but I can see you have a bright future" [Both laugh]. And those words really encouraged me, so I brought all of that over to Cobra Kai.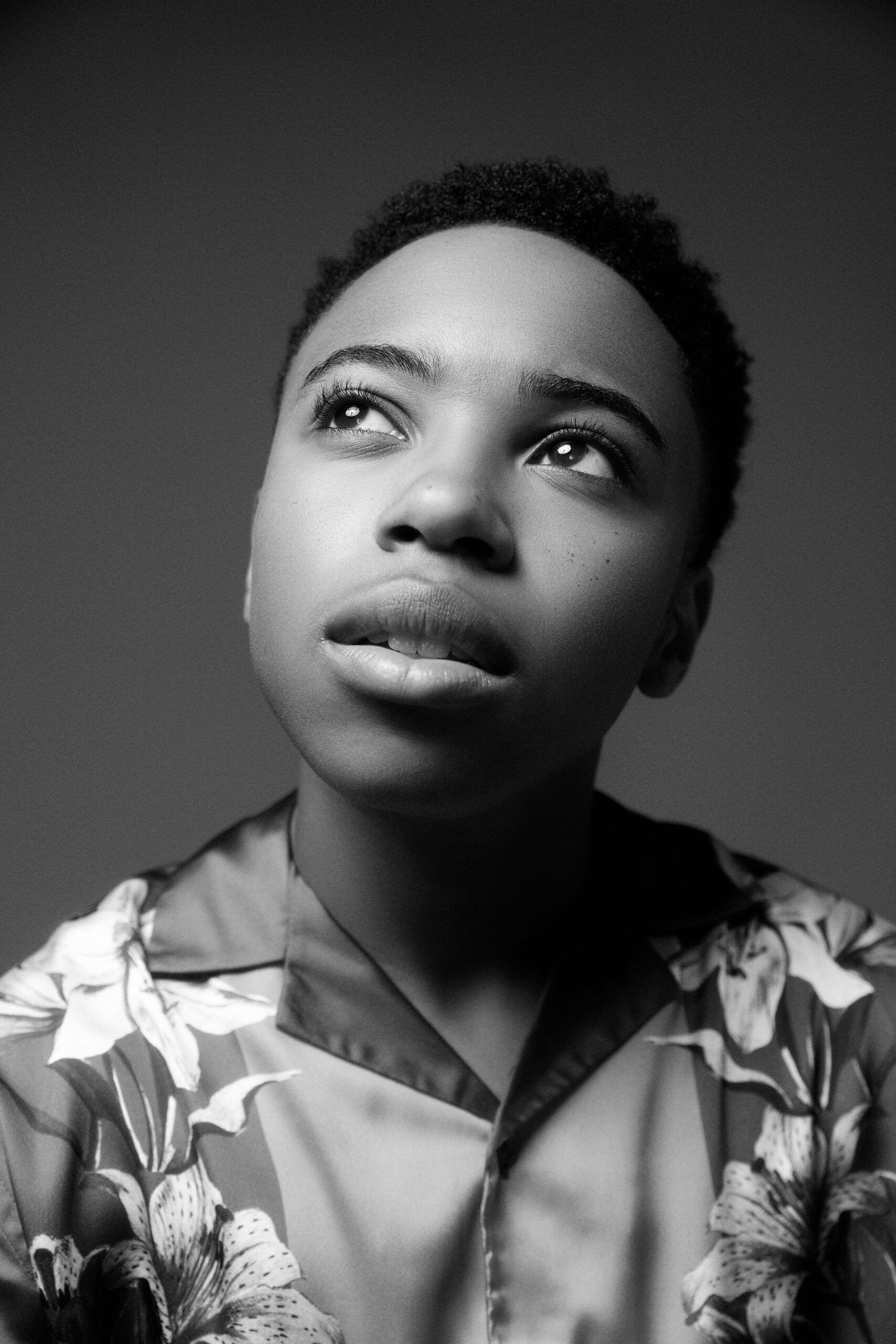 Tell me about that; I know you dropped that casually but how was that experience of working with one of the GOATS in the film industry?
Working with him was one of the greatest accomplishments I could ever say. I remember being in that audition room and hearing that Spielberg would be directing the movie. When I landed the role, I was shocked because I got the chance to be in his atmosphere; super incredible; that's been my goal for the whole duration of my career, honestly. So being around him, my nerves were flying all over the place, sweating nervously; I was worried I was going to ruin my makeup, and I needed to relax (they laugh). Once I had a conversation with him on set, and he was so nonchalant about it, I became more comfortable in my skin, but man, he is such an incredible person, an incredible artist and director. Hopefully, I'll be able to be in another movie with him in the future. 
That would be great, man; I hope you get another shot to star in a Spielberg movie sometime down the line. So, you also have an indie drama coming out soon, if I'm not mistaken. It's called 1-800-Hot-Nite without getting into spoiler territory [both laugh].
This particular project was strong, and it meant so much to me because 1-800-Hot-Nite is the first time I'm in a leading role in a movie! And being in that environment was so powerful for me because this kid is a struggling teen, doesn't have a lot of money, is growing up in poverty and is trying to figure out the positivity in the world with his two best friends. Together they all go on this urban odyssey, running away to escape the foster system because he just saw his dad go through something dramatic. As the story continues, you begin to see how he grows; we see how he shifts from acting like a boy to acting like a man. I'm excited about 1-800-Hot-Nite, and I think you're going to love it too.
That sounds like powerful cinema. What were some of your favourite moments from being on the set of that movie?
My favourite moment would have to be my interactions with all the other cast members. So, these two guys play O'Neil—who is Garrison Machado—and Steve—played by Mylen Bradford, and they are so professional, and they want what they're doing [laughs]. We had so many fun times because we had a friendship before the movie started because we had Zoom calls with the director to get our chemistry up and build that bond with each other. Throughout the whole [filming] process, it just felt realistic, and all of the other actors were incredible too, so I'm going to have to say interacting with the cast was the best moment for me as we made a beautiful project. 
Was your experience on that movie as good as your experience on another upcoming Indie film entitled The Royal? And what can we expect from this historical film?
My experience on both projects was both equally strong. My time on The Royal was very quick, where I worked for two days. I remember getting the role, learning about Willie Mays Aikens, how he grew up, the struggles and hardships, battles with addiction and being a famous baseball player. So I just took that in with bringing that out with my character and portraying all those different emotions. I had to realize that this dude is a very great baseball player. Still, he's a great activist too, and that was very strong because, being an African-American, I can relate to his experience, and it seemed like he was a really great guy; I didn't get to meet him on set, unfortunately. Still, I got to bring all my love and interest into the character because I'm a huge baseball fan just like him, definitely a great experience. 
This movie doesn't have a specific release date, right?
Very soon is all I can say! [Both laugh].
With all these very dope roles you have acquired at such a young age, based on relatable and powerful experiences, how does this feel mentally and emotionally for you? Is there any pressure for you?
I don't feel as if there is any pressure to get it right every time because any time I think of pressure, I just remember how much I love my craft. Any time pressure comes over me, I think about why I love doing what I do and all the amazing cast on set. So I just have to think about that anytime I get nervous with thoughts of "oh, I have to get this right" or "oh, I have to be perfect!" No, I don't have to be perfect because I'm human and still learning. I'm still learning because I've only been acting for five, six years now with so much more to do and understand; I can't let pressure win. But I love that I'm doing all these different types of roles because it's letting me get into new ranges that I never knew I could go and understand new things about myself that I never knew before. I'm so blessed and grateful for all of these opportunities, and each one is just a stepping stone to get better and towards where I'm trying to go in my career.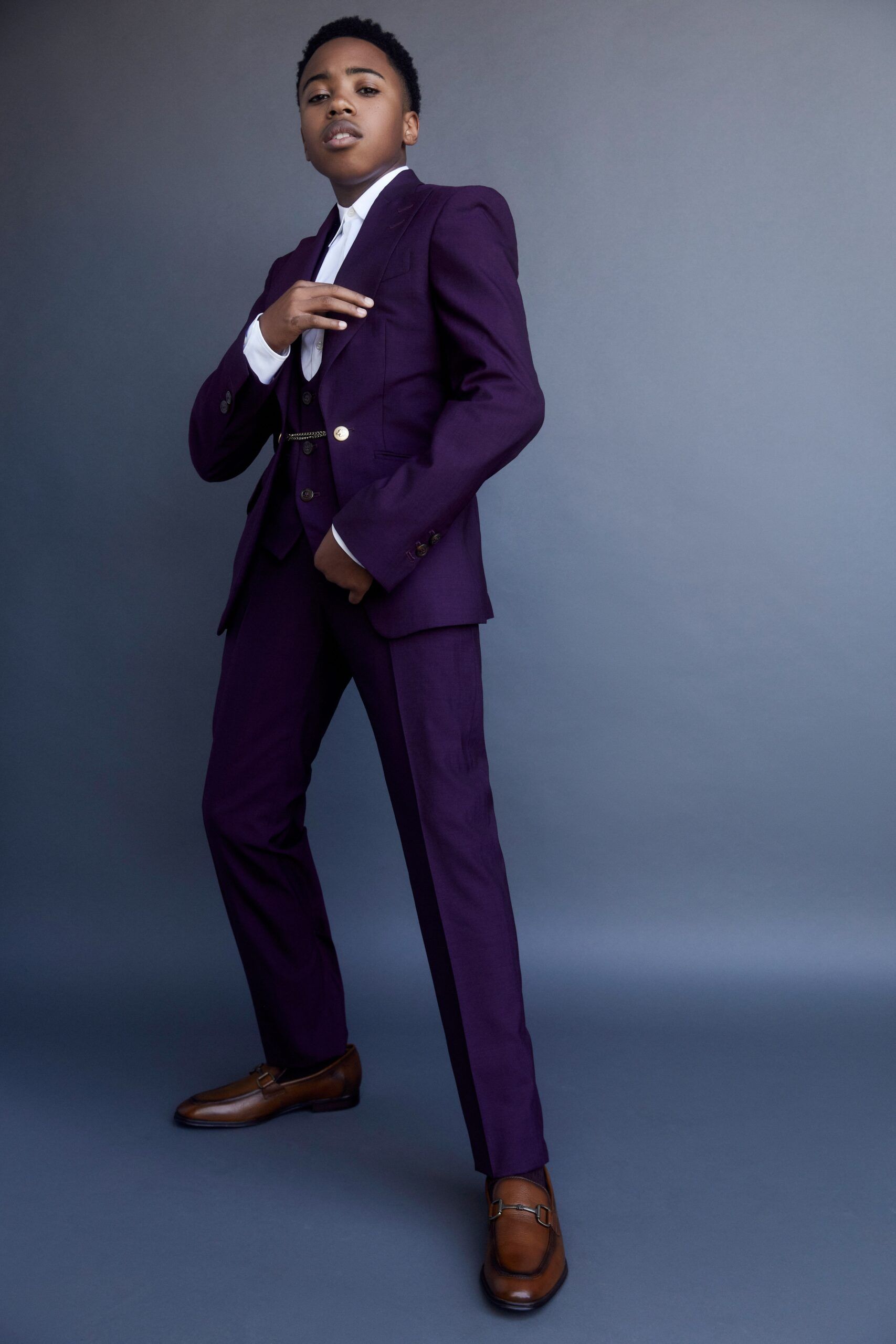 You're really wise for a fourteen/fifteen-year-old [both laugh]. Speaking of where you're trying to go in your career, where are you trying to go in your career? What would be some dream roles that you have?
So, honestly, it's not anything specific, but I just want to [become] a Denzel Washington-caliber type actor because he has done so many complex and different roles where he just studies so much about emotions, and his portrayal is incredible every time he performs. So, I just want to get to his level honestly and do anything that people throw at me, do it with confidence and change it up like Denzel Washington; he's my inspiration. 
I'm picturing a Denzel Washington and Dallas Young movie right now, or maybe a Denzel Washington-directed movie with you starring. Would that be something you would be interested in? It sounds like you would be!
I would definitely be interested in that, either one! He could be a partner in crime in one movie, and in another, he could be directing or maybe both! I mean, I'm really excited for his new movie, A Journal for Jordan, where he's directing that, and it's super powerful to get cast by Denzel Washington because that means he respects your body of work and for that Michael B. Jordan to be cast in that role… So I want to be right there where he is directing me, and I can learn so much from a great actor like Denzel Washington, but either one is fine with me!
It's funny you mentioned Michael B. Jordan because he's an actor that started out very young, had a lot of acclaimed roles, with one being cast in the iconic HBO show The Wire, which elevated his career. Do you have any actors in the game that work as mentors to you that were also child actors and had a similar trajectory as yourself?
That's a really good question. I haven't met too many famous people in my career just yet from working on other projects but watching other actors/actresses interviews I've seen how they act towards each other and hearing what they say in regards to their advice for other actors like Michael B. Jordan where he says things like "if you keep putting the work in and all of your time and you keep rising to the occasion each project that is very strong." So watching Michael B. Jordan's interviews to get advice just encourages me to do more as an artist. 
With everything going on in the world, what do you hope people take away from watching your movies/shows like Cobra Kai?
I want people to know that anything is possible; if you keep putting the work in and you're passionate about it, you'll get there. There will be many people who shut us down just because of the colour of our skin or how people think we are without meeting us. Still, if we keep rising to the occasion and exceeding every expectation, we're going to get to that level that we want to be in our careers and lives. I want people to understand that we can knock down all these hurtful stereotypes and become the best people we can possibly be and be on top once and for all.
Season 4 of Cobra Kai is streaming now. Follow Dallas Dupree Young at @dallasyoung.
Interview by Marc Griffin