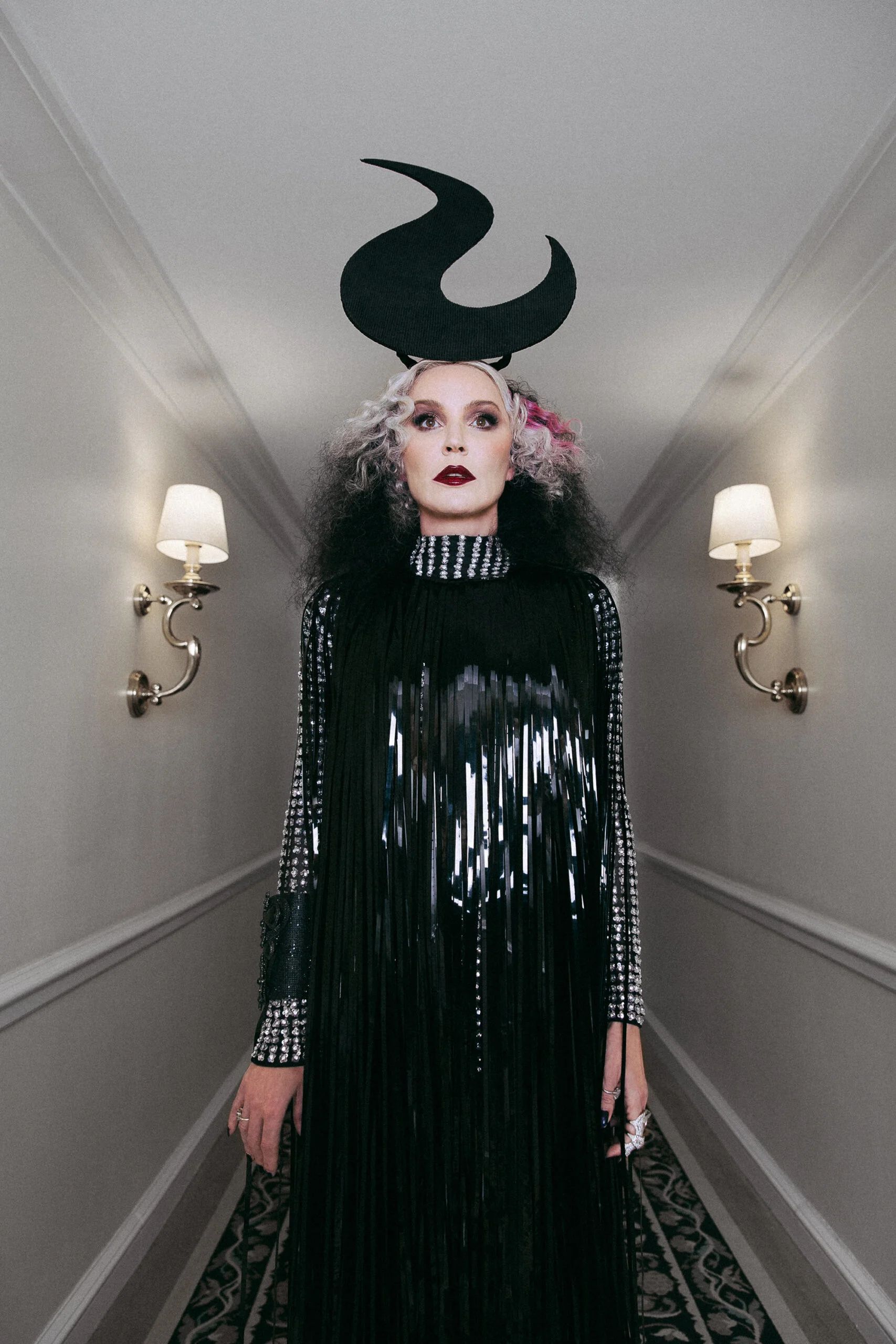 Daphne Guinness – Revelations – Track-by-Track
Daphne Guinness, a name known throughout the globe for her brilliant work in fashion, art, film and music.
The 1883 cover star is a skillful artist who has traversed these many different industries and mastered them all. Returning to the musical landscape for her third album since releasing the critically acclaimed 2018 sophomore album, Daphne & The Golden Chord, Daphne has now shared her best work yet with new album Revelations.
The London-born artist has continued to work with renowned producer Tony Visconti on Revelations — just as she did on her David Bowie approved debut album, Optimist In Black.
Differing to the psychedelic-pop songs of her debut album, Revelations is an album that blends French disco, lush orchestrations, and tinges of punk rock. Recorded at Les Studios Saint Germain in Paris, Daphne has encapsulated the essence of mid 70's Gainsbourg whilst also making decadent dance floor ready tracks.
Best described by the visionary herself, Daphne states that Revelations is an album that represents the outcasts: 'Sometimes it feels like we are living through the Book of Revelations, but here on the album all the outcasts are together, trying to hold on to the light rather than letting in the dark.'
Daphne has crafted a track-by-track of Revelations exclusively for 1883 Magazine. Throughout it, she walks us through the inspiration and meaning for each of the ten tracks on the record.
Revelations Track-by-Track
I am fascinated by the musical landscape of the period between 1976 and 1979 — Punk happened, Disco and Studio 54 were in full swing and the reggae influence was coming in with [Serge] Gainsbourg making his reggae album in '78. Bowie had found his perfect balance in '79 with Scary Monsters (And Super Creeps)… My older brothers were playing Television and the radio was playing ABBA which to me was perfect pop. Blondie were melding New Wave with Disco rhythms… It was an inspiring and very formative musical period for me as a child.
'Deviant Disco'
The Nightclub of my imagination… the most fantastical secret place populated by a combination of characters who could be from illustrations by Leonora Carrington and Aubrey Beardsley. Everything goes in this opulent, decadent fantasy. The Deviant Disco is that place we can go to in our minds when we're lost in music…
'Looking Glass'
A futuristic Alice in Wonderland scenario. Caught in a world which is like a twisted hall of mirrors, smartphones, tablets, laptops. Sonically, I wanted to contrast post-punk guitars with beautiful sweeping orchestral arrangements, which Tony Visconti facilitated beautifully.
'Permission to Dance'
Forget your troubles and dance! This one is my call to the dance floor. Music transcends politics, religion, race, gender… The strings and drum rolls are pure French Disco '77 as perfected by Cerrone with 'Supernature', which was a huge hit in Studio 54. My incredible backing singers Sharlene Hector and Ladonna Harley-Peters — Peters really let go at the end — Pure Disco joy!
'Revelations'
This was sonically shaped by my surroundings. We recorded in Les Studios Saint Germain in Paris, and this track is imbued with the spirit of Serge Gainsbourg. The song came to me in one long stream of consciousness. It wrote itself. It's about the terrible choices humanity has made and where have they got us? As [Nigel] Molesworth said, 'History started badly and has been getting steadily worse ever since.'
'Refugee d'Esprit'
As you can hear, lyrically I'm playing with French and English on this one. There is a 'Spaghetti Western' soundtrack influence in the arrangement — if [Ennio] Morricone did disco? The Ocarina is played masterfully by Tony Visconti.
'Blow Up'
This song is about my frustration with smartphone brainwashing. People are mesmerized by their devices to the point of distraction. It's an imagined revolution against the enslavement of people who are blinded by their screens.
'Heaven'
I think this song is a subconscious allegory of the collapse of the American dream… We really nailed the French/Euro disco drum sound on this track. Our studio engineer Michel Tanturier used a particular mic technique on the kick/snare. Beautiful analog synth textures from Roger Manning who has worked with Beck and Air.
'Other People's Problems'
A comment on societies' current obsession with everyone else's business via mainstream and social media. We are constantly and simultaneously informed of both people's deepest feelings and the utterly mundane.
'Bright White Stranger'
Bowie was a huge influence on me. He mentored and encouraged me to pursue music and introduced me to Tony Visconti. The bright white stranger is his continual, spiritual presence.
'Tune Into Neptune'
I became fascinated by the planet Neptune; it is very peculiar in many ways. It was discovered by mathematical prediction as opposed to direct observation. In astrology, Neptune rules over the dream realm, creativity, fantasies, and deceptions. I like the idea of us being influenced by the magnetic resonance of distant planets.
'Miss Me'
This song encompasses a lot of the influences on this album. Stylistically, it's a joyous hybrid — reggae, post-punk, and disco.
Featured Image Credits
dress LEVER COUTURE silver catsuit Yousef Aljasmi headpiece Arturo Rios black cuff Laurel DeWitt rings Daphne's rings
Team Credits
intro by Cameron Poole
photography Dylan Perlot @ Exclusive Artists
styling Janelle Miller
hair Peter Savic @ Opus Beauty using Goldwell
makeup Anthony H. Nguyen @ The Wall Group using YSL Beauty
creative consultant Dina Vibes
styling assistants Elliot Soriano and Francesca Giovacchini
location The Peninsula Beverly Hills

Daphne's full editorial cover story is in 1883's RESET Issue available now!
Check out Daphne Guinness' Revelations album below!